1. Andre Drummond , 6'10 PF/C
He's the Empire State Building of NBA prospects, with a ceiling that towers over his competing neighbors. Drummond's size, strength, length, athleticism and explosiveness translate to a flawless physical description that he uses to punish his inferior post defenders. Drummond's a guy that opposing coaches gameplan around because of the impact he can have on a game. If he's ruled eligible for the draft, (he can attempt to contest his draft eligibility since he'll be 19 and a year removed from his high school class graduating – provided that the rules on draft picks are not changed) expect GMs to overlook college production for unstoppable, sky scraping upside.
2. James McAdoo , 6'9 F, North Carolina, Fr.
His most promising attributes stem from his physical tools, where he mixes a high level of athleticism with extreme fluidity and mobility. His versatility allows him to play both on the perimeter and the interior, an attractive quality from an NBA standpoint. Playing alongside Kendall Marshall should be fantastic for his stock, as his pinpoint passing should minimize McAdoo's struggles as a shot-creator. McAdoo's ability to impact a game without requiring the ball should make him a fit on almost any NBA roster.
3. Anthony Davis , 6'10 PF, Kentucky, Fr.
Davis' highly coveted 8-inch growth spurt catapulted him to elite prospect status. At 6'10, his ability to play on the perimeter will present match up problems for opposing forwards who lack the lateral quickness to defend off the bounce. With a tight handle, big-time athleticism and promising shooting mechanics, the sky's the limit for the versatile Kentucky freshman. Sharpie him in as a top five selection.
4. Harrison Barnes , 6'8 SF, North Carolina, Soph.
We saw Barnes gradually improve as his freshman year progressed, wisely picking and choosing his spots on the floor. With good size and a high, clean release on his jumper, Barnes should excel at the next level in catch and shoot opportunities. As a slasher, Barnes shows tremendous body control and a soft touch when shooting on the move in the paint. His high basketball IQ and strong character make him a GM's wet dream, and a potential cornerstone at the small forward position for all his suitors.
5. Jared Sullinger , 6'9 PF, Ohio State, Soph.
Sullinger possesses arguably the most refined post game in college hoops, sporting advanced footwork and a great feel for his defender's positioning with his back to the basket. His weaknesses are clear, starting with his limited speed and quickness at the power forward position. Regardless, his effectiveness down low both as a scorer and rebounder make him an attractive prospect for teams looking to beef up their front line.
6. Jeremy Lamb , 6'5 SG, Connecticut, Soph.
Lamb has really refined his pull-up game off the dribble, a weapon that often propels players to the next level. He scored 35 points and pulled up for the game-winner in overtime against Latvia in the U20 World Championships, illustrating a diverse skill-set that's more than just complimentary. It's clear that Lamb needs to add a good 15-20 pounds to his wiry frame, however at just 19 years of age he has time on his side. Look for Lamb to increase his field goal attempts (only 9 per game last year), and become more aggressive with the ball in his hands.
7. Marquis Teague , 6'2 PG, Kentucky, Fr.
Teague has ideal physical tools for a point guard, possessing size, quickness and explosiveness along with a "ball on a string" handle. He excels in the open court where his speed and strength allow him to get to the rim and finish in traffic. As a prospect, Teague needs to control his urges and orchestrate in the halfcourt. Otherwise, his skill level, physical tools and vision make him the top point guard prospect in the group. With Calipari pulling the strings, look for Teague to thrive in a point guard friendly system.
8. Steven Adams, 7'0 C, Scotts HS, New Zealand, 1993
Adams is a 1993 born International player who will come over to play a 5th year of high school ball at Notre Dame Prep and then is signed to play for Pittsburgh in 2012-13. He absolutely blew up at the adidas Nations event in early August, however since NBA scouts were unable to attend, the buzz among NBA circles was muffled. Adams shows a lot of potential and will be the top center prospect in the nation the instant he hits the floor for Pitt.
9. Quincy Miller , 6'9 F, Baylor, Fr.
He has great size for the game he plays. At 6'9, Miller is a versatile combo-forward who can post up his defender or shake him off the dribble. If he can fine-tune that pull-up off the bounce, points will come easy at the college level.
10. Perry Jones , 6'11 PF/C, Baylor, Soph.
Jones reminds me a little of LaMarcus Aldridge with his inside presence and pick and pop potential. Protecting the rim, rebounding and running the floor are all desirable NBA qualities he possesses. Jones struggled to adjust in his freshman year, however with time, his skill-set should shine through the ambiguity of his role. The tools are there, he just needs to figure out when and how to use them.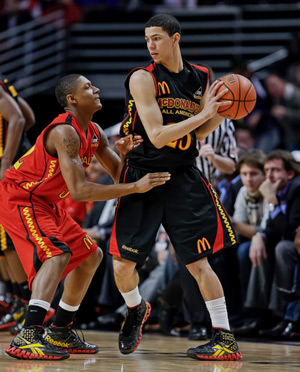 11. Bradley Beal , 6'4 SG, Florida, Fr.
Beal is the top shooter in the class, which normally isn't said about an athlete of his caliber. More than just a spot-up threat, Beal can change directions, pull back and shoot off the dribble. As a ball-handler, he sees the open space whether it's splitting a double team or spinning away from his defender. Maybe the most prolific scoring guard in his class, he'd be a top five pick if he was two inches taller. Still, his offensive instincts, high character and defensive potential likely won't allow him to slip out of the lottery.
12. Austin Rivers , 6'4 SG, Duke, Fr.
Rivers' ceiling as an NBA prospect doesn't reflect his talent level, because he's extremely advanced for a young scoring guard. His ability to score off the dribble, along with deep range and a killer instinct could translate nicely to the NBA level, but should make him a terror against 18 to 21 year olds. A high-volume scorer, Rivers would improve his stock by demonstrating some playmaking ability to offset his undersized off-guard body, and a willingness to put the team first.
13. Khris Middleton 6'7 SF, Texas A&M, Jr.
Middleton possesses typical swingman tools with good length and an automatic mid-range game. He showed incredible consistency as a sophomore, scoring in double figures 27 times in 33 contests. Thus far he hasn't really done enough to garner national attention or headlines, but his time is coming. His maturity as a player and mastery of the 10-18 foot jump shot should provide teams with they don't possess. Expanding his consistency from downtown would increase his value as an NBA prospect.
14. Michael Kidd-Gilchrist , 6'7 SF, Kentucky, Fr.
A strong 6'7 forward with substantial length and athleticism, Gilchrist projects as a shutdown defender who is likely to guard the opponent's top gun. While he's no longer the consensus #1 player in his class, he continues to hover among the top handful in his age group through hard work. He may not be your most adept shot-creator, but his efficiency in terms of ball-handling, passing and scoring keeps the offense flowing and his teammates involved. With high character and unselfishness, NBA coaches will love what this kid brings to the table.
15. Terrence Ross , SG 6'6, Washington, Soph.
Ross is dangerous from outside, where he sports a clean release and sweet rhythm in catch and shoot opportunities. A smooth wing with NBA athleticism, Ross does an excellent job at stretching the floor by recognizing and occupying open space. He moves well without the ball and shows deceptive quickness with it, allowing him to get to the rim despite a shaky handle. Ross has shown glimpses of top 20 talent, and will have the opportunity as a sophomore to transform these flashes into lengthy stretches of high-level play.
16. Josiah Turner , 6'4 PG, Arizona, Fr.
With a ridiculously quick first step and handle, Turner can practically get off any shot he desires. He uses a crossover and hesitation dribble extremely effectively to create separation, where he gets to the rim or pulls up within 15. Showing the ability to elude defenders in mid-air bodes well for him at the next level, where he'll be asked to finish over bigger and taller defenders at the rim. Playmaking will be the name of the game for Turner in terms of making his stock lottery-worthy.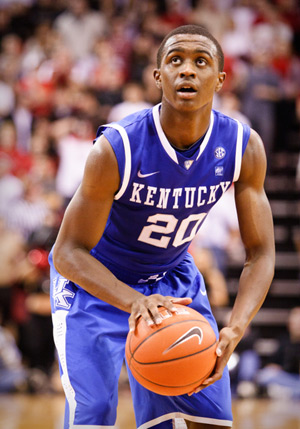 17. Doron Lamb , 6'5 SG, Kentucky, Soph.
Lamb shot a blistering 48% from downtown as a freshman, playing generally mistake-free basketball in role that doesn't ask too much. Finding a niche at the next level should be his primary focus, with "lights out shooting combo-guard" a realistic role to think about.
18. Terrence Jones , 6'9 F, Kentucky, Soph.
As a prospect, his reputation as a combo-forward works both ways. He's either difficult to guard facing up, or outmatched in the post. Being able to face up from the elbow as a 6'9 forward is an advantageous skill, and one that he must take advantage of moving forward. Improving his outside game would maximize the threat he poses against bigger forwards who feel uncomfortable defending on the perimeter. I wouldn't say he has all-star potential, but you can see where he might be of service to a rotation.
19. Kendall Marshall, 6'4 PG, North Carolina, So.
Marshall took over the reigns halfway through his freshman year and completely changed the team's fortunes, quickly making them a title contender. It's safe to say that not many freshmen impacted their teams as much as he did last year. He facilitates better than any player in college basketball, making everyone around him better. The Mark Jackson like floor general lacks tremendous athleticism or a polished outside shot, but his ability to make those around him better makes him one of the top PG prospects out there.
20. Mitch McGary, 6'10 PF, Brewster Academy (Brewster IN), HSSr.
McGary, like Anthony Davis a year ago, came out of no where to become a top 5 prospect in his class nationally. He's really put things together, toning his body and gaining agility and speed. He's an intimidating player who plays with great intensity. He graduated high school in the Spring, but like Steven Adams, McGary doesn't appear likely to enter the 2012 draft at this point, but would have a real chance to be a top 20 pick if he did.
21. Myck Kabongo , 6'1 PG, Texas, Fr.
Flashy, electric and speedy. Kabongo's quick first step makes him difficult to stay in front of, while his vision turns all his supporting men into potential targets. Without Cory Joseph, Tristan Thompson and Jordan Hamilton, Kabongo will be given a lot of opportunity to dominate the ball and work on NBA-related skills like pulling up off the dribble and gaining a comfort level from 15 feet out. And with a name like Kabongo, how can this guy fail?
22. Kris Joseph , 6'7 SF, Syracuse, Sr.
It's now or never for the Syracuse Senior, who seemingly fails to reach his potential year after year. His length and athleticism fit the role of your typical NBA small forward, so maybe one more year as the go-to guy will help clean-up his frustrating tendencies. Eliminating his disappearing acts and adding consistency to his jumper should keep him in the first round.
23. Maalik Wayns, 6'1 PG, Villanova, Jr.
Villanova coach Jay Wright has received some criticism for his lack of results in turning out pros. But Wayns appears in position to change that. Wayns is a quick, sturdy lead guard with good all around skills. He made an excellent decision returning to college and a big season could have him leap frogging a number of the PGs above him.
24. William Buford 6'5 SG Ohio St. Sr.
Buford disappeared in the Buckeyes tournament loss to Kentucky but is primed for a big senior season with David Lighty and Jon Diebler gone. He also has the benefit of playing with the most dominant bigman in the country and will surely receive a lot of quality shots as teams attempt to collapse on Sullinger.
25. Trevor Mbakwe, 6'8 PF, Minnesota, Jr.
Mbakwe plays an aggressive, athletic brand of basketball. While a little undersized height-wise, The Gopher post player has an eye popping 7'3 wingspan which allows him to play like he's 6'10. His offensive skills consist mainly of put backs and dunks but he's steadily showing some signs of being able to put the ball in the basket in other ways. Mbakwe edges out more hyped prospects such as Thomas Robinson and Patrick Young on our list.