After four days of actively scouting the adidas Nations event, with a focus on the college group, here are my thoughts on each of the NCAA participants. I also spoke with numerous NBA scouts that were on hand. My report on the top high school and international prospects will follow this report.
Centers
Nerlens Noel F 6'11" Kentucky Fr. — 2g, 26 mpg, 6.0 ppg, 4-6 fg, 66.7 fg% 4-8 ft, 3.5 rpg, 4 blk, 5 to
Noel got blasted for his performance at Nations and decided to shut things down after the second day. But in fairness he's been working on his academics all summer in order to get eligible and that focus has clearly taken away from his basketball development. I expect him to be improved the next time we see him (in November), as he'll have the benefit of the UK coaching staff working with him on his weight training and his post game. His obsession with facing the basket and working on his ball handling needs to be junked in favor of adding core strength and developing a back to the basket game. He shows some touch on his shot but just doesn't have any muscle memory on any post moves, and appears completely lost attempting to create points in the paint. The overly reactive scouts in attendance were ready to move him out of their lottery, as he even drew comparisons to Samuel Dalembert, but it's important to keep perspective. This year's draft is extremely weak, so Noel remains in our top 5, despite a very average showing.
Steven Adams C 7'0" Pittsburgh Fr. — 4g, 24.0 mpg, 6.5 ppg, 4.8 rpg, 11-21 fg, 52.4 fg%, 57.1 ft%, 5 blk, 2 to
Adams had a solid overall performance. He's still a baby in terms of basketball development, but has not improved a ton since we saw him a year ago at the same event. He didn't look quite as comfortable playing against college guys and rushes shots at times. He'll learn to be more deliberate and take his time setting up shots. He's raw offensively and lacks a clean release. His huge hands get in the way and he lets the ball rest too far back on the palm of his hands when he shoots. His strengths are his physicality, high energy level, and rebounding and shot blocking ability. He's not a complete lost cause offensively but his ceiling is decreased some by his lack of great long term offensive potential. In a weak draft, a player with a real chance to be a starting center in the league some day like Adams has a shot to be a lottery pick.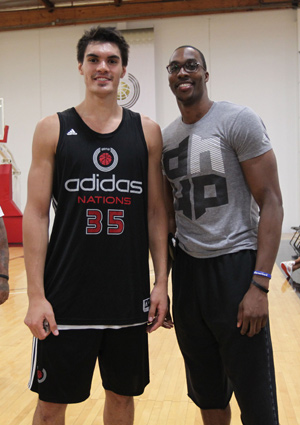 Gorgui Dieng C 6'11" Louisville Jr. — 5g, 25.2 mpg, 7.4 ppg, 6.6 rpg, 18-36 fg, 50.0 fg%, 0-2 ft, 1-1 3p, 6 blk, 7 stl, 6 to
Dieng appears to have radically improved his body. He has really bulked up and looked about as strong as anyone in camp, including Patric Young. I couldn't find anyone that thought Young was better than Dieng. Dieng is a high level shot blocker, giving him one high level attribute for the nexct level. He has mid first round potential, though no scout went as far as mentioning the lottery. He lacks great fluidity running the floor but can move when he needs to.
Isaiah Austin F 7'0" Baylor Fr. — 4g, 24.0 mpg, 5.3 ppg, 4.5 rpg, 8-23 fg, 34.8 fg%, 50 ft%, 7 to
There's something to be said for making a good first impression, as Austin saved his best for first. He impressed NBA scouts with his performance against Noel as he was able to score on him and held his own defensively as well. But Austin did not show the same energy or confidence after day one and seemed to tire out as the event wore on. He's had the benefit of arriving at Baylor early for summer school and started weight training and playing pick up games with the team. Scouts mentioned they liked his potential "when" he gains 25-30 lbs. We see that more as an "if" since he's shown such little body development since we first saw him between his freshman and sophomore seasons of high school. Adding that much weight could completely change his mobility and athleticism. Some players just aren't capable of carrying a lot of weight, and Austin appears to be in the mold. His first day raised some eyebrows, but his overall numbers were not even as good as Noel who struggled offensively. Even after an impressive start, Austin shot just 35% from the floor overall, scoring 5.3 ppg and 4.5 rpg in 24 minutes per game. Though he showed off some range, his inability to fight through contact in the post is concerning. Austin apologists point to his age and broad shoulders and expect him to add weight without any problem. But that might be overly optimistic. He has really struggled to add any significant weight thus far. He's a good kid, with length and touch, but I question his passion and intensity. If he can gain considerable strength and shed the soft reputation he developed in AAU, he can be pretty good in the future. Baylor recruits Perry Jones and Quincy Miller were not able to parlay their advance billing into being top picks. Consider it a short sell. I just can't buy into the one and done, top 10 pick hype that is surrounding him right now. I'm not even conceding that he's a lock first rounder for 2013 at this point.
Willie Cauley F 6'11" Kentucky Fr. — 4g, 20.8 mpg, 4.8 ppg, 5.0 rpg, 9-21 fg, 42.9 fg%, 1-4 ft, 3 blk, 2 to
Scouts came away impressed with Cauley's center size, energy level and willingness to run the floor, block shots and rebound. He's still very raw but in reality didn't look a whole lot different than teammate Nerlens Noel. He's not nearly the specimen nor the shot blocker, but he's already got a stronger body and should ultimately be able to carry more weight. Scouts liked his energy and potential but he's still incredibly raw offensively and doesn't have the upside that Nerlens Noel possesses athletically or as a shot blocker. A potential first rounder after a few seasons at Kentucky.
Cameron Ridley F 6'10" Texas Fr. — 5g, 17 mpg, 5 ppg, 11-26 fg, 42.3 fg%, 3-8 ft, 3 rpg, 5 to
Ridley has long arms and hasn't played the game for long giving some hope for his future as an NBA bigman. He's got solid touch but lacks a fiery nature. He's got some mobility but lacks great athleticism. He'll need to concentrate on getting in much better shape as he's currently got 30-40 lbs of flab. He could ultimately get drafted but he may be on the Dexter Pittman, "tease you for four years, never really get there and get drafted on perceived potential" plan.
Power Forwards
Mason Plumlee F 6'10" Duke Jr. — 5g, 19.2 mpg, 9.2 ppg, 20-43 fg, 46.5 fg%, 6-14 ft, 5.8 rpg, 8 ast, 9 to
Scouts that were on hand remain shocked that Mason's brother Miles went in the first round. Miles actually looked pretty good (very athletic) at the same event last year. But then went to Duke and did nothing but rebound and dunk all year. Mason is similarly limited in terms of making basketball plays in a structured half court offense, but being a freak athlete, white and a Dukie should all be enough to guarantee a spot in the first round. It would be pretty ironic if Miles went first round and Mason, who's obviously better, went second round in a worse draft. But nothing is certain with the NBA draft.
Patric Young F 6'8" Florida Jr. — 5g, 16.4 mpg, 7.2 ppg, 17-26 fg, 65.4 fg%, 5 rpg, 2-6 ft, 6 ast, 4 to
With such a hulkish frame, Young might be able to flex his way into the first round. And he may need to, as his offensive game doesn't appear to be making any real strides. He's a beast of a specimen but his flexibility seems to suffer with his considerable bulk. We have been pumping the brakes on the Patric Young hype for some time now, though many have projected him as a lottery pick over the past few years. Young's game and skill set are reminiscent of Charles Oakley, giving him a chance of being a modern day enforcer. As one scout said, there's always room in the league for guys that size that like to rebound and mix it up inside.
Ed Daniel F 6'6" Murray State Sr. — 5g, 19.8 mpg, 7.2 ppg, 1.8 rpg, 16-27 fg, 59.3 fg%, 2-6 3p, 2-5 ft, 4 to
Daniel looked virtually the same as he did at the LeBron camp. Solid, made some rim rocking plays, but at the end of the day he's a severely undersized PF with limited offensive skills. He does have a huge wingspan and explosive athletic ability. But it's unlikely to make up for the massive holes to his game.
Jack Cooley F 6'9" Notre Dame Sr. — 5g, 19.4 mpg, 9.4 ppg, 6.2 rpg, 21-32 fg, 65.6 fg%, 5-8 ft, 2 blk, 5 to
Cooley is a lunch pale, no nonsense PF in the mold of former Notre Dame Luke Harangody. He lacks Harangody's intangibles, although he's got better size. Not thought of as much of an NBA prospect, Cooley should be able to carve out a solid career playing ball overseas.
Erik Murphy F 6'10" Florida Sr. — 5g, 18.8 mpg, 5.8 ppg, 11-23 fg, 47.8 fg%, 5-16 (31.3%) 3p, 3.6 rpg, 1 to
Murphy had a solid week. He's not a great athlete and lacks NBA athleticism but he's focused and understands his role as a scorer. He's a face up combo forward that shot the ball fairly well and played to his abilities. He's got a game suited for Europe.
Marc Trasolini F 6'9" Santa Clara University Sr. — 4g, 15.3 mpg, 6.3 ppg, 11-21 fg, 52.4 fg%, 1-1 3p, 3.5 rpg, 2 to
Had a nice dunk in traffic over a defender. Shows a solid skill level and decent lift around the rim. Was overwhelmed by the athletes (Noel, Plumlee) to a degree. More of a center in a power forward's body.
Small Forwards

Adonis Thomas G-F 6'6" Memphis So. — 5g, 26.2 mpg, 11.2 ppg, 25-54 fg, 46.3 fg%, 2.4 rpg, 11 ast, 3 to
The funniest story to come out of the event is that Thomas lost his contact lenses on the first day and basically played on without the benefit of clear vision. it didn't slow him down much however as he still put up 17 shots from 3 hitting just 4. It's hard to be too critical all things considered, but aside from his standout athleticism, Thomas did not really stand out. Covington was the top small forward in camp, but Thomas has considerably more upside due to his age and all around athletic ability.
Robert Covington F 6'9" Tennessee State Jr. — 5g, 25.0 mpg, 12.6 ppg, 4 rpg, 25-53 fg, 47.2 fg%, 7-17 (41.2%) 3p, 5-5 ft, 7 blk, 5 stl, 10 ast, 5 to
This guy is a serious sleeper who put up big stats at adidas Nations. He was second only to Deshaun Thomas in scoring. One of my main concerns with him coming in was his strength, but his body appeared improved since the season, as his upper body and shoulders looked bigger. Has a nice floor game with the ability to pull up off the dribble as well as spot up from outside. He was very impressive from long range, knocking down 7-17 from deep. He's active, and athletic and could get some first round looks despite being a bit of a tweener at a mid major.
Andre Roberson F 6'7" Colorado Jr. — 4g, 19.8 mpg, 5.5 ppg, 10-20 fg, 0-3 3p, 50 fg%, 7.3 rpg, 9 to
Scouts came out of this event saying that they have more confidence in Roberson as a 3. He's a serious athlete, but I really didn't see him do a whole lot when I watched him. His best attribute is rebounding, in fact he led the entire camp in rebounds per minute, second overall to Deshaun Thomas. But for a 6'7 small forward, rebounding being your best asset isn't necessarily the greatest thing to have said about you. He reminds me of Matt Barnes, a player that took a few years out of college to finally figure out how to utilize his elite level athleticism. His ball handling, passing and shot are all works in progress, but a big season could easily vault him into first round discussions.
DeShaun Thomas F 6'7" Ohio State Jr. — 4g, 32 mpg, 19.8 ppg, 31-73 fg, 42.5 fg%, 9-26 (34%) 3p, 7.5 rpg, 8 to
An absolute scoring machine. Got off 73 shots in 4 games, twice the number of almost every other player in the event. His 19.8 ppg was also a high with no other player reaching 13 ppg. He also led the camp in rebounds per game, but his 32 mpg factored into that. Thomas didnt always look very efficient, as there were some games where he obviously took way to may shots, but his overall stats didn't look too bad at 42% fg and 34% 3p.
Amath Mbaye SF 6'8 Oklahoma Jr. — 4g, 21.3 mpg, 7.3 ppg, 11-22 fg, 4-8 (50%) 3p, 4.0 rpg, 2 ast, 1 to
One of the surprises of the camp. Mbaye has a solid feel for the game, despite picking it up late at 16. he's originally from Senegal and grew up in France. He sat out last season after transferring from Wyoming. Amath "A-Mot" is a quality kid and should have a great chance to lead Oklahoma in scoring next season. Since he's 1989 born, a strong season could mean that he will enter his name into next year's draft. I was more impressed with him than some of the other wing forwards in attendance such as McKie, Wiltjer and Sheehey. Based on what he showed at adidas Nations, he'll have a chance to be a mid-second rounder next year.
Travis McKie SG 6'7 Wake Forest Jr. — 5g, 14.4 mpg, 10.8 ppg, 22-36 fg, 61.1 fg%, 3-10 (30%) 3p, 7-12 ft, 4 ast, 6 stl, 1 to
Put up impressive and efficient scoring stats in limited minutes. McKie isn't the most flexible athlete but has been a prolific scorer on the college level since his freshman season. He's a solid athlete who gives solid intensity. Not overly skilled offensively but goes aggressively to the basket. One scout told me he likes McKie but he's not in the majority on him. Sort of a backhanded complement.
Kyle Wiltjer F 6'9" Kentucky So. — 4g, 23.8 mpg, 11.8 ppg, 17-48 fg, 35.4 fg%, 9-28 (32.1%) 3p, 2.8 rpg, 3 to
Wiltjer is a bigtime shooter and proved that over the 3 days of Nations. Unfortunately he's extremely one dimensional, lacking the ability to play inside and play stronger. His model should be Orlando's Ryan Anderson. But unfortunately it doesn't appear that Wiltjer has the strength or toughness to truly play that brand of basketball.

Will Sheehey G 6'7" Indiana Jr. — 4g, 26 mpg, 11.3 ppg, 17-39 fg, 43.6 fg%, 4.5 rpg, 7-10 ft, 7 ast, 4 to
Sheehey was one of the few guys that I was unfamiliar with coming in. He's a solid all around player, and played well. He can score from outside and even got to the rim for a dunk or two. His body could be a problem as he looks like a guy who will struggle to add much weight. He did score it well showing the ability to hit shots form distance and mid-range. Just another reason Indiana could be the team to beat in 2012-13.
Shooting Guards
Sean Kilpatrick G 6'4" Cincinnati Jr. — 4g, 22.8 mpg, 11.3 ppg, 17-41 fg, 41.5 fg%, 7-21 3p, 33.3 3p%, 4.25 rpg, 9 ast, 9 to
Kilpatrick was one of the bright spots as he appeared to be the most advanced shooting guard among the group. He has solid ball skills, with the ability to find teammates as well as create off the dribble. He's also got the ability to hit shots from the perimeter. He's undersized at 6'4 but his athleticism helps him to overcome that deficiency. He's getting mentions from scouts as a potential first rounder, and his play at adidas Nations backed that up.
Trey Zeigler G 6'5" Pittsburgh Jr. — 2g, 23.5 mpg, 9.5 ppg, 6-18 fg, 33.3 fg%, 1-2 3p, 6-11 ft, 5 rpg, 3 ast, 2 to
Zeigler is a low key kid who had a solid though unspectacular week. He should be one of the better 2-guards in the Big East over the next two years. He'll be immediately eligible to play beginning next season.
Wayne Blackshear G/F 6'5" Louisville So. — 5g, 23.2 mpg, 5 ppg, 2.4 rpg, 11-37 fg, 29.7 fg%, 0-0 ft, 5 to
The Louisville wing has good size and strength and shows the ability to absorb contact. He's got good size for the position. He didn't do a whole lot to stand out during adidas Nations and still appears to be a few years away from prime time. He was a high level recruit coming out of high school and had a solid end to the season after missing a good portion of his freshman year due to injury. Blacksheer averaged 5 ppg, and really struggled from the floor hitting just 11-37 shots, 3-18 from 3, 2.2 rebs in 23 min per game. The fact that he played 116 minutes and didn't get to the FT line one time shows that he's not being nearly aggressive enough using his strength around the basket.

Point Guards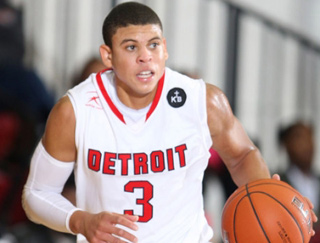 Ray McCallum PG 6'1" Detroit Jr. — 4g, 29.5 mpg, 12.0 ppg, 18-38 fg, 47.4 fg%, 4-14 (28.6%) 3p, 2.5 rpg, 2.5 apg, 8 to
McCallum was third overall in scoring and impressed with his Dad and Coach Ray Sr. watching every one of his games. McCallum was the best point guard in attendance, but that wasn't saying a great deal as there wasn't any stand out, sure fire first rounders amongst the camp. He had his way in the match ups with Nate Wolters, as well as Peyton Siva and Ryan Boatright. He got hot in one game hitting what appeared to be 5 three pointers but was credited with 3/4. Overall, he still needs to improve his outside shot.
Isaiah Canaan PG/SG 6'0" Murray State Sr. — 4g, 29.5 mpg, 11.3 ppg, 0.8 apg, 17-45 fg, 37.8 fg%, 6-20 (30%) 3p, 55.6 ft%, 19 to
Canaan really struggled at Nations. His 19 turnovers to just 3 assists shows just how much. He shows very good ability to drive and make plays for himself attacking the basket, and has a tremendous basketball frame. His biggest problem is that he's not a true PG and didn't do anything here to change that notion. He struggles to create shots for others and doesn't look completely comfortable running the show from the top of the key. He plays solid defense and puts a lot of pressure on opposing guards with his strength on both ends of the floor. But without the natural playmaking abilities of a point guard, it's hard to get too excited about Canaan as more than an early second round pick.
Nate Wolters G 6'4" South Dakota State Sr. — 4g, 30.5 mpg, 12.0 ppg, 18-33 fg, 54.5 fg%, 3-10 3p, 9-9 ft, 5 rpg, 4.8 apg, 7 stl, 7 to
Wolters was one of the more interesting prospects to watch at adidas Nations. He has some real flare to his game but he didn't break it out until towards the end of the camp when he got more comfortable. Some scouts really love this kid. He's certainly an underrated athlete and his size makes up for his lack of elite level quickness to some degree. He still needs to improve upon his outside shot and he didn't show much consistency or range on his shot this week. Although his shot isn't completely irreparable. Wolters helped the Jackrabbits obliterate a solid Washington team last season, a game which likely loomed large in the Huskies NCAA snub. He's got extra work to do to make up for playing at South Dakota State, and most likely ends up somewhere in the early to mid-second round. His vision and passing on the break are very good and he almost glides up the floor with the ball in his hands.
Joe Jackson PG 6'0" Memphis Jr. — 4g, 19.5 mpg, 9.5 ppg, 15-24 fg, 62.5 fg%, 3-5 3p, 4.75 apg, 4.0 rpg, 5 to
Jackson has yet to live up to his tattoo as the "King of Memphis", but he did have a strong showing. He came into college with a big reputation as a top 50 recruit, but thus far has disappointed. Slightly undersized at 6-0 and lacking great body strength. He has the speed and athleticism to make it, but consistency and toughness are things he'll need to continue to improve upon.
Pierre Jackson PG 5'10" Baylor Sr. — 4g 26 mpg, 5.5 ppg, 9-35 fg, 25.7 fg%, 2-22 3p, 3.0 rpg, 2.75 apg, 9 stl 7 to
Flashed his tremendous athleticism and playmaking ability at times. Scouts mentioned before the event that they felt he has a real shot to get drafted, despite his small stature. He's credited for being Baylor's driving force behind their Elite Eight run last season. His numbers were average, and his efficiency was sub-par. The thing most concerning to scouts is his inability to contain opposing point guards. He gets comparisons to Nate Robinson, but Robinson is a pest defensively, while Pierre plays more like a matador.
Ryan Boatright PG 6'0" UConn So. — 5g, 20.6 mpg, 7.4 ppg, 5.4 apg, 15-35 fg, 42.9 fg%, 6-8 ft 75.0 ft%, 21 to
Boatright really struggled against the competition as his size is definitely an issue. He scored the ball well and did record a lot of assists, but struggled with turnovers. He's quick and dynamic but lacks the strength to absorb contact and easily gets knocked off balance and out-muscled for position. He had a few games where he really struggled. He averaged 5.4 ppg in just over 20 mpg. Really struggled shooting from outside 1-10 3p, but was a more solid 15-35 overall from the floor. He gets strong reviews from coaches at UConn but failed to impress here.
Peyton Siva PG 6'0" Louisville Sr. — 5g, 24.8 mpg, 10 ppg, 20-44 fg, 45.5 fg%, 2-13 (15.4%) 8-14 ft, 3p, 3.4 apg, 11 to
Siva is a helter skelter type of guard, perfect for the Louisville system. He plays with a lot of emotion and when he's going good, he can be very good. When he's bad, as he was when he matched up with Ray McCallum, he can be horrible (2-13). He's small and doesn't run a team particularly well, but he's very athletic and gives solid effort. He'll need a big senior year to have a shot.
Anthony Ireland PG 5'10" Loyola Marymount Jr. — 4g, 28 mpg, 2.0 ppg, 4-16 fg, 25.0 fg% 0-5 3p, 4.8 apg, 3 to
Ireland looked small and overwhelmed. He could not seem to get his shot off and therefore basically looked to pass nearly every time he touched the ball. He is a true PG and played hard. But he wasn't a player that got many looks from scouts as he struggled to score and lacks the dynamic athleticism and skills to transcend his size. On the positive side he did a tremendous job protecting the ball with 19 assists to 3 turnovers.