This year's McDonald's All American game was close through 30 minutes with the East eventually pulling away for a 111-96 victory behind 17 points from North Carolina bound forward James McAdoo. Here is a breakdown of the 2011 McDonald's game from an NBA scouting perspective.
West
Khem Birch 6'8" 210 PF *Pittsburgh — Birch looked a little ridiculous wearing a long sleeve shirt under his jersey. He's athletic and very active but didn't show much in the way of physicality or finishing ability. His shot looks to be just average as does his attitude. He appears to be closer to 6'8 than 6'9 which can be a kiss of death for many skinny power forwards. Reclassifying to become a senior made it appear that he is in a rush to turn pro. He doesn't appear to be a one and done type of player, so hopefully he'll be patient at Pitt. The hope will also be that Pitt's tough style will wear off on his game and he'll be able to put significant weight on without losing any of his athleticism. Really prides himself on protecting the rim, which is good to see. His activity and length disrupted a PJ Hairston shot, and he finished with a game high 6 blocks.
Wayne Blackshear 6'5" 215 SG/SF *Louisville — Blackshear got the start despite dislocating his shoulder in practice earlier in the week, showing solid toughness but but saw limited action. He's got excellent strength but almost looks too bulked up similar to Xavier Henry, and could stand to gain quickness and flexibility. Gotta love his toughness for playing, but with limited minutes, hard to give much of an evaluation.
Anthony Davis 6'10" 210 PF *Kentucky — His story of growing over 7 inches between his junior and senior year is well documented. He not only gained height, but length as well as his arms have become incredibly long. He's transitioned from looking for a division one scholarship to being the top prospect in the class. What's amazing is that when most kids go through huge growth spurts, their agility is usually compromised. He looks as agile as if he were still 6'3. He runs the court like a deer and finishes well above the rim. He's retained many of his guard skills (passing and ball handling). Threw down a nice tomahawk dunk off a Zeller feed early. Swatted Gilchrist's shots on 2 occasions. Finished with 4 blocks and affected a number of other shots with his length. Displayed excellent body control and finishing ability with an and 1 to start the 2nd half. Quickly followed that up with an ally oop. His length gives him the ability to rebound well and shows a willingness to hit the glass and absorb contact. Is he another KG, or closer to a Brandon Wright? Has wide shoulders which should allow him to add weight. He needs to bulk up, but appears to be the top long term prospect in the class and the top candidate to give Harrison Barnes a run for his money as the top overall pick next year.
Branden Dawson 6'5" 220 SF *Michigan State — Knocked down a baseline jumper showing solid form. Had a nice put back with a solid rebound. Length and athleticism make him a good offensive rebounder. Got nine points playing in a garbage man role.
Myck Kabongo 6'1" 170 PG *Texas — Reminiscent of Rajon Rondo with his long, wiry frame and freakish speed and quickness. Had a sloppy game as he was looking to make the razzle dazzle on nearly every possession. Granted it's an All Star game, but his attempts to impress compromised his efficiency greatly.
LeBryan Nash 6'7" 230 SF *Oklahoma State — Displayed his leaping ability with an open floor dunk. Sporting a mo-hawk. Draws a lot of comparisons to Ron Artest and not only for the body type and appearance. Nash has some of the same "eccentricities" personality-wise.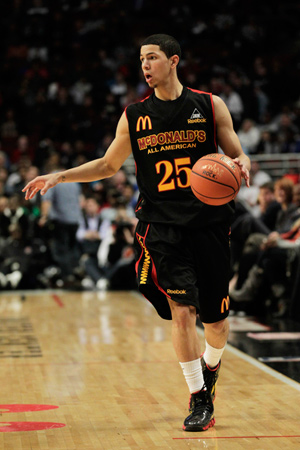 Austin Rivers 6'4" 190 SG *Duke — Scouts came away from the practices questioning his abilities as a point guard. He's very good, but because he's seen as more of a 2, it decreases his long term potential to a degree. Rivers has incredible drive and dedication. As the son of Doc Rivers, he's been around the game his entire life and appears very comfortable with the ball in his hands. Loves the one on one game and uses his strength and balance well when attacking the rim. He has supreme quickness off the dribble and excellent explosiveness to finish around the rim. Really pushes the ball up the floor quickly. Got a little too iso-happy at times, but then again people paid money to watch the stars put on a show. Also got a little out of control on a drive, losing the ball. Had a slick pull up J from 3 after going through his legs. Made one tremendous move late in the first half utilizing his deadly crossover to perfection on Beal and going under the rim and putting the ball off the backboard on the opposite side using English. Shot poorly 5-14 overall. Knocked down 3-8 from the 3 showing off his excellent range pulling up off the dribble. His jumpshot is a thing of beauty. Also had 4 ast to just 1 turnover in the game. His bow legs and body have an uncanny resemblance to his Dad's.
Marquis Teague 6'2" 165 PG *Kentucky — Fed Davis for a nice ally oop dunk. Similar to his brother Jeff appears to be more of an explosive scorer than a true point guard. But has even more ups than his Atlanta Hawk sibling. Extremely difficult to contain with his blinding first step and incredible speed. Displayed his tremendous jets blowing right by Cook for one lay in. His explosiveness is at an elite level but at his size, he may not be able to use it in games as often as he would like. Like Kabongo, his flashiness got in the way of his efficiency.
Adonis Thomas 6'6" 210 SG/SF *Memphis — Despite shooting just 1-9 from the floor, Thomas was a players scouts mentioned as being a player they really liked long term. He might be the freakiest athlete in the entire class. He needs to develop a more consistent outside shot but has a chance to surpass everyone in this class (including Davis) because of his supreme athleticism.
Amir Williams 6'10" 220 PF/C *Ohio State — Good length and athleticism but mechanical offensively/shooting the ball. Was a perfect 2-2 from the floor and 2-2 from the line finishing with 6 points in 8 minutes.
Kyle Wiltjer 6'10" 221 SF/PF *Kentucky — The lone representative from the West Coast on the "West" squad is a sweet shooting forward in the mold of Orlando Magic's Ryan Anderson. Wiltjer knocked down a pretty right handed sky hook over McAdoo from 8 feet out showing his old school game.
Cody Zeller 6'10" 210 PF *Indiana — Knocked down a nice mid-range fadeaway. Many feel he has a chance to end up the best of the Zellers and has been anointed by some as the savior of Indiana basketball.
East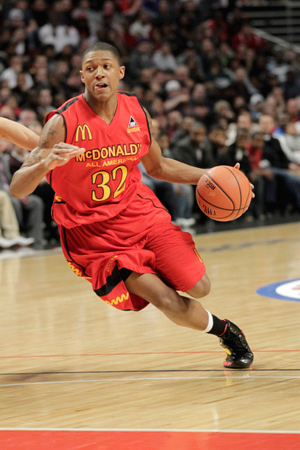 Brad Beal 6'4" 177 SG *Florida — Put forth a very impressive performance with a game high 17 points on 7-14 from the floor, and 4 assists in 21 minutes. His 3 point shoot wasn't dropping the way it normally does (1-5) but he displayed an array of offensive skills and smooth all around game. Got the first bucket of the game on a nifty drive and lay in to the left of the basket. Also had a nice one handed rebound tip in on a Quinn Cook 3 point miss early. Showcased his passing ability with a solid ally oop feed to McAdoo from half court. Blocked a Dawson shot at the rim. Looked comfortable handling the ball against the pressure of guards like Kabongo. Cut baseline for a nice lay in off a Cook feed. Despite missing a number of outside shots, they all looked in rhythm and very good. The Ray Allen comparisons are not too far off the mark. An impressive 2g prospect, despite being undersized.
Chane Behanan 6'7" 240 PF *Louisville — Behanan had a couple nice plays including a monster dunk finishing with 4 pts. Considering the West Coast (California Arizona, and Washington) had no players in this game, it's surprising Behanan was given a spot on the roster. A player with limited NBA potential due to his size at the power forward position. A nice recruit for Pitino because he should be able to impact the college game quickly and be a four year player.
Kentavious Caldwell 6'6" 190 SG *Georgia — Played solid in limited minutes. Scored on a two breakaway dunks, showing his leaping ability. Doesn't wow you with athleticism but a smooth athlete nonetheless. Nice form on his shot.
Michael Carter-Williams 6'5" 175 SG *Syracuse — Failed to get in a rhythm in just 14 minutes of action. Had 2 points on 1-4 shooting. Appears to have nice upside however. Smooth combo guard with excellent handle and feel for the game. Disruptive defensively with his length. Still very skinny and needs to add some weight.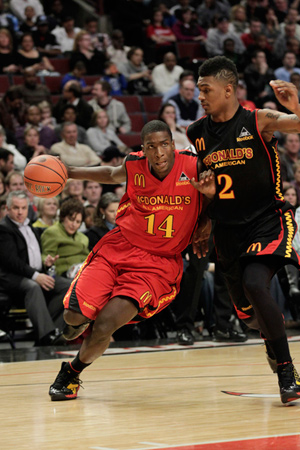 Michael Gilchrist 6'6" 210 SF *Kentucky — Long considered the top player in the class, seems to have plateaued some. May struggle to find a position. A great kid, who works extremely hard by all accounts. Had excellent numbers with 16 pts and 12 boards but struggled to create offense at times. His versatility was on display as he brought the ball up the floor, and looked solid handling the ball but there are major question marks about his ability to effectively play on the perimeter at this point. Seems most comfortable creating points inside the paint and using his great length (7-foot wingspan) for rebounds and put backs.
Rakeem Christmas 6'9" 230 PF *Syracuse — Appears to play with a chip on his shoulder which can be a good thing if he harnesses it. Right now it comes across negatively as he looks frustrated when things aren't going his way, which was basically the entire McDonald's game. Still very raw offensively. Had just 2 points on 1-4 shooting in 13 min. His considerable length makes him a presence defensively. Extremely fluid and explosive. Shows a great deal of upside, but must work hard to improve upon his offensive game, his basketball understanding, his maturity and adding strength to his body. Probably a 3-4 year kid who needs a lot of seasoning at Syracuse.
Quinn Cook 6'0" 180 PG *Duke — Looked sharp handing the ball and picking his spots for shots. Has the look of a solid 4 year Duke point guard. Lacks great size and not overly athletic but tough and a true floor general. Displayed good speed and excellent ball handling ability. Scored on a nifty floater over Davis. Buried a deep three pointer. Outside J looked good. Drove late for a nice lay up high off the glass in traffic. His 14 points and steady play helped the East squad pull out the victory.
James McAdoo 6'8" 220 SF/PF *North Carolina — Very impressive forward prospect with the speed to play on the perimeter and the length to play inside. Also shows very good range on his shot and elite level athleticism running the floor and finishing at the basket. Very fluid. Makes the game look easy. Has tremendous reaction speed and anticipation defensively. He knocked down a number of difficult shots but will need to look to improve his shot selection some. Has a habit off floating to his left and right and getting off balance on shots at times. Converted a two handed ally oop flush off a Brad Beal feed. Made a beautiful one handed 3/4 court bounce pass to Quinn Cook for a breakaway lay in. His body looks close to NBA ready right now. Had a couple of nice breakaway dunks late, one coming off a steal. Appears to be Davis' top competition for the head of this year's class.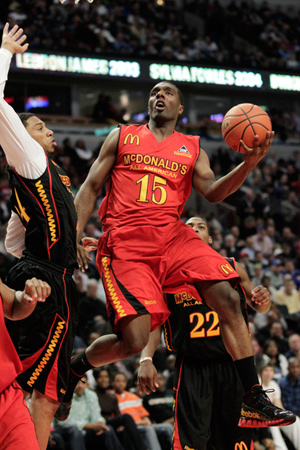 PJ Hairston 6'5" 220 SG *North Carolina — Impressive combination of explosiveness and outside shooting ability. Sort of a poor man's JR Smith. Ended up 3-6 from downtown, 6-12 overall for 15 pts, 3 ast. Very aggressive all around, anticipating steals and crashing the glass. Scorers mentality. Has pretty jumper with range. Gets great height on his jumper, quick release, excellent form.
Johnny O'Bryant 6'9" 265 PF/C *LSU — Scored on an early drive to the basket. Also put an excellent move on Davis in a one on one match up but the ball rimmed out. Shows surprising ball handling ability for a bigman. Fed Gilchrist for an easy flush off of one ISO move. Needs to work on improving his body fat. Plays with a high motor getting a number of baskets on sheer hustle.
Marshall Plumlee 6'10" 245 C *Duke — Ran the floor getting out for a breakaway dunk. Got shafted in the dunk contest losing out on the judges scorecard to LeBryan Nash, but actually put up the most imaginative dunks and deserved to win. Will join his brothers at Duke next year in a crowded Plumlee frontcourt. Unlike his brothers has the body and game of a true center. His favorite subjects include "robotics" which is interesting because that's a good way to describe his shooting/post moves. Made a nice pump fake lay in late in the game.
Shannon Scott 6'2" 170 PG *Ohio State — Put forth an impressive performance with 5 steals in just 12 minutes of game time. Showed his ability to pull up off the dribble knocking down a free throw extended jumper after dribbling the length of the court at full speed. Looked very quick anticipating a Kabongo pass for a steal. Also made a nice rip and converted on the breakaway staying out in front of the ultra-quick Kabongo.
*Photos: Icon Sports Media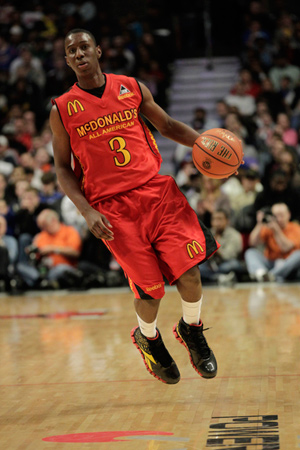 Boxscore
West 96
## Player FG-FGA FG-FGA FT-FTA Off Def Tot PF TP A TO Blk Stl Min
21 Blackshear, Wayne f 1-3 0-0 0-0 1 1 2 0 2 2 1 1 1 8
40 Zeller, Cody f 5-6 0-0 0-0 3 0 3 3 10 3 1 0 0 15
32 Davis, Anthony c 5-8 0-1 4-5 1 5 6 3 14 1 0 4 2 21
25 Rivers, Austin g 5-14 3-8 1-4 1 4 5 0 14 4 1 0 0 25
30 Teague, Marquis g 4-10 0-1 1-2 0 0 0 0 9 3 5 0 0 17
1 Williams, Amir 2-2 0-0 2-2 1 2 3 1 6 0 0 0 1 11
12 Kabongo, Myck 0-6 0-2 2-2 1 6 7 2 2 5 5 1 0 20
14 Wiltjer, Kyle 4-10 1-1 2-2 2 0 2 1 11 0 2 1 1 15
2 Blackshear, Wayne 1-3 0-1 0-0 0 0 0 2 2 0 0 0 0 12
22 Dawson, Branden 4-5 0-0 1-4 6 2 8 0 9 2 0 0 0 14
24 Birch, Khem 5-11 0-0 5-6 9 1 10 2 15 0 1 6 0 21
4 Thomas, Adonis 1-9 0-2 0-0 0 0 0 0 2 0 2 0 0 21
Total 37-87 4-16 18-27 27 29 56 14 96 20 18 13 5 200
East 111
## Player FG-FGA FG-FGA FT-FTA Off Def Tot PF TP A TO Blk Stl Min
14 Gilchrist, Michael f 5-13 0-1 6-6 5 7 12 0 16 4 0 0 1 23
44 McAdoo, James f 8-13 1-2 0-0 3 1 4 2 17 1 0 1 2 21
11 O'Bryant, Johnny c 3-8 0-0 3-4 3 4 7 2 9 2 0 0 3 18
2 Cook, Quinn g 6-13 2-6 0-0 0 0 0 1 14 1 1 0 0 21
32 Beal, Brad g 7-14 1-5 2-2 4 1 5 1 17 4 1 0 0 21
15 Hairston, P.J. 6-12 3-6 0-0 1 1 2 1 15 3 0 0 2 14
21 Behanan, Chane 2-5 0-1 0-0 1 2 3 3 4 1 1 0 0 13
22 Caldwell-Pope, Kentavious 2-6 0-3 2-2 0 0 0 2 6 1 0 0 1 12
25 Christmas, Rakeem 1-4 0-1 0-0 0 3 3 4 2 1 0 0 0 13
3 Scott, Shannon 2-3 0-1 0-0 0 2 2 3 4 2 4 0 5 12
40 Plumlee, Marshall 2-3 0-0 1-2 3 5 8 2 5 0 0 1 1 18
5 Carter-Williams Michael 1-4 0-2 0-0 1 0 1 2 2 3 0 0 1 14
Total 45-98 7-28 14-16 24 26 50 23 111 23 7 2 16 200
Attendance: 19909
McDonald's High School All American Boys Game
Score by periods 1st 2nd Total
East Team 57 54 111
West Team 44 52 96
West
| # | Name | Height | Weight (lbs.) | Position | High School | Hometown | College |
| --- | --- | --- | --- | --- | --- | --- | --- |
| 24 | Khem Birch | 6'9" | 210 | PF | Notre Dame Prep | Montreal, QC, Canada | Pittsburgh |
| 21 | Wayne Blackshear | 6'5" | 205 | SG/SF | Morgan Park HS | Chicago, IL | Louisville |
| 32 | Anthony Davis | 6'10" | 210 | PF | Perspectives Charter | Chicago, IL | Kentucky |
| 22 | Branden Dawson | 6'5" | 220 | SF | Lew Wallace HS | Gary, IN | Michigan State |
| 12 | Myck Kabongo | 6'1" | 170 | PG | Findlay Prep | Toronto, ON, Canada | Texas |
| 2 | LeBryan Nash | 6'7" | 230 | SF | Lincoln HS | Dallas, TX | Oklahoma State |
| 25 | Austin Rivers | 6'4" | 190 | SG | Winter Park HS | Winter Park, FL | Duke |
| 30 | Marquis Teague | 6'2" | 165 | PG | Pike HS | Indianapolis, IN | Kentucky |
| 4 | Adonis Thomas | 6'6" | 210 | SF | Melrose HS | Memphis, TN | Memphis |
| 1 | Amir Williams | 6'10" | 220 | PF/C | Detroit Country Day | Birmingham, MI | Ohio State |
| 14 | Kyle Wiltjer | 6'10" | 221 | SF/PF | Jesuit HS | Portland, OR | Kentucky |
| 40 | Cody Zeller | 6'10" | 210 | PF | Washington HS | Washington, IN | Indiana |
East
| # | Name | Height | Weight | Pos. | High School | Hometown | College |
| --- | --- | --- | --- | --- | --- | --- | --- |
| 32 | Brad Beal | 6'4" | 177 | SG | Chaminade College Prep | St. Louis, MO | Florida |
| 21 | Chane Behanan | 6'7" | 240 | PF | Bowling Green HS | Bowling Green, KY | Louisville |
| 22 | Kentavious Caldwell | 6'5" | 190 | SG | Greenville HS | Greenville, GA | Georgia |
| 5 | Michael Carter-Williams | 6'5" | 175 | SG | St. Andrew's School | Hamilton, MA | Syracuse |
| 25 | Rakeem Christmas | 6'9" | 230 | PF | Acad. of the New Church | Philadelphia PA | Syracuse |
| 2 | Quinn Cook | 6'0" | 180 | PG | Oak Hill Academy | Hyattsville, MD | Duke |
| 14 | Michael Gilchrist | 6'6" | 210 | SF/PF | St. Patrick HS | Somerdale, NJ | Kentucky |
| 15 | PJ Hairston | 6'6" | 220 | SG | Hargrave Military Academy | Greensboro, NC | North Carolina |
| 44 | James McAdoo | 6'8" | 220 | SF/PF | Norfolk Christian | Norfolk, VA | North Carolina |
| 11 | Johnny O'Bryant | 6'9" | 265 | PF/C | East Side HS | Cleveland, MS | LSU |
| 40 | Marshall Plumlee | 6'10" | 235 | C | Christ School | Warsaw, IN | Duke |
| 3 | Shannon Scott | 6'2" | 170 | PG | Milton HS | Alpharetta, GA | Ohio State |