Two out of the last three Maui Invitational winners have gone on to win the National Championship (North Carolina in 2009 and UConn last season). This year's Maui Invitational lacked the star power of past events and some speculated there wasn't a true Final Foul level team in the field. Of course, Duke begs to differ. The Blue Devils impressed with their swarming defense and offensive execution. Duke had never lost in Maui and the NCAA's all time winningest coach remained perfect (15-0) in the event.
As far as NBA GMs go, it will be difficult to top this year's field (due to the lockout) Kevin O'Connor, Sam Presti, Danny Ainge, Mitch Kupchak, Gar Forman, Chris Grant and Daryl Morey were all on hand, plus numerous assistant GMs and scouts. Speaking of which, it's great to see that the two sides have reached a tentative agreement and here's hoping the season indeed begins on Christmas, as planned.
Here is a rundown of the NBA prospects that participated:
The Top 3
Thomas Robinson 6-8 240 PF Kansas Jr.
Robinson may not ultimately turn out to be the top NBA player from the 2011 Maui Invitational but he was definitely the most impressive prospect. His size, strength and athleticism were on display, but what really raised eyebrows among scouts was his improving offensive skills. He showed excellent quickness facing the basket and blew by defenders off the dribble, as well as knocking down some key mid-range shots in the big Duke match up. He's a physical specimen with huge shoulders and arms and did his best to intimidate Duke's bigmen. He's a little undersized for the PF position at 6'8, but his long arms and versatility help to make up for it. He made a strong impression in front of numerous GMs in Maui, helping his cause as a potential lottery pick in the 2012 draft.
Austin Rivers 6-4 203 SG Duke Fr.
Rivers outside shot was hitting at a good rate but he struggled finishing plays when he drove to the basket. Taking away his excellent 6-14 shooting (42.9%) from distance, Rivers made just 8-25 (32%) from inside the arc. He's very talented at creating shots for himself with his one-on-one moves, and loves to shake and bake opponents. His game is heavy on ISO and while it's an asset, he still needs to adjust it as he's far too ball dominant. It is completely out of place within the Duke offense, but both he and Coach K seem to be bending to the others style and attempting to make it work. He needs to learn how to play off the ball and also become better at moving the ball and making plays for teammates instead of primarily himself. Rivers eventually showed some ability to drive and kick, setting up Curry on one key drive late in the Michigan game, but there was not much of that. He has struggled in his ability to find teammates off of drives thus far this year, but scouts seem to think that will come with time. He's not going to be confused with a point guard and despite having impressed playing the position in the past, he's clearly a scoring guard. The fact that Rivers was pulled out in favor of Thornton in the final minutes of the Kansas game shows that he still has a lot of maturing to do.
Tim Hardaway Jr 6-5 190 SG Michigan So.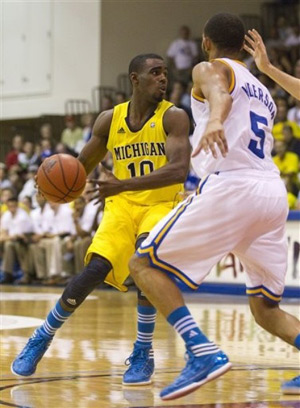 Hardaway consistently plays with desire and intensity and is a fierce competitor. His motor allows him to maximize his solid, though unspectacular, athleticism. Hardaway outclassed the Memphis wings with his skill level as well as outrebounding both Adonis Thomas and Will Barton at key points of their match up. Playing alongside a mature FR point guard in Trey Burke, Hardaway was very impressive. He shows the ability to pull up off the dribble and also shows a high basketball understanding moving well without the ball and playing within the team concept. He finished with a team high 19 against Duke, but the Blue Devils were able to limit him in the first half with an excellent defensive game plan. He's got very skinny legs and some feel his athleticism is just average for the next level. Apparently Tim Hardaway Sr. didn't teach him his killer crossover as it doesn't appear to be part of his game, yet.
Others
Adonis Thomas 6-6 220 SF Memphis Fr.
The "Greek God" was very impressive against Tennessee. He has an improving jumpshot to accompany the freakish athleticism and strength that made him a top 10 recruit in a very strong freshman class. Scouts noted that he's an impressive athlete but that his skill level is still a work in progress. Thomas played limited minutes in their loss against Michigan finishing with just 5 points but did have an impressive sequence, knocking down a 3 and turnaround J on back to back possessions. His 19 points in their double OT game was his best performance.
Tarik Black 6-8 245 PF Memphis So.
While undersized at 6'8, Black's huge wingspan allows him to play bigger than his height. He has tremendous strength and athleticism and shows aggressiveness around the basket. He lacks much in the way of skills but his willingness to bang inside and length gives him a shot at the next level. He'll need to develop better post moves and develop some face up skills, but scouts like his demeanor and toughness.
Will Barton 6-6 175 SG Memphis So.
Scouts remain lukewarm on Barton as a prospect, despite having come in as one of the nation's top recruits. His frame is a big concern as he has extremely narrow shoulders and it's clear he will struggle to add weight to his frame. James White had similar strength problems and White was about 2-3 levels above Barton athletically. He does have a high skill level and is a very likable, charismatic kid. Barton proponents point to players such as Rip Hamilton, however Hamilton had better core strength to finish at the rim and stay on balance on the perimeter and fight for shots with contact. Barton has some intriguing skills and is a scoring machine, but has a number of issues he must address before being considered a first round prospect.
Wesley Witherspoon 6-8 200 SF Memphis Sr.
Witherspoon really disappointed scouts in Maui. So much that at times you could see eyes rolling and heads shaking after some of his mental errors in games. His struggles were capped off by a huge blunder in the closing minutes of the Tennessee double OT game. After collecting a loose ball (up 2) with the final seconds ticking off, he lost his mind and began to celebrate and ran with the ball before dribbling it. He was subsequently charged with a travel which gave the ball back to Tennessee with a second left and one final chance to tie or win the game. The other big criticism scouts mentioned is his lack of physical strength/toughness. "He gets pushed all over the place" said one scout. Witherspoon's inability to live up to expectations is very frustrating.
Joe Jackson 5'11 170 PG Memphis So.
UCLA former star Tyus Edney was in attendance, and Jackson has a frame and skill set similar to Edney's. At 5'11, he does have standout quickness and athleticism. But due to his lack of physical strength he's reluctant to explode to the rim in traffic as he could easily get upended. He's got a tattoo on his shoulder that reads, "King of Memphis", but so far he's just a Prince.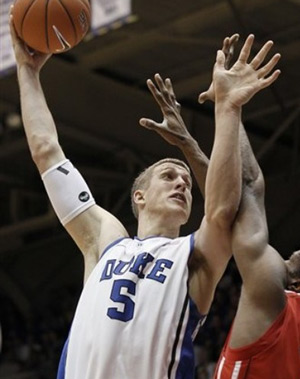 Mason Plumlee 6-10 240 PF Duke Jr.
Mason is playing with more confidence and aggressiveness. He's beginning to make offensive plays for himself in the post and showing better decision making. He even had some big plays down the stretch to help Duke seal the win against Kansas. Another plus is that he stepped up in Duke's biggest game with his best performance, showing toughness and the willingness to battle when challenged by Thomas Robinson. He's still a bit rigid and lacks a high skill level but his leaping ability and frame make him intriguing to scouts. I spoke to a few GMs towards the end of the event that said they like him.
Andre Dawkins 6-5 200 SG Duke Jr.
Dawkins has really refined his outside shot. He gives Duke 3 formidable outside shooters making them extremely difficult to defend. Dawkins athleticism is solid and he's got pretty good size and athleticism for an NBA SG at about 6'4.5. While his quickness and ability to create are just average, he will have a good shot to get drafted in 2013.
Seth Curry 6-1 180 PG/SG Duke Jr.
Curry is getting a great chance to develop as a PG as there really isn't another feasible option for Duke, but he is a point guard in name only. Thornton provides their surest ball protector, but isn't a starting ACC caliber player. Curry could ultimately have a shot to get drafted but it's difficult to see him as an NBA player due to the fact that he's so small, unathletic and not a point guard. Like his older brother, Curry shows strong shooting and decision making ability. But unlike Stephen, Seth lacks the size, athleticism and speed to create shots for himself.
Ryan Kelly 6-10 230 PF Duke Jr.
The MVP of the tournament, Kelly has really stepped up in his junior season into a key role for Duke as their most skilled offensive bigman. He is excellent at scoring when facing the basket and shows toughness playing inside despite lacking a strong frame. While he lacks fluidity and his legs are slow and unathletic, his high skill level and determination are likely to get him drafted. He's a big with the ability to stretch the floor, and NBA teams usually finds roles for those types of players, even ones with limited athleticism like Kelly. He surely helped his cause in Maui with his MVP performance.
Jeronne Maymon 6-6 250 PF Tennessee Jr.
Maymon is an interesting prospect. He is severely undersized and his NBA potential is limited but he finds a way to get the most of his ability and nobody plays with more heart and desire. He carried Tennessee on his back to a near upset win over Memphis. Although there have been some undersized PFs that have made it (Paul Millsap, Craig Smith etc). With Maymon's lack of explosiveness and athleticism it's tough to envision him being able to overcome his huge size disadvantage to make it in the NBA. He does show an excellent feel for the game, with the ability to put the ball on the floor and drive to the basket, as he did at the end of regulation vs. Memphis to put the game into OT. He had the best individual performance of the tourney (32 points and a tourney record 20 rebounds), but due to his size, projecting him for the NBA is probably being overly optimistic.
Jordan McRae 6-6 180 SG Tennessee So.
McRae is very skinny but just a sophomore and shows the length, shooting ability and athleticism that gets scouts excited. He also shows an excellent ability to handle the ball for a two guard, which allows him to use his great speed and athleticism to get to the rim. He missed one monster dunk attempt but flashed NBA athletic ability. He's not a finished product and most likely will need all four years to fill out and round out his game, but he showed enough here to pique some interest among scouts about his NBA chances. He'll need to continue to improve his range, outside shooting, ability to create, and defense.
Otto Porter 6-8 210 SF Georgetown Fr.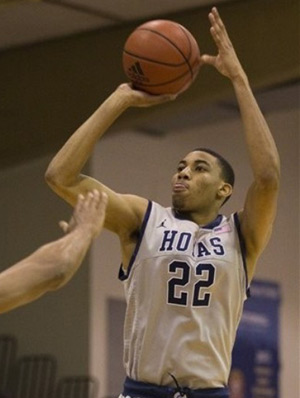 Porter is a very intriguing wing prospect due to his length, defensive ability and outside shooting touch. He doesn't have ideal form on his shot but his release point is decent and he shoots the ball the same way every time. He shows a solid motor and "plays within himself", not trying to do more than he's capable. He's a top 50 recruit and has the potential to break into a star in the next few years at Georgetown. I'm very high on Porter and I know scouts were intrigued by him as well in Maui.
Markel Starks 6-1 180 PG Georgetown So.
Starks isn't flashy and wasn't a highly acclaimed player coming out of high school but he shows solid decision making and a wet jumpshot. His form is excellent with a concise, quick release and the range to knock down 3 pointers. While Kansas' guard are flashier (Taylor and Johnson), you can't help but think the Jayhawks would be better off with a floor general like Starks making solid decisions in their offense. It may sound crazy, but Starks could be the top PG prospect from this event.
Henry Sims 6-10 250 C Georgetown Sr.
Sims had a huge 24 point, 8 rebound performance in the Hoyas win over Memphis. While he lacks great fluidity and is a little undersized for the center position, Sims has worked hard to add a consistent jumpshot and improved as an offensive player. Georgetown has a history of producing NBA centers and while Sims appears to be an NBA long shot, his offensive ability should get him an invite to PIT and a shot to impress.
Trey Burke 6-0 180 PG Michigan Fr.
Burke familiarized himself with GMs and scouts with his solid performance in Maui. For a freshman, he's absolutely fearless and won the individual battle with sophomore Joe Jackson helping Michigan in their opening round upset of Memphis. He also had a strong performance with 9 assists against Duke. Burke struggled some in the UCLA game, but his performances against Memphis and Duke were enough to outweigh that.
Elijah Johnson 6-3 185 PG/SG Kansas Jr.
Johnson knocked down some huge shots in the event and showed that he's a fearless player. He's an elite level athlete but his ability to play the point guard position is questionable. He's also severely undersized at the SG position. Regardless, scouts seem more intrigued by him than backcourt teammate Tyshawn Taylor. Johnson will need to keep developing as a PG over the next two seasons to improve his chances of making it.
Tyshawn Taylor 6-2 185 PG/SG Kansas Sr.
Taylor has the ability to wow you with his tremendous athleticism and at times makes bigtime plays. His big problem is that he's not a true point guard and his decision making is terrible. 11 turnovers in the tourney's biggest game is no way to impress scouts. He made key mistakes during the Duke game, dribbling the ball off his foot and numerous costly turnovers. I have never been able to understand the hype around Taylor. He should get a PIT invite but as athletic a player as he is, it's difficult to envision a role for him in the NBA.
Jeffrey Withey 7-0 250 C Kansas Jr.
Withey had a quick stint at Arizona before transferring to KU but has thus far failed to live up to the hype. He looks the part, showing the size and agility to be an NBA backup center. He'll need to sustain a level of consistency to convince teams. Withey had an excellent first half against Duke and finished with 14 pts and 10 rebs, but faded in crunch time. He's still got a ways to go to prove that he's an NBA caliber player.
Joshua Smith 6-9 360 C UCLA So.
At one point the question is not whether you want to be a good basketball player but whether you want to live. Smith's obesity is out of control and it's a wonder Coach Howland is even allowing him to suit up. If the kid can't get motivated enough to GET Paid. How in the world is he going to stay motivated after he gets paid. Smith might be a more frustrating case than Renardo Sidney. It doesn't appear he has the desire to ever play in the NBA, despite having such intriguing offensive skills.
Reeves Nelson 6-7 235 SF/PF UCLA So.
Nelson missed the team flight over and had to catch a later flight, but Coach Howland allowed him to miss just the first half of their opening game because he realizes without Nelson this team is dead in the water. Nelson is the heart and soul of this Bruin bunch and the player that gives them a shot to turn their season around. His toughness and ability to rebound and do the dirty work gives him a defined role and makes him the Bruins top NBA prospect. Can he reign in his intensity and channel it in a positive direction is the question.