By Tyler Ingle
In the 2009 NBA draft, we saw a bevy of point guards selected in the first round. The "Year of the Point" — as dubbed by some draft nerd in a basement somewhere — inflated the pros with various kinds of talented prospects at the lead guard position. This pool of points did not disappoint in the least. Everybody from Brandon Jennings to Rodrigue Beaubois made a big impact on their teams. We saw true point guards (Eric Maynor), defensive stoppers (Toney Douglas), projects (Jrue Holiday), combo guards (Tyreke Evans) and lights-out shooters (Stephen Curry). The three-way race for rookie of the year involved all point guards and we haven't even seen what phenom Ricky Rubio can bring to the NBA. But that was last year, and we scouts are always looking ahead. The 2010 NBA draft is approaching fast and you can expect to see a flurry of forwards drafted in round one.
This year's draft boasts more than a few high-level forward prospects. Up to 10 forwards could be lottery picks this year. As many as 20 total could end up in the first round and more than half of the entire draft (30 picks) could be comprised of forwards. We have potential superstars, low-risk role-players and everything in between. From small to power to combo, the forwards in this draft are plentiful. Let's take a look at some of the top prospects at the forward position of the 2010 NBA draft.
Derrick Favors (PF)
Projected – Top 5
Derrick Favors combines a strong work ethic with an impressive collection of physical tools. His age (18) and attitude provide a lot of promise to teams drafting in the top 5. He is a very explosive athlete, a great runner, and has a very strong frame. Skill-wise he is still developing, but he was remarkably efficient this season shooting 61.3% from the field, often finishing at the rim using his length and strength. He also shows great fundamentals when rebounding and great promise when defending. Favors is currently projected by NBADraft.net to be selected at 3 by the New Jersey Nets. This would be a very good situation for Favors, as he wouldn't be asked to do anything that he may not be capable of yet. He would likely come off the bench behind Yi Jianlian and Brook Lopez, and he would provide a strong rebounding presence as well as an ally-oop target. If he continues to develop, the sky is the limit for Favors.
Wesley Johnson (SF)
Projected – Top 5
Wesley Johnson went from relatively unknown to a top-5 draft pick in the past year. His combination of scoring, shooting and athleticism suggests that he will make an easy transition to the NBA. He has all the tools to be an ideal second scoring option on a good NBA team. Even though he lacks advanced ball handling ability, Johnson is able to create space for himself. On top of his scoring prowess, Johnson is very unselfish. He doesn't have to dominate the ball to be effective. His passing ability is very good and he has the length and lateral quickness to become a great defender in the NBA. Johnson is already a very polished player, and he should make a big impact in his rookie year.
Greg Monroe (PF)
Projected – Top 10
Greg Monroe is a unique prospect. At 6'11", he is one of the best passers in this year's draft. Monroe would often receive the ball in the high post, and make plays for his teammates. He has better vision, timing and execution than most of the point guards in this year's draft. He can put the ball on the floor and create his own shot as well. He shows good mobility in transition and fluidity when running a half-court offense. One of the most impressive things that we saw from Monroe this season was his improvement rebounding the basketball. Last season this was one of his biggest weaknesses, but he put in the work and turned it into a strength (from 6.5 RPG to 9.6). His apparent lack of aggression may be a red flag for some, but his unique talents will certainly find him a spot in the top-10.
Al-Farouq Aminu (SF/PF)
Projected – Top 10
While he lacks the shooting ability of Wesley Johnson, there are a lot of people who feel like Al-Farouq Aminu will end up being the better pro. Aminu is a defender first and foremost. With his combination of quickness, length and energy, Aminu can guard almost any position on the floor. This makes him a very valuable team defender. He also uses his athleticism and wingspan to get rebounds that seem to be well out of his area. Offensively, Aminu is a stud on the fast break, and always a threat on the offensive glass. He will need to improve his ball handling and his jump shooting if he ever wants to reach his (vast) potential on this side of the floor. Expect his impact during his rookie year to be what he brings on defense.
Patrick Patterson (PF)
Projected – Lottery
Patrick Patterson is one of the most balanced players that you will find in the draft this year. His well-rounded offensive game shows you the work that he has put in over his three years at Kentucky. He has a nice jumper, a solid post game and is very aggressive when running plays. He is just amazing attacking the offensive glass. He gets an uncanny number of put backs. He is also a strong athlete, capable of finishing lob passes. Though he isn't a big shot blocker, Patterson will play tough defense and get in his man's face. He is mature, intelligent and is a very hard worker. Patterson is a safe pick for any team looking for a balanced contributor at the power forward position.
Ed Davis (PF)
Projected – Lottery
Eddie Davis was projected before the season as a top-5 pick, but he just didn't bring what people were expecting from him offensively. He has an excellent touch around the basket, but is extremely limited in terms of post-moves. His scoring comes from his left-handed hook shot, drawing fouls and then mostly just finishing shots within five feet of the rim. Concerns about his ability to score in the NBA have dropped his stock to the late-lottery. He is still a great player defensively. He is always very active, either guarding his man, helping his teammates or boxing out. He blocks shots at a high rate and rebounds the ball well, but he needs to add some bulk to his skinny frame if he wants to be able to compete with the much bigger players in the NBA. The team that drafts him will likely be expecting an active, athletic defensive player with a very raw offensive game.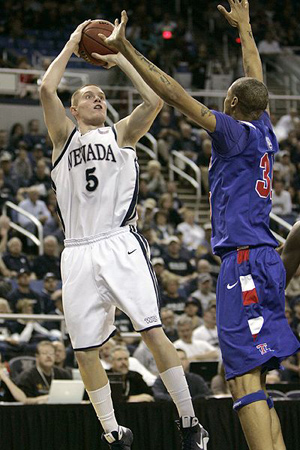 Luke Babbitt (SF/PF)
Projected – Lottery to Mid-1st
Since the end of the college basketball season, Luke Babbitt's stock has been rising faster than John Bryant's body fat percentage. He has gone from a bubble first rounder to a possible lottery pick. Teams are intrigued by his size (6'9") and his arsenal of offensive moves. He has deep range on his buttery jumper, an impressive post game and the ability to get to the free throw line where he converts at a 91.7% clip. Babbitt has questionable explosiveness and quickness, and some people aren't sure if his game will translate from the WAC to the NBA. Even if these concerns turn out to be valid, Babbitt's shooting/scoring ability will find him a niche in a rotation regardless, ala Ryan Anderson.
Gordon Hayward (SF)
Projected – Lottery to Mid-1st
Gordon Hayward managed to catapult himself into lottery discussions with an amazing NCAA tourney run. He was the catalyst that almost won Butler a national championship. Hayward likely projects to be a role-player in the NBA. Somebody who can spread the floor, handle the ball and help set up teammates. He is a surprisingly good rebounder and finisher at the rim. What he lacks in athleticism he makes up for with his hustle. His intangibles and skill set make him an ideal glue guy to start or bring in off the bench, but he lacks the potential of some of the other options here.
Paul George (SF)
Projected – Lottery to Mid-1st
A silky-smooth wing player with a sweet stroke. Paul George makes every move look easy and effortless. He is an exciting athlete with an emerging repertoire of offensive talent. His jump shot is very effective and has NBA range. He can move with or without the ball, and he has the potential to be a big scorer in the NBA. His biggest weakness is probably his efficiency. George shot only 42.4% from the field last season and he committed 3.2 turnovers per game. However, George has been impressing a lot of people in his workouts lately. The chance that George lands in the late lotto is very real. His potential is through the roof and his shooting ability will intrigue teams such as the Clippers, the Hornets and the Grizzlies.
Ekpe Udoh (PF)
Projected – Lottery to Mid-1st
Udoh's development over the last four years has been exciting. He has gone from a shot blocker with almost no offensive game to speak of to a legit triple threat option. Udoh can pass, dribble and shoot very well for a player his size. Despite being over 23 years old, Udoh still has a lot of potential. His offensive game just needs a little fine tuning. Defensively he remains a shot blocking presence using his length and timing. Udoh is a very mature and intelligent person. With his work-ethic, he shouldn't have any trouble fitting into the NBA his rookie season.