The 2010 adidas Eurocamp was down from past years. So down that it's within the realm of possibility that none of the participants will get drafted in 2010.
French bigman Kevin Seraphin showed up and put on a jersey and got measured but hardly should be considered a camp participant (he may not stay in the draft anyway as he was visibly favoring his injured leg while walking and had a small sleeve on his knee. The injury will also keep him from working out for teams as well as Summer League games).
The same (not being a camp participant) goes for Miroslav Raduljica. He has participated in past years but refused to participate in a workout.
The camp did however feature some talented players for future years. Here is a look at the top prospects for the future:
1. Jeremy Tyler (Game 1 – 7 pts, 4 rebs) (Game 2 – 5 pts) (Game 3 – 2 pts, 2 minutes) (Game 4 – 15 pts, 8 reb)


With his muscular frame and extremely long arms, Tyler certainly passes the eye test. He is a physical specimen with good explosiveness, yet still very deceptive because of his terrific wingspan. However, his game is very unpolished and he has a difficult time creating for himself inside.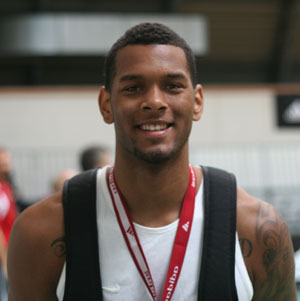 He seems to lack conditioning (although he keeps battling) and his body appears to be fit. His shooting form looks pretty good, he has a good release and decent rotation on the ball, but he lacks a touch and has a hard time making foul shots or spot up jumpers. His poor touch translates to his inside game as well, because if he does not dunk the ball his effectiveness is drastically reduced. He does not like operating with his left hand, and will look to get the ball back to his strong hand when finishing, which often leaves him off balance and out of position to convert. Taking all things into consideration, he is a long way from being a finished product, but he is also a kid who would just be entering college under normal circumstances. Tyler told us on Monday that he feels the camp has been a great learning experience, different than anything he has experienced and that he plans on playing in Euope next year, not in the D-League and hopefully in a good situation.
2. Dejan Musli (Game 1 – 10 pts, 4 rebs) (Game 2 – 17 pts, 9 rebs) (Game 3 – 5 pts, 5 rebs)
Showing an improved body, Musli has turned himself into an interesting prospect. His touch around the basket allows him to score over the top of defenders, even though he still has a hard time playing against contact. His speed and quickness are not where they need to be, but his footwork has improved and he is able to make counter moves inside while still keeping his balance. He is very patient with his back to the basket and is able to get good scoring opportunities inside. With his improved body, there is no doubt that he has become a more physical player, but he remains soft and defenders are able to body him and move him off the block. He is a finesse guy with limited athleticism, so continuing to prove that he can battle against stronger defenders will help his cause.

3. Robin Benzing (Game 1 – 4 pts) (Game 2 – 6 pts) (Game 3 – 17 pts, 5 rebs) (Game 4 – 14 pts, 3 rebs, 4 stls) (Game 5 – 10 pts, 5 reb, 3 stl)
After a fairly disappointing first day, Benzing really came on late in the camp, showing that his size and outside touch are a dangerous mix. His stroke is very smooth and efficient, and although he shoots the ball with very little rotation, he is still a reliable shooter from the outside. He is able to get his feet set quickly and is capable of knocking down shots in transition. Using his shot to set up the rest of the game, he showed more ability to put the ball on the deck and get to the basket. He is a limited athlete with slow lateral footspeed and with his skinny frame he has a hard time finishing against helpside defenders. Defending at the next level will certainly be an issue, but if he can continue to make shots he will continue to garner attention. After the last games, a few scouts mentioned they thought he was the top player at the camp.
4. Mindaukas Kuzminkas (Game 1 – 8 pts, 3 rebs) (Game 2 – 9 pts, 4 rebs) (Game 3 – 5 pts, 1 reb) (Game 4 – 7 pts) (Game 5 – 5 pts, 7 reb, 2 ast)
The versatile Lithuanian has added some muscle to his frame and his game has also continued to grow and mature. Possessing good size and an advanced feel for the game, he is able to make plays from various areas on the court. His athleticism is good for the European environment, (only marginal in the NBA), but he has a good wingspan and is still a very effective finisher around the basket. His ability to operate and make decisions in a fast pace tempo is very impressive, and he is very comfortable pushing the ball and getting teammates involved in transition. A decent first step to go along with his long stride makes him a tough cover on the perimeter, although his ball handling needs to continue to improve if he is to have success creating his own shot at the next level. His shooting form is not the most textbook (his release is too slow and it is a bit of a set shot) but he has the ability to knock down shots when he gets his feet set. He played passively and was content with just being a swing guy on the perimeter. His game speaks Europe, but his size may give him a chance to get drafted.
5. Edwin Jackson (Game 1 – 15 pts) (Game 2 – 17 pts, 7 rebs, 4 ast) (Game 3 – 4 pts, 3 rebounds) (Game 4 – 9 pts, 4 reb, 2 ast) (Game 5 – 14 pts, 2-4 3 pts)
Using his speed and explosiveness, Jackson has proven to be a very difficult cover at this year's camp. A dangerous transition player, he is able to get to the basket and finish above the rim. Proving that his ballhandling has progressed over the last year, he has showed a nice repertoire off the dribble and is able to get into the paint on a consistent basis. He is still a bit of a question mark as a shooter, he gets terrific elevation and has a fairly consistent release, but he seems to hang in the air too long and does not have the smoothest stroke. His results from the outside are very streaky, because he can certainly make shots when he gets it going, but he also has stretches where he cannot buy a basket from the outside. With his size, he would be ideally playing as a pointguard, but he does not have much in terms of playmaking skills, and brings much more to the table a scoring guard. For the NBA, he has the height for a combo guard, but he lacks the bulk, shooting touch and passing ability to be able to fully succeed at that level.
6. Bogdan Bogdanovic (Game 1 – 10 pts) (Game 2 – 7 pts) (Game 3 – 4pts)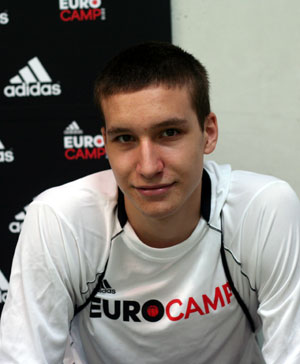 As a 1992 born player, he is one of the youngest players, but regardless of his age he has shown some very promising signs. He measured at a solid 6'6 (with shoes) and more impressive is his 6'11 wingspan and 36′ vertical. His jumpshot is extremely smooth and he has enough range to knock down jumpers from beyond the NBA arc. At this point he still lacks some confidence operating off the dribble, but he has more than enough time to improve on his deficiencies.
7. Paul Lacombe (Game 1 – 11 pts, 3 rebs, 4 stls, 2 asts) (Game 2 – 6 pts, 5 reb)
The French wing player showed some intrigue with his athleticism and ability to play at a fast pace. He looked comfortable pushing the ball in transition and was able to finish strong above the rim using his leaping ability.
He has good size on the wing to go along with a strong and developed body. His shot was not falling for him from the outside, but he still showed that he is capable of stepping out beyond the arc and knocking down shots.
He moves very well with little wasted motion, showing the ability to change direction while still maintaining good body control. He did not get major minutes because the French coach seemed like he wanted to keep everyone's playing time fairly even, but in the time that he did get, Lacombe showed an intriguing package.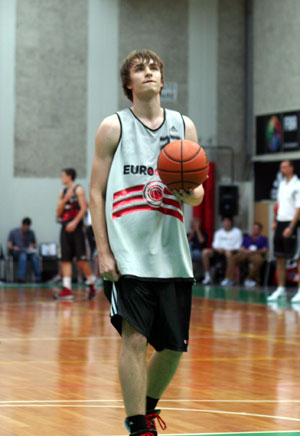 8. David Jelinek (Game 1 – 3 pts, 2 stls) (Game 2 – 6 pts, 2 stls) (Game 3 – 10 pts, 4 reb, 4 stl) (Game 4 – 9 pts, 4 stl, 3 ast)
Showed good size and quickness on the wing, Jelinek did some nice things in transition and in the half court getting to the basket. He is crafty with the ball and creates enough separation to be able to get a shoulder by his defender.
His athleticism is good and he is a capable finisher around the hoop. Shooting the ball is definitely one of his weaknesses at this point, but his form looks solid and being a 1990 kid he has plenty of time to work on it.
8. Joffrey Lauvergne (Game 1 – 4 pts, 2 rebs) (Game 2 – 2 pts, 3 reb, 2 stl)
Playing only 8 minutes in the first game, the 1991 born French bigman was still able to show some nice things. His size and strong body allow him to muscle his way and create space inside.
Lauvergne showed excellent length and agility in the limited minutes he was on the floor. He runs the floor with fluidity and also has nice leaping ability. Lauvergne shows some toughness although he appears to be more of a finesse big. He still needs to add some bulk but has the makings of a future draft pick showing more promise than many of kids in the Eurocamp. For some reason the French coaches opted to keep him out of the game giving a number of inferior bigmen more minutes.
9. Vladimir Dasic (Game 1 – 8 pts, 7 rebs, 4 stls) (Game 2 – 14 pts, 8 rebs, 2 ast)
After an extremely disappointing year, Dasic had the opportunity to show that he has changed his attitude and approach for the better at this week's camp. Unfortunately, he is still the same player that we saw here last year, with a very poor attitude and no focus. He has all the tools to become a player at the next level (terrific size, strong body, nice skill, decent jumpshot) but his game comes and goes in spurts. He has a hard time sustaining any sort of consistency throughout a game, which makes him a very difficult guy to trust on the floor. Every day is a new chance for him to show something, unfortunately it does not look like he is too worried about making a lasting impression.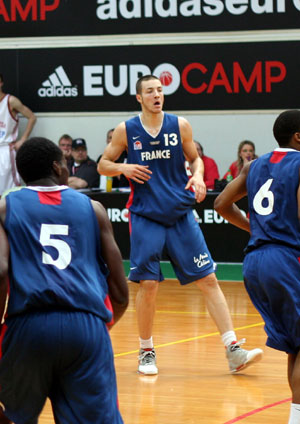 10. Daniel Clark (Game 1 – 4 pts, 3 rebs) (Game 2 – 4 pts, 3 rebs) (Game 3 – 15 pts, 5 rebs)
Definitely not the most athletic or agile player, but Clark proved that he may be one of the better draft eligible players at this year's camp. He has good height to go along with a nice wingspan and even more impressive is his 9'3 standing reach. Because of a fairly strong frame he is able to battle in the paint and fight for good position. He is a decent inside scoring option, he has a fairly soft touch and is more than capable of converting scoring opportunities that are present in drive and dish situations. His shooting touch from the outside is extremely soft for a player his size, and in the shooting drills along with a few times in game situations he was able to step out beyond the arc and knock down shots.
Others:
Thomas Heurtel (Game 1 – 4 pts, 3 ast) (Game 2 – 11 pts, 3 rebs, 2 ast) (Game 3 – 8 pts, 6 ast) (Game 4 – 4 pts, 2 ast)
The camp MVP and the most complete playmaker at the camp, Huertel has nice quickness, nifty skill off the dribble and most importantly is a terrific passer. He gets into the paint consistently (in transition and in the halfcourt) and is able to draw help and make the correct reads. He keeps his head up surveying the floor, he sees plays ahead of time and can deliver passes with good precision. He is a streaky scorer, going in and out of rhythm throughout the game, but can be a difficult guy to defend when he has it going because he plays with a lot of confidence and is not afraid to take shots. Physically he is not a great prospect, showing a slim frame with limited vertical explosiveness. He may be too overmatched to be a serious candidate for the NBA, but definitely shows all signs of being a terrific European player.
Linos Chrysikopoulos (Game 1 – 2 pts, 2 rebs) (Game 2 – 8 pts, 5 rebs) (Game 3 – 7 pts, 3 reb, 2 stl) (game 4 0 pts, 12 min)
One of two 1992 kids at this year's camp, Lynos' size and length are certainly factors that will draw some attention. Measuring at 6'9 with shoes, he has a 7 foot wingspan and a 33' vertical. His game at this point is not ready, but he has good agility and moves extremely well for a player his size. Most of his touches come inside, but if he can develop a face up game from the high post and improve his jumper he could become a player that makes noise down the road.
Bengaly Fofana (Game 1 – 3 pts, 4 rebs) (Game 2 – 8 pts, 4 rebs) (11 pts, 6 rebs, 1 blk)
Even with an awkward game and limited skill, Fofana is still a very interesting prospect due to the fact that he measured at 7'1 (with shoes) to go along with a 7'6 wingspan. He has only played the game for 4 years, but shows a willing attitude and a good motor. Certainly not a guy who can be asked to create his own shot, but he is more than capable off catching the ball around the basket and finishing strong. His biggest strengths are certainly his impacts as a rebounder and if he can continue to work and improve, he has some things going for him that will certainly continue to draw attention.
Sarra Camara (Game 1 – 2 pts, 1 stl) (Game 2 – 8 pts, 12 rebs, 2 stl, 1 block) (Game 3 – 10 pts, 9 rebs) (Game 4 – 11 pts, 6 reb, 3 stl) (Game 5 – 7 pts, 3 reb)
Another guy who is not skilled enough to consistently contribute offensively, however, his active approach, length and athleticism allow him to make plays and influence the game without scoring the ball. He looks to get tips and putbacks around the basket, and is able to keep the ball alive and get a high number of second opportunities for his team. Maybe not a guy who is a high level prospect, but certainly someone who will help a team out in Europe.
Toni Prostran (Game 1 – 26 pts, 4/5 3pt, 6 ast, 4 stls) (Game 2 – 13 pts, 3/6 3pt, 4 ast)
Playing for the Croatian U-20 team, Prostran has shown a nice mix of skills. He is a very good playmaker in a pick and roll setting because he keeps his dribble alive and is able to beat you with the pass or the shot. He reads the rotations extremely well and is able to find the open man on a consistent basis. He plays with a lot of heart and is not afraid to take the big shot or make the difficult pass. His range extends beyond the NBA 3, and he can knock down shots off the dribble or with his feet set. For a 1991 kid, he is very mature and his skill set is advanced, unfortunately he lacks the size and explosiveness to be seen as a serious prospect. He has all the making off a terrific player, but his environment will most likely be on European ground.
Tomas Satoransky (Game 1 – 0 pts, 4 rebs, 2 asts) (Game 2 – 2 pts, 3 rebs) (Game 3 – 4 pts, 5 reb) (Game 4 – 5 pts, 5 reb, 3 stl)
One of the more impressive young players at last years camp, Satoransky was the biggest disappointment. He was played as a lead guard, and his lack of quickness and ballhandling ability exposes his major weaknesses. He is a guy who is most effective creating plays with his energy and athleticism off the ball, however being put into a primary ballhandling position has taken away most of his strengths. Certainly not a smooth player, he looks even more out of place trying to keep possession of the ball while being pressured by smaller guards. Putting him back on the wing could be a move that brings back some of his confidence, but it still may not be enough.
Mario Delas (Game 1 – 11 pts, 2 rebs) (Game 2 – 11 pts, 5 rebs)
Coming off a great summer last year, Delas has been a disappointment this season and even more so at this year's camp. He has extremely slow feet and is a very limited athlete; going up against guys of his size and strength has proven to be too much for him. He was not able to create space and had a hard time getting his shot off. In the past he was effective because he could overpower his opponents, but now that his age group has caught up to him physically, he cannot bully his way to the basket. For a player who was the MVP at last summers U19 World Championships, this is definitely a couple games that he wishes he could forget.
Lucca Staiger (Game 1 – 6 pts, 2 rebs) (Game 2 – 9 pts, 2 rebs, 3 ast) (Game 3 – 5 pts) (Game 4 – 3 pts, 3 stl)
The German showed terrific range and the confidence to take and make big shots with regularity. His smooth stroke and high release point allow him to get his shot off with minimal effort. He has a strong body with wide shoulders but does not have enough game off the dribble to create his own shot. He has played well this week, but his game and athleticism are not top level calibre.
Ludovic Vaty (Game 1 – 3 pts, 2 rebs) (Game 2 – 6 pts, 2 rebs) (Game 3 – 6 pts, 3 rebs) (Game 4 – 11 pts, 6 rebs) (Game 5 – 8 pts, 4 reb, 3 ast)
Using his strength and wide body inside, Vaty was able to do some damage around the basket. He shows a promising package and could develop into a solid European big, but he does not have enough skill, size or athleticism to become a player for the NBA level.
Andrew Albicy (Game 1 – 4 pts, 6 rebs, 7 asts, 5 stls, 6 TO's) (Game 2 – 8 pts, 3 reb, 1 ast, 5 to)
After covering his game extensively at the Final 4 in Paris, it was good to get another look at Andrew. He played for the U20 French team and handled the ball for the majority of the game. His speed and quickness are difficult to match up with, but he has problems playing under control and without committing too many errors. His shot is streaky but has the potential to get better, unfortunately his main drawback is a lack of height. He does not posses a crafty enough game to be able to compensate and succeed at the top level.
Nihad Djedovic (Game 1 – 11 pts, 3 rebs, 3 asts, 4 stls) (Game 2 – 11 pts, 4 stls) (Game 3 – 6 pts, 6 rebs) (Game 4 – 12 pts, 2 stl)
Nihad has been around for many years already, yet he is still only a 1990 born . His game is nothing spectacular, but he has good size on the wing and plays the game the right way. He makes things happen in transition and can get to the basket and finish. His shot release is a bit too quick and it lacks a fluid motion, but he is capable of knocking down shots from mid-range and deep. He has been on the radar for a long time now, and it is evident that his game is not NBA quality, but he has nice tools for the European leagues.
Peaked at 15-16
Three players that received a lot of hype at a young age were in the camp. Matias Nocedal (Argentina), Mamdou Samb (Senegal)and Augusto Lima (Brazil), all were once highly touted junior players from their respective countries. All three have fallen from being projected NBA talents a few years ago to mid level European talents. Nocedal showed a tremendous jumpshot, Samb has added some upper body strength and Lima still impresses with his great length and solid fluidity. But none have shown the necessary skill development and all are now real long shots to ever make the NBA.
Day 1 Results:
Game 1 – Team 4 vs. Team 5 51-50
Game 2 – Team 1 vs. Team 2 44-59
Game 3 – Team 3 vs. Team 4 55-41
Game 4 – All Star Game: Croatia U20 – adidas Eurocamp All Star 84-91
Day 2 Results:
Game 1 Croatia U20 vs France U20
Game 2 Team 1 vs. Team 5 47-48
Game 3 Team 2 vs. Team 3 48-51
Game 4 – adidas Eurocamp All Star Game
Day 3 Results:
Team 1 vs. Team 4 43-48
Team 2 vs. Team 5 55-53
All Star Game: France U20 vs adidas All Stars 64-57
Roster
*Draft Eligible
**Declared for draft. (have until June 14th to withdraw)

1986
*Lucas Alves

1987
*Jonathan Tavernari

1988
*Pietro Aradori
*Daniel Clark
*Vladimir Dasic
*Rolands Freimanis
*Oleksander Kolchenko
*Abdoulaye Mbaye
*Titus Nicoara
*Lucca Staiger
*Ludovic Vaty

1989
**Robin Benzing
Dairis Bertans
**Stefan Bircevic
**Sarra Camara
Filip Covic
**Bangaly Fofana
Orhan Haciyeva
**Thomas Heurtel
**Edwin Jackson
Mindaugas Kuzminskas
**Uros Lukovic
Can Ozcan
**Xavier Rabaseda
**Mamadou Samb
Sead Sehovic
**Semen Shashkov
1990
Nihad Djedovic
Vladimir Jankovic
David Jelinek
Rasid Mahalbasic
Meng Duo
Andreja Milutinovic
Matias Nocedal
**Tomasz Nowakowski
Nikolaos Pappas
Roberto Rullo
Siim-Sander Vene
Jakub Wojciechowski
1991
[Player:Josep Franch]
**Miralem Halilovic
Dong Hanlin
Augusto Lima
Dejan Musli
*Andreas Person
Tomas Satoransky
Jeremy Tyler

1992
Bogdon Bogdonovic
Linos Chrysikopoulos

U-20 Croatia
Luka Babic
Ivan Batur
Josip Bilinovac
Domagoj Bubalo
Dino Butorac
Mario Delas
Nikola Dosen
Duje Dukan
Matteo Juricic
Sime Olivari
Darko Planinic
Toni Prostran
Ivan Ramljak
Robert Rikic
U-20 France

[player: Lens Aboudou]
Andrew Albicy
Alexandre Gavrilovic
William Herve
Paul Lacombe
Nicolas Lang
Joffrey Lauvergne
Ferdinand Prenom
Landing Sane
Nikola Stojilkovic
Alexis Tanghe
Mickael Var