The NBA is often described as a "make or miss" league, and that phrase can also be applied to the NBA draft. NBA front office positions seem to be in a constant state of flux, with a great deal of turnover among struggling teams. Making picks at the top of drafts devoid of a clear franchise talent can be a frustrating proposition. This year's draft is shaping up to be another arduous drill.
It's early in the process, but one thing is becoming increasingly clear, there isn't a "can't miss" prospect at the top of this year's draft. A LeBron James, Tim Duncan, Anthony Davis "franchise" type that everyone pencils in a year or two ahead of time and in turn puts a team lucky enough to land the top pick at ease.
Duke's "Big Three" are all very intriguing, and there's a good chance that either RJ Barrett or Zion Williamson will ultimately go first. They have name brand recognition, which at the very least helps a franchise market the pick to their fan base. These players also possess a more proven track record and have a Duke pedigree attached to them. But it's becoming increasingly clear that all three Duke prospects have a glaring hole to their games. It's also important to consider that point guards have incresingly gained importance in today's NBA, for a number of reasons.
With more than half the season left to play, it's still early in the process. But based on what we have seen to this point, here's a look at why Murray State's sophomore point guard Ja Morant deserves consideration to go first overall.
Morant's Talent Level
While he clearly hasn't received the level of hype that guys like Duke's Zion Williamson, RJ Barrett, Cameron Redish, or even Oregon's Bol Bol have received, Morant is in fact on the same level as those prospects from a skill/athleticism standpoint. He leads the nation in assists at 9.3 per game, is among the nation's leaders (14th) in scoring at 23 points per game. He has jump through the roof type explosiveness, a special type of athlete at the lead guard position. His athleticism figures to stand out at the NBA level. He makes the game look so easy that at times his playing style can be confused for a lack of intensity or sense of urgency. He is in fact a high level competitor. He's proven to be the type of player that steps up to challenges, as he did leading Murray State with 38 points, 9 boards and 5 assists against Alabama. He also led a big 2nd half comeback against Auburn, ultimately falling short but finishing with 25, 8 and 7. Potentially most intriguing is his ability to set up teammates, and make those around him better. And unlike a recent number one overall pick Markelle Fultz, his team is winning. While not on a hoops powerhouse, he appears in the process of carrying a solid Murray State (9-2) team to a tournament appearance coming out of the Ohio Valley Conference.

DeAaron Fox Looking Like the Best of 2017 Draft
Call it the "Swipa the Fox Influence". The improvement that the Sacramento Kings have made this year has been a direct result of the amazing progression made by Fox. Fox has similar physical attributes to Ja Morant with a long, lean, athletic frame, and blinding speed and quickness, plus innate point guard and leadership skills. The biggest knocks on Fox entering the league were that he couldn't shoot the 3 ball, despite a solid form, he was too thin, and had a tendency to get out of control at times. The criticisms sound eerily similar to how scouts describe Morant's deficiencies. Despite dominating Lonzo Ball in a head-to-head match up, Fox ultimately fell to five where the Kings gobbled him up. In contrast, Fox was playing at powerhouse Kentucky where nearly every game was televised and he was in one of the strongest point guard classes in recent memory. Morant on the other hand is not playing for a blue blood hoops program, and is in a weak point guard crop. Regardless, the success Fox is having only helps a similar style point guard for this year's draft.
Late Bloomer/Small School Players Track Record
Morant is considered a virtual lock to be a top ten 2019 pick and the first point guard off the board. A number of mid major, top ten picks who similarly went under recruited are now household names in the NBA. That list of success stories include Stephen Curry, Damien Lillard and CJ McCollum. These "late bloomers" benefited by not only nurturing their skill sets in a small school environment, but also bypassing the "benefits" of being a high profile recruit on the AAU circuit. They flew under the radar, avoiding potentially being spoiled, being given too much too soon and they continued to scratch and claw at a crucial stage of their development for everything they were given on (and off) the basketball court.

Overlooked Player's "Chip on the Shoulder" Determination to Succeed
There's something to be said for guys that beat the odds and relish the opportunity to defy the experts at every stage. Denver Broncos starting running back Phillip Lindsay is a perfect example of a player who beat the odds. He was considered too small, or lacked the right physicality and "look' to succeed. He was overlooked by the entire NFL, including his hometown Broncos, going undrafted despite a standout high school and college career (at Colorado). Lindsay was a free agent camp invite with Denver who not only battled to make the team, his determination earned him a roster spot, not just with the Denver Broncos, but ultimately in the Pro Bowl in his rookie season.
The Value of Point Guards in Today's NBA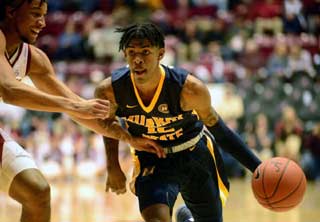 Point guards have always been instrumental for teams competing for an NBA title, but with the evolution of the 3 point shot, and the diminished role of bigmen and underskilled athletes, guards and specifically point guards have gained greater importance in today's NBA. Stephen Curry has proven to be Golden State's most indispensable ingredient, despite having a top two player in the league, Kevin Durant, on the team. The Cavaliers couldn't win it all until they combined LeBron with an elite point guard in Kyrie Irving. In a draft lacking (other) elite level point guards, a prospect like Ja Morant benefits.
Holes in Other Top Prospect's Games
As alluded to in the introduction, the Duke trio all have a great deal of intrigue but also have concerns. Zion Williamson has a wow factor and the ability to impact games on the college level with his incredible explosiveness and brute strength. He overpowers opponents and has shown some improving ability to play on the block on both ends of the floor. But he remains a poor shooter and slightly undersized as a power forward.
RJ Barrett is maybe the prospect with the highest floor, as he has been at the head of his class for a number of years and proven himself as a winner at every stage, leading an undermanned Canada team to a gold medal at the U19 World Championships in Cairo. His major flaw is his lack of standout athleticism and a fluid shooting motion. He's been a high volume scorer at Duke, but has struggled at times with efficiency.
Cameron Reddish has the talent of his teammates, but appears to be missing the intensity and assertiveness to step up in key situations and maximize his abilities. Oregon's Bol Bol is now out with an injury and had some question marks regarding his attitude in high school, so his chances of challenging to go first appear limited.
Temetrius "Ja" Morant, despite playing at a small basketball school, arguably has the most "complete" set of skills of anyone, as his shooting is better than advertised and he shows the ability to make those around him better as a dynamic point guard.