To say that it has been a wild couple of months for former Kansas State player Wesley Iwundu would be an understatement. The 6-7 forward from Houston, Texas has been one of the draft's biggest risers in recent weeks as a strong NCAA Tournament and NBA Draft Combine performances have seen him become a familiar name for teams with picks at the end of the first round. Coupled with strong pre-draft workouts with various teams over the last few weeks and it looks like Iwundu could be in a group all to himself as the lone college senior to be taken in the first round of this week's NBA Draft. He's currently ranked as our top senior prospect and he was nice enough to take some time out of his busy schedule to give us a few minutes as he prepares to make his dreams come true this Thursday by having his name called by the Commissioner in the 2017 NBA Draft.
NBADraft.net: Tell us a little bit about what you've been up to since the college season ended.
Iwundu: After the season ended, I went back to Houston for about a week or two to mainly workout and choose and agent. Then I moved out here to San Diego for my pre-draft workouts. That's currently where I am right now. Just trying to stay busy with my own workouts in between all the pre-draft workouts.

NBADraft.net: With it being Father's Day, I'd be remiss if I didn't ask you about your Father and the impact he's had on both your personal life and your basketball career.
Iwundu: Oh, man. It's been really big, you know. First off I'd like to wish a Happy Father's Day to all of the Father's out there but my Dad's really just been there to support me here and there whenever I need it. Just making sure I'm staying on track with basketball and especially with school. He's always been good with that. And my brother as well. He's been a great mentor and a great Father figure to me also. Just the way he carries himself and the way he goes about being a professional in his own life. They've both just been really good for my basketball career.
NBADraft.net: Talk a little bit about this past season at Kansas State. You got back to the NCAA Tournament for the first time in a couple of seasons and had a big win against Wake where you played extremely well.
Iwundu: It was a great year and a great experience being in the NCAA Tournament. It was a goal that I had set for myself and for our team at the beginning of the year and we accomplished it. Being back in the Tournament was fun. That "First Four" game was great being on a big stage with a lot of people watching. And then again against Cincinnati. Obviously that game didn't go how we wanted it to but it was a great experience for me. I felt like I was able to show teams a lot of things that I can bring to the table. Not just with scoring but also on the defensive side of the ball. It was great being able to prove that on a big stage.
NBADraft.net: You participated in the NBA Draft Combine a few weeks back and really did well for yourself there. How was that process for you up in Chicago?
Iwundu: Overall it was a great experience, definitely a new one. It felt really good to be around all of the guys that are out there competing and trying to get drafted. Just guys going out there competing and only worrying about what they can control and showing what they can do. I had a lot of fun though. I met a lot of people and made some great relationships with guys from the NBPA. It was a once in a lifetime thing so I just tried to have as much fun as I could up there.

NBADraft.net: Over the last few weeks you've been doing a lot of workouts with NBA teams. What have those workouts been like and what type of feedback have you been getting?
Iwundu: The workouts have been going great. I feel like I've got some good momentum going right now because of the workouts that I've had. I've learned a lot. There have been a lot of good teaching/learning points from the difference coaching staffs. You know, just getting to know people on staff and in management. It has been a lot of fun going out there and competing against guys with the same goal. Being in this situation and being able to go out and just show what you can do is something I can't ever complain about. With the workouts, I've just got a great feeling over these four days heading into the draft.
NBADraft.net: Which team has put you through the most rigorous workout?
Iwundu: Every workout has things that are tough about them but I would probably say Utah (Jazz). There's just something about the altitude similar to playing in Denver. It can be kind of hard to try and catch your breath in that setting. But it is great for those teams because they can use that as an advantage against road teams. (Laughs)
NBADraft.net: One of the things that scouts and GM's love about your game is your versatility on both sides of the floor. Where do you see yourself at the next level in terms of position?
Iwundu: You know, every time I get asked this question in an interview I say the same thing. And that's that I really can't give you an answer. Mostly because in today's NBA game, I feel like there are just more basketball players, guys without a certain position. I feel like that category fits me to a T. But if I had to choose, I'd say I feel most comfortable playing the 2 or the 3 and then sliding down to the 1 at times. Even a small ball 4. I feel like I can make an impact at all of those positions on offense and defense. My whole mindset going into all of my workouts is trying to showcase my versatility, especially on defense. Defense is a bit thing for me. Bringing a lot of intensity, energy and toughness on the defensive end is something that I like to do because I know it is something that they look for in the NBA.
NBADraft.net: What do you think your biggest strength is on the basketball court?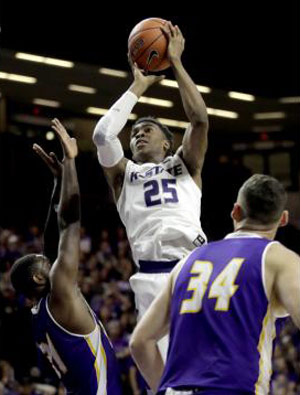 Iwundu: I would say my biggest strength is what we talked about earlier, my versatility. That and my basketball IQ. Being able to be 6'7 and do so many things on both ends of the floor is like my calling card.
NBADraft.net: And on the opposite end of the spectrum, what would you say is your biggest weakness or the part of your game that you are working on improving the most?
Iwundu: I've been really working hard to making sure I can be a consistent jump shooter, especially from NBA range. Working on spot up shooting, moving off the ball and pulling up from three. Also, just getting stronger. That's something that I've been working on that should help me going into the next level. I feel like I have gotten better at all of them but you can never be strong enough with the way I play.

NBADraft.net: In a time where being a "college senior" is almost frowned upon when it comes to the NBA Draft and making it to the next level with regards to upside, how do you think that has prepared you for the next level?
Iwundu: I hear that a lot. But the way I've always looked at it is why not stay, get your degree and become a better player and person on and off the court. I stayed all four years because I wanted to. The experiences I had and went through all four years has really prepared me to be successful at the next level. I feel like staying all four years can make you a more NBA ready player as soon as your drafted. And for me, I'm 22 years old but I don't feel like I'm anywhere close to my ceiling. When they speak about potential, I still feel like I am still reaching my potential.
NBADraft.net: What player in the NBA, if any, do you say that you model your game after?
Iwundu: That's a tough one. I'd probably say Andre Iguodala for the Warriors. I feel like we are similar players. He does a lot of things for his team, especially a team like the Warriors, that don't always show up on a stat sheet. If he's not scoring, he's doing something else. Like, one night he's checking LeBron and one night he's checking Kyrie. I just feel like with his versatility on the floor and the way he can push the ball in transition, make plays and guard any position on the floor that he's a guy that I'd model my game after.
NBADraft.net: If I'm an NBA GM, tell me why I should draft you.
Iwundu: I'd say because I'm ready to play right now. I feel like me being in college for four years has helped me get to that level. I feel like I'm mature and handle myself on and off the court as a professional. I'd be a good teammate and do whatever the team needs me. Step in on defense and help out or step in on offense and help out, just whatever it takes.
NBADraft.net: The NBA Draft is coming up on Thursday. What are your plans on draft night?
Iwundu: I'm actually going to be in Brooklyn at the draft. I didn't get the green room invite, but with the feedback we've been getting, we just felt like we should be there. And just the experience of it all will be great too. Seeing the city and potentially walking up on stage will be awesome.
Follow me on Twitter @CCroweNBADraft