Last year's draft had just one International first rounder with Evan Fournier going 20th overall to Denver. This year's International crop looks to be significantly stronger with two likely first rounders, Dario Saric and Rudy Gobert, plus a number of other first round hopefuls. There are still seven months before the 2013 NBA draft, but European competitions are in full swing. Here's a look at the top prospects coming from outside the US.
1. Dario Saric (1994, SF/PF, 6'10", Croatia, Cibona)
Saric edges out Rudy Gobert as the most intriguing talent currently playing in Europe, after a U18 European championship over the summer in which he absolutely dominated the competition. He's able to essentially play all 5 positions, with amazing ball handling and passing skills for his size and a complete offensive skill set. He also possesses a great post game with a variety of moves and an effective use of his pivot feet. His mobility is solid in the open floor and his sense of position and basketball IQ allows him to create baskets or assists off pure talent. His main flaw for the NBA level is his lack of elite athleticism and slow feet, that could limit his effectiveness, forcing him to play near the rim against bigger and stronger big men. Even if he has 3 point range he needs to work on his shot by adding fluidity to his mechanics and confidence, and this will probably be the key to his success in the NBA. On the defensive side he needs to work on his defensive positioning and to add more strength and toughness, as the 4 spot is his likely future position.
2. Rudy Gobert (1992, C, 7'0", France, Cholet)
Gobert has a freakishly long wingspan (reportedly 7'9) with good coordination and ability to run the floor. During the 2012 adidas Eurocamp, his performance on the defensive side elevated his status as many scouts viewed him as a potential top 10 pick, and definitely one of the top European prospects for the 2013 NBA draft. He needs to bulk up his upper body, in order to be able to withstand contact at the NBA level against stronger big men. He lacks great leaping ability but his agility and reflexes definitely make him a good athlete. He has a reliable hook shot with his right hand, but his range is limited to within the paint. He lacks consistency and confidence in his jump shot from midrange and his mechanics are not fluid, even if he's reliable from the free throw line. His offensive movements are rather raw and he needs to add confidence to his game. Sometimes he seems too mechanical and not fluid. He's really fast running the floor, and when he has momentum, he's difficult to stop, thanks to his speed and coordination, but he still isn't a reliable offensive option. He has a mild demeanor, and sometimes seems to play with a reduced gear, lacking fiery competitiveness, and this is probably the main reason for his lack of consistency. He's currently playing with French ProA team Cholet, but thus far his stats this season are not overly impressive: 7.5 points, 4.3 rebounds 2 block per game.
3. Lucas Nogueira (1992, C, 7'0", Brazil, Estudiantes Madrid)
Nicknamed "Bebe", Lucas Nogueira made a name for himself among NBA scouts and insiders after his astonishing performance during 2010 FIBA Americas U18 championship, that was held in San Antonio (15.6 points and 10 rebounds per game). The following season he was signed by the Spanish team Estudiantes of Madrid, where he played for their second team in EBA B (4th Spanish League), and participated at the 2011 Nike Hoop Summit for the World team. After his first season in Europe, his draft stock has risen, thanks to his intriguing combination of height, wingspan and mobility. Plus his soft hands and potential made him projected in the first round. But during the 2011 Adidas Eurocamp in Treviso his flaws were exposed: immaturity, attitude, basketball IQ, skinny frame and lack of toughness. It was clear to all that he simply wasn't ready yet to compete at the NBA level. The consequence was an immediate drop of his stock and the withdrawal of his name from 2011 NBA draft. After one season his game is showing nice maturation: this season he was added to ACB Estudiantes active roster, becoming part of the rotation (3 points and 2 rebounds in 10 minutes). He has worked on his frame, bulking up in order to better withstand contact, and his feel for the game has improved significantly. He's still too soft, and most of his game is based on instinct, plus he still lacks a reliable post game. But with his improvements and his huge ceiling he can legitimately be considered one of the top international prospects for this or next draft. He could be selected from a team that will leave him in Europe for a couple of years in order to wait for his complete evolution. First round is not even out of the question, due to his immense physical gifts.
4. Livio Jean-Charles (1993, SF/PF, 6'7", France, Asvel Villeurbanne)
Livio is the prototype of the modern athletic big wing with great mobility. He has great size for the role and a good wingspan, with a rather skinny but solid frame. His name became familiar to NBA scouts after his first appearance with France's youth national teams, but he elevated his status in the last Adidas Eurocamp. In fact like his teammate on the French National team, Rudy Gobert, Jean Charles shined during the exhibition games held during Eurocamp in Treviso last June. On the defensive side he's able to put pressure, often playing passing lanes, and with the ability to guard 3 different roles, even at pro level. He's a great rebounder with good instincts. On offense he's pretty raw, with most of his offensive repertoire based on his catch and shoot. In order to become a better offensive player he needs to work on his ball handling, and to read game situations better. He plays with intensity, but at times can get out of control trying to do too much. After growing up under INSEP, he's now under contract with the French PROA team ASVEL Villeurbanne.
5. Daniel Diez (1993, SF, 6'7", Spain, Lagun Aro)
Daniel Diez was the MVP of 2011 European U18 championships, where he showed some intriguing potential as a wing, but without a defined role and with the risk of becoming a tweener. One year later he has definitely evolved as a SF, even if he still can play the PF position, often exploiting mismatches related to his mobility and shooting range. His ball handling is reliable as well as his shooting range. He shoots with confidence and effectively from behind the three point line. He's good rebounder, thanks to his good sense of positioning and intensity. He has a blue collar style of game, even if he's a gifted player, often giving a strong contribution with intangibles and hustle plays. His main shortcoming is his inability to withstand contacts when attacking the basket, in fact he tends to lose balance, which limits his effectiveness. Furthermore, he should improve his back to the basket game, by adding some moves and fakes and the use of pivot foot in order to round out his offensive game. He's under contract with Real Madrid, but this year he's on loan with the ACB team of Lagun Aro, where he can have more freedom to develop and minutes on the court.

Honorable Mention
Alex Abrines (1993, SG, 6'6", Spain, FC Regal Barcelona)
Alex Abrines, AKA Alejandro, is probably the purest shooter among European NBA prospects, with his fluid mechanics, quick release, and the huge range. His frame and his style has drawn some comparisons to Rudy Fernandez, and while both hail from the same city, Palma de Mallorca and both are 6-foot-6 with good shooting ability, the comparisons end there. His wingspan and height are perfect, and his athleticism is underrated, because he doesn't attack the basket very often. His off the ball game is excellent, exploiting screens and cuts in order to reach the proper spot to shot. He's a killer in catch and shoot situations, and he's able to create off the dribble with confidence and effectiveness. He needs to add strength in order to withstand contact, but his quick first step and good ball handling skills allows him to reach the basket. He needs to add a reliable midrange game and work on his defense, where he could stand to give more effort. He grew up with Unicaja Malaga and last year he scored 31 points in an ACB game at the age of 18. This summer he signed a contract with FC Regal Barcelona, where he's currently playing 10 minutes per game in ACB (3 points per game). Whether he has the quickness and athleticism to be more than a role player in the NBA is debatable.
The Future
There is also a talented group of players in Europe that are not yet eligible for the NBA draft, but have the potential to clinch lottery spots in future years. Here are the best three names to take into consideration:
Mario Hezonja (1995, SG, 6'6", Croatia, FC Regal Barcelona)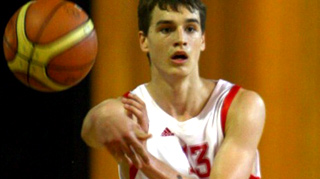 Hezonja has the talent to become the best shooting guard to come out of Europe since Drazen Petrovic. His combination of shooting skills, athleticism, and ability to attack the basket makes him a 5 star prospect, even when comparing him with the top US players of the same age. But what's most impressive about him is his personality, he's fearless playing with confidence in every context and situation. He could become less selfish, and definitely work on his shot selection, trying to better exploit situations when the defense collapses on him. Last season his development slowed a bit due to recovery from mononucleosis, but this year his prospects are really good. In fact he has shined during his first games with FC Regal Barcelona "B", that plays in Leb gold (Spanish second division), averaging a good scoring clip.
Ilimane Diop (1995, C, 6'11", Spain, Aurteneche Maquinaria)
Diop is a Senegalese prospect who came to Spain at age 14 and was naturalized, the same path taken before by Serge Ibaka and other African players before him. What's most impressive about Diop is his mobility combined with his tremendous wingspan which makes him a reliable shot blocker. He's still a raw prospect both from technical and physical standpoint, but his frame should allow him to put on weight in the future. Plus he possesses good instincts for the game, with a technical base and a soft touch even from midrange. He needs to work on balance and timing on the defensive side, since he's often too foul prone. He was one of the best players during the 2011 u16 Euro championships and this summer during u17 world and u18 euro championships. His rights are owned by Caja Laboral Vitoria, but he's currently on loan to Aurteneche Maquinaria (Leb Silver, Spanish third division).
James Birsen (1995, SF, 6'9", Turkey, Fenerbache Istanbul)
Birsen is the most talented prospect of the next Turkish generation, that is following the path of Turkey;s most celebrated player Hedo Turkoglu. Similarly, he's a point forward with excellent playmaking skills and the ability to make almost everything on the basketball court. He's tall, well balanced and really elegant on the floor. He's a bit skinny, especially his upper body, and this limits his ability to withstand contact, but his structure isn't developed yet and there is a lot of room for him to improve and bulk up. He's able to play all three perimeter positions, often starting the offensive possessions of his team. His jump shot is reliable, especially from mid-range, but he needs to work on his three point shot, especially on his mechanics. On the defensive side he showed some potential, but he needs to improve his attitude. Definitely a prospect with a huge ceiling, that hasn't yet realized his full potential. Nike director George Raveling once called him the most talented player in the world in his age group. High praise. He's currently under contract with Fenerbache Istanbul and he's included in the active roster of the senior team.
*Davide Bortoluzzi's International Blog will start up later this week.