Last season produced a NBA Draft record 13 "one-and-done" players selected in the 1st round. All 14 freshmen that entered the 2015 draft are currently on NBA rosters at this point in time. The impact of freshmen at the top of the draft was substantial with 9 of the first 15 picks.
The early returns on these recent "one-and-done" draftees look promising, and once again the incoming freshmen class looks to make up a large part of the 2016 draft's depth. There is star power at the top, with a few players who seem to fit the profile of franchise cornerstones. Once again, this class will surely bring some surprises and we will see if it can compete with the depth last year's freshmen class. Here are the elite 20 early on.
NCAA Freshman Rankings – Class of 2019
1. Ben Simmons 6-10 240 SF/PF LSU
While a number of prospects have received the moniker "best since LeBron James", none seem to replicate his skill package as closely as this Australian prodigy. With legitimate PF size (a 8'11 standing reach at adidas Nations, while measuring a shade beneath 6'10), he also brings the grace to push the break off of the dribble with court vision and passing ability that make him incredibly unique. He changes the game with his versatility and should fill up the stat sheet as much as any freshman in recent memory.
He may not be the super hero athlete that his reported LSU combine numbers made him out to be, though he certainly has speed and agility that should allow him to dominate the college level. What truly makes Simmons a potentially special prospect is his ability to get his teammates involved. He is constantly looking to get others involved. almost to a fault. His main area in need of improvement is his long range shooting, as improvement here could make him that much more of a threat in half court sets.
Simmons has an NBA ready body, is incredibly comfortable with the ball in his hands, even showing signs of being ambidextrous, giving him game changing potential. He is beyond his years in his feel for the game and has an innate ability to make those around him better. His impact at the college level will be and as he proved in 1-1 battles (at Nike Academy) against some of the NBA's top talents (Harden and Anthony Davis) he has the necessary tools to be among the NBA's elite.
2. Skal Labissiere 6-11 220 PF/C Kentucky
Kentucky has consistently produced skilled big men near the top of the draft since John Calipari took the helm, and it is quite possible that none were as polished offensively coming in as Labissiere. Coming to the United States shortly after surviving the 2010 Haiti earthquake, Labissiere can stretch the floor, has face-up ability and is also comfortable with his back-to-the basket. He plays above the rim effortlessly while getting great elevation on his jump shot. He has a court sense and understanding of the game, with an agility that allows him to guard multiple positions.
His development physically is quite noticeable to those who have followed his progress, though he definitely has further development as far as being able to gain position on both ends. He has adequate length for either the 4/5, though not necessarily the freakish length of past Kentucky bigs. His best asset is his shooting touch and incredibly advanced offensive arsenal, and a feel that could make him a match-up nightmare.
Labissiere's combination of size, skill and agility give him top pick potential. He can score from just about anywhere, even displaying a hook shot that should tantalize fans. If he continues to show improvement in his aggressiveness in the post and face up skills, he figures to solidify himself as one of the top picks in the draft.
3. Jaylen Brown 6-7 225 SF California
Brown is an explosive wing who already has a developed body and an adept offensive arsenal. He is great in transition and is dangerous with the ball in his hands following a defensive rebound. He is really tough to stop attacking the hoop and should get to the line at a very high rate. Brown has also improved upon his shooting and has ability as a passer, with a willingness to get others involved. He has strength and lateral quickness, along with desire, to make his mark as a defender.
His commitment to Cal was surprising, though coach Cuonzo Martin should be able to put him in positions that will show his versatility. He can work on playing without the ball, as sometimes he has been prone to turnovers if he is required to be a primary ball handler. He still needs to become a more consistent jump shooter and work on protecting the ball. He certainly fits the mold of a potential high level wing player, with a body and skill set that should make him a star in college. On top of that, he should be able to step in as an immediate NBA contributor and a featured scorer in time.
4. Brandon Ingram 6-9 195 SF Duke
Ingram is the youngest player on the list and was a player that shot up our rankings following his showing at the 2014 adidas Eurocamp with the USA Select Team. He managed to grow physically and as a player, helping him to shine in post-season All-Star games and wow scouts with his absurd length (7'3 wingspan), ball skills and shooting. He moves like a guard, with a high release and ability to create for himself. He also looks to have gained some much-needed strength, though he still has a ways to go before his body is NBA ready.
He has numerous ways to score, utilizing his size to his advantage, with ball handling ability and vision that make him a legitimate wing. He played some point guard in high school and it is not a stretch to see him as a mismatch at the SG position at times. There is still work to do in refinement of his off-hand and in his defensive footwork, but Ingram is quickly solidifying himself as one of the most enticing prospects at the top of this draft.
5. Jamal Murray 6-4 205 PG/SG Kentucky
Following a breakout performance in the 2015 Nike Hoop Summit where Murray outshined the USA guards for 30 points leading the World Team to victory, he pretty much had his choice of school he wanted to attend. He decided on Kentucky and with his addition, he should put them amongst the contenders for the NCAA title. Murray showed his readiness for the big time during his time with Team Canada during the Pan-Am games. On a team full of veterans to the Canadian Senior program, Murray finished 2nd on the team in scoring and gained valuable experience running the point. He also showed his incredible competitive fire in the semi-final game against the United States, where he scored 22 points in the 4th quarter and OT, including dagger shots that gave Canada the win.
His shooting ability is one thing that makes Murray stand out, while he also possesses incredibly wide hands for his size that gave him great ball control. He is able to create his own shot as well, with good change of speed and body control. The question with Murray may be about his actual NBA position, as he is more of a combo than a "true" point guard. Playing with two other players who are classified as point guards at Kentucky, we may not know the answer, though he certainly will show his ability as a playmaker and his efficiency in the pick-and-roll.
With the point guard position seemingly as broad as ever in definition, along with Murray's size not making it much of a stretch to move to the SG, this should help alleviate concerns about his true position. He brings an advanced skillset and work ethic, along with tenacity that should make him, at minimum, a proficient defender. His athleticism is underrated, if not elite, and regardless he finds ways to have a big impact on games. His skill package along with his competitiveness and intensity should make him the top guard candidate for the upcoming draft.
6. Ivan Rabb 6-10 220 PF California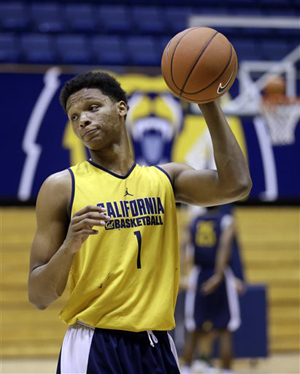 Rabb has been at or near the top of this class since they entered high school. Usually when matched up with a big, Rabb usues his speed and soft touch to torch bigger or stronger opponents. Entering Cal, it seems Rabb has not only added definition to his body, but is also working on finding more of a balance between the post and the perimeter. Possessing elite agility for a big man, he has body control and the ability to attack with either hand.
He will primarily be playing center out of necessity, and this should benefit him more often then not. He explodes quickly into his moves, with good footwork and ball skills that will help him be a legitimate scorer at Cal. He will still need to add strength to his frame and prove that he has the face-up jump shot that can keep defenses honest. Rabb brings close to prototype NBA PF size, some quick leaping ability and proficiency using either hand that should keep him among the top players in his class.
7. Cheick Diallo 6-9 220 PF Kansas
The MVP of both the McDonald's All-American and Jordan Brand Classic, the Malian product brings a level of activity and energy that is contagious for teammates. His long arms and quick feet already make him a potential lock down defender, as he can block shots and also provides great help defense. He runs the floor like a deer and is great in up-tempo and will certainly be one of the better big men in transition. His post game is still in need of refinement, though he fights for position and can get off his hook shot with either hand.
Currently Diallo has yet to be cleared by the NCAA, which is unfortunate. He has an unorthodox shooting form, which is a bit low and to the side, though he shows touch. He also needs to add strength to his base and upper body. It is well known how athletic he is and his ability to rebound, but his offensive development is the key in him securing a high draft position. Here is hoping his eligibility at Kansas gets cleared up, because the hoops world is a better place with him in it.
8. Malik Newman 6-4 190 PG/SG Mississippi St.
Newman is a difference maker offensively, with adept ability in creating shots and quickness off the dribble. He is very good at reacting to defenders, getting to the basket and finishing in an array ways. He brings a lot of energy, with body control and some ability to finish through contact. At under 6'4, with below average size for a SG, he will attempt to show he can run the point position.
He has played the point at times, and developing some combo skill could be beneficial. However it could expose his inability to play the position and set him back as a shooting guard. He has always been seen as a shoot first player whose best quality is his ability to create shots. His shot selection will be important to monitor, as will his overall decision-making. Even if Newman is not an elite leaper, his speed is top notch.
9. Stephen Zimmerman 7-0 240 C UNLV
"Big Zimm" decided to stay close to home for college and the Runnin' Rebels landed a mobile big man with athleticism to make plays above the rim. He is a good rebounder with vision. The lefty can also do some work in the high-post, with a good shooting touch in the mid-range. He still can get pushed off balance and will need to work on his base to establish more consistent position. His toughness is sometimes questioned as smaller, stronger players can sometimes cause him difficulty. He also is not the most fluid player laterally and spends a bit too much time on the perimeter. Zimmerman still has great size, with some bounce and the talent to be a one and done player.
10. Deyonta Davis 6-10 240 PF Michigan St.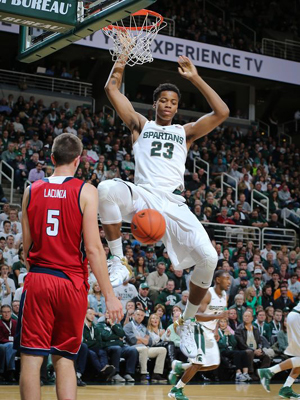 Davis brings standout length, fluidity, athleticism and a great nose for the ball. Although his listed weight may be a tad generous, he should be able to add muscle and remain very agile at 6'10. He is incredibly active on the offensive boards and is very comfortable slashing to the hoop. Right now, he rarely goes outside of his comfort zone and while that provides a lot of high percentage shots, it leaves questions about his post and face-up game. What makes him such an intriguing prospect is his ability to play above the rim along with an eagerness to mix it up close to the basket. He shows nice timing as a shot blocker, giving him added potential.
11. Thomas Bryant 6-11 250 C Indiana
The thing that instantly stands out about Bryant is the young big man's intensity. He plays incredibly hard, does not back down and despite a need to improve his feel for the game, manages to make himself a presence with raw effort. On top of this, he has legitimate center size, with a 7'5 wingspan. Bryant is a force on the glass on both ends and shows a lot of potential as a post defender. It was reported that his vertical has improved since arriving in Bloomington, which is important given that he is not the most reactive player laterally. If he can show more comfort as a post option and some improved ball skills, he could develop into a starting center down the line.
12. Dwayne Bacon 6-7 220 SG/SF Florida St.
Already 20-years old, Bacon should have an immediate impact at FSU and has many desirable qualities in an NBA wing. He is a standout athlete with the handle to create shots and get into the paint. Bacon also has outside shooting ability and a post-up game that helps him take advantage of smaller wings. There are times when he can either try to do too much. Finding his way to be involved more in his team's flow will be a key for his professional outlook. Asked to do a lot with the ball last season at Oak Hill, it will be telling how positively he fits into a crowded Florida St. backcourt.
13. Isaiah Briscoe 6-3 210 PG Kentucky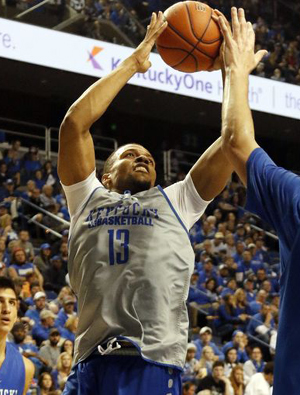 "Boogie" is a strong lead guard with good length, who went from being known as mainly a scorer to one of the most highly regarded playmakers entering college. He will likely be playing in a three-guard line-up often and will be asked to guard bigger wings, and he should be up to the challenge. He has shed some weight since entering Kentucky, but still has a strength advantage over most guards he goes up against. He is best at attacking the basket, absorbing contact, while still needing to work on his consistency as a jump shooter. Showing strong decision making will be important.
14. PJ Dozier 6-6 200 PG/SG South Carolina
Possessing legitimate wing size, Dozier possesses vision and ball handling that make him a very intriguing combo-guard prospect. He has great ability to see the floor and his ability as a creator for himself and teammates makes him highly versatile. He also has put work into his jump shot, with more potential to use this as a weapon. It is also worth noting that he missed his junior season of high school due to a torn ACL, though it appears that he came back even more explosive than he was previously. He has a great understanding of the game and his versatility makes him one to keep tabs on.
15. Henry Ellenson 6-10 245 PF Marquette
Coach Steve Wojciechowski received a huge recruit when he landed Ellenson, whose brother was already on the Marquette roster, yet was not considered a lock to join him. His decision to play for "Wojo" not only made him an in-state hero, but allows him to be the centerpiece of a college offense right away and showcase his flashy tools. Ellenson can play inside and out, with an ability to stretch the floor with his shot and also an advanced handle given his size. He is a good passer and willing to fight on the glass. That being said, he has a propensity to rely on his outside game a bit too much, which could stunt his overall efficiency. His lack of lift and lateral quickness also may give him issues as a defender, plus make him a potential target for double teams when he looks to use the dribble. He should have every opportunity to have a big freshman year, so he will be watched closely to see just how well that projects to making an impact at the next level.
16. Jalen Brunson 6-2 200 PG Villanova
The son of long time NBA journeyman, Rick Brunson, has a feel for the game and for making his teammates better. He showed incredible leadership and toughness as he led Team USA to the Gold Medal during the FIBA U19 World Championships this past summer, garnering tournament MVP. Brunson is a lefty who works really well out of the pick-and-roll, with ability to hurt with you with the shot and the dish. He is already quite strong as a freshman, with a great concept of both spacing and taking care of the basketball. He lacks ideal size, explosive ability and top end speed, which could limit his potential pro upside. Even so, he is a great teammate with a lot of ways to score and move the ball. He's incredibly focused and has a confidence and maturity about him that should insure success.
17. Carlton Bragg 6-9 220 PF Kansas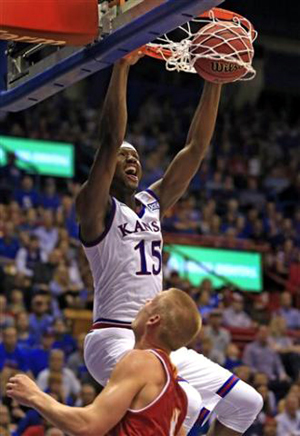 In the mold of a stretch four, Bragg has a high release on his shot and also runs the floor quite well. He can make plays in transition, finish above the rim and has some shiftiness off of the dribble at times. The problem is that he lacks consistency, sometimes showing fantastic energy and other times lacking assertiveness. He also needs to gain some strength in order to battle in the post and be more of a force on the glass. Much more finesse than power, if he finds more of a balance between his inside and outside game, he could be a big time match-up problem. Bragg was one of the Jayhawks bigger surprises during the World University Games and has gained admirers for his play during the summer. Turning 20 in December, he is a bit old for the class though he has shown reason to believe that we can expect a great deal of further development.
18. Antonio Blakeney 6-4 190 SG LSU
Blakeney is a big-time leaper, with slashing ability and a mid-range game that give him a number of ways to attack a defense. He has a solid first-step and while he still needs work on his long-range game, there is potential to become a legitimate threat from there as well. Blakeney will need to become more of a playmaker for his teammates and improve his shot selection to raise his NBA stock. He sometimes is a bit too focused on looking for his own shot, making rushed decisions if he gets trapped. As an undersized SG, he'll need to show more than potential in order to convince teams of his NBA role.
19. Diamond Stone 6-10 255 C Maryland
A strong, traditional center who has a bit more to offer than just a back-to-the-basket game, Stone will be an important piece on one of the nations top ranked teams. He has good, soft hands with low-post footwork off of quick reactions to get nice openings for spins baseline or deep in the paint. He is not incredibly explosive, yet finishes strong and establishes post-position. His conditioning and stamina are something to keep an eye on, as it can lead to him being out of position. He is also not incredibly quick laterally, which affects him in pick-and-roll defense, along with limiting his overall impact on that side of the floor. He still displays some of the qualities that made him such a force at the Cadet level for Team USA, with legitimate center size and some offensive ability to work with.
20. Derryck Thornton 6-2 175 PG Duke
With Duke desperate for a PG with the departure of Tyus Jones, they put an all out blitz to get Findlay Prep's floor general to re-classify. For the past two years, Thornton was able to run the offense at a high level, with great court vision along with an offensive game that keeps defenses honest. He is still not the most consistent shooter, but shows potential there and has the ability to play fast, yet in control. He should have a solid assist-to-turnover ratio, along with being a pest in on-ball defense. He still needs strength and is a real candidate to hit the freshman wall, considering his age and experience. He has good potential, but may take time to realize it.
Follow Michael on Twitter @NBADraftMikeyV. For any comments or questions feel free to e-mail him at [email protected]