As the old adage goes, point guards are the engines that run their teams. It doesn't really matter what level of basketball you are playing, the point guard position is the most important on the floor. The Steph Curry's and Russell Westbrook's of the world are proving just how important the lead guard position is and what a pivotal role it plays in a team's success. This year's crop of young floor generals is the weakest position in the draft as far as the lottery is concerned with only one lock in Kris Dunn, plus a youngster, Dejounte Murray, the other standout talent with a chance to slide into the top 14. The rest of the prospects are bubble first rounders, and likely second rounders. But what this class lacks in future star power, it really makes up for in depth as there are 6-8 guys who could really turn into solid professionals at some point in the near future.

2016 Positional Rankings
1. Kris Dunn – Providence
I'm not as high on Dunn as some are but he's the clear cut best point guard in this draft. That's not to say that there aren't parts of his game that I love, just not as much as some. His injury history (shoulder) scares me a little but I love his size and his ability to make plays for himself and his teammates. He's an extremely talented scorer, especially off the dribble but defensively is where I really like what Dunn brings to the table. His wingspan and measurables make him an intriguing prospect on that end of the floor. He's got great instincts, quick feet and quick hands, all the makings of an extremely good defensive point guard at the next level. I don't love his jumper and I'd like to see him get more comfortable at hitting 18-20 footers as he won't always be able to get to the basket the way he has done the last to years in college. His sub 70% free throw percentage for a guy who gets to the line close to six times per game is also a real concern.
2. Dejounte Murray – Washington
Murray is one of the great unknowns of this class. He has off the charts speed and playground ball skills. But as you would expect, Murray struggled with inconsistency and turnovers at times as most young guards do. But those two words 'potential' and 'upside' always creep back into mind when analyzing his game. He's still young and raw and likely projects as one of those hybrid point guards that will play off the ball as much as he does as the lead guard. Right now he isn't a great shooter and just doesn't command the point guard position well enough. But he's a magician with the ball, and his combination of length and speed is unmatched by any player on the list. He's clearly got a ways to go before he can be counted on at the next level and his jump shot is the one thing he's going to need to work tirelessly on before he'll see significant minutes, since NBA defenders will give guys shots they know they can't make, and right now…he can't make anything from beyond 15 feet…at least not consistently.
3. Anthony Barber – NC State
Arguably no one on this list helped himself out more over the last 12 months than Barber. A draft afterthought through much of his first two years with the Wolfpack, Barber took advantage of an injury riddled roster this past season to the tune of (ACC best) 23.5 points per game to go along with just a tick under 5 assists. A guy who was known for his quickness and ability to blow by defenders for much of his career, Barber really improved his jump shot and stroke from both the free throw line and three point line this last season. Defenders weren't able to sag off of him like they did his first two years. His usage rate was extremely high this season and his efficiency numbers took a small dip but that was more out of necessity then anything as he was one of the few players that resembled ACC talent on the Wolfpack roster. He still needs to add weight and continue to work on setting his teammates up but for a guy who had played second fiddle to Trevor Lacey and TJ Warren his first two seasons in Raleigh, Barber solidified himself as one of the best PG talents in this year's draft class.
4. Tyler Ulis – Kentucky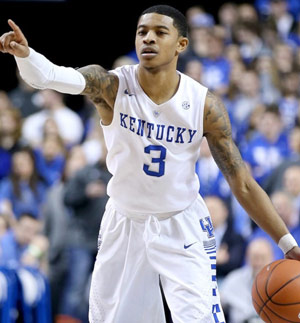 The ultimate floor general, Ulis proclaimed that he would be a lottery pick if he were just a few inches taller. And you know what? He's right. The success of former "Mr. Irrelevant" of the 2011 Draft has paved the way for the "short" PG to become relevant again. Ulis was the engine that made that Kentucky team go last season and his draft stock likely won't ever be higher. Some project him as a first rounder while others (like us) see him as an early second rounder. The hype around Ulis got a little out of control to the point where Ulis and his advisement decided to skip the NBA combine, an event that he would have shown very well in playing 5-on-5. The reality is that he's not a lock to go in the first round, and the combine would have been useful for scouts to see him perform. The game has changed to speed with the no hand checking rule, but it is still extremely difficult to make it as an undersized PG. Ulis has gained a lot of traction from the Isaiah Thomas comparison. But in reality Thomas plays a much more physical brand of ball, using his strength on defense. He's got 30 pounds on Ulis, so that comparison should be thrown out the window. With Ulis think Tyus Edney or Travis Best, for those old enough to remember them. Ulis has a solid mid-range game and his floater can be deadly at times, which keeps him out of harms way when attacking the basket. He's a solid shooter from distance and was a good defender in college, but bigger points in the NBA will abuse him on the block if he doesn't add muscle to his frame.
5. Demetrius Jackson – Notre Dame
As someone who watches a lot of ACC basketball, I selfishly wanted Jackson to come back for his senior year but he's cashing in on his best statistical season and an NCAA Tournament run that ended in the Elite 8 at the hands of ACC foe UNC. Jackson put the team on his back for those two weekends and seemed to get better as the games got bigger. He single handedly willed the Irish to victory against Wisconsin and played the game of his life in the team's loss against the Tar Heels. Jackson is a great athlete that could really thrive in a backup role at the next level on the right team. He doesn't really have starter potential as he's not a great leader or defender and is more of a score first point guard than a guy who is going to get his teammates involved first. But he's a winner and a guy that teams should give looks to in the early first round and could become a steal early in the second.
6. Wade Baldwin – Vanderbilt
The only thing that stands in the way of Baldwin becoming one of the best PG's in this draft is himself. He's got the physical tools (size, length, athleticism, etc) but he lacks consistency. I was impressed with him during his freshman season as I didn't really think much of him coming out of high school and was really interested to see his development this season. He took on more of a scoring role this season and his numbers went up because of it, but he wasn't as efficient of a scorer as he was a season ago and actually shot the ball worse across the board which is a little alarming. Baldwin struggled to lead Vanderbilt into the tournament, and didn't impress scouts with his leadership or decision making. He has tight hips, which limits his fluidity. He's also not the best shooter, lacking form from distance but he's serviceable. He's a great finisher, especially in transition but still needs to develop his play making skills for his teammates. Defensively he is a player that just needs to remain motivated on that side of the ball. At the combine he measured a massive 6'11" wingspan, which certainly opened some eyes and a solid 6'2.5" barefoot height. Despite a lack of efficiency and readiness, I like him as an early second round player with potential for the next level with the right coaching.
7. Isaiah Cousins – Oklahoma
A toughnosed kid from upstate New York, Cousins is a solid point guard that has improved his scoring output in each of his four seasons with the Sooners but he has hit his ceiling and those magic words of 'upside' and 'potential' are difficult to apply to Cousins. His importance to both Hield and Oklahoma can't be understated because they wouldn't have made that Final Four run without him but in terms of an NBA Draft prospect he has his work cutout for him. He has been solid in draft workouts utilizing his great length and toughness defensively. But questions linger about how his game will translate.
8. Tyrone Wallace – California
Wallace is similar to Cousins in that he's a four year player that had a good college career but likely isn't going to be regarded as a big time draft prospect. Cal's season and postseason hopes took a turn for the worst when a wrist injury kept him from playing in the NCAA Tournament so you clearly see how important he was to his team. He was their leading scorer this year and was one of the better play making point guards in the Pac-12 but he's not a good shooter and he struggles when defenders give him space and dare him to shoot the ball.
9. Kahlil Felder – Oakland
After a huge junior year, Felder is trying to strike while the iron is hot, and in reality it's unlikely he could have improved his stock with another season at Oakland. He's another 'short' point guard prospect standing at 5'9 and weighing 177 pounds, and some scouts prefer him to the aforementioned Ulis. While he doesn't have the Kentucky pedigree, Felder does have superior strength and explosiveness and plays with a ton of heart. 25 points to go along with 9+ assists per game is nothing to thumb your nose at, even in the Horizon league. In a perfect world, Felder graduates early, transfers to a larger school and gives it one more shot against some higher level competition. But I don't blame the kid for trying after having a season like that with those stats.
10. Julian Jacobs – USC
Looking for a deep sleeper in this year's point guard crop? Look no further than USC's Julian Jacobs. While Jacobs isn't even a lock to get drafted after entering the draft a year early, he possesses athleticism and length that is among the top handful of point guards available. He was seen by some as a player that could have challenged to be a first round pick next year if he had improved upon his biggest weakness: his shooting. Jacobs seems to have jumped the gun on his pro career and while it may make things more difficult for him, the talent is there if he can land in the right situation and develop his skills. With bigtime hops, and great length, a yoyo handle, and a quick first step, Jacobs is a very difficult defensive assignment. His statistics on the year don't jump off the page: (11.6 ppg, 5.5 a/2.7 to, 33% 3p, 70 FT%), but he has a great highlight package and his handle and speed give him a chance.
Follow me on Twitter @CCroweNBADraft
Josh Adams 6-2 190 PG Wyoming Sr., Wael Arakji 6-2 180 PG Al Riyadi Beirut 1994, Ryan Arcidiacono 6-3 195 PG Villanova Sr., Yogi Ferrell 6-0 180 PG Indiana Sr., Alex Caruso 6-5 180 SG Texas A&M Sr., Danilo Fuzaro 6-4 185 PG/SG Minas 1994, Sterling Gibbs 6-2 190 PG UConn Sr., Codi Miller-McIntyre 6-3 205 PG Wake Forest Sr., Stefan Moody 5-11 185 PG Mississippi Sr., Abdel Nader 6-6 220 SF Iowa St. Sr., Marcus Paige 6-2 165 PG North Carolina Sr., Angel Rodriguez 5-11 185 PG Miami Sr., Benjamin Sene 6-1 180 PG SLUC Nancy 1994, D'Vauntes Smith-Rivera 6-3 215 PG/SG Georgetown Sr., Kenan Sipahi 6-6 195 PG/SG Karsiyaka 1995, Isaiah Taylor 6-2 180 PG Texas Jr., Fred VanVleet 6-0 195 PG Wichita State Sr.