#1 Louisville versus #12 Oregon
The Cardinals stormed through their opening rounds in anticipated relentless fashion. They forced 44 turnovers (21 steals), including 19 from precision Colorado State who ranked 12th nationally in fewest giveaways during the regular season. Offensively, neither opponent had the length or athleticism to disrupt looks, resulting in 28/38 shooting (74%) from their top four frontcourt options. The Cards next opponent won't be as accommodating inside the paint. Oregon ranked 22nd nationally in rebound margin during the regular year, they held a +28 advantage and allowed only 7 second chance shot opportunities in their two tournament victories. Vastly underseeded, the Ducks didn't waste time talking; they just brought angry basketball to the court. They controlled two rock solid teams from the word go, obliterating Oklahoma State and Saint Louis by a combined 30 points.
While Louisville is a decent rebounding team (+3.6), they will need to be operating at full capacity to battle the length/size of Oregon. The ducks are big everywhere except at point guard and extremely active at every position. 6'7 energizer bunny Arsalan Kazemi has been singlehandedly eating the glass with 33 rebounds and 13 of the offensive variety. Dameyon Dotson and Carlos Emory are extremely athletic 6'5 options on the wing and Tony Woods is an agile, but soft at times, 6'11. On a side note, the volatile Dotson + Emory duo has been filling it up offensively with 66 points and 11 three-point makes. This is unlikely to continue.
The X-factor for Louisville in this matchup is Chane Behanan. The Cardinals have gotten absolutely nothing out of Behanan for almost a month, and that will surely need to change as the tournament churns forward. He hasn't scored in double figures or eclipsed 4 rebounds since March 2nd. Freshman Montrezl Harrell has played grown man ball (13 PPG last three) and picked up the slack at power forward, but asking him to suddenly carry the mantle in March is an unfair burden. Gorgui Dieng will be a constant as always, holding down the interior fort and anchoring the middle.
If Oregon wants to keep game pressure on Louisville, taking care of the ball must be priority 1, 2 and 3. The Ducks ranked 294th in the country in turnovers committed, and coughed it up 36 times in the opening two rounds. Louisville's pressure will be unlike anything they've seen, including Saint Louis. Dominic Artis scored the ball in the round of 64, but he was invisible against SLU and has been a non-factor in creating offense. His backup Jonathan Loyd can be electric and/or head-scratching, usually displaying a heavy dose of both within the same game. The two lead guards will have their hands full getting the Ducks into sets (organization is not their strength to begin with) against the hounding on-ball activity of Peyton Siva and Russ Smith (16 steals between them).
#2 Duke versus #3 Michigan State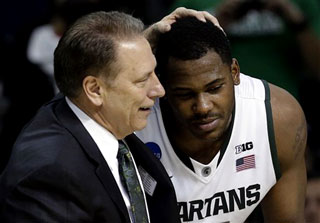 Anything but overwhelming against inferior opposition, the Blue Devils have ridden strong defense into the Sweet Sixteen holding Albany to 37% and Creighton to 30% shooting. While the offense has not been picturesque, they've assisted on 26 of 46 baskets, and point guard Quinn Cook has posted a 17:3 assist: turnover ratio (Duke 15th nationally with 1.37:1 ratio). Facing Michigan State will provide an entirely different set of challenges, particularly paint resistance. The Spartans mixture of quickness, athleticism and size resulted in an 85-45 rebound advantage (8th nationally at +7.7) and 10 blocked shots in the opening two rounds.
Unlike the Dukies who value each possession, Michigan State has been careless in the turnover department (13.7). They turned it over 17 times against Valparaiso and 18 times against Memphis, which resulted in chopped leads in both cases. Point guard Keith Appling, who left Thursdays game with a knee and Saturday's game with a separated shoulder (expected to play), has not been the TO culprit. Talented forwards Branden Dawson and Adreian Payne bring many positive attributes to the table, but consistent playmaking off the dribble isn't one of them (13 turnovers between them). 6'5 freshman point-forward Denzel Valentine has been sturdy with the basketball and filled up the box score versus Memphis. While not renowned for thievery, the Blue Devils will pressure the ball and hunt an opponent's weakness.
On numerous occasions Creighton center Gregory Echenique had below the rim post position on Mason Plumlee, but could not finish. Derrick Nix has ten lbs. on Echenique, a bigger derriere and a far superior skill set. If Plumlee doesn't muscle up – Nix will finish. Foul trouble could come into play once again; meaning lengthy freshman Amile Jefferson might need to eat minutes. Jefferson gave Duke positive court time defensively guarding Doug McDermott. Whether Ryan Kelly finds his rhythm could be the determining factor. Kelly has scored only 9 points on 3/13 field goals thus far in the dance, and his presence will be essential to bring Payne, Michigan State's best shot blocker, away from the hoop, spreading the floor in the process.
As always, shot makers will have their say in the final outcome. Seth Curry has compiled 43 points in the early rounds, shockingly converting 11 of his 15 makes from inside the arc. He won't find room to squeeze shots off in the paint versus the Spartans, so he will need to more effective firing from distance. Freshman Gary Harris is Curry's counterpart on the other side. Harris has hit 6 of 12 three's in the tournament, moving exceptionally well off the ball and not requiring much space to release. He gives off an upperclassman vibe and won't be awed by the stage.
Final Four Prediction
Louisville is a sizable favorite (10 points) to advance past Oregon. Should Dominic Artis somehow rekindle his January form, it's not impossible to envision the Ducks standing a fighting chance. If all remains status quo, however, they lack the half-court efficiency to sustain for 40 minutes. Attempting to run with the Cardinals is an outright suicide mission. In the bottom half of the bracket, Michigan State has the overall talent advantage while intangibles and ball security favor Duke. If the Spartans receive sound play from their guards, their jumping jacks and girth should hold serve comfortably on the backboards and results in more easy buckets. Unfortunately for the Spartans, the recipe for avoiding turnovers against Louisville is more challenging to concoct and will likely result in their demise.
Follow on twitter for NCAA Tournament coverage @AdamGaneles