In a tournament that has been full of excitement and upsets, the East is the only region where all four top seeds advanced to the Sweet 16. Indiana survived a scare against Temple in the second round after routing James Madison in the round of 64. Syracuse handled a tough California squad, Marquette avoided a massive upset against Davidson in the first round and staved off Butler in the second thanks to the heroics of Vander Blue and Miami got a huge performance from Rion Brown to hold off the Fighting Illini. That sets up a big weekend in the nation's capital for a chance at a Final Four spot in Atlanta.
#1 Indiana vs. #4 Syracuse
How Indiana made it here: As most #1 seeds do, Indiana throttled #16 James Madison in the Round of 64. It was clear from the start that the Dukes were out matched both physically and athletically. No starter played more than 27 minutes as the Hoosiers cruised to a victory by shooting over 52% from the field. It seemed like more of a pickup game for much of the game as Indiana imposed their will on both ends of the floor. Freshman Yogi Ferrell was the MVP of this game as he weaved his way through the Duke's defense en route to a game high 18 points. The Hoosiers matched up with Temple in the second round in a game that was a lot closer as the discrepancy between talent wasn't as great. The Hoosiers weren't able to get our and run on the Owls like they had for much of the season and were forced to play a slower paced game that they were not accustomed to. Khalif Wyatt was a one man wrecking crew for Temple as he almost single handedly willed his team to a win. But in the end it was timely stops and clutch shooting from Indiana's upperclassmen that made the difference.
How Syracuse made it here: Syracuse was seeded a little lower than they felt they should have been and they took it out on Montana. In a game that was over from the opening tip, the Orange used that 2-3 zone to frustrate the Grizzlies into a season low 20% shooting performance to go along with 17 turnovers. Brandon Trich led all scorers with 20 points in a win that was never in doubt. 'Cuse met an upset minded Cal squad on Saturday night. Mike Montgomery's team presented more of a problem than did Montana. Montana didn't feature a player with the talent or skill set of Allen Crabbe. But the Syracuse defense was again the story of the game as they shut down the Pac-12 POY. Syracuse was in control for much of the game and it would have never been close if it weren't for Syracuse doing their best Shaq impersonation from the free throw line for much of the game. But in the end they were able to get enough stops and enough baskets to get the win.
Key to the game: This game is going to come down to which team can control the tempo of the game. The Hoosiers like to run, while the Orange like to slow you down. Syracuse doesn't want to get into an up and down game and Indiana doesn't want to get into a low possession defensive battle. If the Hoosiers can force some turnovers on defense and get out in transition and turn this game into a fast paced high scoring affair then they won't have to worry about that dreaded Syracuse zone. Syracuse is hoping that the zone will slow down Zeller and force other Indiana players to beat them from outside.
Matchup to watch: James Southerland vs. Christian Watford
Southerland vs. Watford isn't one that most would choose to watch in this game but the winner of this individual matchup will likely win the game. Both guys are seniors and both play that stretch four position. Since Syracuse plays a zone, they won't play one on one very much but it will be up to Southerland to get out on Watford and vice versa. Both players shoot over 40% from distance with Watford having the overall edge at 48%. Southerland showed how tough Syracuse is when he gets hot in the Big East Tournament. He hit 19 three pointers in 4 games and was a huge part in the team's run to the Championship game. You can bet that both teams will try to get their big men in the flow of the offense early on.
Bottom line: Syracuse has the clear coaching edge but Indiana features the two best players on the court. It is easy for a team like Syracuse to get baited into a high scoring fast paced affair. The zone look that Syracuse throws at teams is hard to break down as team's tend to make bad passes or hoist up an early three but Indiana has players that can slash to the middle of that zone, collapse it and make the right pass. They are very well coached and their players play with a high basketball IQ. Syracuse relies on Brandon Trich to get their offense going at times when it has bogged down and as good as he has been, the game becomes much more difficult with a defender like Oladipo trailing you. Indiana is the deeper and more talented team. Not to mention they are 19-1 on the season when scoring over 75 or more points. Outside of Oladipo, the Hoosiers shot the ball poorly against Temple. That won't happen again and they will prevail in a close one.
#2 Miami vs. #3 Marquette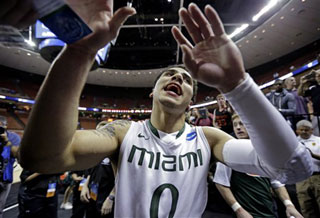 How Marquette made it here: Marquette needed two huge second half runs to get past Davidson and Butler in the tournament's first two rounds. The Golden Eagles struggled to get the ball inside in the second half against the well-coached Davidson squad. The team's struggles from three point range was the story for most of the game before Vander Blue and Jamil Wilson took over. Both guys made key shots in the final two minutes to keep Marquette in the game that gave Blue the opportunity for his last second heroics. It was more of the same against Butler on Saturday as the team found itself down in the second half. But Blue came to the rescue once again this time scoring 19 second half points to diminish any chance of another Butler Final Four run. Rotnei Clarke kept Butler in it with five three pointers and it came down to the last shot similar to their meeting earlier in the season but this time the pendulum swung in Marquette's favor as Andrew Smith's desperation heave at the buzzer failed to draw iron.
How Miami made it here: Miami had no issues in their first round game against Pacific. The Hurricanes had a balanced attack on offense as 9 players scored 6 or more points in the game and the defense forced 14 turnovers and held the Tigers to 33% shooting on the day. Durand Scott led the way with 21 points, including five three pointers, while Shane Larkin dished out 9 assists. Miami then faced off against Brandon Paul and the Fighting Illini. It took five threes from reserve Rion Brown and a missed call by the officials to secure a win for the Hurricanes. The Miami bigs were largely ineffective for much of the game as the Reggie Johnson and Julian Gamble two points between them in over 31 minutes of play. Illinois shot themselves in the foot in the second half as they hoisted up three after three after three with very few of them actually falling. The team shot 7-27 from distance which was the story in the game.
Key to the game: Marquette doesn't shoot the ball that well from the perimeter which is why they like to play inside out. Davonte Gardner really hasn't been able to get it going thus far in the tournament largely because the team has had to rely on their guards to get them back into games down the stretch. They don't want to get into a three point shootout with the Hurricanes so they will look to establish their bigs early and often. Miami can counter with their own trio of talented bigs so controlling the paint will be crucial for both teams.
Matchup to watch: Vander Blue vs. Durand Scott
Blue has been the MVP of the tournament thus far for Marquette and he will have to be on top of his game again on Thursday against the 'Canes. Scott shot lights out in the first round but cooled off against the swarming Illini defense led by Brandon Paul. Both players can score in a plethora of different ways. They both can slash to the basket, finish at the rim and hit jump shots from the perimeter although Scott knocks them down at a higher rate. Blue is the better defender and will be tasked, along with Trent Lockett, with stopping Miami's perimeter attack. Both players are hard nosed competitors that won't want to be outdone on a big stage.
Bottom line: Marquette will have to be on top of their game to take down Miami. If they shoot as poorly as they have throughout the first two rounds of the tournament then it will be their third straight Sweet 16 ouster. There are only so many times that you can come back in the final minutes of a game. Team's that can knock down the three ball consistently give them problems as we saw with Davidson and Butler. Miami is the better team and the likely winner of this game. Shane Larkin is one of the best floor generals in the country and will be a Pre-Season First Team All-American coming into next season. He is fearless when the games is on the line and has plenty of help and experience around him. Kenny Kadji will present a problem for Marquette as they don't have a player that can match his skill set. Kadji will have a field day against this Marquette team and the Hurricanes will advance to the next round.
Final Four Prediction
An Indiana vs. Miami matchup will be fun to watch. The 'Canes have the frontcourt depth and experience to slow down Cody Zeller to go along with athletic wings that can bottle up Victor Oladipo. Outside of Shane Larkin, Miami doesn't rely on one person night in and night out for scoring. They have four or five other players that can go off for 15-20 points on any given night. Jim Larranaga knows what it takes to get players motivated and is one of the more underrated coaches in college. The 'Canes are deeper than the Hoosiers and have a more talented and experienced roster top to bottom. The rotation of bigs that the 'Canes can throw at Zeller will end up being too much as he gets into some early foul trouble reducing his effectiveness throughout the game. Miami punches their ticket to Atlanta in their first Final Four in school history.
Follow me on Twitter @CroweClayton