By Aran Smith
1/10/07
Rising
Al Horford 6-9 245 PF Florida Jr.
Against Ohio State, in the biggest college game of the year so far, Horford stepped up to the challenge of guarding bigman Greg Oden, getting him into foul trouble and holding him to 7 points and 5 rebounds and winning the physical battle under the boards.
Playing on a gimpy ankle (he was not expected to even play) Horford scored 11 points to go with 11 boards. At one point he even threw Oden to the floor, which is a great indication of just how strong he is.
Horford's dominating performance against Oden in Florida's blowout win gave a big boost to his stock. As one scout put it after the game, "Horford made money today" (as it's likely this is a game that factors big into just how high he eventually will be selected).
Horford's numbers are virtually the same as Noah's and with the amount of scorers on the Florida roster, it's virtually impossible for either player to put up huge statistics.
With such a powerful build, he has drawn comparisons to Carlos Boozer who has developed into one of the top power forwards in the league.
Horford's stats don't jump off the page, averaging 12.1 ppg and 8.1 rpg to go with 1.9 bpg, but his combination of strength and athleticism have scouts salivating.
Horford still is prone to disappearing which is probably the most concerning thing about him. With Joakim Noah playing beside him, he sometimes appears to think that he can take parts of games off. So raising his level of consistency will be key for him over the remainer of the season.
If he finishes strong, look for Horford to be a top 10 pick in the 2007 draft.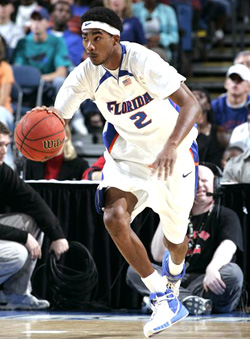 Corey Brewer 6-8 185 SF Florida Jr.
Despite coming down with mononucleosis early in the season, Brewer has been as effective as ever giving the Gators a tremendous compliment to their two headed interior monster (Noah and Horford).
A case could be made that Brewer is the most valuable player to the Gators team. Noah gets most of the recognition in this regard, but without Noah, they still have Horford inside, and vice versa. Take Brewer off this team and you lose the key to their defensive attack and a great deal of versatility.
Brewer's outside shooting was one of the keys to Florida's run through the big dance last year.
He still has some trouble creating shots off the dribble, but he's lethal in the open floor, and his outside shot has shown improvement in the past year.
He's an extremely athletic and versatile player whose skills mesh very well with Joakim Noah.
He has played especially well lately including 18 points against Ohio State, and has averaged 16.3 ppg over the past six games.
Brewer's lock down defensive ability, combined with his hustle and work ethic make him an intriguing prospect who figures to be a late lotto to mid-first rounder in the 2007 draft.
Mustafa Shakur 6-3 183 PG Arizona Sr.
After struggling for the majority of his first three seasons in Tucson, Shakur has developed into one of the top point guards in the country in his senior season.
His consistency and leadership has turned a young Wildcats team into one the tops in the nation and a real threat to make a deep run in March.
Shakur came to Arizona, aka "Point Guard U" with huge expectations as many ranked him as a top 5 recruit regardless of position.
Shakur had the athleticism and quickness, he was a natural point guard, who had dominated his age group for years coming out of Philadelphia.
But after his freshman year, it became apparent his jump shot needed a lot of work and during the off-season he attempted to reconstruct his shooting form.
His sophomore season saw his numbers significantly drop off and many began to question his abilities. It seemed to affect his entire game, he appeared to be thinking far too much and not instinctively reacting to plays on the court.
Shakur declared early for the 2006 draft, but after an under whelming performance at the Orlando predraft camp, Shakur wisely pulled out of the draft. It got so bad that some around the Arizona program even speculated that the Wildcats were better off without Shakur returning.
Now in his senior season, he appears to have re-found his (high school) confidence and it has translated into consistency and leadership on the floor.
On the season, Shakur is averaging 14.3 ppg, with 4.1 rpg, 7.9 apg and a whopping 2.47 a/to ratio. His jumpshot remains unorthodox, but in a draft devoid of quality point guards, Shakur has found himself in a great position to possibly play himself into the first round of the 2007 draft.
DJ Strawberry 6-5 201 SG Maryland Sr.
Strawberry has been one of the hottest players in the nation over the past several weeks. He's helped the Terps get out to an excellent 14-2 start.
As a junior, Strawberry was asked to play point guard for Maryland. Though it's not his natural position, he did an admirable job at the position with a 1.36 a/to ratio. The time at the position surely helped develop his ball handing and vision.
Strawberry struggled in Maryland's loss at Boston College on December 10th going 2-10 with 5 points, but in three 5 games since then he has averaged 20.4 ppg, on 57.8% shooting, scoring at least 19 in all 5 games.
Strawberry has shown solid improvement, upping his scoring numbers each year and his shooting percentages have shown a spike this year. Now in his senior season, Strawberry is averaging 16.2 ppg, 4.6 rpg, and 3.9 apg and 2.8 steals.
His offensive game has become much stronger as he's added a nice fade away shot and the ability to create shots for himself. Strawberry has a chance to be an early second-round pick if he continues to play the way he has the first half of the season.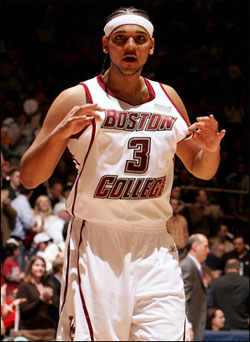 Jared Dudley 6-7 225 SF Boston Col. Sr.
Where there's a will, there's a way, as the old saying goes. Which is a great way to describe how Dudley gets the job done. Because rarely is he as athletically gifted as his opponents, especially in the talent laden ACC, but he outworks and out-wills them and has been doing so for his entire career at Boston College.
Dudley lacks the foot speed (especially defensively) or explosiveness that intrigues scouts, but similar to former Purdue Boliermaker Brian Cardinal, Dudley works as hard as anyone and has the desire and will to overcome his athletic shortcomings to succeed.
As a freshman, Dudley lacked any real range on his shot. But he has worked hard and now has the ability to take the ball inside to score as well as hit 3 point shots consistently.
Dudley has become one of the top college players in the country and a potential first team All American. His mental and physical toughness make for a difficult match up on the collegiate level.
Every season, Dudley has shown improvement. This year, Dudley is averaging 18.9 ppg, 9.3 rpg, 3.4 apg, while shooting 57.5% from the field and 76% from the line.
Scouts consider Dudley a likely mid-second round pick for the 2007 draft.
Freshman of the Week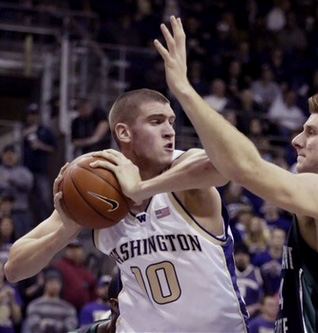 Spencer Hawes 6-11 250 C Wash. Fr.
Hawes has come on strong over the past few weeks helping Washington become one of the hottest teams in America. Despite a three game losing skid in the Pac-Ten, Washington is a team on the rise.
He's already one of the top centers in the country just half way through his freshman year.
Hawes skill level in the post is better than any center in the country and already better than 90% of the bigmen in the NBA.
After a relatively slow start. Hawes has caught fire over the past few weeks averaging 19.2 ppg during his past 9 games.
Don't be fooled by the baby face, as Hawes has football toughness. He relishes contact and has a mean streak lacking from so many bigmen who pick up the game because they are big.
Hawes has a father and uncle that played professionally, and was groomed from a young age to be a post player. His incredible post moves and touch at 19 years of age are a testament to long hours spent developing those skills.
Hawes still needs to work on his conditioning as he can appear lumbering running down the court. But big men normally take the longest to develop body-wise, so it's likely that he will become more toned and stronger in the next few seasons.
Hawes would likely benefit in the long run with a second year of college ball, but at the rate he's going he's a likely lottery pick whenever he decides to enter the draft, which could be this year.
Falling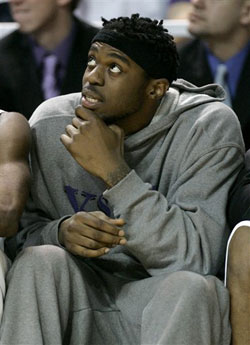 Bill Walker 6-6 220 SG/SF K.State Fr.
On January 6th, Bill Walker suffered a knee injury against Texas A&M and later had an MRI which revealed that he had a ruptured ACL and will be out for 6-8 months.
Walker's unfortunate knee injury puts to rest any notion he had of challenging the ruling that he was not eligible, and entering the 2007 draft.
The real concern is that this injury could have a lingering effect on his career as the success of his game is so dependant on his athleticism. Walker's athletic ability is in line with some of the game's all time greats Dominique, Josh Smith and Vince Carter.
Despite not fully understanding the Kansas State playbook, Walker had been thrust into the starting line up and was putting up solid numbers over his first five ball games (13.2 ppg) with a 19 point outburst in Kansas State's upset win over Southern Cal.
But how close to the former Bill Walker he will be when he returns is the big question. Not many of the game's elite athletes have returned from such a bad knee injury and become as explosive as they had before.
Ronald Steele 6-2 185 PG Alabama Jr.
It has been an extremely rough season for Ronald Steele as he has been playing with a high-ankle sprain that he suffered in early December against Notre Dame, and before that he was battling tendenitis in his right knee.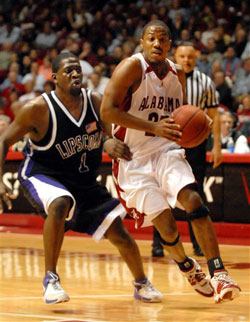 He has been a shadow of his former self playing on a gimpy ankle and there is concern over how soon he will return to form.
His explosiveness to get by defenders, which was probably the greatest asset to his game, is non-existent. He also struggles to stay in front of opposing guards as his lateral speed is severely limited as well.
He has been forced to find other ways to contribute to his team besides dribble penetration, and though he .his 3 point shooting and assist to turnover ratio are both up from late year, his lack of a burst is noticable when you watch him play. the biggest affect has been on his scoring where his numbers are down from last year, nearly 4 points per game.
Unless he's able to right things quickly, look for Steele to end up returning for his senior season. Steele has first round ability, but due to injuries, he has not been able to show it thus far this season.
Josh Heytvelt 6-11 238 PF Gonzaga So.
After starting the year off looking like a potential lottery pick dominating the much ballyhooed forward Tyler Hansbrough in the Zags upset win over North Carolina, Heytvelt has come back to earth.
Before last nights win over Pepperdine, Heytvelt had scored just 8.5 points over his last 4 games including a 0 point, 3 rebound performance in Gonzaga's blow out loss at Virginia.
Heytvelt still needs to put on a good deal of weight and prove that he can play with power and speed. He is still having a solid season at 14.9 ppg and 7.1 rpg, but it's no coincidence that the Zags recent four game losing streak coincided with Heytvelt's drop off in play.