Rising
Ben Simmons 6-10 240 SF/PF LSU Fr.
Simmons has been nothing short of sensational in his first few weeks of action. He is among a handful of players in the discussion for National Player of the Year, which is extremely rare even for the most talented freshmen prospects. In LSU's most important game to date, Simmons put up 21 points, 20 boards and 7 assists against Marquette. Additionally, he made a clutch play in the closing minutes that easily could have been the game winner, hitting a driving lay in with 26 seconds left to put LSU up 1. Marquette would win the game after Jujuan Johnson converted two free throws, and some would criticize Simmons for giving up the ball twice on the final possession. The fact that he came into Baton Rouge and has been one of the nation's best players from jump speaks to his immense talent. He's not a finished product, but his biggest weakness, his outside shot, shows no major mechanical flaws. He lacks consistency and confidence in it. And as scouts regularly note: in the league, players are shooting all the time. So a player's shot is the one aspect that generally shows solid improvement, provided there aren't any major flaws in their form.
The team has obviously struggled, losing three early games, including one to mid major College of Charleston. Following the three losses, Simmons took some criticism. On Wednesday night he took his frustration out on a North Florida team, to the tune of 43 points, 14 rebounds, 7 assists, and 5 steals (shooting 15-20 from the floor and 13-15 from the line) and in the process hushed even his staunchest critics. It was the first time in 20 years that any player, much less freshman, had 40 points, 10 assists, 5 assists and 5 steals. Drop the mic Mr. Simmons!
LSU is a young team without a great deal of veteran leadership, and Simmons has been given a lot of responsibility. It may take some time for the team to hit their stride. Regardless, Simmons' immense talent and potential is clearly evident. He's a rare breed with guard skills at 6-10. He reminds of a young Lamar Odom, or even LeBron James. Simmons has a man's body at 19 and should continue to get stronger and more aggressive finishing around the rim. His vision and passing ability is his strongest attribute, and though he needs to become better offensively and more assertive in scoring, the fact that he's so unselfish and puts the team first is commendable. Scouts are almost universally proclaiming him the number one pick. He's already a sensational player, having won three high school national titles, and gets praised for being as great a person off the floor as a player on the floor. With an extremely strong family background, including a father who played pro ball and has been a great role model and father figure, the sky is the limit for Ben Simmons.
Denzel Valentine 6-5 205 SG/SF Michigan St. Sr.
Averaging 20 points, and just under 9 rebounds and 9 assists, Denzel has been tremendous. He has been the National Player of the Year thus far through the season as he's averaging a near triple double having led the Spartans to a top 3 national ranking and an undefeated record including wins against Louisville, Kansas and Providence to win the Wooden Legacy tournament. He has really stepped up his level of play, assuming both leadership and scoring responsibilities. But the most surprising element to his game has been his great passing ability, showing the ability to find teammates with pinpoint passes, as his 9 dimes attest. He's been very good both shooting off the dribble and spotting up. Despite lacking ideal size and athleticism for the wing position, Denzel's leadership and big "valentine", make him a player who should be able to carve out a role in the league. While seniors tend to fall around draft time due to a perceived lack of upside, Valentine is a senior that if he can continue his incredible early season tear, figures to find a spot in the first round.
Kris Dunn 6-4 210 PG Providence So.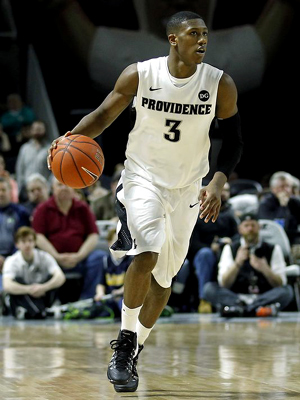 Dunn had a breakout sophomore season, and surprised many by returning for his junior year despite being a projected first round pick. So far that decision is proving to be a good one as he has been playing like a lottery pick through the first handful of games. His late game heroics against Arizona, leading Providence to victory, despite having four fouls was his finest performance this season. Against one of the elite programs in the country, Dunn shot 7-of-9 from the floor, had 8 assists to 1 turnover, and after sitting the bench for a good portion of the second half, came in and orchestrated the comeback win accounting for all 15 of the team's points, both scoring and assisting, over the final five minutes. His stats have been very good through seven games, averaging 19 ppg, 6.1 rebounds and 6.7 assists to 2.6 turnovers. He's also well liked for his defensive potential as a long and big point guard with above average athleticism. Although, he still needs to improve upon his outside shot, 27% from three, and general wildness, his mid range J off the dribble appears improved. On Wednesday, Dunn put up a triple double against Hartford with 16 points, 10 rebounds and 14 assists, knocking down 8-12 shots and committing just 3 turnovers.
Jamal Murray 6-4 205 PG Kentucky Fr.
On a Kentucky squad, with (once again) arguably the most overall talent of any team in the country, Murray has been the brightest star in the early going. His 15 points per game lead the team and he has been their most consistent performer thus far, averaging 15 ppg, and having put up double digit points in 6 out of 7 contests. He scores in a variety of ways showing the ability to create for himself and others off the dribble, and a polished offensive game. He is aggressive attacking the basket, and gets to the line at a solid rate. His outside shot has been a little inconsistent, but he's hit at least one 3 pointer in each of his contests and is hitting 80% from the line, showing good form. His ability to play the point guard position will be questioned, but those that have seen him perform at the high school level and in international competitions know that he's a steady ball handler and an adequate distributor, capable of manning the position. He's an extremely clutch performer with leadership ability and has blossomed into a full blown star since his performance in the 2015 Hoop Summit. His superlatives have put him in the top 5 pick discussion for this year's draft.
Grayson Allen 6-5 205 SG Duke So.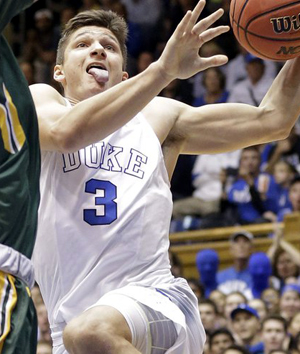 Allen has quickly proved that his clutch heroics in last year's title game against Wisconsin were no fluke. He's Duke's unquestioned featured offensive player, and has really performed well in the role. He's extremely comfortable at creating offense off the dribble and very aggressive at attacking the basket and finishing. While his one hiccup came against the athletic Kentucky bunch, where he shot 2-11 for 6 points, there's no denying he's got adequate size, speed and athleticism to play the 2-guard position at the next level. He's hitting shots at a very high rate at 90% from the line and 48% from 3 on a high volume (5 per game). He's sure to benefit by being Duke's featured player all season and could potentially leave after this year and some even feel he could crack the lottery.
Michael Gbinje 6-6 195 SG/SF Syracuse Sr.
The senior swingman has really stepped his game up, adding a reliable three point shot which he even hits off the dribble. He looks much more comfortable running the team and creating offense. He led Syracuse to a championship win at Battle for Atlantis, topping both UConn and Texas A&M. He's become so proficient hitting the 3 ball that he is doubling his per game output from last season hitting 20-38 from distance through 7 games. He leads the team in scoring at 19.7, assists at 4.2 and steals at 2.8. The Cuse lost their first game of the season in OT to Wisconsin on Wednesday, but Gbinije was solid once again and really has not a had a bad game yet this season. If Syracuse can keep rolling, and the silent G continues his standout play, he could end up getting into the National Player of the Year race.
Wayne Selden 6-5 220 SG Kansas Jr.
Selden looks like a different player this year as he has shown a sense of urgency and focus that was lacking from his game in previous seasons. He dominated the Maui Invitational, winning co-MVP along with Frank Mason. He obviously worked hard on his 3 point shot during the offseason as he's hitting at a scorching 3.3-of-5.8 per game rate. He's made three 3s in every game but one. Selden has also shown better decision making with a near 2-1 a/to rate. At 17.2 ppg through the team's first six games, Selden has been their best player and if he continues to play this well, scouts will begin to forget how disappointing his first two seasons in Lawrence were. Selden has finally begun to play to his ability, as he was considered a top 10 high school player in his class at one point in time. He's on the rise, but his 0.8 steals and 3.5 rebounds do expose some of his physical limitations.
Joel Bolomboy 6-9 230 PF Weber St. Sr.
Bolomboy is another riser who has started the season off with standout numbers. He has an interesting story as he was born in Russia to a Russian Mother and father from the Democratic Republic of Congo. He's averaging 16.8 ppg, 12.2 rpg and 1.3 blocks per. His scoring efficiency appears to have improved as he's raised his FG% by 8% from 47% to 55%. And while he's hit just 3-of-10 from 3 this season, he proved he could hit them on occasion, connecting on 15 of 41 last season. While he may be a shade under 6-9, he's got a huge wingspan and plays with a bull in a china shop attitude. He could garner first round interest if he has a strong senior season and impresses in workouts.
Falling
Malik Pope 6-10 205 PF San Diego St. So.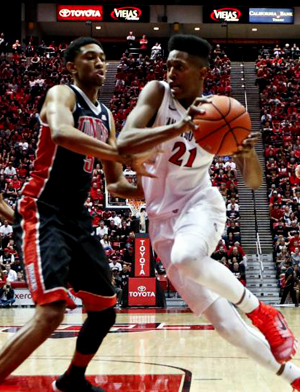 Pope has been hyped up by some prognosticators as a top 5 pick. While he obviously has some tantalizing skills and attributes, it's starting to become clear that he may always be more of a tease than a player. Pope doesn't seem to understand how to utilize his physical gifts and appears content to park out by the 3 point line and launch up four to five 3 pointers per game, instead of using his great length and athleticism to force the action for baskets and rebounds around the rim. Pope has flashed both an intriguing outside shot and ability to dribble the ball, but his huge bouts of inconsistency and lack of aggressiveness make him a real long shot as a first round pick. Christian Wood scintillated scouts on a number of occasions last season but ultimately went undrafted, and one scout recently made the comparison, saying Pope appears to be this year's Christian Wood. Pope is a specimen with high level ability, and it obviously is not too late to turn things around. But he's got a long ways to go to change the opinion of scouts that have already seen him underwhelm on a number of occasions.
Antonio Blakeney 6-4 186 SG LSU Fr.
It's no secret that Blakeney would like to join along with teammate Ben Simmons and make his stay at LSU a one year endeavor. But at this point Blakeney's game has too many holes in it for him to be a one and done guy. He needs to put on strength, as he struggles to finish with contact. He needs to look for his shot within the flow of the offense better. At this point he's too eager to get shots off and forces bad shots far too often. He also needs to become a better defender, something that getting stronger and gaining experience will facilitate. Over his past two games he scored a total of 3 points on 1-15 shooting. While he's obviously a high level athlete, with a great deal of upside, his struggles have dropped him in eyes of scouts.
Malik Newman 6-3 190 SG Mississippi State Fr.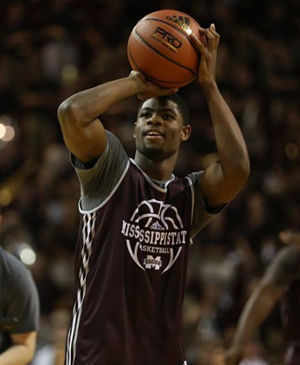 Newman has struggled with the transition to college ball and in particular to playing the point guard position. He's attempting to adjust to having the ball in his hands and facilitating for others when his true position is playing off the ball and scoring. He's a very talented scoring guard in the mold of Monta Ellis, without quite the quickness and athleticism. He has a lot of offensive polish and was an elite level high school scorer. So far though six games, he's fourth on the team averaging 11.4 ppg on 36% FG%, 54% FT and 31% from 3, and a 2.4 to 2.6 a/to ratio. He should improve as the season goes along, but it's unlikely that he will be able to master the point guard position in order to convince NBA teams that he can handle it in any capacity other then spot duty. Newman has slipped from a projected late lottery guy to a late first round pick in future drafts.
Diamond Stone 6-10 260 C Maryland Fr.
Stone was viewed by some as a potential one and done top 10 pick coming into the season. But scouts who have attended Maryland practices have not given him great reviews as he lacks great conditioning and effort. He'll need to develop a stronger work ethic as his athleticism is below average by NBA standards, despite all of the accolades surrounding him in high school. He has a solid skill set and great length, but his upside appears limited due to his lack of explosive athleticism and questionable conditioning and work habits to this point.