With the majority of the non-conference slate out of the way, teams and players can now focus on conference play. It is throughout conference play that elite players really start to separate themselves from the rest of the pack. You are going to get every team's best shot every night because the games mean something with regards to conference pride and that little thing that every team wants called a Conference Championship at the end of the season.
With that in mind, here is a look at the players who have distanced themselves a little with their play of late heading into the stretch run.
Rising
Gary Harris Michigan State So.
Harris struggled with his outside shot through the first month of the season sitting at 27%, but he's begun to steadily raise his outside shot and prove that he indeed is an elite level shooter. In his last 4 games he is 14 of 29, a good percentage at an excellent clip, raising his 3p% to a more respectable 34.4% on the year.
Harris has been plagued by injuries for much of the season but now looks to be completely healthy and appears poised to go on a tear through the Big 10.
The beat down that the Spartans put on the Hoosiers in Bloomington was ugly and most of the credit for that 17 point massacre goes to Harris who was huge in the first half scoring most of his 26 points before the break.
We all knew he could score the ball but it is his play on the defensive side that has really elevated his game and well as the team. He has 5 steals in two of the last three games and is causing all kind of problems for teams on both ends of the court.
Harris is a likely lottery pick this Summer and is making his case for Big 10 Player of the Year. He's got everything you would want for a two guard at the next level. He could be an inch or two taller but that's nit picking. He's every bit as big as Bradley Beal who is thriving in the league in his 2nd season. He shoots with range, has active hands and is fearless when he attacks the basket and he's only getting better.
He's very cerebral and has underrated quickness and athleticism. Coach Izzo has one of his strongest teams ever, and Harris is their best player. A deep run would certainly only help his cause. Harris has the look of a top 10 pick and has moved up to 7 on the most recent mock update.
Kyle Anderson UCLA So.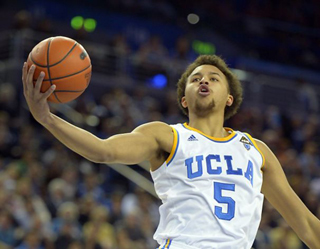 I'll be the first to admit that I wasn't impressed with Anderson after his freshman season. He looked hesitant out on the court, didn't seem like he wanted to be a focal point at times and didn't really look to make plays many had come to expect from him out of High School. Anderson seems to improve ever time I see him play now. He is without a doubt the most versatile player in college basketball and has really taken control of this team post-Shabazz. Not only is he looking for his shot more, but he's also looking to make plays when he has the ball in his hands which is something that was missing a season ago. UCLA has been somewhat of a surprise this season and the play of Anderson and freshman Zach LaVine are the reasons why.
There are always going to be questions surrounding how well Anderson's game projects at the next level but I see a lot of Lamar Odom in him. He's not quite as tall or as long as Odom but he's got every bit of the play making ability and versatility that Odom has. lack of foot speed is surely a concern, but if you focus on the things he does do well, it;s hard to imagine him not being a mid to late first round pick in this year's draft. He still needs to put on a few pounds of muscle before he makes the jump but he's got a great deal of pro potential. Anderson has moved all the way to 21 on the most recent 2014 mock draft.
TJ Warren NC State So.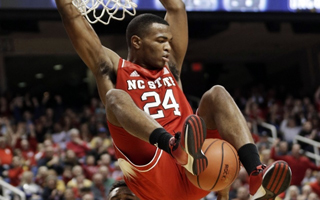 Warren is quickly become one of the most lethal scorers in the nation. That's both a blessing and a curse for NC State as the team struggles when Warren isn't scoring. He won't wow you with any particular part of his game but he does so many things well. He's primarily playing on the wing this year, where he's more suited, but still rebounds extremely well for his position. He always seems to be in the right place at the right time for a put back. He's without a doubt the most efficient scorer in the country and if he could work on his shot from beyond the arc he would be virtually unstoppable.
Aside from a lack of elite level athleticism, the biggest knock on Warren is that while he is a lethal scorer, he's not the type of guy you give the ball to and let him go to work. He is most effective when making cuts, posting up smaller players and finding the soft spots in the defense where he can sneak behind someone on the baseline and/or on the elbow. NC State will only go as far as Warren takes them and at the moment that is well beyond expectations heading into the season. Warren is now projected as a top 20 pick for the 2014 draft.
Deonte Burton 34149 Nevada Sr.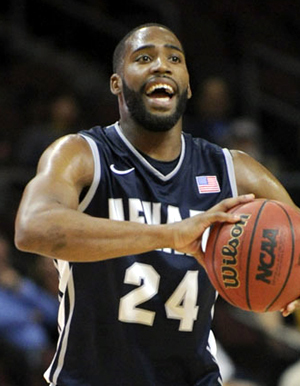 Burton gets featured for the second straight stock watch. The Nevada product was getting a lot of hype from scouts heading into last season as a potential first rounder. He struggled with shooting and all around consistency as a junior and fell out of favor. This year he's shown a lot of improvement and has rekindled first round talk from scouts. Burton was not a highly rated prospect coming out of high school. He's adapted well to the point guard position and appears to still be improving as a floor general.
Burton's become an excellent go to scorer and his greatest asset is his explosive leaping ability and speed off the dribble. He has another gear which he uses to get by opponents and has had numerous jaw dropping dunks this season. Scouts that saw him play UNLV on Wednesday came away extremely impressed. He was instrumental in the 3 point win, showing the ability to run the point scoring 32 pts in impressive fashion, with no turnovers. His near 2-1 assist to turnover ratio on the season shows the progression he has made this season. He still must improve upon his 3 point shot (33%), but with such a tremendous senior season he has moved into the late first round of the 2014 mock draft.
Jabari Brown Missouri Jr.
Brown and fellow Missouri Tiger Jordan Clarkson have formed one of the best backcourts in the nation. Brown is one of the best shooters in the SEC but has made it a goal to try and shake that "jump shooter" label and try to become a complete all around player. He's making more of an effort to get to the rim instead of relying on shooting from outside so much. He and Clarkson were both instrumental in their win on the road against an NC State team that was minutes away from an upset. They both hit clutch threes late in the game and then sealed the deal with free throws down the stretch. He followed that 17 point effort with a 22 point game on 8-12 shooting against Long Beach State.
While his jump shot is and always will be his calling card, Brown is becoming a well rounded player and could see himself vault up draft boards between now and June. He's likely not a first round pick in this year's draft but he's got a good enough skill set with his size, quickness and shot to carve out a roster spot at the next level.
Semaj Christon Xavier So.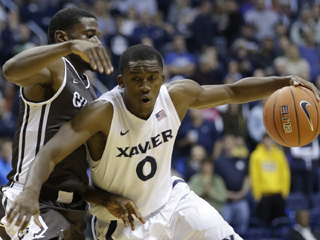 Christon entered the season projected as a lottery pick but slipped over the first two months of the season.
Lately he has been playing the best ball of his career with Xavier on an 8 game winning streak. He put up a career high 28 points on Thursday against Marquette on 8-10 shooting and 3-3 from 3. Over the past four games, all wins, he's averaged 17.5 ppg, 5.5 apg and had just one turnover. His 3 point shot has even began to click as he's raised his % to 37 on the year.
The sophomore has excellent size and quickness for the point guard position. He's shown an ability score by getting by his opponents and finishing around the rim. He's also shown the ability to be a lock down defender when he puts his mind to it. Scouts are beginning to see improvement in two key areas this season, his outside shooting and has game management.
Semaj impressed scouts at the LeBron Skills camp during the summer with his quickness pushing the ball in the open floor, but he began the year somewhat inconsistently. He's really turned it up over the past few weeks, and although this is looking like a very strong PG draft, he could play himself back into a mid first rounder in 2014 if he continues to play at his current level.
Cameron Clark Oklahoma Sr.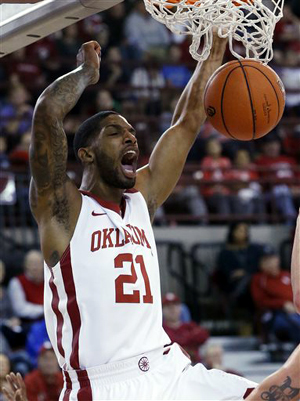 Clark is unquestionably one of the most improved players in the country. Similar to Florida's Casey Prather, Clark is having a breakout senior season. After coming into college as a highly rated recruit, he struggled for much of his first 3 seasons. As a senior he has finally put things together as he regularly drains outside shots off the dribble and appears very comfortable in the role of go to scorer along with teammate Buddy Hield. On Wednesday, Clark put up a career high 32 points against Kansas, a game in which many NBA scouts were on hand.
An above average athlete, he's averaging 18.1 ppg and knocking down 43% from 3. Clark still needs to work on his feel for the game as at times he looks a little uncomfortable, particularly handling the ball. Scouts still have to be concerned with the fact that it took him until his senior year to become an effective player. But with such improvement in his senior year, Clark has moved into the early 2nd round on the 2014 mock. If he can continue his strong play until the end of the season, sneaking into the late first round is not out of the realm of possibility.
Xavier Thames San Diego State Sr.
Thames has lived in the shadow of guys like Jamaal Franklin and Chase Tapley over the last few seasons but is now finally getting his chance to shine. The senior PG is averaging over 16 points per game this season and has been instrumental in keeping the Aztecs in the Top 25 even though the team has played an extremely tough non-conference slate. He didn't shoot the ball exceptionally well against Kansas on Sunday (come to think of it, no one really shot well in that game) but he did have a huge three pointer late that kept the Jayhawks from mounting any sort of comeback and also made some clutch free throws in the final minute, which is something that no one else on his team could do.
Thames is a guy who won't get a lot of love from most draft experts because he's a fifth year senior that is just now starting to come into his own and be "the guy" on a team but he's got a lot of intangibles that could really help a team out at the next level. He should have a chance to make a roster and/or become a second round pick this summer if he keeps up his current level of play.
Falling
Rasheed Sulaimon Duke So.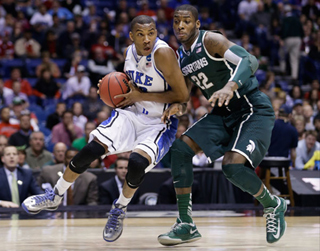 With the additions of Jabari Parker and Rodney Hood along with the returning guys that the Blue Devils have on their roster, it is natural to think that Sulaimon's numbers would be about the same, if not down a little from a season ago when he averaged 11.6 points per game as a freshman but he doesn't even look like the same player that he was a season ago. It has taken him a lot longer to find his way on this team and with Andre Dawkins shooting the ball so well from three point range, Suilamon has found himself on the bench a lot more in crunch time this season. Much like a lot of players do when they struggle early on, Sulaimon looks to be pressing at times and taking shots, not in the flow of the game, but forced and unnecessary. When he misses those, he gets even further down on himself and you can see it on his face. He wants to be that spark plug that he was a season ago and be the slasher that Duke so desperately needs when one of the Gruesome Twosome that is Parker and Hood are having an off night.
Sulaimon still has a bright NBA outlook but it likely will not be until the 2015 Draft as his stock isn't anywhere near what it was a year ago at this time and it likely won't get much higher as long as he's in his slump. One thing to note about him is that even though he's struggling and not playing the minutes that he's accustomed to he's still keeping a positive attitude and not letting it affect his energy that he brings on a nightly basis.
Jabari Bird California Fr.
The Cal product was looking like a potential one and done candidate after the first month of the season. He was extremely impressive at the Maui Invitational knocking down shots from the perimeter and drawing praise from scouts. He appears to have hit the freshman wall as his scoring has fallen off dramatically and it now appears a certainty that he will need a second season in college, at minimum. Bird has gone from a projected top 10 pick in 2015 to a projected mid/late first rounder.
DeAndre Daniels Connecticut Jr.
The Husky junior has had solid numbers, as he;s knocking own 3 pointers at a solid rate. The main problem for him is his body has shown very little progress and he lacks great foot speed. He has slipped from a bubble first rounder to a mid to late second rounder. His shooting will need to be extraordinary and his body will have to get a lot stronger in order for him to get looks in the first round as a senior.
Follow me on Twitter @CroweClayton