Steven Adams has become the story of the adidas Nations camp.
How good is the 7-foot center out of New Zealand? He has a real chance to be a "one-and-done" top-five pick in the 2013 draft. And if NBA scouts had been allowed to be in attendance this week at adidas Nations, the buzz around this kid would be out of control right now.
Adams has become the No. 1 international prospect out there and will be the top center prospect in college the minute he steps on the court at Pittsburgh. (Andre Drummond is considered a power forward and is also not likely to ever step foot on a college campus.)
An enormous coup for Jamie Dixon and Pitt, he's the type of talent that would instantly turn a number of solid NCAA squads into top-25 teams.
Adams has improved tremendously in the past year since I last saw him at the 2010 adidas Nations in Chicago.
He's got immense physical tools with long arms, huge, suction-cup hands, and a non-stop motor. He makes the game look incredibly easy, from making pinpoint outlet passes, to blocking shots, to crashing the boards with reckless abandon.
I got a chance to speak with Adams and he told me that he had been working on his shooting form with adidas coach and former NBA star Detlef Schrempf.
Schrempf is pushing all the right buttons as his jump shot looks much more fluid and without the hitch that was apparent before. It still needs some work, but he was knocking down perimeter shots and scoring in a variety of ways. He played this week with Team Asia, and unlike past years, this group was competitive in a number of their games. He showed a willingness to fight for his teammates, coming to their rescue when they were knocked down and shows a tremendous exuberance for the game.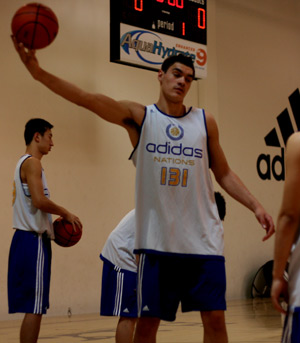 The interesting thing is that he's actually eligible to declare for the 2012 draft. Had NBA scouts been able to be here to see him, there's an excellent chance he could have been a top-10 pick in the 2012 draft. As it is, he could probably crack the top 20 and possibly the lottery just by working out for teams and through videos.
He's a very humble kid, and likely has no inclination to enter the 2012 draft. But seeing that he was born in 1993, (assuming the CBA rules on draft entries doesn't change) he will be 19 in 2012 and will have the option to enter the draft. The problem is that NBA scouts have had such little exposure to his game. And in reality, he will benefit greatly by playing a year or two of college ball and developing his skills before jumping to the league.
Adams is set to graduate high school in New Zealand at the end of this year and will then transfer to Notre Dame Prep for the 2011-12 season to gain some American high school experience. He becomes eligible to play the 2012-13 season for Pittsburgh.
It's amazing to think he has developed so rapidly playing high school ball in New Zealand. Imagine how much he will develop once he comes to the United States and has a chance to play high-level competition on a day to day basis.
Adams's recruitment is an interesting story in itself. Jamie Dixon has had two fortunate things happen, which surely helped him land the phenom.
First, Dixon played professionally in New Zealand and reportedly has contacts there who help him stay on top of the best Kiwi prospects. A player with Adams's talent has never come out of New Zealand before.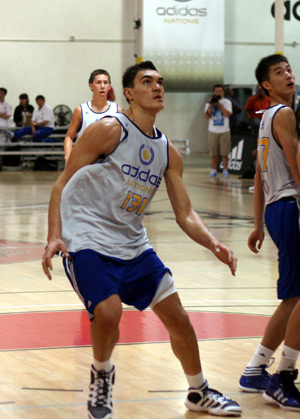 Second, Dixon was fortunate enough to be the head coach of the 2009 USA Under-19 Team that played in New Zealand at the World Championships. While over there, Dixon likely got a first-hand look at a young 16-year-old with immense potential.
It's not hard to figure out what came next. With Adams being a loyal kid, the early interest coming from Dixon and Pitt was enough to entice him to go to Pittsburgh when he made his decision. Adams committed to Pitt in June of 2010.
On Sunday, he absolutely destroyed top-10 senior Kaleb Tarczewski in their match-up with 20 points, 24 rebounds, and four assists to go along with numerous blocked shots.
He held Tarczewski to just 10 points and four rebounds. Kaleb actually didn't seem to play all that poorly; he was just severely outclassed. Tarczewski would gain position on him, only to have his shot blocked by Adams anyway.
Adams's performance really opened eyes among the people in attendance at the camp. Over four games, he averaged 22 points, 16.8 rebounds and two assists. Besides his dominance against Tarczewski, his 37-point, 14-rebound performance against Chris Walker and the 2013 Red team was remakable.
In the final game against Africa, Adams appeared to pack it in, as the team was no longer in the championship running. He played about half the game and looked tired. He blocked a few shots and finished with 11 points and eight boards. But it didn't change anyone's opinion about him.
Unfortunately, due to the lockout, NBA scouts did not get a chance to watch this kid first hand. With the current rules, they likely won't be able to see him play any live games until he laces them up for Pittsburgh in the winter of 2012.
In the meantime, let's hope scouts will have the chance to see some NBA games before then.
*Check back, as we will post footage of Steven Adams here soon.