Skal Labissiere has had an eventful senior year, from being ruled ineligible and starting his own team, to raising his level to compete against some of the best teams in the nation.
A few months ago, Labissiere wasn't necessarily considered a surefire one and done prospect. After a strong season, showing vast improvement in his body and game, he has played himself into contention for the top spot in the 2016 NBA draft. NBADraft.net had the opportunity to catch up with the Kentucky commit at the Jordan Brand Classic.
NBADraft.net: How has New York treated you?
Skal Labissiere: It has treated me well. It's a nice city. A lot going on here. So it's been very fun first day so far.
NBADraft.net: Do you have anything you feel like you need to prove during this game?
Skal Labissiere: I do and I don't at the same time. This is one of my last high school events, so I'm just trying to have fun out there on and off the court. So I'm just getting to know the guys and prepare for college.
NBADraft.net: To somebody who hasn't seen you play before how would you describe your game?
Skal Labissiere: I'm very skilled, run the floor real well, block shots, and rebound.
NBADraft.net: Is there anyone in the NBA you try to patern your game after?
Skal Labissiere: Not one particular person. I just take a little bit from many players. Kobe is my favorite player so I watch him a lot, his turnaround jumper and his footwork. I watch Anthony Davis the way he runs the floor, blocks shots, and rebounds. I watch Tim Duncan down low in the post. Hakeem Olajuwon. Carmelo, his face up game. I'm a student of the game, I try to take a little bit from everybody. Whenever I watch TV and they do something, I rewind it many times and try to get the move down and go work on it.
NBADraft.net: What are some things you feel like you need to work on moving forward?
Skal Labissiere: Getting bigger and stronger. Once I do that it's going to take me to another level and that's one of the reasons why I can't wait to get to Kentucky. That's the main thing for me right now, running the floor better, and being more aggressive.
NBADraft.net: Who has been your biggest influence on your basketball career?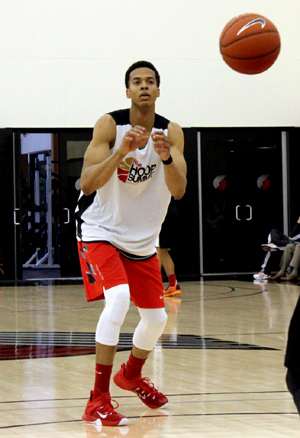 Skal Labissiere: Probably my guardian, Gerald Hamilton, because he's the one who brought me over here. With his nonprofit organization, he put me in the best situations. This year I played for his team, Reach Your Dream Prep, that really helped me as far as the level of competition compared to my last three years of high school. Every night I was playing against guys who were 6'8 or taller who were pretty talented and some of the teams we were playing against had two, three, or four division one guys on their team so that really took my confidence to another level. So I can say he has been the most influential person.
NBADraft.net: Whether it's been here or throughout the season, who has been your toughest opponent to guard?
Skal Labissiere: My toughest opponent? I'm not sure.
NBADraft.net: At what age did you realize basketball was something you really wanted to pursue?
Skal Labissiere: I think I was around 11 or 12 because soccer was my first love; it's the main sport back in Haiti. I was playing and I started to grow. I was always tall for my age but I really started to pick it up.
NBADraft.net: So that's where the footwork comes from?
Skal Labissiere: Yes sir, yes sir.
NBADraft.net: What made Kentucky stand out to you?
Skal Labissiere: Coach Cal, he's done a really good job with the players he gets. Some people say that the kids are pros before they get there, that might be true but I really think that he does a really good job at developing them and giving them that mindset. Coach Cal said that you don't need to just come here, it's your decision if you want to get better, it's the right program for you, but if you think you're going to get distracted by other things, this is not the right program. We could relate to each other when he came to my house to talk to me so I like his mindset, he's going to push me every day and that's what I want.
NBADraft.net: Kentucky has had seven players declare for the draft, so there's a big hole right now. Do you feel a lot of pressure to replace them?
Skal Labissiere: Not really, we are just going to use what we have as far as the recruits coming in and the guys that are there who stayed. So, I think we are still going to be pretty good next year and it's just going to be on us. I don't feel pressure because I know that we are all going to work to try to make a run in the tournament next year, so I don't feel pressure at all.
NBADraft.net: There are quite a few undecided prospects here, have you tried to recruit any of them?
Skal Labissiere: I talked to Jaylen (Brown). I talked to Cheick (Diallo), (Stephen) Zimmerman, and Malik (Newman) a little bit.
NBADraft.net: Your senior year was unlike any other senior year, forming Reach Your Dream Prep and playing against some powerhouses. How was that experience? Would you do it all again?
Skal Labissiere: I would do it all again. First of all, I was very thankful for it. I was thankful for our team, there were some guys on it who never had the chance to play high school ball before. So giving them that opportunity to play for us was a true blessing and I really learned a lot from it; and I would do it over again if I had to. No matter what people said, I think my guardian did a really good job putting the team and the schedule together in the small amount of time he had. We played some of the powerhouses, like you said, and I wasn't getting that at my other school; and my guardian always tried to put me in that situation playing against some of the best schools, because when I played at my other school, the league we were in, I would play during the year and I could see myself regressing and going into the summer I would have to adjust all over again. So playing in the league that I did during this past year, it really helped me because I came into the Nike Hoop Summit with my confidence way up, so I really think that was the best thing that could have happened to me.
NBADraft.net: Where do you see yourself five years from now?
Skal Labissiere: Five years from now, I see myself being one of the premier players in the NBA because of my work ethic; my mindset is different from a lot of guys around me so I'm just going to work to get there and I can't wait. I can't wait.