To kick off the Jordan Brand Classic, the top international born players ages 16 and younger played in the first game of the night. The game has produced many great young players including Andrew Wiggins, Jonas Valanciunas, Enes Kanter, Ben Simmons and many more. Here are some of the players that stood out.
Jaylen Hoard 6-6 192 SF – Casteinau Le Lez (France) 1999
Hoard was sensational. He led all scorers with 16 points on 7-10 shooting. He threw down a few dunks during the game, catching an alley oop on one play. Hoard is a lock down defender; whether it's on the ball, as a help defender, or playing the passing lane. He had five steals, leading to easy baskets. Hoard also did a great job of rebounding, finishing with seven (four offensive). He's got a great body and claims he's still growing. I would like to see him play with more aggression but he was great when he attacked in transition. He didn't have any assists, but he was very unselfish. Only turning 16 a few weeks ago, he has the tools to become an NBA player. Hoard was honored with the MVP while leading his team to victory.
Simi Shiittu 6-8 210 PF/SF – Corpus Christi (Canada) 1999
Shiittu has great potential. At 6'8 and still growing, he has the versatility to play the wing. Similar to Hoard, when driving, he's able to kick it into another gear becoming impossible for the defender to stay in front. He does a great job of drawing fouls; however, he needs to become a better shooter; only shooting 1-6 free throws. His passing ability is advanced for a young player, a good athlete, and he has a knack for the ball, grabbing all three of his rebounds on the offense end.
Onuralp Bitim 6-4 167 SG – Anadolu Efes (Turkey) 1999
Bitim is a creative young player. The crafty young guard is a threat from the perimeter and has the ability to shoot off the dribble, making two of his three from outside. He plays with great confidence and is always looking for a cutting teammate. The 6'4 guard finished with 12 points, six rebounds, and two blocks in fifteen minutes.
Mamadou Doucoure 6-9 220 PF/C – Our Savior New American (Mali) 1998
Similar to Our Savior's other players from Mali, Doucoure is very raw offensively but he's athletic and a good defender. He only shot 2-for-9 from the field and his touch and post moves need work. He tries to finish everything with a dunk. He grabbed five rebounds and blocked three shots in the game. Doucoure didn't play much this year for Our Savior but with Cheick Diallo graduating, expect his role to increase moving forward.
Njegos Sikiras 6-6 210 SF – Stella Azzurra Roma (Bosnia & Herzegovina) 1999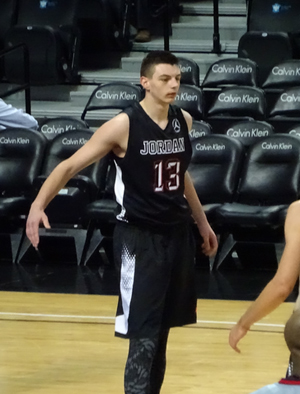 Sikiras was scoring inside and out. He made 50% of his threes (2-for-4) and shot 5-for-9 overall finishing with 14 points. He collected eight rebounds, four on the offensive end. Sikiras' performance wasn't as impressive as Hoard's but his contribution in 16 minutes of play, was enough to earn him MVP for the Black Team.
Ikechukwu Obiagu 7-0 230 C – Green Forest Christian (Nigeria) 1998
Obiagu stood out with his size alone, standing at seven feet tall. He scored six points and grabbed six rebounds. Defense is where Obiagu stands out, using his size and instincts, he blocked seven shots in the game. With the right development, Obiagu can be a big time player in the future.
Lucas Caue 6-8 238 PF – Pinheiros (Brazil) 1998
Caue didn't stand out in the box score, only making one shot in the game. He did show some footwork in the post, even threw in some counter moves. He struggled to finish but can read and react to his defender when he's in the paint. His free throw mechanics were as good as anyone else to play in the game, making both attempts. Caue also had four rebounds in the game.