"Situational Analysis" is a series of articles that seeks to examine the circumstances that most often influence an NBA prospect's success. Each player will be scored on a scale from 1-10 in four different categories: NBA-specific skill(s), fatal flaw(s), collegiate/overseas/pre-NBA environment, and ideal NBA ecosystem.
Trae Young is a 19-year-old guard from Norman, Oklahoma, who averaged 27.4 points, 8.7 assists and 3.9 rebounds for the Oklahoma Sooners. Young declared for the NBA Draft on March 20 and is expected to be selected in the mid-to-late lottery. NBADraft.net currently has him projected to go No. 7.
NBA-Specific Skills
Say this for Trae Young — he'll leave a massive imprint on any basketball game he plays.
You know how some players seem content to simply drift in and out of the action, ratcheting up their energy level only when it suits them? Young never drifts. He is the pilot and the co-pilot, determining the outcome of nearly every offensive possession in which he takes part.
From the second Young suited up for the Sooners, it was clear that his squad was going to sink or swim due entirely to his performance. For the first couple months of the season, the Sooners were Michael Phelps and Young was positioning himself for National Player of the Year honors.
Young posted some of the most memorable individual performances and dizzying statlines from the 2017-18 season. During that stretch, ESPN seemed to believe he was the only player worthy of attention. 43 points in a win over Oregon. 29 points and 10 assists in a balletic performance against a hard-nosed Witchita State squad. 39 points and 14 assists in a classic against TCU. 48 in an overtime loss to Oklahoma State.
When Young is feeling it, he can warp a defense with his quick release and confident stroke. You know how scouts often look for players who aren't afraid of taking big shots? That applies to Young, but only because Young isn't afraid of ANY shot. In the time it took you to read this paragraph, Young could've put up 20 shots.
He isn't simply a 3-point specialist, however. Young also gets to the foul line at a James Harden-esque rate. It's exceptionally difficult to average 8.6 free-throw attempts per game in a 40-minute contest, especially for a 6-2 guard who isn't getting the DeAndre Jordan treatment. Young had 11 double-digit foul shot games this season, including tallies of 19 (against Baylor) and 18 twice (Oregon, TCU).
Even though Young led the nation in scoring (27.4) and shot attempts (617 — it seems like a misprint), Young found a way to involve his teammates, averaging 8.8 assists per game, also tops in the nation. He played 1,133 of a possible 1,280 minutes for the Sooners. If nothing else, Young was college basketball's most exciting and memorable player this season.
Young's best skills are exactly what every NBA team needs right now. It's a guard's league, and Young is as thrilling as they come. On a scale from 1 (the basketball sequence in that lousy Mark Wahlberg movie "The Gambler") to 10 ("Come Fly With Me" starring Michael Jordan), Young's star power rates at an 8.

Fatal Flaws
Your opinion of Trae Young will depend entirely on where you think he falls on the Curry-Fredette spectrum.
College basketball history is full of charismatic, flame-throwing guards that capture people's imaginations, while simultaneously drawing harsh criticism from skeptics regarding standard measurables: size/speed/agility/explosiveness.
On occasion, these guards win multiple MVP trophies: Stephen Curry, Steve Nash. Other times, they're nearly out of the league before the end of their rookie contract: Jimmer Fredette, Salim Stoudamire.
Young is no different. Despite the theatrics, it's impossible to ignore his diminutive stature, his below-average wingspan, and the fact that he's a turn-style on defense. That might be an insult to turn-styles, which provide some initial resistance at the point of impact.
He's also shockingly careless with the ball for such a savvy player. Despite leading the nation in assists, Young's assist-to-turnover ratio was a paltry 1.66-1, as he led the nation in turnovers at 5.2 per game.
Young's variance is higher than any potential lottery prospect. Few have his ceiling, but nobody has his potential floor. On a scale from 1 (Fredette) to 10 (Curry), Young's placement on the Curry-Fredette spectrum currently sits at a 5.
Pre-NBA Setting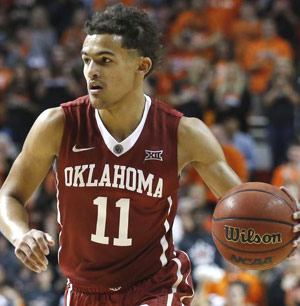 Young earned a multitude of Curry comparisons this season for obvious reasons — stature, charisma, fearlessness, 30-foot range and sports fans/pundits jumping at the easiest reference point.
But Young's freshman campaign was essentially a mirror image of Russell Westbrook's 2016-17 MVP season — outrageous usage rate (37.1, also tops in the nation), direct involvement on nearly every facet of his team's offensive strategy, superhuman workload, mediocre team record, first-round exit.
On one hand, it totally made sense for Young to play the way he did. It was a logical extension from his remarkable senior year at Norman North High School, where he averaged 42.6 (!!!) points. Young always makes things happen.
On the other hand, there simply isn't much of a track record of this kind of usage rate correlating with team success. Can Young adjust to an NBA situation where he won't take 20-plus shots per night? Can he handle playing off the ball in multiple-ball-handler lineups? His professional situation will bear next to no resemblance to his college one.
On a scale from 1 (Ben Simmons at LSU) to 10 (Gordon Hayward going from a lightly recruited 3-star guard to nearly hitting the greatest shot in college basketball history as a sophomore playing under Brad Stevens), Young's pre-NBA setting was a clear 10 for his personal statistics, but a 4.5 in overall team success and preparing him for life at the next level.
Ideal NBA Ecosystem
This is where it gets tricky. Odds are, an owner in the mid-to-high lottery will fall in love with Young's highlight reel and overrule his personnel department's preference for a safer pick. Of course, he would be best served joining a team with steady veteran leadership and creative coaching that would maximize his unique skillset.
Young's best-case scenario would involve him studying CJ McCollum — watching every single game tape and interview. McCollum found a way to stay true to himself and develop into a game-changing offensive force, while ceding the spotlight to an even more charismatic performer in Damian Lillard. Otherwise, Young might only top out as a fun sixth man who gets run off the floor defensively in games that matter.
Some reports have Cleveland taking Young with the Brooklyn pick from the Kyrie Irving trade. He makes a lot of sense there, given the lack of dynamism in their backcourt since said trade. That organization might also bid a second farewell to a generational talent, but we can talk about that another time.
Orlando — always desperate for anyone with any personality — will likely take a long look at him, simply to sell a few more tickets. The Clippers, with a pair of picks in the back half of the lottery, could take Young and have Lou Williams mentor him for a couple of seasons.
My personal preference? Young ends up alongside Joel Embiid and Ben Simmons in Philadelphia and gives them an additional floor spacer who plays with style. It's not necessarily what Philly needs most, but it's undeniably entertaining.
On a scale from 1 (basically anyone unfortunate enough to be selected by the Sacramento Kings over the last handful of years) to 10 (Donovan Mitchell landing in Utah and immediately becoming the face of the franchise), Young's situational independence is a 4. He needs the proper fit more than most lottery prospects.