"Situational Analysis" is a series of articles that seeks to examine the circumstances that most often influence an NBA prospect's success. Each player will be scored on a scale from 1-10 in four different categories: NBA-specific skill(s), fatal flaw(s), collegiate/overseas/pre-NBA environment, and ideal NBA ecosystem.
Sindarius Thornwell is a 22-year-old wing from South Carolina who averaged 21.4 points, 7.1 rebounds and 2.8 assists during his senior season for the University of South Carolina. He was a borderline second-round prospect until the Gamecocks' unlikely Final Four run propelled him into fringe first-round consideration. NBADraft.net currently has him going No. 33 overall.
NBA-Specific Skills
Let's not make this complicated: Sindarius Thornwell is good at basketball.
The SEC Player of the Year led his team in scoring (21.4), rebounding (7.1), steals (2.1), minutes (34.3), and free-throw shooting (83 percent). He tied PJ Dozier for the team lead in assists per game at 2.8. He was second in blocks (1), and three-point shooting (39 percent) — a skill that could make him a lot of money if his stroke extends beyond the NBA 3-point line.
He was South Carolina's vocal and emotional leader on and off the floor. He ran the offense and guarded the team's best perimeter scorer. He did everything coach Frank "Resting Mad Face" Martin asked of him, and then some.
At nearly 6-6 with a 6-9 wingspan and a chiseled physique, Thornwell looks and acts the part of a prototypical 3-and-D wing. He doesn't have the explosiveness or one-on-one scoring upside of this year's lottery-level talent, but Thornwell's floor is much higher than most of those players. Most rookies don't contribute to winning situations right away. Thornwell has the potential to do exactly that.
Thornwell plays the game like an adult. He's mature. He won't rattle.
On a scale from 1 (Darko Milicic being way over his head with the Detroit Pistons and never recovering) to 10 (Draymond Green stepping in as the vocal/emotional leader of the Golden State Warriors seemingly the day after he was drafted out of Michigan State), Thornwell's ability to translate his game to the next level rates at a 7.
Fatal Flaws
Thornwell turns 23 on Nov. 15. It's the only thing NBA scouts and front-office personnel will talk about. They'll hold his age against him, claiming he doesn't have the untapped upside of, say, Jonathan Isaac or Dennis Smith.
That's true, to some extend, but I think the age conversation often misses the point. This idea that 22-year-old college basketball players are finished products and have no room for improvement entering the NBA is absurd. Take Jimmy Butler, who slid to No. 30 overall in 2011 because of his age (22) and the (incorrect) idea that his skillset had plateaued. Butler is now an All-NBA-caliber performer and franchise cornerstone.
Teams pass on talented players all the time for dumb reasons — age (Butler), height (Isaiah Thomas), "tweener" status (CJ McCollum), small school (Gordon Hayward), etc.
However, age tends to give me pause for reasons that have nothing to do with upside.
Think about it like this: In today's one-and-done era, many of Thornwell's competitors are only six months removed from high school. Many of them are living on their own for the first time — doing laundry, getting to bed at a reasonable hour, and so on. They're still figuring out their class schedule. They can't pace themselves properly in a party setting. They're eating fast food. Some of them are just now learning how to properly lift weights, let alone how to properly rotate on a high screen and roll.
There are dozens of life/basketball things people improve upon from ages 18-19 to 22-23. The gap in physical/mental/emotional maturity is cavernous.
If a senior in college can't dominate games against freshmen and sophomores, then something is amiss. It's difficult — practically impossible — to judge Thornwell's NBA potential based on his senior year statistical output. It takes a refined level of scouting to figure out whether Thornwell is the next Jimmy Butler or the next Al Thornton.
On a scale from 1 (Jimmer Fredette) to 10 (Tim Duncan), Thornwell's age rates at a 6. It doesn't erase his upside, but it makes his productive senior year trickier to judge.
Pre-NBA Setting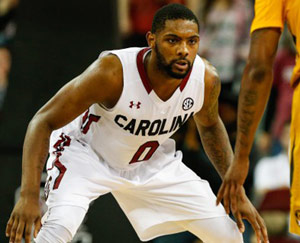 Thornwell made a name for himself when he threw the Gamecocks on his back and led a surprising Final Four charge as the No. 7 seed, but college basketball fans have seen Thornwell excel since 2013. His entire game took a major leap this season, but Thornwell didn't spend the previous three seasons as a benchwarmer.
He burst onto the scene as a physical, hard-nosed freshman who posted 13.4 points per game in nearly 30 minutes of action. As a senior, however, Thornwell was one of the few players at any level who increased his usage and his efficiency simultaneously.
College allowed Thornwell to develop his all-around game in ways he might not have been able to in the NBA, fighting for minutes against seasoned professionals. He was a talented, if raw, prospect as a freshman and sophomore, who struggled at times with a shaky jumper and iffy handles. He likely would have been a mid-first-round pick had he declared after his solid freshman season, but he never would have won SEC Player of the Year or played in a Final Four.
Typically, it's in a player's best interest to declare for the NBA Draft as early as possible in order to maximize earning potential and to allow scouts/fans/GMs to imagine what you could be as opposed to pick apart what you already are. Thornwell might have sacrificed a few draft spots, but his long-term NBA future appears brighter, due to added maturity and a more well-rounded skillset.
On a scale from 1 (Chase Budinger going from a top-5 overall recruit in 2006 to the No. 44 pick in 2009) to 10 (Buddy Hield going from a borderline top-100 recruit in 2011 to the No. 6 pick in 2016), Thornwell's college career in relation to his draft stock is a 7. He'll likely get selected in the 25-35 range, but he'll also likely have a better career than 15 players drafted ahead of him.
Ideal NBA Ecosystem
Thornwell finds himself at a fascinating cross section of two contradictory realities: 1) Most NBA players are role players. 2) Most NBA Draft-related discussion focuses on a prospect's ceiling/upside/potential.
The fact of the matter is that no NBA team can legitimately compete for a championship without All-NBA-level superstar talent. Those players are rare commodities and the most difficult to secure. However, those superstars will either languish on lottery teams (hi, Anthony Davis!) or flame out in round one of the playoffs (Russell Westbrook, come on down!) without quality complementary players on rookie/mid-level contracts.
But each summer, NBA fans/scouts/decision-makers pin their hopes on players 1-2 years out of high school to eventually evolve into megastars. Sixty players get drafted each year. Maybe a handful of them will make an All-Star team. But the long-term health of a franchise will depend on how often it turns these draft picks into legitimately useful assets.
Will Sindarius Thornwell make multiple All-Star teams? It's possible, but not probable. Will he carve out a niche for himself for a playoff team? That seems much more likely.
It's easy to imagine a scenario in which Thornwell follows Malcolm Brogdon's path toward NBA success. If I had a vote for Rookie of the Year, I'd cast it for Brogdon, as he was the most consistent contributor among first-year players. Thornwell appears to have the same type of game.
Scouts had the same questions about Brogdon as they do Thornwell, which is why Brogdon sat on the board until pick 36. It seems absurd, given how much proof existed regarding Brogdon's NBA-level skillset, but the NBA Draft does funny things to the way we discuss what matters in building a winning franchise.
It's a tricky thing to go from the focal point of a college offense to a glue guy at the next level, but much like Brogdon, Thornwell's game seems tailor-made for exactly that kind of transition. He has the size, strength, length, basketball IQ, and mentality to contribute as a classic 3-and-D wing for any franchise.
A lot of Thornwell's next-level contributions sound like generic NBA coachspeak: He hustles. He's a winner.
Odds are Thornwell will still be on the board when the perennial title contenders make their picks, but the 2017 NBA Draft is strangely inverted, thanks in part to the Brooklyn-Boston pick swap and a number of other trades that have bottom-feeders such as the Magic and the Lakers drafting late in the first round. Draft-day trades are likely to shake up the existing order, but I could see Thornwell ending up on the Utah Jazz with either of their first-round picks.
On a scale from 1 (Stromile Swift having all the talent in the world, but never "fitting in" anywhere) to 10 (Shane Battier setting the template for how to win titles and make money as the consummate "glue guy"), Thornwell's likelihood of carving out a niche as a high-end role player for a decade-plus ranks at an 8.