"Situational Analysis" is a series of articles that seeks to examine the circumstances that most often influence an NBA prospect's success. Each player will be scored on a scale from 1-10 in four different categories: NBA-specific skill(s), fatal flaw(s), collegiate/overseas/pre-NBA environment, and ideal NBA ecosystem.
Mohamed "Mo" Bamba is a 19-year-old (20 on May 12) center from Harlem, New York, who averaged 12.9 points, 10.5 rebounds and 3.7 blocks for the Texas Longhorns. Bamba declared for the NBA Draft on March 20 and is expected to be selected in the mid lottery. NBADraft.net currently has him projected to go No. 8.
NBA-Specific Skills
The length of Mo Bamba's arms are going to make him a millionaire.
That's pretty incredible when you stop for a moment and truly think about this. NBA scouts hardly have to see Bamba pick up a basketball. All Bamba needs to do is stand perfectly still, extend his arms as if they're wings on an airplane, and wait for the scouts to text their bosses.
Fortunately for Mohamed Bamba, he is more than agile and mobile enough to put those arms into use. His 7-foot-9 wingspan and 9-foot-6 standing reach would simply be numbers on a spreadsheet if he had no idea how to implement them for world-wrecking shot-blocking purposes. Bamba projects as a potential Defensive Player of the Year candidate with his ability to simultaneously protect the rim, while corralling quicker guards on the perimeter.
Bamba isn't an awkward, gangly player, either. He his first jump is explosive and graceful, and he often gets nearly as high on his second jump. He can block shots adeptly with either hand and he has an advanced understanding of when to jump and when to stand pat. There are nuances to shotblocking that many players don't grasp until the middle of their careers, if at all. Bamba has a head start.
Bamba is already the clear winner of the Jay Bilas "wingspan" draft night drinking game. If the rest of his game can match his measurables, the sky is the limit — a sky that only Bamba can touch from a standing position.
On a scale from 1 (a Tyrannosaurus Rex) to 10 (a condor that somehow learned how to play basketball), Bamba's wingspan and shotblocking ability rate at a 9.5.
Fatal Flaws
For all the pre-draft talk we're sure to hear about Bamba's wingspan, we're still not entirely sure whether he can make any kind of an impact on the offensive end of the floor. It's not that he's completely inept offensively, but that he doesn't show quite the same advanced instincts/feel that he exhibits defensively.
Bamba's best-case scenario is that he develops into a top-level dive man on the pick and roll, a la DeAndre Jordan, Clint Capela, prime Tyson Chandler, or Rudy Gobert. But this is a trickier skillset than most are willing to acknowledge.
Setting effective screens is tough to master, and Bamba's slight frame (some sites list him at 225 pounds, but he's likely closer to 215) make it hard for him to serve as a bone-rattling road block on the high screen. It's also difficult for a player with his build to navigate through the paint without getting knocked off path.
He isn't a terrible shooter/finisher, but he won't offer Embiid-ian stretch out to the 3-point line (although he did try 51 shots behind the college arc). He compiled only 15 assists his entire freshman year.
Rounding out his entire game — along with adding muscle mass — will prove to be the difference between Bamba becoming either Nerlens Noel or Gobert. On a scale from 1 (Ekpe Udoh) to 10 (Gobert), Bamba's bust-versus-boom potential rates at a 6.

Pre-NBA Setting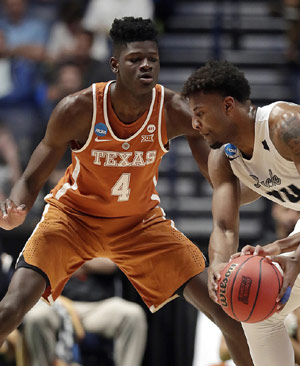 After a strong high school career and appearances in the McDonald's All-American Game and the Nike Hoops Summit, Bamba signed with Shaka Smart and the University of Texas.
His freshman season was fine.
I mean, it was exactly what most people expected, right? Bamba's otherworldly physical gifts were on full display against some of the nation's best (22/15/8 blocks in a tight loss to Kansas, countless highlight-reel slams where Bamba held the ball close to the top of the backboard), while his limitations remained limitations for much of the season.
The Longhorns posted a disappointing 19-15 record last season, including a first-round exit to seventh-seeded Nevada in round one.
Bamba did nothing to hurt his draft stock, but he didn't vault himself into the Ayton/Doncic/Bagley tier, either. A more well-rounded campaign and a deeper tournament could have turned heads. Alas.
He is sure to be the star of many pre-draft combine/workout scenarios, but the mandated unpaid internship did him few favors. He said so himself on ESPN's "The Jump" recently, where he praised his time at Texas, but accurately acknowledged that a "head start" on the NBA would have taken his game "to the next level."
On a scale from 1 (Ben Simmons at LSU) to 10 (Gordon Hayward going from a lightly recruited 3-star guard to nearly hitting the greatest shot in college basketball history as a sophomore playing under Brad Stevens), Bamba's pre-NBA setting was a 5 — a clear case of a top-tier prospect whose NBA future will have no correlation to what he did in the college game.
Ideal NBA Ecosystem
There is one obvious parallel for Bamba's situation: Rudy Gobert five years ago. I'm definitely not the first person to point this out, but it's impossible to ignore in any Bamba analysis.
Gobert came into the 2013 draft with Bamba's scouting report — incredible wingspan, limited offensive game, skinny frame. In fact, Gobert was perhaps even thinner than Bamba. Gobert was selected at No. 27 by the Denver Nuggets, who immediately dealt him to Utah for the No. 46 pick (Erick Green) and cash. Denver also sent Donovan Mitchell to the Jazz in exchange for Tyler Lydon and Trey Lyles last year. Time will tell if the Nuggets' controversial "let's make the Jazz way better than us" strategy will eventually pay off. But I digress.
We know how Gobert's career has played out. Utah ended up providing the perfect situation for Gobert to develop into a one-man defensive wrecking crew. He is arguably the most impactful defender in the league, and he's inarguably one of the top-three. He added much-needed muscle to his wiry build and has improved his athleticism considerably. He is a lethal dive man on high screens and shoots well enough at the foul stripe to avoid any hack-a treatment.
In short, Gobert is what any NBA executive hopes to get with Bamba.
It will take a squad that puts a premium on physical conditioning, as well as sound defensive game planning, to maximize Bamba's talent. He would not be best served playing for a coach who likes to see his big men run shooters off the 3-point line or trap ball handlers. Bamba projects as a devastating "drop" pick-and-roll defender in a more conservative scheme, similar to what Quin Snyder runs.
Much has been made about how the NBA is moving away from traditional centers in the pace-and-space era. The ones who survive either 1) figure out how to shoot 3s or 2) protect the rim at such a level that scoring in the paint becomes impossible. In the proper defensive ecosystem, Bamba will thrive in option No. 2.
On a scale from 1 (Hasheem Thabeet) to 10 (Gobert), Bamba's chances of finding the right situation is a 7.5. Gobert provided teams a blueprint on how to best utilize Bamba.