"Situational Analysis" is a series of articles that seeks to examine the circumstances that most often influence an NBA prospect's success. Each player will be scored on a scale from 1-10 in four different categories: NBA-specific skill(s), fatal flaw(s), collegiate/overseas/pre-NBA environment, and ideal NBA ecosystem.
Jarrett Culver is a 20-year-old swingman from Lubbock, Texas, who averaged 18.5 points, 6.4 rebounds, 3.7 assists, and 1.5 steals during his sophomore season at Texas Tech University. He is expected to be drafted in the mid-to-late lottery. NBADraft.net currently has him projected at No. 7.
NBA-Specific Skills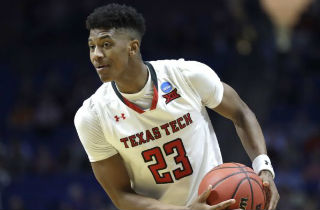 Culver does a little bit of everything – and he does it all at a pretty high level.
Few players in college basketball carried a heavier workload last season than Culver. He led his Red Raiders squad in most major counting-stat categories, while accounting for more than one-third of Texas Tech's offensive output through his scoring/playmaking capabilities.
Culver combines a top-shelf basketball IQ with a herky-jerky style of play to wiggle his way into the paint, where he shoots a terrific 68 percent near the rim. Much like the Nets' Caris LeVert, Culver is a young player with an evolved "old man" game.
At 6-6 with a reported 6-11 wingspan, Culver possesses excellent length for a lead playmaker, allowing him to find passing angles other smaller guards can't always see.
This length also comes in handy on defense, where he opportunistically jumps passing lanes and switches across multiple positions on the perimeter.
Culver also displayed strong leadership skills for a Texas Tech squad that overperformed preseason expectations en route to the program's first Final Four appearance.
The modern NBA places a premium on high-IQ playmakers who can defend multiple positions. Culver fits that role like a glove.
On a scale from 1-10, Culver's versatility rates at an 8.5.

Fatal Flaws
For everything Culver does well, perimeter shooting lags behind his other skills.
Odds are Culver won't end up in an NBA situation that allows him to initiate offense every trip down the floor, as he often did in college. As such, he will need to significantly improve his spot-up shooting ability.
His 3-point percentage took a major nosedive – from 38 percent as a freshman to 30 percent as a sophomore. His foul shooting (70.7 percent) doesn't inspire a ton of confidence, either.
Functional NBA offenses can withstand one non-shooter, but typically from an interior player. It's exceedingly difficult to incorporate a perimeter-oriented player who isn't a deep shooting threat. Sure, Shaun Livingston and Evan Turner have found ways to make it work, but those swingmen play alongside some of the greatest shooters of all-time.
Culver also relies primarily on craftiness to exploit defenses instead of elite straight-line speed. Questions surround his ability to penetrate against NBA-level athletes – questions that increased in volume after his struggles in the Final Four (combined 8-34 shooting against Michigan State and Virginia).
On a scale from 1-10, Culver's spotty jumper rates at an 8.
Pre-NBA Setting
Culver arrived at an up-and-coming Texas Tech program as a stellar local high school player, but the standard recruiting services didn't put a whole lot of stars next to his name. Culver was head coach Chris Beard's first recruit after taking over the job in 2016. He knew Culver was special almost immediately.
After getting his feet wet early into his freshman season, Culver earned a starting spot and showed flashes of what was to come as a sophomore, where he would earn Big 12 Player of the Year. Texas Tech didn't have much NCAA Tournament success prior to Culver's arrival. Two years later, the Red Raiders can boast an Elite Eight and Final Four appearance.
Beard empowered Culver to run the show from any position. Culver often played alongside other strong ball-handlers in various three-guard lineups, but it didn't limit Culver's touches or opportunities. Even if he was the nominal power forward, Culver initiated offense and put pressure on opposing defenses.
His stark improvement from his freshman to sophomore seasons is a testament to Culver's strong work ethic and remaining upside at the next level.
On a scale from 1-10, Culver's combination of success and opportunity at Texas Tech rates at a 9.
Ideal NBA Ecosystem
Culver would best be employed by a coach/front office that pursues a multiple-ball-handler strategy that can put him in early positions to succeed.
His NBA career could potentially mirror Evan Turner's, where he needs very specific situations tailored to his unique skillset to make the most positive contributions. If Culver isn't slashing and creating, his offensive impact will be dulled.
He won't be an ideal fit next to a heavy-usage point guard of the Russell Westbrook variety, but in an egalitarian attack similar to Kenny Atkinson's Brooklyn Nets setup with LeVert, Spencer Dinwiddie, and D'Angelo Russell.
Depending on the hundreds of variables attached to the New Orleans Pelicans' situation, Culver makes for a nice theoretical fit alongside a veteran bulldog like Jrue Holiday.
He could also make for a snug fit with the Chicago Bulls – a team heavy on promising big men, but thin on creative playmakers.
On a scale from 1-10, Culver's need for the right team that allows him to play to his strengths rates at a 9.