"Situational Analysis" is a series of articles that seeks to examine the circumstances that most often influence an NBA prospect's success. Each player will be scored on a scale from 1-10 in four different categories: NBA-specific skill(s), fatal flaw(s), collegiate/overseas/pre-NBA environment, and ideal NBA ecosystem.
Temetrius Jamel "Ja" Morant is a 19-year-old guard from Dalzell, South Carolina, who averaged 24.5 points, 10 assists (No. 1 in college hoops), 5.7 rebounds, and 1.8 steals during his sophomore season at Murray State University. He is expected to be selected no lower than fifth overall and as high as No. 2, where NBADraft.net currently has him positioned to go.
NBA-Specific Skills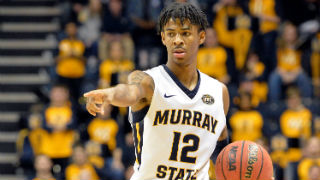 In a typical, non-Zion college basketball season, this year would have belonged to Ja Morant.
The dynamic lead guard accomplished nearly everything he set out to do in his sophomore campaign. Double his scoring average? Check. Lead the nation in assists by more than 2 dimes per game? Check. Improve his 3-point accuracy from a subpar 30.7-percent mark as a freshman? Check (36.3 percent). Get the Racers into the NCAA Tournament? Check. Capture the nation's attention in a first-round blowout over 5-seed Marquette? Check.
Morant even accomplished something he probably didn't intend, becoming the first player in NCAA hoops history to average 20+ points and 10+ assists in a season.
He did everything and them some for a Murray State squad that won 28 of 33 games and posted an offensive rating of 115 – eighth in college hoops. And he did it all in an environment where every opponent developed defensive game plans specifically geared to slow him down. It just never happened.
Morant scores from everywhere – at the rim, beyond the arc, floaters, at the line (averaging eight foul shots per game is a preposterous number in a 40-minute contest). It's seemingly impossible to score with his volume/efficiency, while also leading the nation in assists, yet he pulled it off.
He possesses excellent height and length for a lead guard, and combines elite-level handles with top-flight athleticism. He carries himself as a star, but not in an insufferably cocky way.
More than anything else, it's Morant's ability to change speeds that will set him apart at the next level. He plays with a real sense of pace and knows when and how to employ his afterburners for maximum effect. It might take Morant a season or two to figure out the speed of the professional game, but once he does, watch out.
On a scale from 1-10, Morant's ability to conduct an NBA offense currently rests at an 8 – trending upward.

Fatal Flaws
Unless the team drafting him plans on turning him into the next Russell Westbrook, Morant will need to reduce his usage rate – to put it mildly.
If an NBA team saddles Morant with a usage rate north of 30 (his 33.2-percent usage ranked No. 17 among all Division I players), his rookie season will have gone off the rails. How Morant adjusts to this new reality will dictate his early NBA success.
Not every player is comfortable giving up a huge chunk of usage right away. Is Morant ready to slide into a complementary role? Can he affect games without dictating nearly every possession at the point of attack?
Even though he led the nation in assists, Morant's assist-to-turnover ratio barely broke 2-1, because he gave the ball away more than five times per game. Even at his usage rate, five TPG is a lot.
He has the athleticism and hoops IQ to develop into a savvy off-ball cutter, but it just hasn't yet been asked of him – for obvious reasons.
He's a heady and active defensive player, snagging nearly two steals per contest, but at only 175 pounds, it's possible that the NBA's more physical guards simply overpower him until his frame naturally adds more muscle.
Also worth watching: Can Morant develop into a legitimate spot-up shooting threat? So much of his shot creation currently comes off a live dribble. Can he knock down enough shots off the catch to create the requisite space a functional NBA offense needs? It's an entirely new skillset he'll have to acquire.
On a scale from 1-10, Morant's ability transition from a do-everything dynamo to well-rounded floor general sits at a 7.

Pre-NBA Setting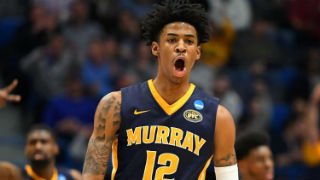 Evaluating elite mid-major prospects can be somewhat tricky.
Glass half full: Morant has played more than 60 games where an opponent's entire defensive game plan was designed specifically to slow him down. Particularly during his standout sophomore campaign, Morant faced every kind of defense imaginable.
Teams sent double/triple teams, employed wonky only-in-college-hoops zone defenses, and essentially threw everything up to and including the kitchen sink at him, knowing that Morant was the keys/engine/whole-car of Murray State's offensive attack. It didn't matter.
No NBA defense is going to bend over backward to this degree. Morant will obviously face much better athletes/coaches, but he won't be asked to go one-on-five every possession and still put up 24-10 each time out.
Glass half empty: No disrespect to the Ohio Valley Conference, but it simply does not provide a useful barometer when attempting to judge how Morant will handle competing against NBA-level athletes.
The gap between college basketball and the NBA is wider than it's ever been. The gap between the "power" conferences and the mid-majors is shrinking, but it still exists. Morant has spent two years running fast and free. He's about to spend his rookie year running a marathon with 50-pound ankle weights.
Is Morant the next Damian Lillard or the next Cameron Payne? Only time will tell.
On a scale from 1-10, Morant's mid-major experience could either be an 8 or a 2. Let's split the difference and call it a 5.
Ideal NBA Ecosystem
There are two schools of thought when it comes to developing NBA point guards:
1) Give the player a lot of playing time right away and allow him to fight through inevitable early-season struggles in order to reap the benefits later on (the Trae Young model).
2) Ease the player into a reserve/complementary role and allow him to observe a calm veteran run the show (Jamal Murray).
Each situation has its pros and cons, but I believe Morant will learn more by doing than he would by watching. I like the idea of Morant getting thrown into the deep end right away, because he strikes me as the sort of player who prefers to be in the middle of the action. He doesn't let mistakes or bricks get in his head. Morant can be in the midst of a 3-12 shooting night with six turnovers, and he will still confidently step into the biggest shot of the game as if it's definitely going in.
Young and De'Aaron Fox reinvented themselves as NBA players in staggeringly short timeframes, thanks in large part to their teams trusting them through early struggles. If Morant ends up on, say, the Phoenix Suns alongside Devin Booker and earns 30-33 minutes per night as the lead ball handler (allowing Booker to slide back to his natural position), he could fix the NBA's worst point guard situation by 2020.
On a scale from 1-10, Morant's need for reps right away sits at a 7.5.