"Situational Analysis" is a series of articles that seeks to examine the circumstances that most often influence an NBA prospect's success. Each player will be scored on a scale from 1-10 in four different categories: NBA-specific skill(s), fatal flaw(s), collegiate/overseas/pre-NBA environment, and ideal NBA ecosystem.
Collin Sexton is a 19-year-old guard from Marietta, Georgia, who averaged 19.2 points, 3.6 assists and 3.8 rebounds for the Alabama Crimson Tide. Sexton declared for the NBA Draft on April 6 and is expected to be selected in the mid-to-late lottery. NBADraft.net currently has him projected to go No. 11.
NBA-Specific Skills
Almost all elite athletes are competitive people. It's impossible to reach this level otherwise. There are, however, degrees of competitive intensity that are seemingly inherent in a player's personality.
Some lottery prospects are content with their otherworldly athletic attributes and skill level. They like to win, obviously, but they sleep well at night regardless of what happens on the court. Carmelo Anthony strikes me as this kind of player.
Others are driven by a strong work ethic and desire for personal improvement. The game exists as a framework for self-discovery. This is the Kevin Durant model.
But a select few play basketball with a burning rage, with competitiveness occasionally bleeding into mania. They attack every possession as if it is battle. Each loss drastically impacts sleep quality. Think Russell Westbrook.
Collin Sexton is a strong candidate for category three.
Sexton is a classic slasher combo guard who plays with a ferocity well beyond his 6-3 frame. He carries himself as if he's the biggest, toughest guy on the court at all times. He attacks the lane as if it's his property and everyone else is trespassing.
He is creative with his angles, but he prefers a straight line. He relishes contact, as his 7.6 attempts per game from the foul line show. His 7-foot wingspan helps him finish at odd angles around the hoop that simply don't exist for other guards.
Sexton is a throwback to a type of guard who wasn't content to linger 25 feet from the hoop for spacing purposes. If he was a running back for Nick Saban, college football analysts would refer to him as a "downhill runner."
There is an edge to Sexton's game that is both thrilling and contagious. When one player gets after it the way Sexton does, it can often inspire teammates to do the same. On a scale from 1 (Joe Barry Carroll inspiring Peter Vescey to nickname him "Just Barely Cares") to 10 (Westbrook), Sexton's intensity rates at a 9.

Fatal Flaws
The downside to having a ruthlessly competitive point guard? He can occasionally destroy the flow of your offense.
Sexton's game is not ideally suited for modern NBA basketball. His paltry 1.3/1 assists/turnover ratio (on just 3.6 assists per game), along with his 33.6 percent shooting from the college 3-point line, do not project success in any analytics model.
Critics wonder exactly how Sexton's game will translate against bigger, faster big men waiting to meet Sexton at the rim. If he can't get his 3-point shooting in order, teams will give him acres of space and dare him to shoot. Unlike brickier point guards in the Rajon Rondo/Ricky Rubio mold, Sexton doesn't make up for it with playmaking wizardry.
There is a scenario in which Sexton ends up as a less efficient Monta Ellis (if such a thing is possible) — a player who carries himself as if he's the league MVP, but piles up enough 11-34 shooting nights to shave five years off a coach's life expectancy.
Sexton is a tremendously athletic, talented, and aggressive basketball player. Will he be able to channel that aggression into a team concept operating with modern principles? On a scale from 1 (Allen Iverson at practice) to 10 (Allen Iverson in a game — specifically, Game 1 of the 2001 NBA Finals), Sexton's likelihood of fitting into the modern NBA rests at a 6.5.

Pre-NBA Setting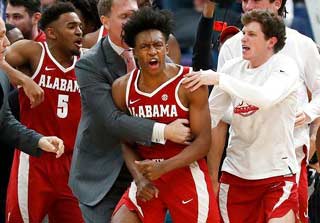 After a decorated high school career that led to him becoming one of the nation's most sought-after recruits, Sexton elected to stay close to home and play for Avery Johnson and the University of Alabama. Fun fact: Johnson is the only NBA Coach of the Year winner coaching Division I basketball. Well, that might not be that fun of a fact, but it's something.
Nevertheless, Sexton had the opportunity to spend a year with a hard-nosed former point guard who was a key contributor to the San Antonio Spurs' 1999 NBA title. The undrafted Johnson didn't have Sexton's physical tools, but there are few better college coaches equipped to teach a prospect of Sexton's caliber about life in the NBA.
Many of Sexton's best individual performances came on the biggest stages. He relished going against other high-level players in front of big crowds. But at only 20-16 with a second-round exit to (eventual champs) Villanova in the NCAA Tournament, Sexton's individual excellence didn't always translate to team success.
On a scale from 1 (Ben Simmons at LSU) to 10 (Gordon Hayward going from a lightly recruited 3-star guard to nearly hitting the greatest shot in college basketball history as a sophomore playing under Brad Stevens), Sexton's pre-NBA career rates at a 7. He had the opportunity to show what he's capable of, and he'll always have Avery Johnson's number in his phone.
Ideal NBA Ecosystem
This is a tough one. On one hand, players with Sexton's athleticism and competitive fire tend to carve out an NBA niche at some point. On the other hand, there are more top-tier lead guards in the league than ever before. A league-average point guard in 2018 is still a pretty incredible basketball player.
How many teams are going to confidently spend a lottery pick on a player with subpar 3-point shooting at the league's deepest position, particularly when Sexton's position on many mock drafts is surrounded by potential high-level 3-and-D wings — a much scarcer commodity.
Sexton's best bet for success? I would like to see him emulate the Patrick Beverly/Clippers-era Eric Bledsoe model, where his ferocity can be channeled on the defensive end. Sexton could be a devastating defensive menace at the point of attack, particularly in a sixth-man role where he can focus his energy on defending 94 feet and pestering lead ball handlers.
Offensively, I'd like to see a coach use him as a secondary ball-handler, slasher, cutter, and jittery screen-setter who never stops moving. Should the Clippers hang onto their two late-lottery picks, I'd love to see them select Sexton and employ Beverly as his mentor.
On a scale from 1 (basically anyone unfortunate enough to be selected by the Sacramento Kings over the last handful of years) to 10 (Donovan Mitchell landing in Utah and immediately becoming the face of the franchise), Sexton's need for the right fit sits at an 8. He'll be an asset for any team, but he won't maximize his potential on a team trying to turn him into something he isn't.