Orlando Summer League Roster & Schedule
Game 1 – Utah Jazz 83 vs Charlotte Bobcats 85
Boxscore
The kickoff game of the Orlando Summer league featured the Utah Jazz and Charlotte Bobcats, two playoff teams looking to improve their squads. The Bobcats, without a first round draftee, hoped to see something out of last year's #12 from Duke, Gerald Henderson. Utah, meanwhile rests its hopes on #9 pick Gordon Hayward, whose legend has grown since Butler's improbable run at the NCAA championship.
Hayward's warmup shooting looks just like Jimmy Chitwood in Hoosiers when Gene Hackman goes to visit him at his home. Not only does he not miss, but the ball barely hits the net because it goes through so clean and precisely. But once warmups ended, things got a little rockier for Hayward. He lost the ball on his first drive/possession of the game and then generally looked pretty lost in the shuffle for a majority of the game.
Hayward is not a player that is going to take over a game with his athletic ability and needs a structured offense and cohesive team for his talents to shine. That's something you don't get in a summer league team, so credit him for not forcing his shot though. And when he did shoot, he kept up his reputation by going perfect from the field and line (2-2 and 4-4) for 8 points. He also showed some aggression going for loose balls and a deft passing hand, finishing with 5 boards, 2 assists and 2 steals.
Charlotte has to be pleased with the play of Gerald Henderson who went off for 20 points, and had some of the most spectacular plays of the day. An up and under wowed the crowd and he later impressed with his hang time and elevation as he threw down the dunk in traffic. It was obvious Gerald came to play as he got off to a furious start and was really competing out there.
The game initially looked like it would be a blowout with the Bobcats taking an 18 point first half lead. The Jazz were outworked, outshot and looked generally overmatched in talent, much to Jerry Sloan's chagrin, but Utah gathered themselves at the half and slowly started to chip away at the lead. By the end of the 4th quarter, Utah was playing the most inspired play of the day, cutting the lead to two points with a handful of seconds remaining. This was made possible by the muscle work of James Augustine and a clutch steal and dunk by Gordon Hayward.
Sundiata Gaines, the D-League callup hero for Utah last year, had a good look at the 3 for the win at the buzzer, but came up just short. Otherwise Sundiata ran a great game for the Jazz, keeping things under control and running the break well. Gaines finished with 11 points and 5 assists.
James Augustine led all scorers for Utah with 20 points on an extremely efficient 9-10 shooting from the field. Augustine did most of his damage working hard in the post and running the floor well for easy buckets.
Kosta Koufos looked methodical, predictable and pretty much in slow motion for his 4 points in 23 minutes. He did have a game high 7 rebounds.
Alexis Ajinca showed both sides of his game with inspired aggressive play on one end and lack of focus and disinterest moments later. Ajinca finished with 8 points and 4 rebounds.
Derrick Brown also impressed today with an array of strong drives to the basket. Brown had 20 points on 6-10 shooting, 5 rebounds and 3 steals.

Game 2 – Indiana Pacers 86 vs. Orlando Magic 77
Boxscore
Indiana got off to a fast start and built a big first half lead of 18 against the hosts from Orlando. Orlando made a strong comeback led by the scoring of Patrick Ewing Jr but ultimately couldn't close the gap. Ewing showed nice range and an ability to hit the tough shot. It's kind of weird to see the son of such a dominant center as a jump shooter and not working the low block. The further irony is that Ewing Sr. is the Magic's big man coach and coach of this summer roster. Ewing Jr. did lead the Magic in scoring with 15 points but did so on 7-17 shooting.
The other point of focus for Orlando, was first round draft pick (#29) Daniel Orton, from Kentucky. Orton had one of the worst games of the day finishing with 3 points on 1-8 shooting with 5 fouls and 4 turnovers. Orton looked sloppy and frustrated and started forcing shots. He was irritated by the defense of Magnum Rolle, which led him to commit back-to-back offensive fouls. After getting blocked by Rolle, he threw up an airball, only to come back down and shoot another airball on an ill-advised fadeaway. Orton ended his night by getting kicked out of the game for a dust-up with Josh McRoberts.
Donell Taylor contributed for Orlando with 12 points on 5-11 shooting, along with Joe Crawford who chipped in 10 points. Jeff Adrien showed a lot of toughness on the court tonight, showing an ability to get to the line, as well as pulling down 10 rebounds. Jerome Randall did an adequate job of running the team, dishing out 5 assists with only 1 turnover. Randall is so small on the court, that he looks like he could be Tyronn Lue's kid brother.
Indiana was led by the spectacular play of second round pick (#40), Lance Stephenson. Lance showed his diversity with an athletic display of defense-breaking dribble drives and bench rousing finishes. Stephenson also showed his passing skill with a 'thread the needle' fast break feed as well as a nicely timed alley-oop pass. Indiana's other second round pick (#51), Magnum Rolle, also had a solid game with 13 points and 5 boards. First round pick (#10) Paul George, finished with 12 points but was mostly unnoticed with his effort and contributions on the court. McRoberts showed skill with a few drives to the hoop, but spent much of his night trying to expand his role to 3 point gunner.
Game 3 – Oklahoma City Thunder 87 vs. Boston Celtics 82
Boxscore
OKC showed some serious resiliency in this exciting come from behind victory for the Thunder. Boston went up early and built a 21 point lead before the Thunder came storming back. OKC fielded a virtual summer league all-star team. While other teams have a couple rookies rounded out by European prospects, D-Leaguers and undrafteds; the Thunder boast a who's who of the past few drafts.
It all starts with James Harden, #3 in the 2009 draft who was rocking the Mohawk. Harden's shot was off early which contributed to the early deficit, but Harden knows what to do when the shots aren't falling; get to the rim and good things will happen. Harden did this en route to 18 attempts at the free throw line and finished with 19 points. Harden also added 4 steals and 2 blocked shots to his all-around effort.
BJ Mullens (#24 in '09) led all scorers with 24 points on 6-12 shooting. Mullens maximized his effectiveness by also getting to the line and making his free throws. Early on it appeared as if Mullens had regressed since last year with uninspired play, but as the game progressed, he showed signs of life and really became a contributor, finishing with 7 rebounds.
Serge Ibaka continued the strong play he showed to close the season and in the playoffs, but unfortunately left the game after a rough collision and had to be helped off the court. Prior to that, he imposed a strong presence down low with a series of dominant blocked shots, strong post play and rebounding. Ibaka tallied 6 points and 5 boards in limited minutes.
Eric Maynor, a mid-season pickup for the Thunder, ran the point extremely well. Maynor showed skill in getting to the basket and creating for his teammates. His alley-oop to Harden was a thing of beauty and perfectly timed. Maynor brought 15 points and 5 assists to the party.
For the Celtics it was all about Luke Harangody. Drafted #52 out of Notre Dame, Harangody went a long way on his quest to quiet the skeptics who don't think his game will translate to the pros. While Luke looks a little goofy (think a stronger Brian Scalabrine), there was no one laughing at him once his game got going. First off, he is built like a fullback and operates with a ton of confidence on the court. He also has great court awareness and is always in the right spot. His 3 point shot was on as he hit 4-6 from downtown, but he also showed skill running the break, hitting the mid-range J and getting good position on the glass.
Oliver Lafayette also played well for the Celtics with a series of tough running layups and mid-range jumpers. He also had a nice steal on Harden for a fast break lay-in. Lafayette scored 14 on 6-10 shooting with 3 rebounds and 5 assists.
Jaycee Carroll had a chance to tie the game for the Celtics late, but was blocked by James Harden. Carroll otherwise had a good game with a lot of energy, notching 16 points and 4 assists in the losing effort.
Game 4 – New Jersey Nets 74 vs. Philadelphia 76ers 84
Boxscore
The final game of the day featured the marquee matchup of #2 pick Evan Turner vs #3 pick Derrick Favors. With all the hype of this matchup, it was bound to disappoint as both got off to slow starts.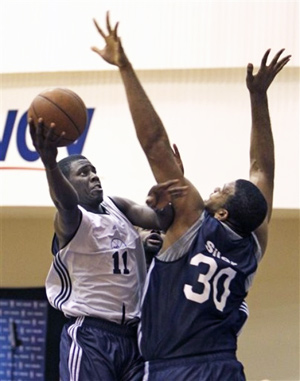 In the meantime, it was the Jrue Holiday show. I had tough words about Holiday's game last year as he struggled to run the team, but with a year under his belt, he is looking like a completely different player. With constant direction from coach Doug Collins, Jrue ripped apart the Nets defense with some silky drives which created easy layups. He also showed a crafty drop step and confident outside shot. And best of all, he completely controlled the game and got his teammates involved with 8 assists. Jrue completed the day with 23 points.
With Holiday leading the way, Evan Turner eventually got his game going by relying on extra effort. His defense forced turnovers and his aggressive work on the boards led to quick outlet passes for easy scores. Strong drives to the basket paid off at the line and allowed him to show his strength in finishing.
Jodie Meeks put his stamp on this game with some big shots and the big 3 at the end that kept New Jersey from making things interesting. Meeks finished with 18 points and 5 boards.
Mareese Speights had a truly disappointing night with 6 points on 1-11 shooting. Speights has the talent to dominate this summer league but it hardly showed in this woeful performance. The constant attention from Coach Collins on the sideline, leads me to speculate a motivation problem.
For the Nets, Derrick Favors never quite broke out of his slow start and only managed 8 points on 2-8 shooting, however he still put in the work on the glass and pulled down 9 rebounds.
The bright spot for New Jersey was the play of point guard Terrence Williams. Williams filled up the highlight reel with a ridiculous drive for the one-handed jam. He later came with an electrifying wind-up jam and followed that up by going even harder, only to get flagrant fouled, and still make the shot. Williams had a solid night scoring 23 points on 8-12 shooting along with dishing out 7 assists.