The World Team defeated the USA Team Saturday Night 84-75. Here is an analysis of the World Team's prospects… A report on the USA team is soon to follow.
#8 Andrew Wiggins (6'7", Canada, 1995) – As expected, Wiggins was the top scorer for the International team. He finished with 20 points on 7/18 shooting to go along with seven rebounds, which is a very solid stat-line. He was particularly effective in the first half, when he was trading baskets with the player he was often matched-up with, Shabazz Muhammad. Wiggins shot well from outside, finished creatively around the rim and even had an absolutely unguardable floater working in his favor. Defensively, he used his length and athleticism to contest most of Muhammad's shots. While Shabazz went on to set the Hoop Summit record for points in a game (35), I'd still say that Wiggins defended him well overall. Considering his extraordinary talent-level, it's easy to forget that he was the youngest player to participate in this year's event. As his handle gets a little tighter and he continues to add strength, the hype surrounding him will only grow. In all likelihood, we're going to see Andrew in next year's Hoop Summit as well, where he'll probably be even more dominant.

#10 Anthony Bennett (6'7", Canada, 1993) – Bennett struggled through most of the night. At one point, he appeared to hurt his ankle, which supports the reputation he's staring to develop as being injury-prone. He finished with seven points and eleven rebounds, which is solid, if not unspectacular. What was spectacular, however, was the shot-clock beating fade-away 27-foot prayer that he made during the last minute of the game. It put the International team up by six, and pretty much clinched the upset. To compound the intrigue of the shot, Bennett had only made one of his seven shot attempts leading up to that point and he had prestigious shot blocker Nerlens Noel right in his grill. All things considered; it was nice. Bennett is still weighing his options for school; considering Kentucky, Oregon and Florida among others. Wherever he goes, I'm sure he'll be a successful collegiate player. He's definitely more of a power forward at this point, and due to his 6'7" size (in shoes), that hurts his NBA potential. With his high motor and developing jump shot, he could go first round in a few years if teams think he could develop into a Jason Maxiell-type of player.

#12 Dario Saric (6'10", Croatia, 1994) – I've had several chances to watch Saric play the last few years, and every time it's been a treat. He's incredibly skilled for a player his size, which is evident every time he's on the court, including the exhibition game on Saturday. Saric scored 13 points on 5/10 shooting (1/3 3PT), which was the third highest total on the team. He also collected game-high totals of 14 rebounds and five assists. It was clear that the World team was better when Saric had the ball in his hands and was creating for teammates. Despite being one of the youngest players at the event, his basketball IQ and overall understanding of the game are extremely refined. He rose to the challenge when it looked like the USA team might be taking control and made sure they held on. Offensively, he's a triple threat with the ability to drive, shoot or pass at a high level, and seemed to get by Kyle Anderson at will during the game. If he continues to add weight, I think he's a lock for the draft lottery, with the potential to go top-10.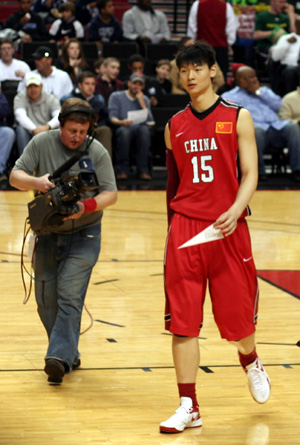 #15 Wang Zhelin (7'0", China, 1994) – The World team's head coach, Roy Rana, suggested that whoever performed best during the practices would start for the team on Saturday, so I wasn't really surprised that Zhelin started at center. I was surprised on the other hand, that Zhelin absolutely annihilated the bigs on the USA roster. The 7'0" Chinese center scored an efficient 19 points on 8/11 shooting in just under 22 minutes of playing time. His immense size, strength and patience around the rim were far too much for the defense to handle. When his teammates were able to get him the ball under the basket, he used a series of fakes and pivot-moves to take advantage of an over-anxious defense, and get himself an easier look at the rim. During the practices, he looked uncomfortable turning over his right shoulder, but shocked me at one point in the game with a left-handed baby hook shot that looked both smooth and effortless. His size gives him a significant advantage on the glass, as he pulled down eight rebounds, four of which were offensive. He even showed off his athleticism at one point, erasing a Gary Harris dunk attempt with an impressive chase-down block that astounded most of us in attendance. He showed the same willingness to get physical as when he matched up with the Duke Blue Devils during the summer.

Zhelin is only 18 years old, so his body is probably still developing, which is exciting considering how strong his legs already are. He stands a legitimate 7'0" in shoes, and has enough skill to get excited about. It will be interesting to see how teams gauge his NBA potential. If he continues to refine his scoring ability and upper body in China, then he's a potential draftee in a few years. He's already shown that he can bang in the post, shoot from mid-range and rebound at an effective rate. If he wasn't on the NBA radar before this event, he definitely is now. Zhelin has become all the rage in China, and while he's certainly not the next Yao Ming, at minimum he's got a bright future playing in China.

#4 Aleksandar Cvetkovic (6'2", Serbia, 1993) – Cvetkovic impressed with his ball-hawk defense, but failed to make a significantly positive impact on the game. He posted five points, three assists, five turnovers and five fouls; finishing as the only player on the team to foul out of the game. He's a good point guard with great leadership qualities, and a better scorer than what we've seen in Portland. If he continues to develop, then I wouldn't be surprised to see him picked up in the late-second round of a draft in a couple years.

#5 Leo Westermann (6'7", France, 1992) – Westermann didn't impress many people either. During the practices he looked like a creative playmaker and a solid scorer, but he failed to make a huge impact on Saturday. As the starting point guard for the International team, he played 28 minutes, but finished the game with only four points and two assists to his credit. Westermann played hard defensively (was matched up with Shabazz Muhammad at times), but lacks the athleticism or length (measured 6'7" with a 6'4" wingspan) to shine here either. He's not much of an NBA prospect right now.

#6 Tauras Jogela (6'7", Lithuania, 1993) – Jogela didn't play a lot or make much of an impression at the game. He's a solid athlete though, and had a nice little back-and-forth dunk contest during the pre-game warmups with Wiggins. Jogela has the size and athleticism to play in the NBA, but lacks any other polished attributes that would make one believe that he's a potential draftee. But unlike some of the other prospects on this roster, the potential is there. He's somebody to keep an eye on, if nothing else.

#7 Michal Michalak (6'6", Poland, 1993) – Because he was so effective in the practices, Michalak started at the off-guard position for the World team. Unfortunately, he couldn't get into a nice rhythm during the actual game, and finished with only five points. Michalak is a volume shooter that can put up fantastic results if he can get enough shots off. He just didn't get the chance to demonstrate that here. His NBA potential is limited though, due to his below-average athleticism.

#9 Vytenis Cizauskas (6'3", Lithuania, 1992) – Cizauskas was pegged as a tough guard that plays bigger than his 6'3" size, and that's exactly what he showed us. He finished with two points and five rebounds in about 13 minutes. Not a great game statistically for the Lithuanian, but he brought a nice energy and hustle to the court. He also contributed to the huge rebounding discrepancy (57-34) that led to the World team's upset.

#13 Marcos Delia (6'10", Argentina, 1992) – Delia pulled down seven rebounds in the twelve minutes he played in, and that alone made him more effective than most of the bigs on the USA roster (the four centers on the USA roster collected five rebounds altogether in a combined 45 minutes). However, he really never established himself over the course of this week as a strong player or NBA prospect. He moves pretty well and can score with either hand, but nothing he showed really set himself apart.

#14 Patson Siame (6'11", Zambia, 1993) – Siame played less than three minutes during the game. The lack of playing-time probably had something to do with the left ankle that's been wrapped all week. Siame has nice size, standing 6'11" in shoes with a 7'2" wingspan, but hasn't shown any other qualities in Portland that would suggest he's an NBA prospect. He should be re-evaluated when he's fully healthy.