Shabazz Muhammad, SG/SF: Muhammad's athleticism and strength stands out a great deal in this setting, if anyone else led the team in scoring it would be a shock. He wowed the scouts with his thunderous dunks, intensity and clean outside shooting. He has a work ethic and determiation that has drawn comparisons to Michael Kidd-Gilchrist, though, as a player, he is more in the James Harden mold as a dangerous scorer. In a 2012 HS class that lacks all around talent, Shabazz is the biggest standout at this point. He still is very left hand dominant, which the World team and Andrew Wiggins are well aware of. Whereever he ends up going to college will get an immediate impact scorer with leadership ability and an incredibly competitive outlook.
Nerlens Noel, PF/C: A late arrival to the US squad with only one day of practice under his belt, he appeared a little sluggish in the evening practice in front of NBA scouts. Still, he is incredibly long and obviously on a different level athletically than any of the other big men on either side. Still very skinny, Nerlens can indeed sky for rebounds though his back to the basket game at this point is very limited. His offense was relegated to offensive rebound put backs. He even had a beautiful offensive rebound and pass sequence to Mitch McGary, which got him an easy two plus the foul. He appeared to bite on ball fakes quite a bit, choosing to go for the block rather than just standing his ground/using his length. His basketball understanding on the offensive side is extremely raw. You can see a definite upside with Nerlens, but I would like to have seen a little more intensity and impact, which he hopefully brings to the Hoop Summit game.
Rasheed Sulaimon, SG: His shooting stroke is fantastic, but saw very little off of the dribble from Rasheed. He seemed to be the next closest thing to a PG on Team USA behind James Robinson and Kyle Anderson, but clearly looks like a 2 and seems to be more comfortable off of the ball. Appears to be at his best running off of screens and making open jumpers, which should do wonders at Duke. Problem is, he sort of mimics the strengths of their players right now. He might not have had much of a chance to display his ball skills, but those expecting the one on one ability of Austin Rivers are probably going to be let down. He is also a tad on the small side for a typical SG, at 6'4 but he does have a solid wingspan. Seems to be a great kid and his shot is excellent, but did not see a lot more to him than that.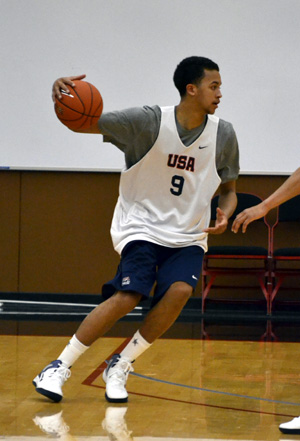 Kyle Anderson, G/F: With Marcus Paige injured and James Robinson being the only other "true" PG, I expect "Slo-mo" Anderson to run the show for quite a bit of the game. Kyle is incredibly versatile and while his foot speed is not incredibly quick, he never seems to lose the ball. With Kyle, the pace tends to really slow down, which causes worries about his NBA position and impact. His game seems to be a perfect fit for a slower paced Ben Howland offense. Defensively his length and size can cause problems, but the lack of lateral quickness might hurt him at that next level. People are torn on Anderson as a NBA prospect, but his versatility and skill set could indeed make him a possible first round pick after a couple years of college. Despite lacking a true NBA position, he seems to be a competitor and a winner, which should help him overcome those deficiencies.
Archie Goodwin, G/F: Listed at 6'5, I would not be surprised if he were indeed shorter than that. Goodwin's game is slashing and he seemed to excel in transition opportunities. At times he gave up too much room on defense, but definitely has the quickness to be a factor on that end. His shot was average, and seemed to be a tad mechanical lacking a fluid motion. Archie is second only to Shabazz Muhammad as an athlete on the US team and could be one of those guards that gives the International team issues with his speed. Seems to be a great fit for Kentucky's dribble drive though he will struggle mightily to fill the shoes of Doron Lamb, if he indeed declares for the draft. Nonetheless, his first step and transition ability bring a dynamic element.
Gary Harris, SG: He is not incredibly flashy and seems to be mostly about handling business rather than standing out. Harris still looks like a good scoring grab for Tom Izzo and Michigan State with a nice fluid shot. The youngest player on this team (with Goodwin being one month older), he still seems confident in his abilities and might have had the most points in Friday's scrimmage besides Shabazz Muhammad. Seems like a solid long-term college player and someone who Tom Izzo could work with to get to a pretty high level when it is all said and done.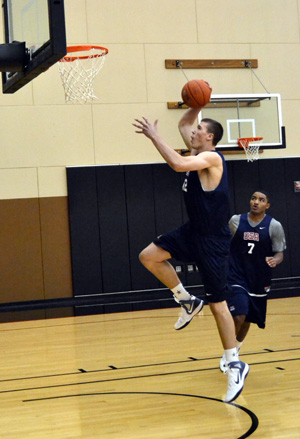 Kaleb Tarczewski, C: The kid with the deep Ivan Drago voice is a definite presence. He measured out at 6'11. He is pretty athletic for a player his size as well, though again will ideally bulk up quite a bit. His impact at Arizona might be interesting, but I would temper my expectations as a freshman. He is a player who will benefit from a couple years of college and could eventually become a first round pick. He needs to work on his left hand and be more conscious of boxing out. Also did not do much to establish low postposition and use his length to contest shots. Still, he has the size and attributes that make him a likely NBA player down the line in a league that values size and athleticism.
Tony Parker 44190, PF/C: The player on the team with the most International experience, easily played his best in the scrimmages in front of NBA scouts Friday evening. His height does not seem to be ideal (6'8), but he has long arms (7'0 wingspan) and a big body. Does not have a lot of lift and conditioning could be a factor down the line, but exhibited few problems with it here. Parker seemed to be the only big who realized that he was big. He established position right in the middle of the paint, gobbled up offensive rebounds and got to the line more than all of the big men combined. To those who saw his ranking in this class and wondered what he was doing on this team, if the USA wins the game I am guessing he will be a factor. His NBA potential seems limited as he will need to lose weight and will probably always be a limited athlete, but he has soft hands and should be a factor for whatever school he ends up signing with.
Mitch McGary, C: The big lefty who burst onto the 2012 recruiting scene this past summer showed he is definitely far from a finished product. After going from relative unknown to garnering comparisons of Tyler Hansbrough, McGary came back down to earth once he got to the more organized play of his Brewster Academy prep school. Mitch's motor was advertised as being non-stop, but have yet to see that and have yet to see anything close to the ability of Psycho T. Mitch is a decent athlete and has good size, but he went with the trend of staying more out on the perimeter, shooting brick after brick. People also commented on his constantly hanging on the rim after dunks, almost seeming like he wanted to duplicate the broken backboard at the Elite 24 this past summer. The thoughts on McGary seemed to be that he was maybe unfairly hyped up and ranked. Also heard rumblings about the fact that he is close to a year older than anyone on the team (with Kaleb Tarcrewski being the next oldest and 8 months his junior). Michigan gets a big body and I am guessing Mitch will eventually be a factor, but he seems like a long-term college player. To those saying he was a better version of Tyler Hansbrough, he may have more size and upside, but he shows little of the drive that made Psycho T a 4-year All-American at the NCAA level.
James Robinson, PG: With Marcus Paige sitting on the sidelines suffering from a stress fracture in his left foot, Team USA brought in Pittsburgh signee James Robinson. Robinson played at famed DeMatha HS in Maryland, coming off of a 30-5 season under USA Team Assistant coach Mike Jones. Speaking with coach Jones, he is going to miss Robinson a great deal, as he appears to be a consummate team leader and has solid size for the PG position at a listed 6'3 and 195 pounds. Robinson is not incredibly flashy and for some reason was looked off for numerous open jumpers by his teammates, but as a true PG may get a chance to play a decent bit in this game. Robinson seems to have been associated with winning teams, be it at the AAU level or at DeMatha. He should be a welcome addition to a Pittsburgh team moving to the ACC and hoping to come back after winning the CBI championship. As a team that struggled without a real back up for Trayvon Woodall, Robinson should make life a lot easier if Pitt needs a floor general. The USA tesam normally has a huge edge at the PG position. But with Robinson, who' a borderline top 50 player in a weak class, not the case this year.