Rising
Brandon Knight 6-3 175 PG Kentucky Fr.
Despite scoring just two points in Kentucky's opening-round win over Princeton, Knight showed tremendous fortitude driving in for the game's winning basket with the score tied in the closing seconds.
He appeared to build off the momentum of that game winner with his huge performance in UK's second-round win against West Virginia. His 30-point performance displayed his ability to lead his team back from a second-half deficit, knock down the long ball and elevate his level of play in important situations. He also displayed his great ability to push the ball in transition and hit floaters in the lane.
Knight has tremendous quickness for a 6-3 guard with the ability to blow by defenders off the dribble. He also shows an excellent ability to stop on a dime, cut off a drive, and dish the ball for a basket without drawing a charge call.
His point-guard skills remain a work in progress, with his ball handling, in particular, needing work. Another year in college would obviously help make his jump to the league a smoother transition. But that doesn't appear to be in the cards. Knight is further along than Philadelphia's Jrue Holiday was at the end of his freshman season, and if given the same opportunities to develop at the NBA level, he should find a similar niche.
Chandler Parsons ended up winning SEC Player of the Year, but a strong case could be made that Knight, who ended up leading the Wildcats to victory over the Gators in the SEC title game, deserved the award.
It seems that draft pundits have been sleeping on Knight's talents all year and he's starting to wake everyone up. There just aren't many kids with the hunger, work ethic, and killer instinct that he possesses. He's been that way all through AAU and now in his first year of college.
Knight is an absolute winner and it should surprise anyone if Kentucky gives Ohio State all they can handle in the Sweet 16.
He's seen as a potential lottery pick by scouts and in the mix (with Jimmer Fredette and Kemba Walker) to be the second point guard off the board after Kyrie Irving,
Harrison Barnes 6-8 215 SF UNC Fr.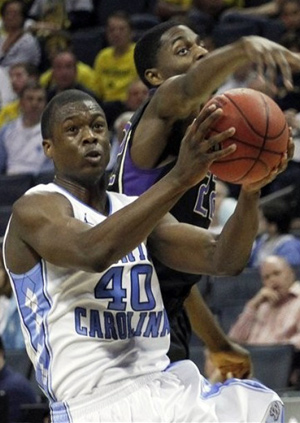 For some players, it just takes time for things to click.
Over the past two months, Barnes has turned into the highly regarded prospect we expected to see at the beginning of the season. His two straight excellent tourney performances have his stock back among this draft's elite.
Barnes upswing can be pinpointed to the date Kendall Marshall was named UNC's starting point guard, and he continues to rise. Barnes has become a completely different player since the Jan. 18 switch to Marshall. Barnes averaged just 11.7 ppg on 37-percent shooting in his first 17 games with Larry Drew starting. He has really turned it on in the 18 games since, scoring 19.0 ppg on 46-percent shooting.
In two tourney games, Barnes has put up 24 and 22 points, shooting a solid percentage (9-19) in both. His 16 rebounds in game one made up for his poor (2-10) 3-point shooting.
A report came out recently that Barnes said he wants to win the title this year or he will return. Barnes appears to be in no rush, and this could ultimately prove to be true. But, what everyone (media included) should keep in mind is that anything said by players during the tournament regarding the draft should be taken with a grain of salt. Players (Tristan Thompson, for example) are not going to say they are leaving while there are games still going on. It happens every year.
Before the season started, Barnes was projected as the top overall pick. Continuing his strong performance the rest of the way could put him right back in that spot come draft night.
Kemba Walker 6-0 179 PG UConn So.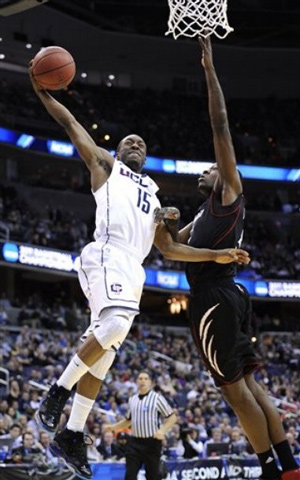 Walker has proven what a clutch, go-to finisher he is all year. In the first two rounds of the tourney, he's showing that he can also set up teammates, with 17 assists to four turnovers. In addition, he's a perfect 20-20 from the foul line. Kemba was somehow passed over for Big East Player of the Year for Ben Hansbrough, whose Notre Dame team got bounced in the second round. Now, Walker represents the Big East's only legitimate chance to reach the Final Four (Marquette is unlikely).
Putting 33 points up in UConn's biggest game of the year to date (vs. Cincinnati) shows how clutch he is.
Scouts love his dynamic playmaking ability to get past defenders and scoring ability. His size and outside shooting remain concerns. Whether he can become a full time starting PG at the next level remains to be seen, as well. Many scouts see him more as a backup point guard and instant offense off the bench.
Depending on who you talk to, Kemba is seen as a potential late lotto to mid first-round pick for this year's draft.
Justin Harper 6-10 225 SF/PF Richmond Sr.
With Richmond advancing to the Sweet 16 after wins over Vanderbilt and Morehead State, Harper is showcasing his face-the-basket skills that should allow him to have a nice career in the league.
Last week, Harper told us he models his game after Kevin Durant. While he doesn't resemble Durant, nor does he possess his length, skill or talent, he does have an excellent outside shot for a 6-10 forward. Harper is seen by scouts as a likely early-to-mid second-round pick.
He's getting great exposure playing in the Sweet Sixteen and will get a shot to show that he can hang with the Morris Twins in Richmond's upcoming match up with Kansas. Harper is a late bloomer who excels at shooting from the perimeter. If he can show better toughness and post skills, he will have a shot to move up.
Derrick Williams 6-9 235 PF Arizona So.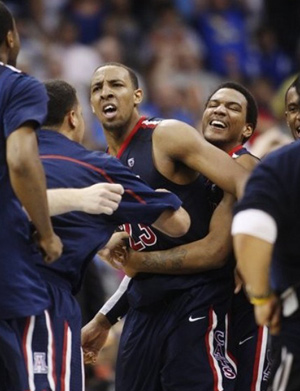 Williams is two for two in coming up with key plays to help his team win in the closing minutes of tournament games.
Against Memphis, Williams had 22 points and 10 rebounds, hitting 6-11 from the floor and 9-9 from the line. His late 3-point shot and his block on the final possession sealed the win for the Wildcats.
Facing Texas, he struggled with the length of Tristan Thompson, failing to get on track offensively. But as Sean Miller described him after the game, Williams is a "closer" and great players rise to the occasion in big moments.
There is a growing sentiment that Williams (and not Jimmer Fredette) is actually the best all-around player in college basketball.
Even Williams strongest critics are beginning to concede that his strong performance in the tournament will likely guarantee him a top 3-5 selection in this year's draft. Going first overall, as he's currently projected, is still up for grabs with freshmen Kyrie Irving and Harrison Barnes continuing their push.
It's debatable who has the most long-term potential among this group, but Williams appears to be the most ready among the top prospects to impact an NBA team next season. And considering the uncertainty of when that will be, Williams becomes that much more intriguing.
Jon Leuer 6-10 220 PF Wisconsin Sr.
Wisconsin had a difficult first-round match up with Belmont, but was able to pull away behind Leuer's 22-point, 7-rebound performance. He followed that up with a 19-point, 7-rebound showing against a tough Kansas State team.
An athletic forward with excellent face-up skills, Leuer shows the ability to create baskets for himself. His versatility and offensive skills make him an intriguing prospect.
A model of consistency, Leuer put up double-digit points in every game this year.
Leuer has made a gradual climb up the draft boards all season and has cracked the first round within the past few weeks. His tournament play has solidified that position with two excellent performances so far.
Kendall Marshall 6-4 180 PG North Carolina Fr.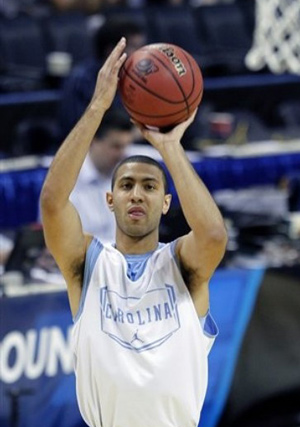 It's a tale of two seasons for the Tar Heels. After going 12-5 in their first 17 games with Larry Drew III starting at PG, coach Roy Williams made the switch to Marshall. Since then, the team has gone 16-2, with both losses coming at the hands of Duke. Marshall is the best passer on the college level and he appears to be improving and gaining confidence every time out.
The Tar Heels are a highly dangerous team with him setting up their long athletes for easy baskets.
Marshall reminds many people of a young Mark Jackson. With his perimeter shooting showing improvement and true point guards being at such a premium, he has a chance to become a lottery pick as soon as next year.
Tyler Zeller 6-11 245 PF/C North Carolina Jr.
Zeller is a name that scouts are mentioning more and more lately. His 55 points in the first two rounds is good for third overall among all players.
While he lacks the rugged body of your typical first-round post player, he has a tough demeanor and a highly skilled offensive repertoire. He probably needs another year to ensure a first-round selection, but playing alongside Marshall next year could give Zeller that bump.
Some scouts actually think he has a shot at the first round this year. A strong finish to the tourney could make things interesting if he decides to test the waters.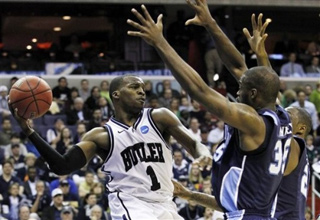 Shelvin Mack 6-2 210 PG Butler Jr.
Mack is reinforcing what he showed last year, when he helped lead Butler to the Final Four: He's a winner.
After committing what appeared to be a game-deciding foul, Mack walked to the Pitt free-throw line, where he stood and waited for Gilbert Brown. When Brown came over, Mack stood in his space and gave him a piece of his mind. This was his game. Butler was not losing it. Brown swished the first free throw to tie the game. The second free throw bounced off the rim, Nasir Robinson made a horrific foul, and the rest is history.
Mack showed his ability to raise his level of play when the chips are down. He scored 30 points and stuck numerous deep 3-pointers against Pitt. He had an up-and-down season, but his stock is moving in the right direction at the right time. Mack has put himself back into the first-round conversation, at least for next year. And who knows, it's possible that behind Brad Stevens, Butler will be this year's Butler and make the Final Four again.
Malcolm Lee 6-5 180 PG UCLA Jr.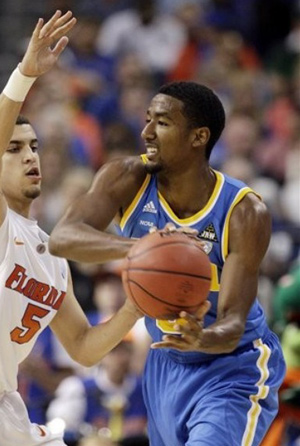 Malcolm Lee averaged just 15 points per game in the Bruins' two tourney games, but those numbers don't tell the entire story. Playing on a partially torn knee ligament, Lee's ability to break the Michigan State press was one of the keys to their first-round victory. He was the one Bruin with the quickness and ball-handling ability to neutralize it. His excellent defensive skills and length also add to his intrigue, as he was able to disrupt and frustrate Kalin Lucas on that end of the floor.
Lee had a solid showing in this year's tournament — most likely not enough to get into the first round, but there are scouts that really like his upside and point to the success that guards have had at the NBA level after struggling to show all of their skills in UCLA's system.
Lee has been frustrated all year with the way he's been used in the UCLA offense and the way he was moved off the ball in favor of ju-co transfer Lazeric Jones. Lee had surgery on Tuesday to repair a slightly torn MCL and is out 3-4 weeks. With a game better suited for the next level, look for him to find a spot in the early second round and end up one of this draft's big sleepers.
Breakout Star for Next Year
Terrence Ross 6-6 190 SG Washington Fr.
Ross threw up a goose egg in Washington's first round win. However, he showed a great deal of potential in the team's narrow loss to UNC in the second round. Ross' team-high 19 points off the bench on 7-10 shooting.
The Husky freshman was extremely impressive in the Pac-10 Tournament, as well, with three big games helping Washington to the title.
Ross has moved into the top 10 of the 2012 mock draft. While he's unlikely to be a first rounder this year, he shows a lot of potential to be a breakout star in the Pac-10 next season.
Falling
Kyle Singler 6-8 220 SF Duke Sr.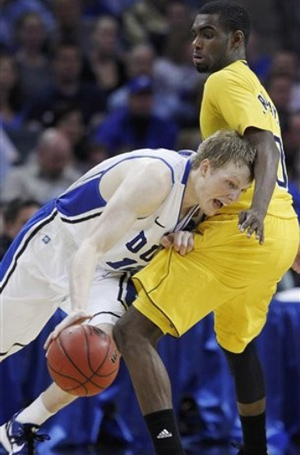 After last year's Duke championship, Singler was a first-round shoo-in, and some scouts even thought he could be a lottery pick. Fast forward a year and Singler finds himself in the precarious position of having the play his way into the first round.
The temptation to duplicate what Florida did a few years ago and win back-to-back titles, along with the prospect of incoming freshman Kyrie Irving joining the team, was enticing enough for Singler to come back. But there's something to be said for striking while the iron is hot.
Following a disappointing year in which his numbers dipped across the board (17.7 ppg to 16.9 ppg, 40 percent from 3-point range to 32 percent), critics seemed to have crawled out of the woodwork like never before. His first two rounds have been uninspiring, as he's averaged just 12 point on below 50-percent shooting in both games.
His inability to knock down the outside shot has been a serious concern. For a player without much speed and athleticism, being a quality shooter is essential.
The good news is that the Blue Devils are still very much alive and Singler will have a chance to resurrect his draft stock with strong performances the rest of the way.
Jeffery Taylor 6-7 220 SF Vanderbilt Jr.
Taylor's progression from athlete to player remains a work in progress. Scouts question his offensive skills and feel for the game and have him pegged as a second-round pick.
The junior wing showed solid improvement in his outside shot this season, hitting 39 3-pointers on the year (35 percent). But his 1-10 shooting performance in Vandy's first-round loss to Richmond displayed that he's still got considerable work to do before becoming a complete player.
Ben Hansbrough 6-3 190 PG/SG Notre Dame Sr.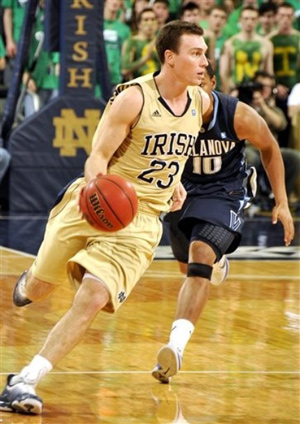 Tyler's little bro had an excellent season, leading Notre Dame to a No. 2 seed and winning Big East Player of the Year. Scouts love his toughness and everyone seems to be pulling for him to make it in the league.
But his shortcomings may be too great to overcome. He's more of a combo than a true point guard. As good of a decision maker as he is, his lack of speed and athleticism is glaring. Scouts wonder who he will guard, as he lacks the size to defend shooting guards and the quickness to stay in front of point guards.
Then again, Chris Quinn has miraculously had an NBA career. All it takes is one team to like you, and Hansbrough would certainly be a positive influence in a clubhouse. The general feeling, however, is that he will be able to contribute much more to a team in Europe than in the NBA.
Demetri McCamey 6-3 203 PG Illinois Sr.
McCamey hit a wall in mid January and was never able to fully rebound. He had been projected by some scouts as a possible late first rounder and drew some Deron Williams comparisons, due to his body type and school, but that's where the comparisons end. McCamey lacks the decision making, speed and talent to be in the same sentence with Deron.
He is an excellent outside shooter and has put up impressive assist/turnover numbers. He also possesses good size. But teams are down on him after a subpar second half of the year and his lack of speed.
Illinois first-round win over UNLV was a positive development, but his collapse against Kansas will make it difficult for him to climb any higher than where he was projected at season's end: in the mid-second round area to undrafted.