Based on the first two rounds of this year's NCAA tourney, it's official, this draft is monumentally bad, perhaps the worst of all time. Of our current 14 projected lottery picks, only 5 are still playing (in the tourney). And of the top 5 projected picks, all four (minus Noel) that played in the tourney have disappointed thus far (Ben McLemore, Marcus Smart, Otto Porter, and Anthony Bennett). The latter three all saw their teams upset in the first round with sub par individual performances, while McLemore managed to have the worst performance of them all shooting 0-9 with 2 points and found himself planted firmly on the bench after his shot abandoned him at the worst possible time. Yes, he's still projected to go #1 overall. Folks, introducing your 2013 NBA draft class….. Here are the movers and shakers after the first weekend of games.
Rising
Glenn Robinson III — We've been high on "Lil Big Dog" all season, keeping him as a late lottery pick despite lukewarm feedback from NBA scouts. He struggled with consistency and scoring in the second half of the year but exploded in the first weekend of the tourney with two outstanding performances. He averaged 17.5 points shooting a combined 15-of-19 from the floor in the two games, and adding 7.5 rebounds. In a draft without many sure bets, Robinson could grab a late lotto pick based on his potential. It would obviously be a benefit to his skillset to return, but with such a weak crop of talent, he stands a good chance to challenge for a lottery spot.
Kelly Olynyk — Despite the Zags struggling mightily in both games and bowing out to the 9th seed Shockers of Wichita State, Olynyk played well in both games solidifying his status in this year's draft. He averaged 23.5 pts and 9.5 boards, though his shooting numbers could have been better (a combined 16 of 37 – 43%). In another draft, Olynyk would be seen as a mid to late first rounder, but because of the dearth of talent, he has legitimate lottery potential. While he won't blow anyone away with his run/jump athleticism and has a very mediocre looking basketball body, he is a deceptive athlete. Scouts have noted his ability to defend the pick and roll and contest the notion that he lacks the requisite foot speed to be an effective NBA defender.
DeShaun Thomas — The guy they call "buckets" provided an abundance of them in the Buckeyes first two rounds of games with 24 and 22 against Iona and Iowa St. respectively. He moves like a creaky, 13 year veteran coming off his 3rd ACL injury, but that doesn't stop scouts from calling him a possible first rounder. His ability to create shots without much daylight makes him an intriguing prospect despite his physical limitations. The fact that he was a top 5 prospect in his high school class for much of his prep career doesn't hurt his chances either.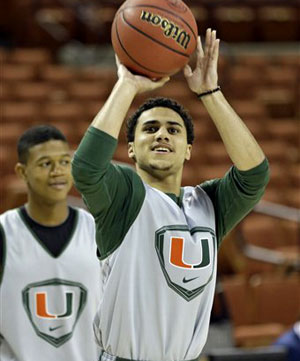 Shane Larkin — There are some rumors floating around that some top teams prefer Larkin to Trey Burke. Larkin is tiny, standing at 6′ and with a short wingspan. But he's a great leader having led the Hurricanes to a tremendous season. Some have questioned what the the difference is between Larkin and DJ Augustine? Augustine was taken 9th overall, which was obviously too high, but he's had some solid moments and could be a viable backup point going forward. Larkin shows some of the same leadership, quickness and scoring ability, abnd appears to be more athletic. In a bad draft, going with on a high character guy in the late 1st round who could eventually develop into a quality back up might not be such a bad option.
Vander Blue — Scouts are beginning to warm up to Blue as he's Marquette's top talent. The Golden Eagles avenged their Maui loss to Butler in which Rotnei Clark had his prayer answered on a last second heave. Blue is still seen as a four year guy but has moved into our 2nd round for 2014. He was strong in Maui but then had just an average regular season. His last second lay in to cap off an 8 point barrage, knocked out Davidson and showed that he's a clutch performer. Still he lacks size at the shooting guard position and figures to be a fringe NBA player, though his draft hopes have increased.
Andre Hollins — Minnesota's lead guard can put up points in a hurry when he's on. His 28 and 25 point efforts helped carry the Gophers in the the second round of the tourney. Detractors point to the fact that Hollins "got his coach fired" and that he's too much of a scorer and not a distributor. Blaming Tubby's firing on Hollins is obviously taking things too far, but he'll need to work hard on becoming a more under control facilitator in order to be a first rounder as he's projected, in the future. He apparently has no plans to enter, and will benefit with at least another season under his belt.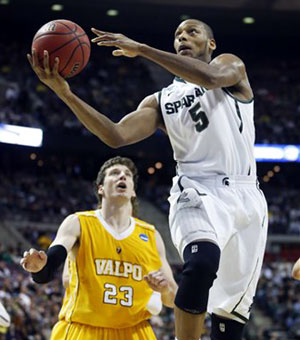 Adreian Payne — Payne has been steadily moving up our board for the past few months and has recently cracked the end of the first round. There are concerns about his motor and focus at times, but his development as an outside shooter combined with his NBA size and athleticism, has him on the rise. He's passed up two longtime first round mainstays in Tony Mitchell and Isaiah Austin in the most recent mock update.
Shaquille Thomas — A little known freshman, Thomas didn't put up huge stats or impact the game in a huge way with Cincy going down. But he had one monster dunk and displayed considerable athleticism leading up to that play. Thomas appears to be an excellent prospect for the future with a chance to develop into a first rounder in a few seasons.
Jeff Withey — Withey is picking up where he left off in last year's tournament where he set the all time tourney block record. So far the 23 year old senior has 12 more blocks to add to the pile that he racked up last year. Michigan is next up, and with each strong performance Withey further cements his chances to grab a late first round spot. Some may argue that Withey is a dinosaur with a skill set doesn't mesh with today's NBA. Will the shot blocking ability and post skills that he's developed translate to the league and allow him to be a long time back up center? Or is he just beating up on younger, smaller players?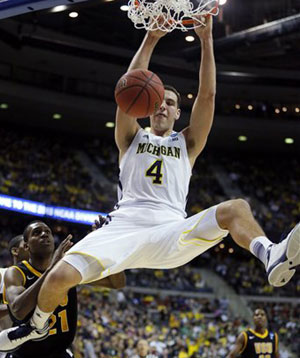 Mitch McGary — McGary has really turned it up in the tourney games showing that he may have deserved more playing time earlier in the year. He plays a very emotional brand of ball and when he turns up the aggressiveness, he's a handful. It's hard to imagine him maintaining the level of intensity he's currently exhibiting over an 40 game season, much less an 82 game one, but his ability to play at a high level when it really matters is encouraging. Scouts would like to see a little more consistency over the course of a season and are slow to pronounce him a surefire first rounder at this point. But should he play a big role in Michigan getting to the Final Four and beyond, anything is possible. McGary is a bit like a cross between Private Pyle from Full Metal Jacket and Bill Laimbeer As one scout put it, a lot of the great ones like Barkley seemed to intimidate people by convincing them they had a screw loose, and that's true for McGary.
CJ Leslie — Leslie's Wolfpack dropped their opening game by four to Temple, but Leslie delivered a solid performance going for 20 points on 8-12 shooting. Leslie is not a unanimous first rounder by any means, but all it takes is one team to like you as the saying goes, and his athleticism is top notch. Whether he can find a position and develop a skill set that will allow him to contribute is debatable, but it's looking more and more likely that he will find a late first round spot on draft night.
Travis Releford — Releford picked up the slack with Kansas' top gun Ben McLemore shrinking under the spotlight of the team's biggest game. His 22 points on 9-13 shooting were key in the team's win. Releford has improved upon his shot and brings toughness and intensity. But scouts still wonder if he's athletic and dynamic enough to make it in the league.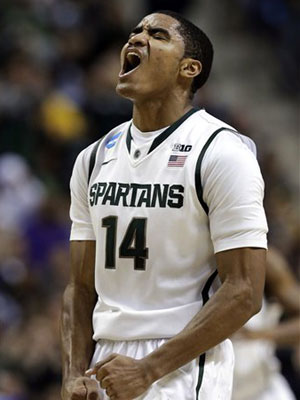 Gary Harris — Harris has filled the void that his backcourt mate Keith Appling's lack of confidence and productivity has created. His 23 points against Memphis showed that he's able to step up in big games. Harris is a little undersized at the SG position at 6'4 but shows a very smooth offensive game with solid decision making, good spot up shooting and also excellent speed. It's rare for Tom Izzo players to leave after just one season, with Zach Randolph being the lone exception, and even he had to battle Izzo to go pro. Harris would benefit with another season, but a deep run in the tourney (if MSU beats Duke and Louisville) could elevate Harris into position to leave early and be a late lotto pick.
Khalif Wyatt — Despite putting up two huge scoring performances in the tourney (31 points in each game), scouts remain skeptical about Wyatt's ability to be drafted or stick with an NBA team. He's got all the tricks in the book offensively to get shots off and is a tremendous ISO player. Unfortunately, at 6'4, his lack of athleticism is so glaring it will make it difficult for him to make plays in transition and be an effective defender. Wyatt came into Temple at 240 lbs and has worked hard to get down to 215 lbs. If he can further mold his body and increase his vertical some, he could snatch a late 2nd round spot in a down draft. Granted those spots in the 50s have become reserved almost solely for international players with at least 5 syllables in their names, in recent years.
DJ Stephens — Stephens is an absolute freak athlete and his 36% 3 point shooting on the season is an encouraging sign. He remains extremely raw as essentially a 6'5 power forward and is still a long shot to get drafted, despite showcasing some jaw dropping dunks in the Tiger's two tourney games.
Nerlens Noel — With Kentucky at home and Noel kicking back and watching the games in his cast or boot or whatever he has over his surgically repaired ACL, he is gaining momentum due to the horrendous play of all the other top 5 contenders.
Falling
Virtually any player listed in the top 10 on our mock could be listed here. Yep, it's a horrendous draft and the first weekend of the tourney just made a bunch of bad teams even more nauseous about this year's draft prospects.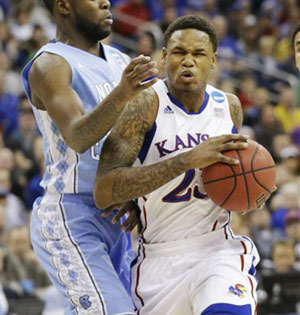 Ben McLemore — If McLemore was considered the likely #1 pick coming into the tourney, the disappearing act he performed in their second round match up with North Carolina made the battle for the top pick much closer. McLemore's shot and confidence went AWOL and he found himself on the bench in the second half of the most important game of the Jayhawks season. Known for his great outside shooting, McLemore is 0-8 so far from 3 point land in the tournament with 6 turnovers. On the bright side, McLemore's teammates Travis Releford and Jeff Withey picked up the slack vs UNC and Kansas is still alive, giving the freshman a chance at redemption. Also on the bright side, of all the candidates still playing, none of them gained much ground on him, and it's becoming clearer that Nerlens Noel is his greatest competition to go first. Good thing for Noel he has no way to get exposed any further.
James McAdoo — McAdoo came into the season as a projected top 5 pick. He sputtered out of the gate and after showing some improvement late in the year, ended with a fizzle in the tournament. McAdoo shot just 5-19 against Kansas, taking a ton of ill advised shots and generally crapping the proverbial bed. Scouts question what he actually brings to the table. Besides being a decent athlete who can score on garbage baskets off of rebounds, there isn't a whole lot of diversity to his game. Combine a lack of skill with a lack of focus and intensity and you have a player that could fall a long way in a very weak draft.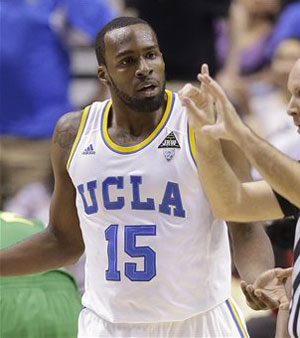 Shabazz Muhammad — On the eve of UCLA's first round game with Minnesota the bombshell broke that Shabazz is actually a year older (20 instead of 19) than had been reported, and that his father has been misleading people about him for quite some time now. Character is paramount for most (good) teams, and while Shabazz is his own man, his association with a person who's background has come under extreme scrutiny (his father Ron Holmes) will not help his cause. Muhammad's inability to average even an assist per game is also a major drawback for scouts. Shabazz did have 20 points in the Bruins opening round loss to Minnesota, but his 6-18 shooting and 0-6 from deep didn't help his cause.
Kyle Anderson — Muhammad's fellow hyped freshman also struggled in his lone tourney game shooting just 2-11 for 6 points, essentially squashing any hope he may have had about entering the draft this year. It's obvious he needs to work on his shot as slow PGs are not exactly thriving in the NBA right now.
Otto Porter — Porter and the Hoyas got run over by the juggernaut Cinderella known as Florida Gulf Coast. Porter really struggled shooting the ball, hitting just 5-17 for 13 points. The 2 seed Hoyas can feel a little better about themselves as they went down to the 15 seed Eagles who went on to become the first ever 15 seed to reach the sweet 16.
Mike Muscala — Got exposed a little for his lack of strength and toughness going against physical Butler bigman Andrew Smith. And while Smith isn't an NBA level player, he did cause problems for top 10 projected pick Cody Zeller. Muscala is fluid and highly skilled, he just needs to add strength and toughness in a bad way. Due to the fact that Bucknell plays such a soft schedule, making it more difficult to gauge Muscala's abilities, this was a damaging game for him. Regardless, a team in the 40s will probably take the gamble that they can toughen him up and eventually work him into the rotation.