Why the #1 seed will reach the Final Four
Behind a 30-4 campaign and 3rd consecutive ACC Tournament title, Duke earned their 12th #1 seed in school history. The 2010 champions will turn to their pair of sterling seniors for another deep tournament run. PG Nolan Smith (ACC POY) and SF Kyle Singler (2010 Tournament MOP) are the embodiment of postseason experience and have proven unflappable in the March pressure cooker. Both are ready, willing and able to take and make clutch shots. The Blue Devils are once again a sharpshooting bunch, converting on 47% from the field, 38% from the three-point line and 75% from the charity stripe. Seth Curry and Andre Dawkins are hired guns from deep, attempting 8 of their combined 12 shots from distance, and shooting 44% and 43% respectively. Duke will rely heavily on that perimeter accuracy, but taking care of the rock and fundamental defense will be required to earn a trip to Houston for the Final Four. For the first time since Shelden Williams, the Blue Devils have a shot blocking presence on the interior in Mason Plumlee to provide resistance at the rim.
Why the #1 seed will fall short
Granted, Duke assembled a tremendous resume without the services of prized freshman Kyrie Irving for the final 26 games. However, absence of a "true" playmaking point guard will be exposed against the nation's elite. Nolan Smith averaged 5 assists per game (3 turnovers), but is not a creator/penetrator that's going to make something out of nothing and get easy shots for teammates. Despite their high field goal percentage, the Blue Devils rely on high degree of difficulty shots to win games. They do an abundance of things well, but lack the premiere level of athlete or baseline presence that other clubs in this region can present. Unlike last season's cakewalk, the road in 2011 is a treacherous one with potential matchups against Tennessee in the round of 32, Texas/Arizona in the Sweet Sixteen and Connecticut/SDSU in the Elite Eight. If they advance out of the opening weekend, Duke will be forced to travel out west where support will be tempered slightly.
Best Non #1 Seed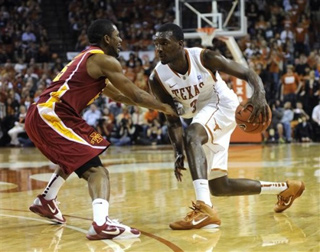 Less than a calendar month ago the Texas Longhorns stood at 23-3, winners of 11 straight and in solid position for a #1 seed. But in what his become a familiar script, Rick Barnes crew faded down the stretch posting a .500 mark over their final eight games (losses at Nebraska, at Colorado and vs. Kansas State in four-game stretch). With that being said, a 4 seed? Let's get real. There is no doubt they were dramatically underseeded by the committee and a deep run from this talent-laden squad would shock no one. Freshman point guard Cory Joseph is sound with the basketball (1.4 TO), Jordan Hamilton and J'Covan Brown are explosive scorers/shooters and Tristan Thompson and Gary Johnson on the interior, albeit undersized, are powerful and rugged performers. Texas allowed the opposition to shoot just 38% this season (T-4th in NCAA), and their athleticism and depth of frontcourt bodies will take center stage in March. They must shore up issues at the free throw line where they shoot 69% as a unit.
Final Four Sleeper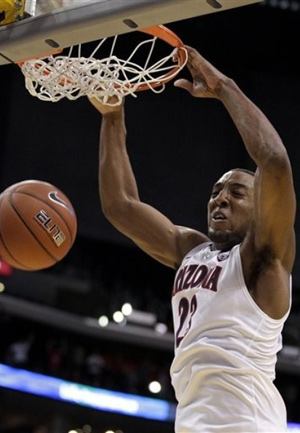 The Pac-10 gets no respect, but that doesn't make 5th seeded Arizona any less impressive. To use a popular phrase amongst the talking heads, the Wildcats pass the "eye test". Most teams that have a star of Derrick Williams' caliber tend to stand and watch the proceedings, but the Wildcats have one of the most efficient offenses in the country: 47% FG, 40% 3PT and 75% FT. They don't possess a true point guard in scorer Lamont Jones, but have playmakers and decision makers at unorthodox spots including point/forward Kevin Parrom and undersized post technician Solomon Hill. They go a solid 10-deep in their rotation with all playing 10+ minutes, and have 7 guys averaging 6+ points. While they can't withstand an off-shooting night from Williams, Arizona has the perfect complimentary parts to a player with his versatile skill set. DW's outside shooting stroke doesn't get mentioned often, but he's shooting 60% on one make per game. The path ahead is brutal, but with a National POY candidate, depth and a classy coach, they have the tools to get it done.

Sweet Sixteen Sleeper
You never quite know what to expect from the chaos driven Tigers. Away from the friendly confines of Columbia, Mizzou won just 1 of 9 games within Big 12 competition. They lost just a single home game (Kansas), however, and are capable of creating momentum in the blink of an eye. When allowed to inflict their style and pace on the opposition, there is no team in the country they can't scare, or beat, on a day where the cards fall perfectly. Mike Anderson's teams never have a shortage of athletes or depth, and that's certainly the case once again this year with five players scoring in double figures. The Tigers thrive on relentless pressure, forcing over 18 turnovers per game good for 5th in the NCAA. In a one and done setting, that pressure puts the onus on ballhandlers to keep their cool for 40 minutes in the most tense of environments. Another team vastly underseeded, Missouri has a realistic chance to wreck brackets.
Deep Sleeper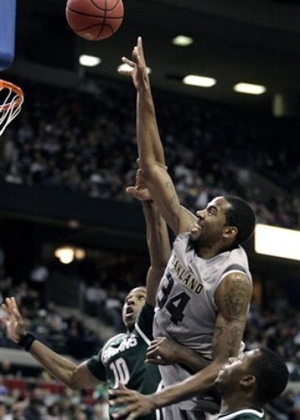 Unfortunately, the media has essentially removed Oakland's sleeper tag. The Grizzlies have established a winning culture in recent seasons under head coach Greg Kampe. Never afraid to schedule the big boys, they earned their mettle in the non-conference with a road win at Tennessee and one-point home loss vs. Michigan State. They also played road games at West Virginia, Purdue, Illinois, Michigan and Ohio State (all lopsided defeats). Oakland won 17 of 18 games in the Summit Conference and scored 100+ points in three of their last six games. On the season they're ranked 2nd in the nation in scoring at nearly 86 per contest. PF-C Keith Benson (18 points & 10 rebounds) gets most of the accolades, and rightfully so given his NBA potential and skilled repertoire, but the Grizzlies have excellent inside/outside balance. They have five regulars shooting above 45% from distance. It must be noted that defense is not a strength (77 PPG allowed) and the matchup against Texas' stingy D is far from optimal.
Top 1st Round Matchup
#6 Cincinnati versus #1 Missouri
Contrasting styles will be the name of the game in this Big East/Big Twelve clash. Cincinnati is masterful at limiting overall game possessions (59 PPG allowed), while Missouri wants to force a frenetic pace and take quick shots. The Bearcats have experience and depth at the guard spots to withstand the heat (11.6 TO), but they must keep their heads and avoid the temptation to speed up. Controlling the backboards should also play a key role in the final outcome. The Bearcats are stellar on the glass with a +4.7 rebounding margin against the Tigers unsatisfactory -1.9 margin. Ricardo Ratliffe is the only Missouri regular over 240 pounds (Steve Moore 6'9 270, 11 minutes). Slowing center Yancy Gates will be a trying task, albeit, he often fails to utilize his size and strength, double clutching and drifting away from the bucket rather than overpowering smaller opposition. Offensively, Cincinnati doesn't get easy points in the half-court and is prone to settle for three-pointers in late clock situations. Missouri has more playmakers on the perimeter that can salvage a broken set and make something out of nothing i.e. Marcus Denmon and Michael Dixon.
Top Potential Matchup
#3 Connecticut versus #4 Texas
Big East/Big Twelve part II, this time a rematch of the January 8th overtime battle in Austin. The Huskies prevailed in that encounter on a Kemba Walker jumper in the waning moments. The glass was dominated by Connecticut to the tune of 48-38 (20-11 offensive) and Alex Oriakhi grabbed a career-high 21-boards. As we enter the tournament, these are two teams heading in opposite directions. The youthful Huskies are peaking, winning five straight games at MSG to clinch the Big East Tournament title. The Longhorns reached the Big Twelve Championship (wins over Oklahoma and Texas A&M) where they were thoroughly outclassed by Kansas from the jump. Their current level is a far cry from optimum capacity. Both teams defend hard, play a physical style, struggle at times in the half court offense and have rotations dominated by underclassmen. Connecticut has four freshmen and two sophomores in their top seven, while Texas has two freshmen and two sophomores in their top six. Dogus Balbay and Cory Joseph limited Walker to 8-27 and 4 turnovers in the initial meeting. Can they hold him down again? Jeremy Lamb will need to continue his inspired play, both on O as the second scoring option, and defensively against the explosive Jordan Hamilton.
Top Player Matchup
Derrick Williams versus Tarik Black
This first round affair pits the all-around genius of Williams versus the post-fixated freshman. At 250+ pounds, Black works hard for deep position and is a load to handle down low. However, consistent foul trouble has limited his effectiveness and ability to remain on the floor. Attempting to guard DW certainly won't alleviate foul concerns. With an unnaturally quick first step for a 6'8 240 pounder, quick leaping ability and range, Williams is next to impossible to contain one on one. The Memphis shooters need to make Arizona respect the three-point line early, or Black will be afforded little room to operate.
Top Potential Player Matchup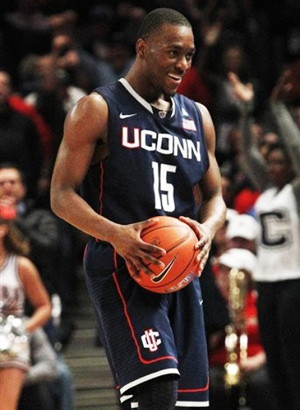 Nolan Smith versus Kemba Walker
The "solid" Smith and "flashy" Walker go about their business in polar opposite fashion, but both lead guards have "stirred the drink" for their respective teams and are perhaps 1-2 for National POY. The stat lines bear significant resemblance as well: Smith 21 points/5 rebounds/5 assists, and Walker 24 points/5 rebounds/4 assists. Smith, who entered the Duke program with a reputation as a tenacious on-ball defender, will have his work cut out against the explosive, ankle-breaking "Cardiac Kemba". Smith doesn't possess the same athletic gifts, but he knows how to get open and find his comfort spots on the court. They're highly effective in their own unique ways.
Top Coach
Sean Miller, Arizona
The 41-year old Miller has done nothing but compile victories. Prior to taking the job in Tucson, he led Xavier to the dance four consecutive times, including two trips to the Sweet Sixteen. After breaking in an entirely new roster last season (16 wins), Miller has transformed Arizona into a 27-win club and Pac Ten regular season champion. Most importantly, he has tournament experience and knows what it takes to win close games in March. The Wildcats play the epitome of team basketball under the former Pittsburgh point guard.
Sleeper Coach
Ed DeChellis, Penn State
For the first time since taking over the program in 2003 DeChellis has led the Nittany Lions to the NCAA Tournament. A strong final surge and trip to the conference title game ensured an extended season for the 2008-2009 Big Ten Coach of the Year. Make no mistake, this Penn State team is shorthanded (all five starters 30+ minutes) and DeChellis has done a wonderful job putting the pieces in place and establishing a winning culture. Oh yeah, having shot maker extraordinaire Talor Battle doesn't hurt either. The Lions last cracked the field in 2001, when they were also a #10 seed, and reached the Sweet Sixteen.
Top Five NBA Prospects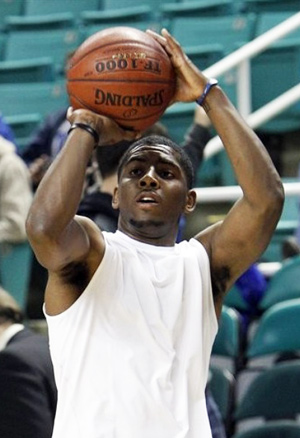 1. Derrick Williams, Arizona – Williams has incorporated the full repertoire in his sophomore campaign. Face up skills are now a strength, and he continues to extend the range on his jumper. Combines power and quickness like no other prospect in the country. EXPLOSIVE and impossible to keep off the foul line.
2. Kyrie Irving, Duke – Will he or won't he? Irving has practiced lightly and there is hope that we'll see him take the floor for the Blue Devils in the tourney. Has the ball on a string. Extremely creative facilitator and playmaker, capable of getting high percentage shots both for himself and others. Displays deceptive strength finishing amongst the trees.
3. Kawhi Leonard, San Diego State – Leonard doesn't possess a traditional game by any means. He's a hybrid forward with freakish length, huge hands, quick leaping ability and a strong handle. Makes most of his bread on the offensive glass and utilizes mid-range, pull-up jumpers to elevate over defenders. Still a work in progress. Outside of rebounding (and defensive versatility) doesn't boast a specialized skill.
4. Tristan Thompson, Texas – Powerfully built lefty with excellent athleticism. In tandem with his ability to overpower opponents on the low block, his post skills continue to advance. Gets to the free throw line with great frequency, but can't covert. Explosive leaper, making him a force on both backboards and swatting shots. Runs like a guard.
5. Kemba Walker, UConn – Walker began and ended the season on fire carrying the Huskies to dramatic wins and capturing the preseason Maui Invitational as well as the Big East tournament. Walker is a fantastic closer with ice water running through his veins. A stone cold killer who opponents do not want to see with the ball in his hands in a close game.
Breakout Player
Ramone Moore, Temple
Moore has taken massive strides in each of his three years at Temple. This season he became the Owls leading scorer and go-to offensive weapon, dangerous inside, outside and in the mid-range. He does everything well: 15 points, 39% from three, 79% from the FT line, 4 rebounds, 3 assists and a steal. He scored 30 points versus Georgetown back in December and is capable of monster efforts. Temple has played at a faster pace in 2010-2011, which has suited Moore's game to a tee. He will have a marked size advantage against Penn State's backcourt in the round of 64.
Best player with limited NBA potential
Marcus Denmon, Missouri
Denmon is the Tigers leading scorer by a healthy margin (17 PPG). Unlike his first two seasons, he's been remarkably efficient shooting 51% from the floor and 46% from distance. He'll never be mistaken for a pure shooter, but he hunts points, excels in transition and finds a way to put the ball in the bucket. Denmon is also Missouri's top perimeter defender. Nevertheless, at 6'3 with limited point guard attributes (1.7 AST), his future at the NBA level is murky to say the least.