You would think that a region with eight conference champions, three legendary coaches and a Big East player of the Year would be considered the top region in the tournament. Not true. In fact, it's the exact opposite. The South region is clearly the weakest region in the 2010 NCAA Tournament. That being said, there are a number of teams who could legitimately make a run to Indianapolis from this region.
And not to beat a dead horse, but this isn't the region where you are going to find many NBA scouts either.  Barring an unprecedented performance by someone in the region, there are no lottery picks in this region and probably only one or two first round draft picks.
But it's March, and we are always surprised at this time of the year. So let's take a look at who might make a name for themselves and who might disappoint in the next couple weeks or so:
Why the No. 1 seed will make the Final Four:
Because this isn't the same Duke team that we've seen the last five or six years. They have a three-headed monster that averages a combined 53.5 points per game. There are very few teams that will be able to match-up with all three stars (Kyle Singler, Jon Scheyer, Nolan Smith). On top of all that, the Dukies are playing their best ball at the right time, winning 12 of their last 13 contests. Coach Mike Krzyzewski's team is huge across the front line. Their starting frontcourt consists of 6-foot-9 Singler, 6-8 Lance Thomas, and 7-1 Brian Zoubek. They don't lose anything when they go to the bench, using the Plumlee brothers, Mason and Miles, who are both 6-10 and the most athletic of the Blue Devil bunch. Duke led the ACC in rebounding margin at 5.9 more rebounds every game, and that was the core of their success.
Why the No. 1 seed with fall short:
Because this is the same Duke team that we've seen the past five or siix years. Two of their top stars have gone through some really cold stretches this year. Scheyer is only shooting at 40.1% from the field throughout the season, and Singler is not too much better at 41.0%. If either go into one of their shooting slumps, it could doom the Blue Devils early in the tournament. Critics are most concerned with the Blue Devils lack of athleticism, as always. The Blue Devils have a really hard time staying in front of opponents. In their worst performance of the yea,r they had their weaknesses exposed when they visited Georgetown late in January. The Georgetown perimeter players had a field day, doing whatever they wanted on the court. Georgetown's starting perimeter players shot an incredible 20 for 25 from the field and scored a combined 50 points. The Blue Devils will be going home early if their defense allows a performance like that again.
Best Non #1 Seed:
Villanova gets the edge here because of their experience.  The Wildcats made a run to the Final Four last year and returned many key pieces,. Yes, they lost Dante Cunningham and Dwayne Anderson, who both graduated, and now they lack a dominant big man, but they are still extremely quick in the backcourt and Scottie Reynolds may be the top 'gamer' in the tournament.
Final Four Sleeper:
If Louisville can get past Duke in the second round, then they have as good of shot as any team in the South to get to the Final Four. Rick Pitino's crew played in the grueling Big East, so seeing Duke certainly won't shock them.  They beat another #1 seed (Syracuse) twice this year, and Edgar Sosa is playing the best ball of his career. He was amazing in a loss to Cincinnati in the Big East tournament, hitting his first five 3-pointers. Samardo Samuels, who averages15.3 ppg, would bang with some of Duke's big men as well.

Sweet Sixteen Sleeper:
Siena has won its first round match-up in the last two years. This may be the year the Saints go even further. Small schools were hoping to draw Purdue because of the loss of star Robbie Hummel, so when Siena did matchup with them, they had to be excited. A matchup with Texas A&M in the 2nd round would be challenging, but this team is experienced at this point, and the Saints are expecting to make a run in the tourney.
Top First Round Matchup:
The most interesting game will be the 6th seed Notre Dame vs. 11th seed Old Dominion.  A few weeks ago, Notre Dame was on the wrong side of the bubble. The Fighting Irish made a late season run without their star Luke Harangody. After they slowly worked him back into the mix, they made a run to the Big East semifinals, losing to eventual champ West Virginia by two. Meanwhile, Old Dominion has been solid all year. They beat the only Big East team they saw, a win at Georgetown, and had control of the Colonial Athletic from wire to wire. Gerald Lee is a 6-foot-10 matchup problem who should challenge whichever Irish play draws his assignment.
Top Potential Matchup
If Villanova and Baylor meet up in the Sweet 16, it would be one of the more exciting games in the tournament to watch. Both teams are extremely quick and led by veteran backcourts. Scottie Reynolds and Corey Fisher vs. Tweety Carter and LaceDarius Dunn would be special to watch with all the 3s being launched and each attacking the rim. In the front court, the Bears may actually have an edge, with Ekpe Udoh starring on a unit that also features former highly regarded recruits Anthony Jones and Josh Lomers.
Top Potential Players Matchup
Should they wind up going at each other, Texas A&M's Donald Sloan and Purdue's E'twaun Moore are both veteran combo guards with high-rate scoring ability. They're also two of the least talked-about stars in the entire country. Sloan averages 18.2 points per game, nearly eight points more than the Aggies' second best scorer, Brian Davis. Moore's burden of a team-high 16.6 ppg will likely increase with Hummel gone.
Top Coach
This should go to a Hall of Famer in either Coach K or Rick Pitino, or at least Cal's Mike Montgomery. But, in a what-have-you-done-lately world, the top coach is going to Villanova's Jay Wright. He runs a unique small-ball system and had his team in the Final Four last year. His current Wildcat team was ranked in the top 10 all season and is extremely experienced. Wright has proven he has the moxie to compete. He just doesn't have a ring.
Top 5 Prospects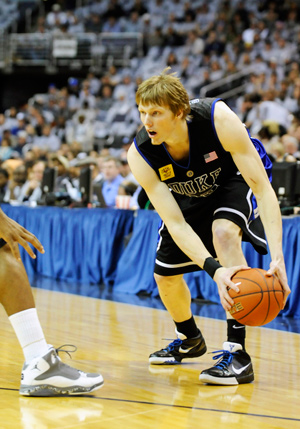 1. Ekpe Udoh, Baylor: He's a shot blocking machine. The long forward had seven in a win at Oklahoma, nine vs. Texas Tech, and eight at Arkansas. He averaged 3.9 blocks on the year. He's also finishing (13.9 ppg) and rebounding (9.8 rpg) at a high level. Combine that with his 6-10, 240-pound frame, and he's got NBA scouts very intrigued.
2. class="text">Kyle Singler, Duke: The two-time all-ACC first teamer can really score. When he's hot outside, as he has has been recently, Singler is tough to stop. He hit five 3s against Miami in the ACC semifinal.  Earlier in the year he was 8 for 10 from deep in a 20 points win over Georgia Tech. His main problem with scouts will be on the defensive end. He will have to play small forward in the NBA and will struggle trying to stay in front of quicker and more athletic players.
3. class="text">Corey Fisher, Villanova: may not be the emotional leader of the team playing alongside senior guard Scottie Reynolds, but in terms of the NBA radar he is up a little higher on the board. Scouts are in love with his quickness and ability to get to the basket. He is a little small at only 6-1, but he will probably stay another year at Villanova and show he can run his own team, likely making himself a first round pick.
4.  class="text">LaceDarius Dunn, Baylor: The gunner combo guard likes to shoot the 3. He's thrown up as many as 16 in a game this year and hit as many as 7 once, and six 2 other times. The biggest problem for Dunn is a lack of exposure. He doesn't play for a perennial powerhouse, so perhaps no one's tournament run is more important in terms of NBA potential. He has good size (6'4) for a guard and is only a junior. Next season, with Tweety Carter gone, he'll be able to play more point guard, which is the next step for him.
5. class="text">Luke Harangody, Notre Dame: The big man has been on the discussion boards of NBA websites for about three years now. Everyone has different opinions on whether Harangody's game will translate well into the NBA or not. He has expanded his game and developed a decent outside shot while in college, but he's still mostly a power player who will struggle with length and athleticism deficiencies at the NBA level. Still, he's had one of the all-time most productive four year runs.
Best Player with Limited NBA Potential
Duke's Jon Scheyer is too thin, too awkward and too much of a combo guard to really make a major impact at the NBA level. He's struggled quite a bit against stronger opponents, and everyone will be stronger than him, should he even get a chance in the NBA. But he's a very smart decision maker and a knockdown shooter who was a unanimous all-ACC first teamer for a reason.