Why the No. 1 seed will reach the Final Four
Ohio State has been the best team in the country all season. The Buckeyes have lost just two games, each a road game against an elite Big Ten team (Wisconsin and Purdue). They were the easy choice for the top overall seed in the tournament, and may have earned that honor even had they not won the Big Ten Tournament fairly convincingly. Ohio State has seven players (including reserves Aaron Kraft and Deshaun Thomas) who would make for high-quality starters on any team in the country. Jared Sullinger is the nation's most dominant big man, and veteran wings David Lighty, William Buford and Jon Diebler are veteran defenders, shooters and creators. Factor in coach Thad Matta's defensive and offensive systems, both among the nation's most efficient, and it would be difficult to argue there is a better, more complete team. Why will Ohio State reach the Final Four? Because no other team is better.
Why the No. 1 seed will fall short
With that said, the Buckeyes were given a difficult path to Houston. Even starting in Round 2, Ohio State will face either George Mason, once possessor of the nation's longest winning streak, or Villanova, a team which started the season ranked in the Top 10 and has as good a backcourt as any team in the country (possible exception: Duke). From their, Ohio State will likely face either SEC champion Kentucky, which should have earned a No. 3 seed but was dropped to No. 4, or West Virginia, the fifth seed and a team that made last season's Final Four. On the other side of the bracket are No. 2 North Carolina, one of the nation's hottest teams, No. 3 Syracuse, which has gelled since an ugly midseason stretch, No. 6 Xavier, a team with an undeniable grudge against its in-state rival Buckeyes from years past, or No. 7 Washington, which was criminally underseeeded after winning the Pac-10. Ohio State is better than each of these teams individually, but if the Buckeyes are worn down by the time they reach the Sweet 16 or Elite Eight, it may spell trouble for a team that only goes seven deep.
Best non-No. 1 seed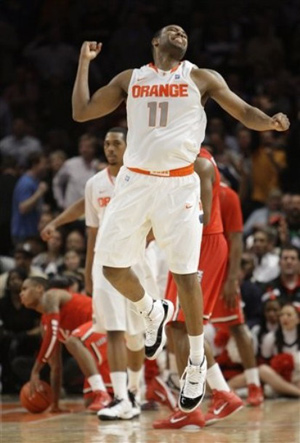 Syracuse started the season 18-0 against what was perceived to be a largely inferior schedule. The truth: Five of those wins came against Michigan, Michigan State, Notre Dame, St. John's and Cincinnati, all NCAA Tournament teams. The Orange then entered a complete downward spiral midseason, losing six-of-eight games to fall to a more pedestrian 20-6. It should, then, be noted that stretch included Pittsburgh, Villanova, Marquette, Connecticut (which the Orange beat), Georgetown and Louisville. It should also be noted that Syracuse has since lost just once (to Connecticut in overtime in the Big East Tournament) since, and an athletic mix of youth and experience should make the Orange one of the most dangerous teams in the tournament. This team has the quality wins and quality players and quality system (Jim Boeheim's zone defense is as good as it gets) necessary to make a deep run that could include a knockout blow to Ohio State.
Final Four sleeper
Kentucky is not as talented as it was last year. There can be no argument against that point: This team has no John Wall or DeMarcus Cousins. But the Wildcats appear to be playing more cohesively at this point in the season than John Calipari's 2010 team was entering the NCAA Tournament. For one, the SEC was significantly better this season than last. And the Wildcats dominated their way through the league tournament without any real issues. Terrence Jones has been criticized publicly, but he can take over a game at any time. Brandon Knight, though not as talented as Jones, seems the more likely tournament star. Knight has shown a penchant for big games and big wins throughout his career, and he matches up favorably with other point guards in this region. Ohio State and North Carolina use freshman at the position, while West Virginia and Syracuse don't have a point guard to match up against Knight's size and athleticism. Kentucky has won eight of its last nine games, and this could be the Calipari Final Four run that actually stays in the record books.
Sweet 16 sleeper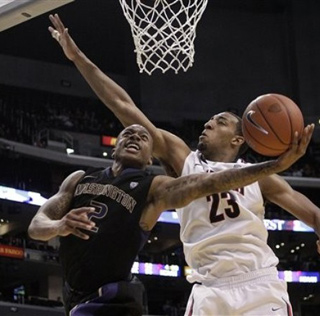 My colleague, Adam Ganeles, pointed out the lack of respect given to Pac-10 teams this year. Washington provides an even better example than Arizona. With guard Isaiah Thomas in the fold, anything is possible. He's hit the same type of big shots that have defined Kemba Walker and Jimmer Fredette. The Huskies also boast sturdy, energetic rebounder Matthew Bryan-Amaning, who will want to make up for his 2-of-7 choke job against West Virginia in last year's Sweet 16. The Huskies are incredibly deep, boasting a 10-man rotation loaded with unique players who fit perfectly into their roles, and coach Lorenzo Romar is just now beginning to figure out how best to use his talent. Efficiency rankings hold Washington in high regard because, when the Huskies are on their game, they are very difficult to beat. They're playing well right now, and with this low seeding, the Pac-10 champs have a chip on their shoulder.
Deep sleeper
Marquette is one of those battle-tested Big East teams that has taken its lumps and grinded for every chance it's been able to get. Jimmy Butler, Darius Johnson-Odom and the Golden Eagles would be easy to overlook for Xavier, an experienced team that rarely loses. Marquette, after all, has an ugly 20-14 record and many years would have been passed over for a bid to the dance. Overlook Buzz Williams and you might get trapped, though. The longtime assistant coach knows the ins and outs of the game and the NCAA Tournament, and he would love to weasel his way into a Sweet 16 under the radar.
Top first-round matchup
No. 8 George Mason vs. No. 9 Villanova
Who would you rather face: the 2006 Final Four team that closed the regular season with the longest active winning streak in the country, or the 2008 Final Four team that was ranked in the top 10 preseason and for much of the early going but failed to click in Big East play? This is one of those games where your paper bracket starts to wear thin because of all the erasing you do. In the end, one of these teams will likely give Ohio State a tough fight beefore bowing out in the second round. But as a first-round game, there aren't many better.
Top potential matchup
No. 4 Kentucky vs. No. 5 West Virginia
We don't have to wait very long for a wonderful Elite Eight rematch. These two teams played a thrilling game last season in the regional finals, with West Virginia gritting it out thanks to physical play and a national understanding that two of the most disliked coaches in the country, Bob Huggins and John Calipari, also happened to dislike each other. The coaching matchup along makes this second-round game appealling, as does the revenge aspect, even if both teams are very, very different.
Top first-round player matchup
Trey Thompkins vs. Matthew Bryan-Amaning
What Amaning, the Washington senior, lacks in size, he makes up for in effort and athleticism. Thompkins, though, lacks nothing in the size department. The 6-foot-10 power forward is a monster inside who can also take defenders out to the wing and make slick 3-pointers. But those abilities sometimes lead Thompkins away from the rim, where he can be truly special. Amaning could frustrate Thompkins, a potential lottery pick, which would spell doom for Georgia.
Top potential player matchup

Harrison Barnes vs. Jared Sullinger
OK, I'm cheating a little here. The two likely top-five picks won't guard each other, but this is the matchup we want to see between the two best freshmen in the country. Barnes, a preseason all-American, struggled in the early season but has averaged more than 19 points a game since late January. Sullinger, for the most part the only freshman anyone dared to rank ahead of Barnes, was dominant all season but has tapered off into a more regular role lately. So who's the best?
Top five NBA prospects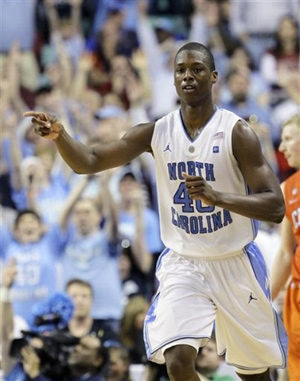 1. Harrison Barnes, North Carolina – His play lately has been that of the No. 1 overall pick he was supposed to be. Barnes can do everything, but he's learning that doesn't mean he should try to do everything. At his best, Barnes is a silky smooth scoring wing who can handle and pass and rebound. At his worst, he tends to become invisible except for missed jumpers. The last few months, he's been at his absolute best.
2. Jared Sullinger, Ohio State – Concerns remain about Sullinger's longterm potential. They shouldn't. You like Kevin Love, NBA? Sullinger can do just about everything Love does, except he's more athletic and agile. He's also a better and more intelligent defender who rarely fouls. Sullinger may never be Karl Malone, but he's got the look of an excellent player for a long time.
3. Terrence Jones, Kentucky – John Calipari called his best player a "selfish [explitive]" recently. Which is fine – Calipari's a motivator, after all. Jones started the year with a bang, drawing comparisons to Lamar Odom at his best. Now, he's drawing comparisons to Lamar Odom as a space cadet. And while his focus is questionable, his skill set isn't. Jones can rebound and score and handle and, when he feels in the mood, pass at an elite level for a 6-foot-9 forward.
4. Brandon Knight, Kentucky – As mentioned earlier, Knight is a winner. He's hit big shots before, and he never backs down from a fight – on the court, not off, unlike at least one other recent Wildcat freshman star. Is Knight a point guard? Perhaps not in the Chris Paul sense, but he is a capable ball handler and not overly selfish.
5. Maalik Wayns, Villanova – With the ball in his hands, Wayns may be the fastest player in the country. He has a tendency to play out of control, which has led to Corey Fisher running the point at times for the Wildcats, but if Jay Wright wants to beat Ohio State, he'll have to put all his chips on the table. Wayns may be a year or two away from the NBA, but he's the most talented player on his team and one of the most talented point guards in the country.
Breakout star
Kris Joseph is at the heart of Syracuse's offense. The Canadian forward is very athletic and a natural slasher. If he stays away from floating aimlessly on the perimeter, Syracuse's chances of a Final Four berth – the one that seemed theirs last year as a No. 1 seed – are significantly enhanced. When Joseph, Scoop Jardine and Rick Jackson are connecting, the Orange are very tough to beat.
Best player with limited NBA potential
Isaiah Thomas will go overseas and make a nice living. But the Washington star is 5-10 and more of a shooting guard than point, meaning he's probably never going to crack an NBA lineup. Still, Thomas can take over a game, as was evident in the Pac-10 championship, when he hit a game-winning 3-pointer to beat Arizona and finished with 28 points on 10-of-16 shooting along with seven assists.