The NBPA Top 100 featured high-level prospects in the 2018 and 2019 classes, even one from 2020, Hunter Dickinson. It's one of the few camps not put on by a shoe company and gives players opportunities to learn about success on the court (skill development) and off the court (coaching and broadcasting seminars). Some of the coaches were Rajon Rondo, Luke Zeller, Beno Udrih, among others. The co-MVPs of the camp were Keldon Johnson and Simi Shittu.
Keldon Johnson 6'6 210 SG – 2018
Johnson obviously had an impressive showing to earn MVP, showing instincts as a scorer as well as making quick decisions on the fly. He showed impressive athleticism in the open floor with numerous jams and half court scoring ability. His passing was solid, attacking the middle of the floor and kicking to the open man wherever the help defender was leaving their assignment. After a slow first day, averaging six points in the first two games, Johnson would follow up with a 22-point performance and wouldn't score in the single digits for the rest of the camp. He only shot 3-14 (21.4%) from three and still was second in scoring with 16.9 points per game. He was very reliable at the free throw line shooting 42-48 (87.5%), including 14-15 in a single game.
Simi Shittu 6'10 225 PF – 2018
Shittu was great, leading the camp in scoring and rebounding with 18.1 and 7.7 per game respectively. His shooting remains a concern but he was very accurate within his comfortable scoring range with a field goal percentage of 58.3%. He was great in transition, leading and finishing breaks, showing value in being able to grab a defensive rebound and go with it into instant offense. He had a play where he threw the ball up the court while spinning to Cassius Stanley for a jam that left everyone scratching their head on how he made the pass work out. He showed good footwork around the rim and played bully ball with his strength to finish in traffic. He does however, tend to lose the ball in traffic at times. Shittu played well on defense with ability to guard multiple positions, placing fourth in steals with 1.6 per game.
Jahvon Quinerly 6'1 165 PG – 2018
Quinerly might be undersized but is one of the top point guard prospects. He's very quick and has ball on the string handling ability. He keeps his dribble going under pressure, never picking it up too early. He's shifty and creative with the ball, getting to the rim scoring with acrobatic finishes. Aside from going 0-6 one game, he shot very well from three at 40%, showing ability to shoot off the dribble. In addition to his scoring, he provides the ideal point guard traits you would want in his passing/playmaking but did turn the ball over at a high rate with 2.8 per game, which was second most in the camp. Quinerly averaged 13.3 points, 3.5 rebounds, 3.7 assists, and 1.5 steals per game.
Coby White 6'5 185 PG/SG – 2018 (North Carolina)
White brought his pure scoring ability, not hesitating from three and getting to the rim finishing with either hand at different angles. He can put the ball on the floor and score from anywhere within the half court, with a 13.5 scoring average. He doesn't bring much offensively outside of scoring only recording five assists in four games.
Jules Bernard 6'7 198 SG – 2018
Bernard had a good week and was consistent scoring the ball with a 13.4 average. He can put the ball on the floor and get to the rim. He plays under control, never rushed, and doesn't over dribble. He shows solid instincts and passed well at times but finished with a 2/3 assist to turnover ratio. His shooting was also hit and miss; sometimes he would look smooth knocking down an open look, others he would miss by a wide margin on a similar shot.
Cole Anthony 6'3 175 PG – 2019
It's been a year since I last saw Anthony play. He's looking much more explosive; knifing through the defense and gliding to the rim finishing dunks with either hand. He had one of the plays of the camp with a left-handed poster dunk on a defender. He didn't shoot well at all from long range, only made one three-pointer over the course of the camp on 15 attempts (6.7%). He does have a solid midrange pull up and is accurate around the basket. He shot 90.9% from the free throw line making 30 of his 33 attempts. Last year I viewed Anthony as more of a score first guard but he's developed his point guard skills and passing a fourth best 4.2 assists per game while still impressing with as a scorer with 13.5 points per game. Anthony's best game consisted of 19 points, six rebounds, nine assists, and only one turnover.
Ashton Hagans 6'4 190 PG – 2019
Hagans didn't stand out as a scorer with only 5.6 points per game but led the camp in assists with 5.9 per game. He does tend to hunt for opportunities to find assists and doesn't show much confidence in his outside shot missing his only three attempts from behind the arc. His defense didn't go unnoticed as he showed consistent intensity and pressure, leading the camp with 2.1 steals per game, including five in a single game. He shot a reliable 83.3% from the free throw line but must extend his range moving forward. Hagans best game included 14 points, 11 assists, and only one turnover.
Cassius Stanley 6'6 192 SG/PG – 2019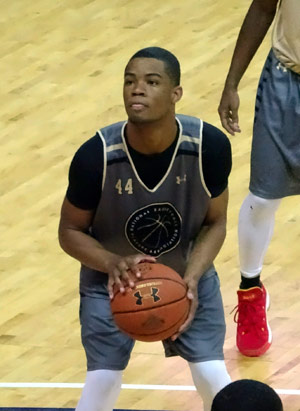 Anyone who has heard the name Cassius Stanley over the past few years, knows how tremendous of an athlete he is. His point guard skills and decision making are developing as he finished with a 4/1 assist to turnover ratio, with only three turnovers over seven games. His defense has improved and it can be one of his strengths when he eventually plays at a higher level. His outside shooting is the next step in his development as he went 3-16 (18.8%.)
Armando Bacot 6'10 235 PF – 2019
Bacot did his damage on the low block, with good touch and a jump hook within close. He had two double-double games and a 22 point/nine rebound performance. He finished with 11.2 points and tied Simi Shittu to lead the event in rebounds with a 7.7 average while shooting 55.8% from the floor. Extending his range will benefit him moving forward and didn't shoot well from the foul line at 58.3%. With good mobility and skillset, Bacot can have a bright future in this game.
Devon Dotson 6'2 180 PG – 2018
Dotson was impressive on both ends of the floor. With speed, awareness, and intense on ball pressure he placed third in the camp with two steals per game. He has a good balance of scoring and distributing, averaging an impressive 12.4 points, 3.4 rebounds, and 4.3 (3rd) assists per game. Many of his points came from his ability to penetrate off the dribble, using his quick first step, getting to the rim with impressive athleticism sometimes finishing with a jam, shooting 50.8% from the field. He does need to improve as a three-point shooter making only two of his 16 attempts (12.5%), which is a must as a 6'2 guard. He did show tremendous reliability from the free throw line making 21 of his 22 attempts. Overall, he played with great efficiency recording 30 total assists to only six turnovers. Dotson's standout game was his final with 22 points, five rebounds, nine assists, four steals, and only one turnover.
Javonte Smart 6'4 185 PG – 2018
Smart averaged 10.5 points, 3.3 rebounds, and three assists per game. As usual, he was impressive on and off the ball while scoring and distributing. He penetrates naturally and takes what the defense gives him. Adding consistency to his outside shooting would add to his offensive arsenal.
Anfernee Simons 6'4 180 PG/SG – 2018 (Louisville)
Other than the three-point 0-7 shooting game, Simons had a pretty consistent week averaging 11.6 points per game. He shot well from outside at 41.7%, shooting off the catch and dribble, and made all 11 of his free throws. He's been known as a combo guard and he did show some court vision but had 12 assists to 13 turnovers. Simons used his speed to beat the defense and scored well from midrange.
John Newman 6'5 192 SG/SF – 2018 (Clemson)
Newman played with intensity on both ends. It seemed like he made something happen every time he had the ball. His length stands out and he consistently plays pressure defense. He caused an eight second back court call by simply harassing the ball handler. On offense, he utilized the dribble drive and shot well 55% from the floor and 53.3% from three. He attacked the defense, getting to the rim and drawing numerous fouls. Newman averaged 11.5 points, 2.7 rebounds, and 2.3 assists per game.
Ayo Dosunmu 6'5 177 PG – 2018
Dosunmu was very good off the dribble and slashing to get wherever he wanted. He got all the way to the rim and finished with floaters when appropriate. He's a strong ball handler and isn't fazed by tight defense. Although he did shoot 50% from three, his shot is low and he shoots it too quick, before getting set. He only shot 55.6% on free throws. Cutting down the turnovers and playing more of a point guard role would benefit Dosunmu long term, recording 13 assists to 12 turnovers in seven games.
AJ Reeves 6'6 195 SG – 2018 (Providence)
Reeves started with a three-point game but would follow up with a few 20+ point performances to bring his average up to 13.5 points per game. He shoots very well from the floor and knows how to get to his spots. He has a midrange scoring arsenal and shot well from three at 40.7%. He's got good athleticism that he doesn't rely on but knows how to use it in games, including a poster dunk on Simi Shittu.
Darius Bazley 6'9 195 PF – 2018
Bazley has big-time potential and much room to improve. With tremendous length and athleticism, he shows great potential as a defender and some variety to his scoring, getting to the rim and knocking down a few from behind the arc at 40%. The left-handed forward finished with his right at the rim on occasions. He needs to tighten up his handle and lacks consistency. He also lacks a feel for the game; knowing when to score and when to move the ball will take his game in the right direction. With proper development and coaching, Bazley can emerge as one of the top players in the class. He averaged 12.3 points and finished top three in rebounding at 7.6 per game. Bazley posted 27 points, nine rebounds, and three blocks losing in the semifinals.
Louis King 6'8 205 SF – 2018
King shows potential at his height and skillset. If he can display the skills he shows in flashes on a consistent basis, he can be intriguing with guard skills at 6'8. He is creative and changes speeds naturally; however, if he must shoot the ball better at 20% from three. He also didn't rebound too well with 2.8 per game.
Nazreon Reid 6'9 240 PF/C – 2018
Overall, Reid had a good camp but was on and off over course of it. With his size and strength, he was very good around the basket shooting 54.5%. He has good mobility and has a reputation of his motor coming and going but gave solid effort in this showing. He can handle on the move for his size and shows solid shooting form from outside. Reid averaged 9.9 points, 5.3 rebounds, and 1.3 blocks per game.
Brandon Johns 6'8 220 SF/PF – 2018
I liked what I saw in Johns, although he only played four games. He's very explosive, getting off the ground quickly when attacking and defending. He's good around the rim but showed good shooting mechanics and shot rotation from further out, although he didn't resort to too much jump shooting. He shot 59.1% from the field, and scored 9.5 points and five rebounds per game. His ball handling wasn't bad and put it on the floor with speed on just a few occasions. Johns is more of a high-energy guy right now but has a foundation for a versatile skillset.
Tyrese Maxey 6'3 180 PG – 2019
Maxey was impressive with his ball handling and ability create scoring opportunities. His three-point shooting is streaky and inconsistent; missing all five to finish with four points in one game while making six to erupt for 30 points in another. He didn't miss a free throw until his final game, where he missed all four. He finished fourth in scoring with 13.9 points per game and can improve as a lead guard with only 1.4 assists per game. He did only turn the ball over four times over the course of seven games. Maxey displayed scoring instincts with good length and has room to improve to increase his long term stock.
Scottie Lewis 6'6 180 SG – 2019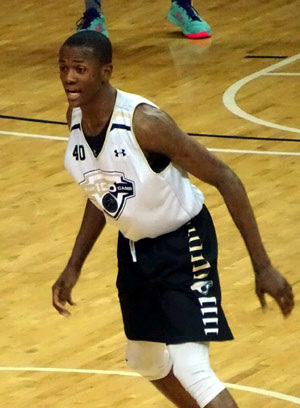 Lewis didn't have great production when looking at his stats; 8.4 points, 3.3 rebounds, and 2.8 assists per game, but he shows great potential. The first thing you notice is his long arms. He's a high-level athlete with translatable run and jump ability, and reacts to the help defense in midair. He plays intense defense; he consistently gets in a stance and moves his feet so quick. On one play, he was guarding the ball handler then switched on a hand off to deflect the ball off his leg out of bounds, staying in a defensive stance the whole possession. In addition to his tools, he's vocal and has solid passing ability. He does need to improve his ball handling as he tends to get sloppy in transition when he goes at a high speed. Lewis was selective with his outside shooting but connected well at 46.2% from three.
Akok Akok 6'8 180 PF/C – 2019
A quick glance at Akok's box scores wouldn't suggest a second look but I was impressed with his tools, talent, and potential. He only averaged 5.7 points, 4.1 rebounds, and 0.9 blocks per game but he's got very long arms and effortless athleticism. He finished a few dunks with ease and got off the ground quickly. He can be a versatile defender, moving his feet on the perimeter and very good shot blocking instincts, which is why he's leading the adidas Gauntlet with four per game. He shows good shooting mechanics from midrange and three but didn't ever score after putting the ball on the floor, they were all off the catch. Once he gets more comfortable and builds more confidence, he could potentially be a high-level two-way player.
Matthew Hurt 6'8 205 PF – 2019
Hurt had a very good camp, playing inside and out. He put up an average of 12.4 points, 6.1 rebounds, and 1.3 blocks per game. He's very coordinated at his height and handles the ball well. He took excellent care of the ball with only six turnovers in eight games. He attacks the rim and tries to dunk at every opportunity. He's not incredibly explosive but has impressive athleticism. He shoots well from deep and made 43.3% of his three-pointers, scoring off the catch and dribble. He was also incredibly reliable from the free throw line at 93.3%. Hurt intrigues as a face up and versatile big man moving forward.