The 2009 Las Vegas Summer League has finished up and it didn't
disappoint. It was a mix of 1st rounders who were trying to prove they were worthy
of their selection and 2nd rounders who were out to show that they slipped too
far in the draft. Other rookies were just out to show they belonged on a team, or even impress some European team into signing them. Here's a look at the top 10 rookies in Vegas.
Tomorrow we'll look at the top 10 non-rookies.
Top 10 Rookies
1. Blake Griffin – LA Clippers / 19.2ppg, 10.8rpg, 3.2apg, 1spg, 50fg%

Everyone showed up to see the 1st overall pick Griffin and he did not disappoint.
At times he still looked like a man among boys, just like he did all season long
at Oklahoma. He led all rookies in rebounding (10.8) and was 3rd in scoring (19.2)
while taking every teams best shot. He showed the versatility of his game, over-powering
players at some points and blowing by them at other times. On a consistent basis
he was beating all big men down the court, usually ending up with a dunk. Next
year should be electrifying for Blake Griffin fans. He will step right in and
contribute at a high level.
2. Brandon Jennings – Milwaukee / 14.6ppg, 2.6rpg, 8.2apg, 3.6stl, 37.9fg%
Jennings didn't shoot particularly well (37.9 % fg) but every other part of his
game was crisp. He led the summer league in steals (3.6) and was tied for the
lead in assists (8.2). At times Jennings looked like he is ready to lead an NBA
team now, or at least he is able to compete for minutes. The Bucks haven't re-signed
point guard Ramon Sessions, and seeing Jennings perform in Vegas may sway the
ownership to go in other directions and depend on Jennings getting some big minutes.
Running the show for Milwaukee, Jennings best stat was 4-1 (win/loss record).
3. Chase Budinger – Houston / 17.8ppg, 2rpg, 0.8apg, 1stl, 68fg%
Budinger slipped in the draft all the way to the 44th pick overall after many
projected him to fall somewhere in the 1st round. During the last ten days, Budinger
played like should have gone in the 1st round by scoring at a better rate than
anyone in Vegas. In just 22 minutes a game he averaged nearly 18 points. He rarely
missed a shot, connecting on 68.1 % from the field, and a ridiculous 72.7% from
beyond the arc. Houston coach Rick Adelman likes defensive type players, but Budinger
can earn minutes on any roster if he continues to shoot like he did in Vegas.
4. Rodrigue Beaubois – Dallas / 17ppg, 3.4rpg, 3.8apg 1.4stl, 47.8fg%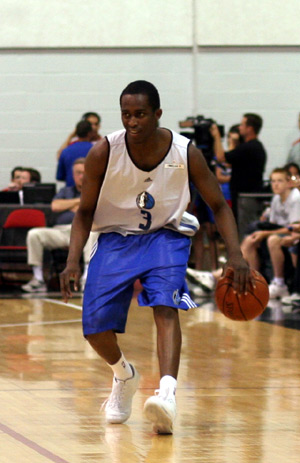 The speedy point guard from France proved to be effective in the summer league
with his overall game. He exploded for 34 points and 8 assists vs. Houston in
a game where he connected on 7 three's. He was up and down, and the Mavs struggled
winning only their last game. The young, electric PG (21 years old), who was the
25th overall pick in the draft, could be a great change of pace guard off the
bench to back up the aging Jason Kidd. It's tough to draw conclusions from Summer League play, but Beaubois appears to be a guy who could end up a top 10 player from this draft class when all is said and done.
5. Austin Daye – Detroit / 17ppg, 8.8rpg, 1apg, 1.4stl, 47.1fg%
Daye's performance was a bit of a surprise. Although he was the 15th pick in the
draft, many think that his skinny frame keeps him a few years away from contributing.
Daye played like he wants to contribute now. He had some monster games. His biggest
performance was a 27 point and 13 rebound game vs. the Knicks. Daye's rebounding
wasn't expected either. He was the 3rd leading rebounder for all rookies, something
that could earn him minutes for Detroit next year. All those armchair GMs might
want to pump the brakes on running Joe Dumars out of town just yet.
6. Tyreke Evans – Sacramento / 19.2ppg, 6.2rpg, 4.2apg, 1stl, 40.3fg
The 4th pick in the draft didn't shoot the ball very well (40.3% fg), but his
overall game was impressive. In 5 games, Evans averaged 19.2 ppg, 6.2 rpg, and
4.2 apg (his stats were lowered due to playing one game with an injury). His ability
to drive and force the refs to make calls often works in his favor, although he
spends a lot of time crashing to the deck (explaining the finger injury). He showed
his ability to make plays out of nothing, and that is something that the Kings
will need him to do desperately next year. Reke is going to one of the worst teams
in the league and they lack playmakers, which is exactly what Evans is. He should
see big minutes his rookie year.
7. Darren Collison – New Orleans / 18.5ppg, 2.3rpg, 3.8apg, 1stl, 44.9fg%
New Orleans new back up PG was the steadiest point guard in the summer league.
He looked every bit worthy of the 21st selection showing the composure to guide
his team. Collison's quickness and ability to hit shots will make him an effective
NBA player right away. Although Jennings was flashier and shows more potential,
Collison was the top floor general in Vegas.
8. DaJuan Summers- Detroit / 18ppg, 5.4rpg, 1apg, 44.3fg%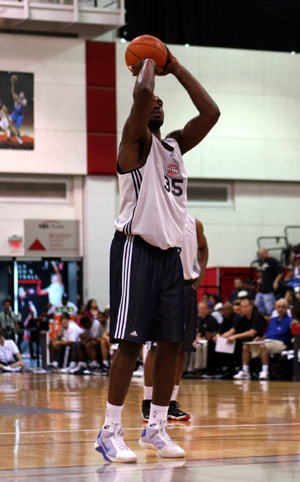 Summers fell off in the final game shooting just 5-15 from the floor, but he still
put up a monster week with a bevy of impressive performances. While teammate Austin
Daye grabbed more boards and hit a higher percentage of shots, Summers scored
a point more per game and was very impressive in his own right. At the 35th pick,
Summers appears to be a steal based on his SL performance. Detorit's other draft
choice, Jonas Jerebko, also deserves mention as he was very efficient as well
(12 ppg), and likely would have been listed had he not been playing alongside
Daye and Summers.
9. Jodie Meeks – Milwaukee / 19ppg, 2.2rpg, 0.8apg, 1stl, 55.7fg%
The Bucks quickly signed 2nd round draft pick Meeks, and his performance in Vegas
showed us the reason. Meeks scored 19.0 ppg on 55.7% shooting. The Bucks traded
away Richard Jefferson before the draft happened and opened up some minutes on
the wing. If Meeks can continue to score at the pace he did in college and again
in Vegas during the summer league, there may be an opportunity for Meeks to step
right in and contribute.
10. DeJuan Blair – San Antonio / 16.3ppg, 8.7rpg, 52.9fg%
In just 3 games, Blair began his campaign to prove that he was the draft's biggest
slip, falling all the way to the Spurs at 37th in the 2nd round. In Vegas he was
productive as expected, averaging 16.3 ppg on 53% shooting and 8.7 rebounds a
game. The Spurs acquired veteran big men Antonio McDyess and Marcus Haislip, but
neither possesses the rebounding tenacity that Blair has proven to have, especially
on the offensive end. The Spurs are getting old, and injecting Blair into the
lineup could prove to reenergize them. Seeing him in Vegas only fuels that idea.

Others:

Marcus Thornton – 20.7ppg, 2.3stl, 3.3rpg, 44fg%
In just three games Thornton played very well, leading all rookies in scoring
with a 20.7 average, despite shooting below 30% from 3. Last year's SEC player
of the year is proving that he can get it done among the pros as well. Drafted
43rd overall, Thornton's physical style of play could earn him some minutes for
New Orleans, who is desperately lacking playmakers on the perimeter besides Chris
Paul.

Dante Cunningham – 18.3ppg, 5.8rpg, 1.5stl, 47.6fg%
The Blazers do not have much depth at the power forward position behind LaMarcus
Aldridge. They could still sign a big free agent like David Lee or Glen 'Big Baby'
Davis to take up most of those minutes. But, either way, the Blazers may be able
to rely on Cunningham for some minutes. The four-year player from Villanova had
a very good stint in Vegas, averaging 18 points and nearly 6 rebounds.

DeMar DeRozan – 17ppg, 4.8rpg, 1.2apg, 49.3fg%
Played well all things considered. He's younger and less experienced than most
of the guys in the summer league, yet had a very positive showing: 17 ppg, 49%
fg.
James Johnson – 16.6ppg, 7rpg, 3.6ast, 1bpg, 39.7fg%
Seemed to finish games a lot better than he started them, which isn't such a
bad thing. He took over the Knicks game in the fourth quarter with an eye opening
performance.
James Harden – 14.5ppg, 3rpg 3.3apg, 1.2stl, 47.6fg%
Didn't put up eye popping numbers but he impressed with his maturity and composure. Having played 5 games in Orlando apparently left this team (0-5) gassed.

Stephen Curry – 17.4ppg, 4.6rpg, 4.2apg, 2.4stl, 32.5fg%

Curry struggled some with his shooting numbers with two subpar games to end
the SL, but he put on a show in the second half of the Sacramento game showing
great competitiveness after being challenged. His passing and quickness were
also better than advertised.

Johnny Flynn – 15ppg, 2.4rpg, 7.4apg, 48fg%
Had major turnover issues (5.2 pg) but improved as the week went along. Flynn
has dynamic athleticism and the speed to get by opponents but he has a long
ways to go defensively.
Ty Lawson – 17.2ppg, 4rpg, 3.8apg, 1.2stl, 45.3fg%
Shook off two early stinkers to finish strong with 3 excellent games. Although
he went 12 spots lower, he looked every bit as effective as Jonny Flynn at the
PG position.
Sam Young – 13.6ppg, 4.2rpg, 51.9fg%
Along with teammate DeMarre Carroll, Young played his role well helping the
Grizzlies close out a perfect SL.
Wayne Ellington – 14.4ppg, 3.4rpg, 44.8fg%
Displayed his smooth shooting ability and mature floor game knocking down 52%
from 3 after a rough 4 point (2-12 fg) opener.
Jordan Hill – 14.4ppg, 8.2rpg, 1bpg, 43.8fg%
Struggled early but improved as the SL went on. His 8.2 rpg was good enough
for 5th among rookies. He still needs to get stronger but showed nice offensive
polish in the post.

Taj Gibson – 13.0ppg, 10.0rpg, 55fg%
Used his condor (7-4) wingspan to finish second in rebounding among rookies
10.0 rpg. Also looked comfortable playing in the post with an efficient 55%
fg.
Check back tomorrow as we'll take a look at the top 10 non-rookies.