While the rookies certainly provided
excitement and quality play, the non-rookies took the top 5 overall scoring
average positions. Here's a look at the top 10 non-rookie performers from Vegas.

Top 10 Non-Rookies

1. Anthony Randolph – Golden State / 26.8ppg, 8.5rpg, 1.3apg, 2.2stl,
3blk, 60.9fg%

The real Summer League MVP, Randolph led all players in scoring (26.8 ppg) highlighted
by a 42 point outburst vs Chicago. Coach Don Nelson has to be happy with the
production he saw from Randolph. If A-Ran can give the Warriors the type
of inside/outside option that he proved to be in the summer league, then it
would take some of the pressure off of the perimeter players to carry virtually
all the scoring load again. Nelson loves mismatches, and who better than Randolph
to create mismatch opportunities. Randolph was unstoppable at times in Vegas,
and if this was a glimpse into the future, then the Warriors are going to be
one of the more difficult teams in the league to defend. On the defensive end,
Randolph was 2nd in the summer league in blocks (3.0) but still has some work
to do on consistency.
2. JaVale McGee – Washington / 17.3ppg, 6.3rpg, 4blk, 54.2fg%
The former 1st round pick (18th) from 2008 also proved that he will be able
to give the Wizards quality minutes next year in the post. McGee protected the
hoop better than any player in the summer league, blocking 4 shots per game,
and as many as 7 blocks vs Clippers in 29 minutes. Offensively, he proved that
he was a legitimate option. McGee averaged 17.3 ppg on 54.2% shooting, and exploded
for 31 points on the last day vs the Knicks.
3. Anthony Morrow – Golden State / 24.7ppg, 4.7rpg, 60.9fg%
Undrafted in 2008, Morrow is proving that his rookie season was no fluke by
finishing 2nd in the summer league in scoring (24.7 ppg on 60.9% shooting) only
to his teammate Randolph. The amount of time he takes to catch and shoot is
among quickest on the NBA level, which is the secret to his success. The Golden
State Warriors are loaded on the perimeter, and they just drafted Steph Curry
with the 7th overall pick in the draft. Morrow couldn't care less. He just keeps
working and putting up numbers when given the chance. His latest evidence of
being an absolute scoring machine was his 47 points (Vegas summer league record)
that he put up on the Hornets on 18 on 26 shooting. Last year Morrow scored
37 points in a regular season game, the most ever by an undrafted rookie. But,
he was sent back to the bench when the veterans came back. He will be fighting
for minutes again next year. But, if the SL is any indication, he has proven
that he will be ready.
4. Nick Young – Washington / 23.8ppg, 2rpg, 0.8apg, 50fg%
Young is another guy who recently saw his team add proven players to his position
with the acquisitions of perimeter players Randy Foye and Mike Miller. This
didn't affect Young's play at all as he was 3rd in the summer league in scoring
at 23.8 ppg. In four games, Young was connecting regularly from beyond the arc,
making 12 of 30 attempts. The Wizards are loaded on the perimeter for next year,
but Young proved that he is still a high quality prospect at the age of 24.
5. Jason Thompson – Sacramento / 19ppg, 6.6rpg, 1.6apg, 45.9fg%
Last year's lottery pick was the clear leader for the Kings in Vegas averaging
19.0 ppg and 6.6 rpg, giving the Kings a level of toughness they have lacked
in recent years. He got stronger as the summer league continued, finishing up
with a 31 point & 10 rebound performance vs. the D-League Select team and
a 23 point & 10 rebound performance vs. the Knicks. He started 55 games
last year as a rookie, and will be expected to start every game next year. He
will have to be a top scoring option for the Kings if they are going to improve.
Seeing his confidence grow in the summer league was a good sign.
6. Joey Dorsey – Houston / 9.8ppg 14.8rpg 3apg 1stl 2.6blk 62.1fg%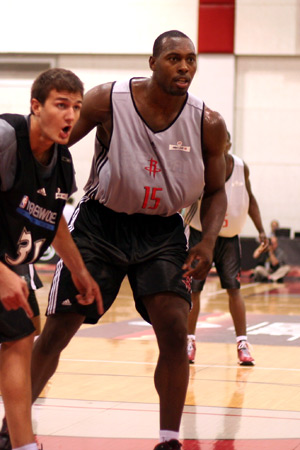 The 2nd round pick from 2008 led the summer league in rebounding (by a wide
margin) for Houston who went unbeaten in Vegas this year. With Yao Ming out
for the season next year, Dorsey did everything he needed to prove that he can
take some of Yao's minutes for himself. He played tough on the defensive end
(2.6 blocks, 3rd in summer league) and finished around the hoop (62.1% fg).
His style of play is just right for coach Adelman and the defensive minded Rockets.
7. Andray Blatche – Washington / 19.7ppg 11rpg 3apg 2stl 46.9fg%
The Wizards are proven on the perimeter with veteran players, but many questions
still remain about their post players. If Blatche's play in the summer league
is any indication towards the type of production he will give during the season,
then the Wizards will have a steady force in the 22-year old. In just three
games, Blatche averaged 19.7 ppg and 11.0 rpg (2nd in summer league).
8. George Hill – San Antonio / 15.8ppg, 3.6rpg, 3.8apg, 1.4stl,
45.8fg%
Despite struggling in the Spurs final two games (both losses), Hill was one
of the top point guards in Vegas. His battle with Darren Collison was one of
the top individual battles of the entire summer league, and by coming out on
top, he deserves a spot in the top 10 non-rookies.
9. Jarryd Bayless – 18ppg, 3.8rpg, 4.3apg, 47.2fg%
After winning MVP of the SL last year, Bayless had a strong offensive performance
but didn't show any improvement in his ability to efficiently run a team. He
guided the team to a few wins, but his high turnover numbers have to be concerning
if he is expected to become a point guard.
10. Marcus Williams – Memphis / 13.4ppg, 4.6rpg, 8.2apg, 33fg%
The former UConn guard led the summer league in assists at 8.2 a clip. He set
the single game record for assists in the SL with 17. Williams finally looks
healthy and ready to contribute. He should be able to challenge Michael Conley
Jr. for minutes next year at the point if he continues to run the team as well
as he did in his five games in Vegas. Even though his shooting was woeful (33.3%),
he proved to be one of the top floor generals in the summer league by leading
Memphis to an undefeated record at 5-0.
Surprises
Coby Karl – Denver / 15ppg 4.4rpg 2apg 1.4 stl 61.5fg%
This 26-year old shooting guard had a great few games. In 5 games, the 6-5 Karl
shot out of his mind. He connected on an amazing 61.5% of his shots, which were
mostly jump shots for an average of 15 ppg. Karl was one of the more efficient
scorers of the whole summer league and looked like he might be able to shoot
his way onto his father's roster next year. His most impressive performance
came vs. the Spurs where he scored a very efficient and quick 19 points on just
7 shots (made 6), including three from downtown in just 25 minutes of work.
Gary Forbes – Select Team / 17.8ppg, 4.4reb, 1.2stl
The Select Team was surprisingly a competitive team in the summer league, winning
3 of 5 games. Forbes proved to be the team's best player, averaging 17.8 points,
4.4 rebounds, and 1.2 steals. The undrafted former UMass product has a very
versatile game and may have turned some heads in Vegas and possibly given himself
a chance of getting invited to some team's training camp in October.
Cartier Martin – 19.7ppg 4.3rpg 44fg%
Martin doesn't have great athleticism, but his outside shooting and play in
Vegas should land him on a roster to start the season.

Others
Adam Morrison – 20.8ppg, 5rpg, 2apg, 42fg%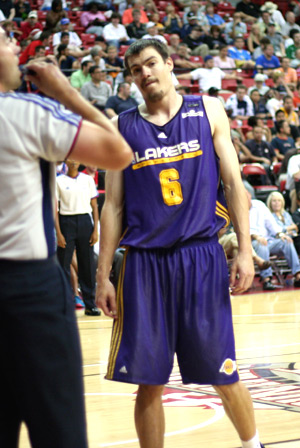 Has no problem knocking down open shots and shows a crafty ability to move without
the ball. Unfortunately his lack of athleticism/foot speed makes him a huge
liability on the defensive end, meaning he's an overpaid shooting specialist.
Eric Gordon – 21.5ppg, 2.5rpg, 1.5apg, 1.5stl, 44fg%
Gordon has excellent potential and was very impressive but only played in 2 games which just isn't enough
to be considered for the top 10.
Quincy Douby – 18ppg 4rpg 3.8apg 1.2stl 46.9fg%
Douby has made a habit of lighting up the SL. With a change of scenery (Toronto)
it's possible he can turn his fortunes around and prove that he was worthy of
a first round selection.
Robin Lopez – 11.8ppg 6.6rpg 1.2stl 2blk 51fg%
Was a Jeckle/Hyde guy putting up 24 and 12 one game and then 1 in another. Should
have a real chance for playing time with Shaq in Cleveland now.
Deandre Jordan – 12.4ppg 8.2rpg 1.6blk 61.5fg%
Aside from the bad (ejections from SL games are never justifiable), Jordan continues
to show that when he puts his mind to it, he's a very talented bigman with upside,
who's showing improvement.
DeMarcus Nelson – 13.8ppg, 3.8rpg, 3apg, 1stl, 48fg%
May have found a home in Chicago as a bench player.
Darrell Arthur – 11.3ppg 6rpg 1.5blk 45fg%
Blew up in one game. Arthur was very active and showed off his great speed and
athleticism in the open floor.