• Day 1 recap
• Day 2 recap
• Day 3 recap
• Day 4 recap
• Day 5 recap
• Day 6 recap
• Day 7 recap
• Day 8 recap
Miami Heat 82, Cleveland Cavaliers 76
Boxscore
With head coach Erik Spoelstra sitting courtside, the Miami Heat beat the Cleveland Cavaliers 82-76 to tip off the summer league quarterfinals. Dion Waiters and Tyler Zeller weren't in uniform for the Cavs, who left Vegas with a 3-2 record. The Heat (4-2) shared the scoring load with five players reaching double figures.
Jarvis Varnado and Damion James each contributed solid double-double games. James has been consistent all week, showing a good feel for the game at both ends of the court. He looks good when his mid-range jump shot is falling. That confidence showed up in the rest of his performance, particularly on the glass. James finished with 13 points, 10 rebounds and two blocks. Varnado finished strong around the rim for his 13 points and 12 boards. Today was one of the rare occasions where Varnado didn't pick up a blocked shot.
DJ Kennedy started strong and finished with 13 points on 4-8 shooting, including three from long distance.
James Ennis played well during his time in Vegas, showing good athleticism and energy at both ends. He attacked the hoop, got to the line (7-8 FT), and showed his ability to hit the three. James Nunnally is perhaps the best shooter we've seen this summer and he stroked the ball confidently all week (56-percent FG, 58-percent from 3, and 83-percent FT). He put up 13 points in 18 minutes of action.
Justin Harper was impressive for the Cavs, displaying his shooting skills from mid range and beyond the three point line. Harper posted a team-high 21 points on 9-16 from the field, along with five boards.
Jermaine Taylor couldn't find the range on his jumper, (1-6 from 3), but he is tough to stop in transition and his athleticism allows him to play bigger than he looks. Taylor finished with 20 points and four rebounds.
Corey Higgins gave the Cavs some solid minutes off the bench, going for 17 points, four rebounds, two assists and three steals. Second-round pick Carrick Felix didn't show much in his 20 minutes of action, but did make a nice baseline drive after selling a shot fake. He also played strong defense on Kennedy, forcing a wild pass out of bounds on one occasion.
Phoenix Suns 103, Toronto Raptors 98
Boxscore
In quarterfinal No. 2, rookie Archie Goodwin led the Phoenix Suns to a 103-98 win and semifinal showdown with the Heat, scoring a team-high 20 points on a perfect 5-5 from the field (2-2 from 3, 8-10 FT). Goodwin did most of his damage in the first quarter, finishing the period with two 3s. He also used his speed to attack the rim, causing Toronto problems on the defensive end.
While the Raptors (3-2) were without Jonas Valanciunas, who was officially sitting out with a sprained left finger, the efforts of Dwight Buycks and Quincy Acy weren't enough to overcome this talented Phoenix (5-0 squad.
The Morris twins produced, as usual, for the Suns, posting similar stat lines. Marcus led the Suns in scoring with 23 points (8-11 FG), six rebounds and three assists, while Markieff had 16 points (8-11 FG), five rebounds and two assists.
Dionte Christmas was active at both ends for the Suns, finishing with 15 points and five rebounds. In something you don't see in very many basketball games, Christmas remarkably had two four-point-play opportunities in one quarter.
Point guard Kendall Marshall (six points, one board, two assists, five turnovers) told NBADraft.net that although he likes the tournament format of this year's event, there are too many days off between games. Marshall added that he feels a lot more comfortable this summer than he did in 2012, and Vegas has provided a good opportunity to work on some parts of his game.
Acy did his best to keep the game close, making plays all over the court, including an impressive tip-in. Acy's outside shot was on target and he was visibly pleased with his shooting performance. Acy ended the game with an 28 points (9-15, 2-4 from 3), 10 rebounds, two steals and one block.
Buycks ran the point well for Toronto, effectively getting into the paint, finishing strongand finding open teammates. He equaled Acy's game-high 28 points (11-20 from the floor) and added four rebounds and four assists.
Charlotte Hornets 85, D-League Select 75
Boxscore
In quarterfinal No. 3, the Charlotte Bobcats "B-team" (4-1) overcame the tough D-League Select squad (4-1) 85-75. Charlotte didn't play Jeff Taylor, Michael Kidd-Gilchrist, Bismack Biyombo or Tyler Zeller. Point guard Abdul Gaddy took advantage of his opportunity for additional minutes and led all scorers with 17 points on 6-7 shooting.
Jamie Skeen rebounded well (11 boards) and flashed a nice outside touch, with all of his field goals coming from long range (3-6 from 3, 12 points). Teammate Jerome Dyson is a strong athlete, but he isn't a natural point guard and he often struggles with his shot selection. He went 4-12 for his 12 points, adding three rebounds and five assists. Troy Daniels made some impressive plays for his 13 points (4-12 FG).
Darnell Jackson and Elijah Milsap led the D-Leaguers with 12 points each. Jackson has previously played in summer league and has proven to be a solid performer at this level. He has a strong frame and can finish well around the basket. He finished the game with 12 points, nine boards and two assists.
Milsap showed some of his all-around skills for his 12 points, four rebounds, three assists and two steals. He is aggressive in transition and attacked the basket with mixed results in this game. Kyle Weaver made some nice plays going to the rim and found his teammates on a couple of nice passes. Weaver had 10 points in 15 minutes off the bench. Ron Howard was productive in his 17 minutes of action, putting up 11 points on 3-7 shooting.
Golden State Warriors 83, Los Angeles Lakers 77
Boxscore
In a tight game with a tremendous atmosphere, the Golden State Warriors extended their perfect summer league record to 5-0, defeating the Los Angeles Lakers 83-77 in the last quarterfinal. Kent Bazemore did his MVP chances no harm with a 26-point display in front of a vocal, pro-Warriors crowd at the Thomas and Mack Center, which including head coach Mark Jackson.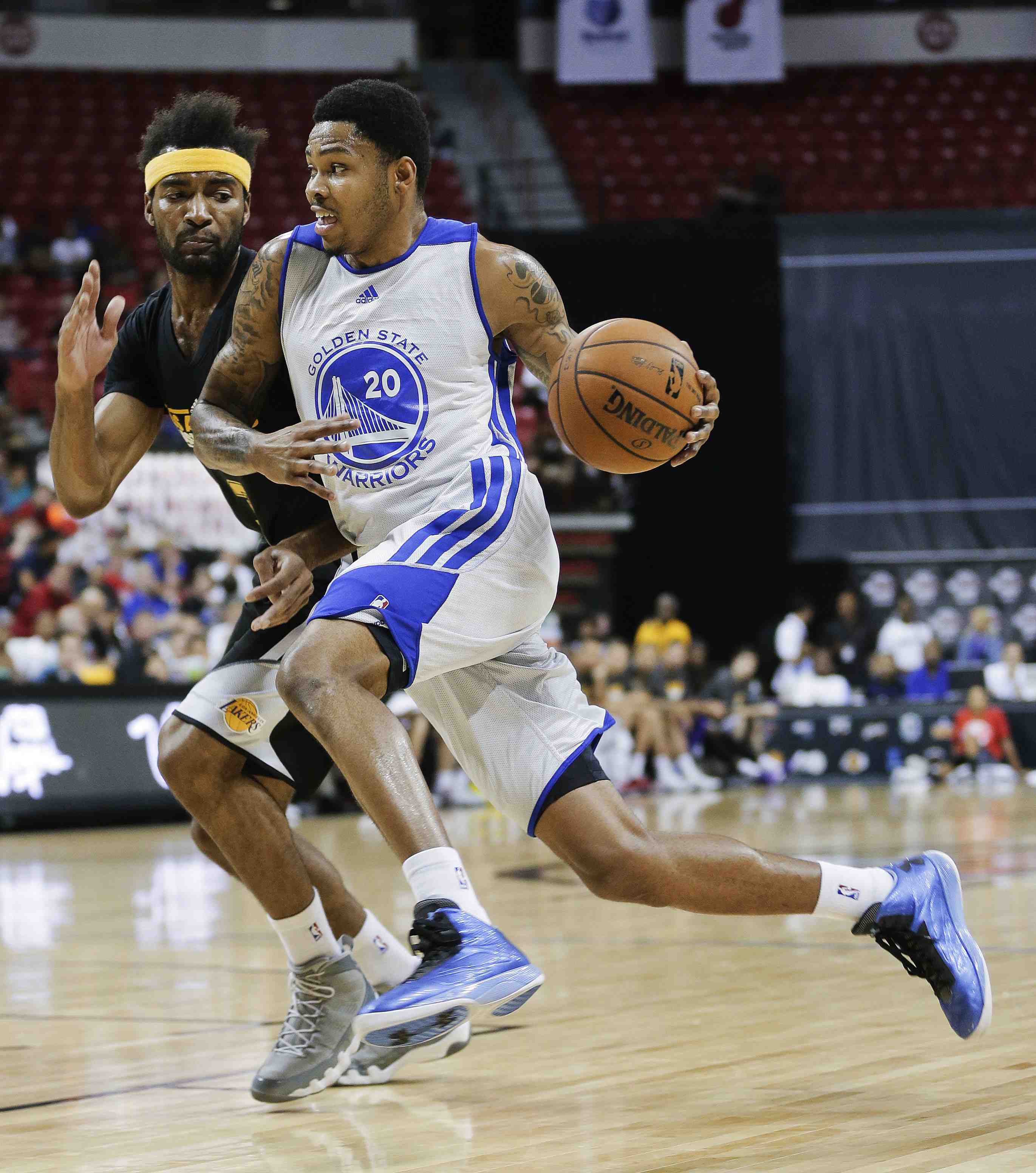 Bazemore stepped up in the second half, making big shots and leading the Warriors with his great hustle, ending up on the other side of the media table on one play. He sent down a big dunk on the break off of a Draymond Green pass. Bazemore has been one of the most electrifying players during the summer and will be a candidate for tournament MVP.
Cameron Jones contributed to the winning effort, taking good shots and playing tight on-ball defense. Jones showed his passing touch with a nice look to Michael Eric. Jones finished with 18 points and four steals.
Green didn't shoot well, going 5-18 from the floor, but he looked good going to the rim and was typically strong on the boards, pulling down 11 and dishing out three assists. In an intense game, Green and Lazar Hayward were called for double technical following an exchange.
Lester Hudson led the Lakers with a team-high 18 points on 6-11 shooting, but struggled to convert in crunch time. The quick and dangerous Hudson did most of his damage penetrating and dishing to teammates. He added four rebounds, two assists and four steals.
Elias Harris (17 points, 7-13 shooting, two steals) looked good for most of the contest, but his style of play seems more suited to the pro game. Harris' outside shot looked smooth and he showed his skills on the break. He has good size and is difficult to stop heading to the rim.
Marcus Landry struggled in the first half, failing to convert on some drives, but he warmed up in the second half., finishing with 14 points (5-10 FG). Chris Douglas-Roberts created excellent shots for himself and others with his excellent slashing and ball-handling ability. He isn't a very good outside shooter and the NBA 3-point line might be a touch out of his range. CDR finished the game with 12 points (3-9 FG), two rebounds and three assists.
After an awful 2012 summer league performance, the Lakers were a much better squad this year, finishing with a 3-2 record.