Rising
Perry Jones 6-11 235 SF/PF Baylor Fr.
In a year devoid of elite talent, Perry Jones is beginning to appear to be "the guy".
With an unexpectedly quick start to the season, Jones has taken over the top spot on the 2011 mock draft.
He's got more long term potential than any prospect in the country and is showing signs that he's ready to be a dominant player at the college level right away.
His most recent 16 point, 13 rebound performance was his best of the season. He's averaging a near double double with 13 ppg and 9.8 rpg and 1.8 blocks per game.
Jones biggest issue in high school was consistency, so he'll need to realize that the college season is a marathon and not a sprint and work hard to stay focused when things get challenging in conference play.
Baylor is undefeated at 5-0 after an easy early schedule and could do some real damage in the tournament with such a talented roster led by LaceDarius Dunn, Quincy Acy and Jones.
Due to his higher ceiling and Harrison Barnes early struggles, Jones has claimed the #1 pick on the 2011 mock draft.
Derrick Williams 6-9 235 PF Arizona So.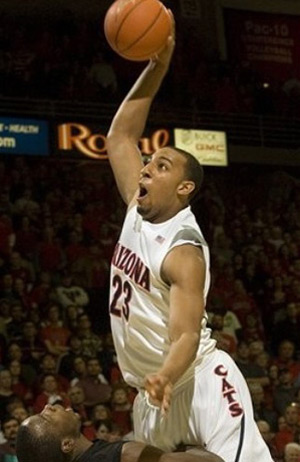 Williams made the biggest jump on the 2011 mock this week climbing from 20 to 6 behind his torrid start to the season.
The Pac-Ten freshman of the year has become a legitimate first team All American candidate.
He was the best player on the floor in Arizona's loss to Kansas showing excellent post skills and the ability to knock down big shots. He squared off with the Morris twins, and although the Jayhawks came out with the victory, Williams' performance caught scout's attention.
Williams is listed at 6-8 but was measured at 6-9 in shoes at the Amare Skills Academy over the summer with a 7-foot wingspan.
Scouts have likened him to a more athletic David West. He likely won't have the benefit of playing with a Chris Paul level PG at the next level, few PFs do, but his ability to knock down outside shots and create offense for himself helps offset his lack of girth.
Williams knocked down 5 of 6 three pointers in his past 2 games, and hit 7 of 9 on the season.
Averaging 21 ppg, 7.3 reb, Williams has had his biggest games against the Wildcats best opponents and claimed superstar status at the college level.
Look for Williams to make a strong run at both Pac-Ten POY and First Team All American this year and if he continues to remain productive, have an excellent chance to be a top 10 pick.
Jordan Hamilton 6-7 208 SG/SF Texas So.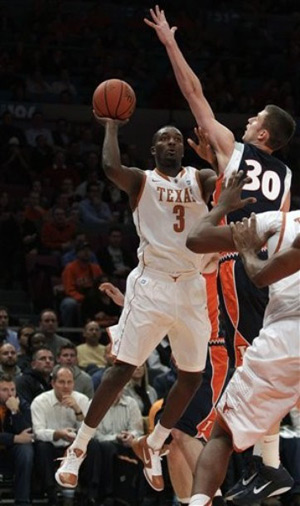 Hamilton has elevated his game this year with 25 or more points in 4 out of his first 6 games.
He's averaging 22.7 pts, 7.2 boards, while also knocking down 47% of his 3 point shots.
The sophomore wing made a point to apologize to each of his teammates for not playing up to his own standards last year and has proven that he wasn't just blowing smoke.
The Texas sophomore has excellent ball skills with both ball handling and passing ability, but at times he gets so focused on scoring that he neglects those attributes.
He has keyed a solid start to the season for Texas (5-1) with a quality win against Illinois and a loss to an extremely tough Pitt team. Hamilton has moved all the way up to the late lottery for this year's draft after starting the year in the late first round.
Jared Sullinger 6-9 286 PF Ohio St. Fr.
Sullinger has been very impressive early on. He has moved up to #3 on the mock draft. He is incredibly advanced offensively for a big, strong post player. He lacks great speed but has solid leaping ability and is an absolute beast inside.
Through 6 games, he's averaging 14.5 ppg and 9.3 rpg but he's quickly establishing himself as one of the top freshmen and bigmen in the country. His 2.2 turnovers per game need to be minimized.
Scouts are not unanimous on him however as some are reluctant to say he's a lock top 10 pick at this point, while others think he will have a good shot to go top 3-5.
Kemba Walker 6-0 179 PG UConn So.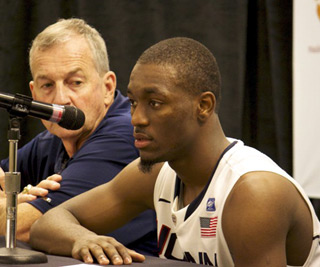 Walker was the brightest star over the Maui Invitational and has become the early frontrunner for National Player of the year. He's leading the nation in scoring at 30 ppg.
UConn was unranked coming into the season, but after surprisingly winning the event beating two top 10 teams (Michigan State 2 and Kentucky 9) in the process, UConn has elevated themselves into top 10 status.
His outside shooting and overall confidence have made huge strides this year. In his first two seasons at UConn, Walker never scored 30 points in a game and now he's averaging it.
Due to his lack of size, Walker needs to show that he's more than a scorer and can facilitate for teammates effectively.
Terrence Jones 6-8 244 SF Kentucky Fr.
Jones was a man among boys in Maui putting on a show and displaying tremendous versatility. He plays with a lot of passion and aggressiveness.
Jones has entered the top 5 on the mock passing teammate Brandon Knight. His early season stats
He has been as impressive as any freshman in the country playing with a high motor and unlike Harrison Barnes showing no bumps in the road adjusting to the college level.
One scout marveled in Maui, he's already better than somebody like Thaddeus Young. This kid can do so many things.
Falling
Fab Melo 7-0 250 C Syracuse Fr.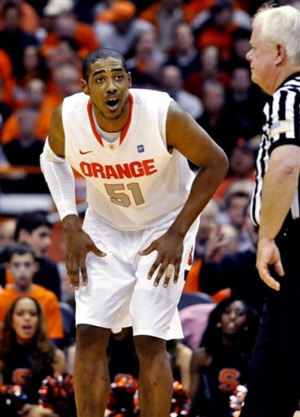 Melo has been the biggest disappointment of all freshmen this season. Despite losing a lot of weight, his athleticism and agility is not what it appeared to be in high school. Melo was a McDonald's All American and coming into the season there was speculation that he could be a one and done type of player. He looks more like a borderline NBA player after 4 years at this point.
Melo has really struggled with the adjustment to the speed of the college game averaging just 2.3 ppg and 2.6 rpg in 13.4 mpg. His most recent 8 point, 3-4 fg, 4 block game against Cornell was his best of the season to date
Bigmen take the longest to develop and someone like Roy Hibbert looked nothing like a future pro after his freshman season at Georgetown. But Melo has a long ways to go and his body appears to
Rodney Williams 6-7 210 SG/SF Minnesota So.
We've been extremely high on Williams since he broke onto the scene with his trampoline-like dunks as a freshman. He's still an intriguing long term prospect, but it's becoming clear that he will need 3-4 years to bring his skill level up to the point where he can effectively utilize his great athletic ability.
Minnesota has a number of quality wings and Williams has been struggling to stay on the floor in recent games. He's averaging just 6 ppg though his first 7. His minutes per game in his last four have been 20, 16, 11 and 7 and he has scored 6, 2, 2 and 1 in those games. He's been dealing with an injury, but he also appears to be struggling with consistency.
He's no longer featured on either mock after being projected as a potential late lottery pick before the season. Williams inability to handle the ball and create offense for himself limits his scoring opportunities. He should focus on developing his 1-on-1 game in the off-season.
On the positive side, Williams is an unselfish player who looks to find teammates when he's not open and rarely doesn't forces things. He has a lot of potential since he's one of the elite athletes at the college level. But he still has a long ways to go.
Harrison Barnes 6-8 215 SF UNC Fr.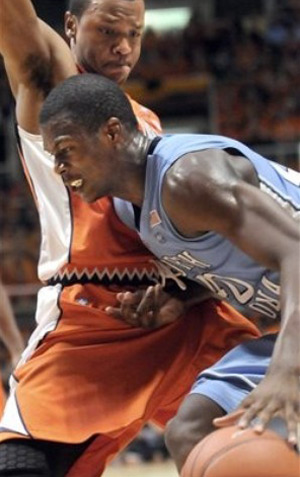 Barnes has struggled out of the gates showing that he's not the polished, college ready prospect that many envisioned. He's a tremendous person and teammate but the knock has always been that he still must develop that killer instinct to take over games. At this point he appears more comfortable deferring to teammates and letting the game come to him. He's gaining confidence slowly but surely but has taken some lumps in his first few weeks of games.
Barnes was actually chosen by some as National Preseason Player of the Year. Obviously the expectations for him were too high. To be fair, this is a kid that played in an Iowa high school league that had just a small handful of college prospects. He looked great in AAU and HS showcase games, but those aren't the same as a structured college system. Barnes is going through growing pains while learning and becoming comfortable.
His 0-12 performance 7 point performance in a televised match up with Minnesota was his most glaring pitfall, and he has struggled to bounce back since. Barnes is a team player first and foremost and isn't looking for his own numbers as much as doing whatever he can to help UNC win.
Keeping things in perspective, 11.3 ppg, 6.1 reb, and 2 apg are very solid numbers for a freshman in their first 7 games of college ball. The expectation level was so high, Barnes appears to be struggling mightily and his 34% fg says that he is. But look for Barnes to find a groove and bounce back in a big way as the season continues. He's too good not to.
Word is Barnes is in no huge rush to leave school and may in fact return for his sophomore year before leaving for the NBA. An early announcement that he will return to school next season could alleviate some of the pressure that has currently been placed upon him.
John Henson 6-10 200 PF UNC So.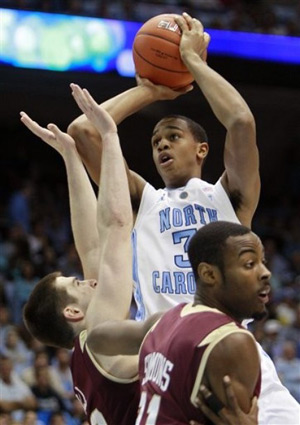 Henson had supposedly added weight and strength during the offseason and he may have added some, but it's becoming more apparent that weight will always be an issue for him. He's a PF with the strength of a 2 guard.
His ceiling appears to be a more skilled, less athletic version of Hakeem Warrick. Henson has some length on Warrick, but doesn't posses the same explosiveness. Henson is a solid athlete who uses his length well to block shots and convert dunks.
Henson was projected by many as a future lottery pick coming out of high school and even entering this season, it appears time to temper those expectations to a late first rounder (if that) after 3-4 years.
Jeffrey Taylor 6-7 220 SF Vanderbilt Jr.
Taylor's had a rough start to the year, with 3 out of 6 games in which he only converted 1 field goal. On the positive side, he did have a solid effort in Vanderbilt's win over UNC with 15 pts and 7 reb (6-13 fg) and he's been shooting the 3 ball well (8 of 16) but his foul trouble and inconsistency have his numbers down from last year. (11.3 ppg).
Taylor appears to have peaked in terms of skills. He isn't a tremendous offensive player getting most of his shots on open kickouts and transition baskets. He struggles to create offense for himself in the halfcourt.
He'll have a shot to make the league but scouts see him as a second rounder at this point.