Storylines
Few matchups in college basketball can produce the vast number of storylines that a Kentucky vs. Kansas matchup produces. Both teams have size, big names, history, top-quality coaches, and passionate fans. Kentucky and Kansas are the two winningest programs in college basketball history, in terms of total wins, and they will take center stage on Monday, April 2 in New Orleans to determine the national champion. Both teams have been tested in the NCAA Tournament and both teams will undoubtedly provide fans with top-notch entertainment.
Not only will the two top teams in the country being playing Monday, but the two top players will be "squaring off" as well. On Saturday prior to the Final Four games, Kentucky's Anthony Davis was named the winner of the John R. Wooden Award, which is given to the nation's player of the year. Kansas' Thomas Robinson finished second in the voting for the award. On Monday both players will have a chance to showcase their skills and show why NBA scouts are drooling for a chance to pick either one of them in this summer's NBA Draft. Scouts and NBA Draft experts alike consider Davis to be the consensus #1 overall pick in the draft, while Robinson is considered a top 5 pick. Davis and Robinson stack up well against each other as both players have been highly productive all year. Davis' stat line: 14.4 PPG, 10.2 RPG, 1.2 APG, 1.3 SPG, 4.6 BPG, 63.9 FG%, 71.1 FT%. Robinson's stat line: 17.7 PPG, 11.7 RPG, 1.9 APG, 1.1 SPG, 0.9 BPG, 51.0 FG%, 67.7 FT%.
Kentucky
Kentucky has been to the NCAA Tournament 52 times in its history and to the Final Four 14 times, resulting in 7 national championship victories.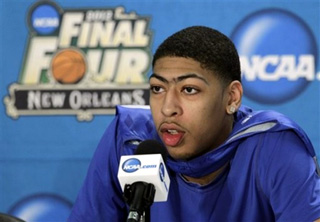 Throughout the season Kentucky has found itself atop the national rankings. Its only losses came against Indiana on a last second three-pointer and against Vanderbilt in a "dog fight" of an SEC title game. No team has looked as skilled, quick, and explosive as Kentucky, mainly because the Wildcats have three players (Anthony Davis, Michael Kidd-Gilchrist, Terrence Jones) who are considered to be lottery picks in the NBA Draft. The Wildcats also have a decorated and enthusiastic head coach in John Calipari, who is in search of his first national championship victory.
The road to the national championship game has been somewhat challenging for Kentucky. They started their pursuit by defeating #16 Western Kentucky, 81-66, and then #9 Iowa State, 87-71, to advance to the Sweet 16. It was there that they claimed revenge against #4 Indiana by putting up 102 points in a 12-point victory. In the Elite 8 against #3 Baylor, Kentucky showed tenacity and determination by beating the Bears, 82-70. In that game, Anthony Davis led the way for Kentucky with 18 points, 11 rebounds, and 6 blocks. Then it was onto the Final Four against in-state rival #4 Louisville, coached by former Kentucky head coach (and national champion) Rick Pitino. Kentucky led the entire game and out-shot Louisville 57.1% to 34.8% from the field. Louisville played aggressive defense like always, but Kentucky had too much talent to handle. Anthony Davis became the second player in Final Four history to finish with 15+ points, 10+ rebounds, and 5+ blocks. The other was Danny Manning – a former Kansas star.
Kansas
In their tournament history, Kansas has 40 NCAA Tournament appearances, 13 Final Four appearances, and 3 national championship victories. This program is one of the most decorated programs in the nation and it will not be intimidated by Kentucky.
The Jayhawks have won 14 of their last 15 games and they have played efficient basketball throughout that stretch. Thomas Robinson leads the way for the Jayhawks and gives them a legitimate post presence that Kentucky will have to be aware of. Stories of Robinson's personal life have been well-published throughout the season and winning a national championship would be an incredible way for him to end his career in college basketball (assuming he enters the NBA Draft). Tyshawn Taylor is Kansas' second leading scorer, but he has struggled shooting the ball in the NCAA Tournament (24-63 FG, 0-20 3P). His ability to score and put the ball in the basket could be the deciding factor in Kansas' quest for the title.
Kansas has been battle-tested in the NCAA Tournament. In the Round of 64 they beat #15 Detroit, 65-50. In the Round of 32 they beat #10 Purdue, 63-60, in a close matchup that went "down-to-the-wire." In the Sweet 16, #11 N.C. State was the victim of the Jayhawks in a close contest that ended in a 60-57 Kansas victory. In the Elite 8, Kansas got lucky by being able to play the injury-ridden #1 North Carolina Tarheels, who were without starting point guard Kendall Marshall (second nationally in assists per game). Kansas beat Carolina, 80-67. In the Final Four, #2 Ohio State was the opponent and Kansas came back from being down for most of the game and won, 64-62. Thomas Robinson led the charge, finishing with 19 points and 8 rebounds.
Key Matchup
Anthony Davis vs. Thomas Robinson/Jeff Withey. It will be interesting to see who Bill Self (Kansas Head Coach) asks to defend Davis. Withey is a 7-footer with length and decent athleticism. Robinson in 6'9" and tenacious, but doesn't have the length of Davis.
Who Must Show Up to Play (Outside of Davis and Robinson)
Kentucky: Terrence Jones
Kansas: Tyshawn Taylor
X-Factor
Kentucky: Michael Kidd-Gilchrist
Kansas: Travis Releford
Prediction
Kentucky 73, Kansas 68