He goes by many names. On the day he signed on to attend the University of Kentucky, he was Michael Gilchrist. The first time he slipped on his Wildcats jersey, he was known as Michael Kidd-Gilchrist. Now, Big Blue Nation refers to him simply as MKG. After Monday night, you can even call him champion. Just as he has many names, he does a little bit of everything for his team, and was a big reason the Cats won the NCAA championship. He's overcome adversity and become, quite possibly, one of the most celebrated "glue guys" the college ranks has seen.
The Kentucky Wildcats were young this season, starting two sophomores and three freshmen. Among those three freshmen was Kidd-Gilchrist, who immediately took on a leadership role. Although their games are drastically different, I compare him to Tim Duncan in his demeanor. He leads by example. You won't see him yelling at teammates or berating them in the huddle. He plays with such intensity that his teammates feel obligated to match that intensity and he is able to rally his team through sheer willpower and hustle. If Terrence Jones doesn't box out, watch MKG the next trip down, he'll be boxing out as if his life depends on it. If Marquis Teague gets caught on a ball screen, the next trip, MKG will blow up a ball screen and single handedly ruin the opposition's play. In the championship game, with Kansas threatening, Kentucky's defense got beat on a backdoor cut by Tyshawn Taylor and Kidd-Gilchrist made a spectacular play not only to contest the shot, but block it to help preserve the title for the Cats. He finished the championship contest with 11 points, 6 rebounds, 1 block, 1 assist, and only 1 turnover.
Despite all of his success, he was not seen as a sure thing by some recruiting analysts. Even at St. Patrick's High School in New Jersey, Gilchrist's game was predicated on hustle, outworking opponents, and taking advantage of his athleticism and size advantage. Some thought he was destined to be a role player who was ranked higher than he should have been. John Calipari, however, was more than happy to land the highly sought after recruit and McDonald's All-American. Then, Coach Cal surrounded him with three fellow All-Americans in Anthony Davis, Marquis Teague, and Kyle Wiltjer. Add in Doron Lamb and Terrence Jones coming back along with the resident Kentucky senior Darius Miller and Kentucky had more than enough talent to win it all, but they needed somebody to take on the role of glue guy who would do all the little things the great teams need to succeed. MKG embraced that role and became a driving force for the Wildcats, especially on defense. He came into the championship game averaging 11.9 points, 7.5 rebounds, 1.9 assists, 1 steal, and 1 block per contest.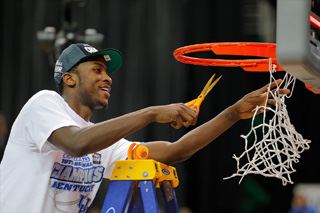 NBA scouts quickly took notice of his play, especially after contributing 24 points and 19 rebounds against rival Louisville. He does have a tendency to drive recklessly to the hoop, and he has poor jumpshot mechanics that will need to be fixed at the next level. He has fantastic size at 6-7, 232 pounds, and a 7-1 wingspan, good instincts, a relentless motor, and an unmatched determination and will to win. He's regarded on most mock draft boards as the second pick of the upcoming draft, behind only teammate Anthony Davis. Despite being pegged as the second pick, he continued to be the best teammate a player could have. Last season, Darius Miller was a starter for Kentucky, but MKG took over the starting role this season. In the SEC tournament, Miller was struggling mightily and Kidd-Gilchrist went to coach Cal and asked to come off the bench because he thought the team would be better served by Miller starting, in hopes of getting Miller going. Calipari agreed, and MKG happily came off the bench for the SEC championship. The Wildcats lost the game, but Miller got on track and it served the team well down the stretch as Miller was an integral part of the title run and credited MKG with helping him get back to playing well.
In the end, John Calipari doesn't get his first title without the outstanding play, and selflessness of Kidd-Gilchrist. Yes, Anthony Davis was probably the team's best player, but a strong case could be made that MKG was every bit as valuable. Their heart and soul, he was the leader of the team from day one, as his play had a unifying effect on the court. Off the court, he even helped form what the team called the "Breakfast Club" which allowed the team to bond off the court. This bonding led to a closeness between teammates that was evident even to those watching the team on television. This team genuinely enjoyed playing with each other and being around each other. This was due, in large part, to the efforts of MKG to bond with teammates and put winning above everything else on a team full of future NBA players.
Kidd-Gilchrist is a relentless defender, and typically got the assignment of guarding the other team's best perimeter player. At his size, he can guard 4 positions and wreak havoc on opposing offenses. What makes this especially impressive is that he had defensive player of the year Davis behind him. For many, having a security blanket like Davis makes players get lazy or take unnecessary risks on defense, but MKG routinely played lock down defense and was rarely out of position. He excels at creating mismatches on offense as well. If other teams put big men on him, MKG uses his speed and quickness advantage, while posting up smaller defenders. He is still somewhat raw offensively, but has the building blocks of both a quality post game and face up perimeter game.
He isn't without his flaws though, and there will be an adjustment period for him in the NBA. His jumpshot is unreliable, mostly due to his poor form. He has an unnatural hitch in his jumper that must be fixed. He'll have to develop a more consistent outside game if he's to excel at the next level. He is good driving to the basket, but is prone to offensive fouls as he drives recklessly at times. Another concern is because of his playing style, he risks injury as he never backs down and puts himself in precarious positions sometimes going for loose balls and rebounds. He already plays elite level defense so that will be a smooth transition for him. Also, he is one of the best at finishing in transition, so he can create offense with his defense better than most players. If he decides to declare for the draft, he'll make a pretty good consolation prize for a team that misses out on Davis. He can defend, he's the kind of teammate players would kill to have, has shown a willingness to be coached and sacrifice for the betterment of the team, and be a leader at a young age. This young man provides a defensive presence and will have a chance to make an impact on the NBA as a rookie. Yes, he's known by many different names, but after Monday night, you can just call him a winner.