The fourth annual Mustang Madness tipped off in Paducah, KY. With a mix of top players from the '17, '18, and '19 classes, some of whom will be college stars sooner than later. The event provided many quality names to keep up with moving forward.
Charles Bassey 6'10 220 PF/C – St. Anthony 2019
After originally being ruled ineligible, Bassey is on the court for St. Anthony and won both games of Mustang Madness. Although raw, it's easy to see the appeal and intrigue. He plays with energy and sees the big picture, thinking a few passes ahead. On one play he grabbed an offensive rebound with one hand and whipped a bullet pass to the open man underneath the basket before his feet landed. He made some nice passes and even led in transition a few plays showing some ball handling ability. He can get ahead of himself at times with footwork and moves around the basket but he displays pivots and soft touch in spurts as well. He squares up to the basket and uses the glass very well. He doesn't drift to the perimeter or settle for threes and shouldn't be considered a stretch big man yet but he can shoot with proper ball rotation. He even hit a step back three on one play. He moves his feet, rotates, and competes on defense. Bassey finished with 15 points and nine rebounds against Mountain Mission. He followed up with 30 points and 15 rebounds against Tennessee Prep.
Gary Trent Jr. 6'5 210 SG – Prolific Prep 2017 (Duke)
In Trent's matchup against The Tech Academy, he didn't shoot quite as well as he did at Marshall County Hoop Fest but still a big impact with 17 points, six rebounds, and six assists. He brings an alpha dog presence and is a vocal leader. At times he was defended by 6'10 Matur Maker, so he didn't post up as much but he moved the ball and got teammates, Pierre Crockrell and Abu Kigab (17 points each), involved. Trent showed patience and utilized his floater when attacking the middle. He had a big game against Wesleyan Christian Academy with 29 points, five rebounds, and four steals giving them their second loss of the season.
Matur Maker 6'10 200 PF – The Tech Academy 2017
With the absence of point guard Shakwon Barrett, Maker ran the point full-time for Tech. We all knew he had some ball skills as a forward but playing the point guard position was quite an adjustment for him. On the negative, he got a bit wild with his passes, ducked his head and forced his way to the basket, and forced up some contested threes without making a pass in the possession. On the positive, he drew numerous fouls and showed great confidence. Although he's not afraid of contact, he gets bumped off his path somewhat easily, when he doesn't draw a foul it usually results in a turnover. He did however have three dunks against The Conrad Academy where he attacked and threw it down over the top of multiple defenders. Tech lost both games but Maker finished with 27 points and ten rebounds against Prolific Prep. The game against Conrad Academy came down to the final seconds ending in a two point loss where Maker posted 20 points, 16 rebounds, and three assists.
Deandre Ayton 7'0 245 C – Hillcrest Prep 2017 (Arizona)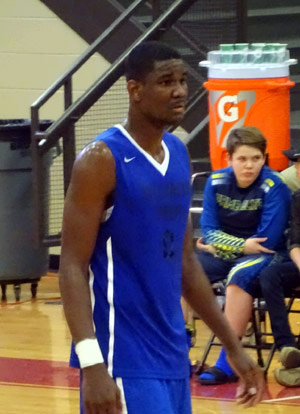 Hillcrest won both of their games of Mustang Madness. Ayton scored 11 points and grabbed 16 rebounds against Aspire Academy. He played very good defense, especially one on one in the post, he finished with four blocks, sending the ball the opposite direction faster than they came at him. The shots he didn't block he altered and he redirected the offense out of the paint. On the flip side, he played complacent on offense, letting it come to him too much while setting screens and playing as a decoy in the post. I would really like to see his intensity and competiveness match his level of tools and talent. He was more involved with the offense in the win over Victory Rock Prep, however on a string of plays when Hillcrest was inbounding the ball against a press, while the ball kept getting deflected out of bounds Ayton stayed at half court without much urgency to help get the ball in play. He really stands out with his physical attributes and athleticism. Whether it's dunking, grabbing rebounds, or even jumping the passing lanes; it's no contest for the opposition at this level. Ayton would finish with 23 points, 18 rebounds, and three blocks in the win over Victory Rock Prep.
Jaylen Hoard 6'7 195 SF – Wesleyan Christian Academy 2018
It's been almost two years since I first and last saw Hoard play at the 2015 Jordan Brand Classic International Game, where he brought home the MVP award. I came away impressed once again. He serves as WCA's go to player and impacts in more ways than scoring. His ball handling and shooting have much room to improve as he tends to dribble high and I believe his only three-pointer came at the halftime buzzer nearly from half court. However, he still gets to the rim off the dribble, even when you know he's driving and was able to get into the lane against intense defenders like Abu Kigab. He transitions into his low driving position smooth and shifts his gear with an in & out or crossover. His court vision and passing was the best in the event. He showed very good instincts, passing out of drives, and highly unselfish. He gets to the free throw line at a high rate and tries to dunk everything when attacking displaying athleticism and body control. I would like to see him pick up the defensive intensity a bit but he does possess the tools. This is his first year playing in the US and he seems to have adapted pretty well. Hoard finished with 30 points while making 15 of his 19 free throws in the win over The Conrad Academy. He also grabbed seven rebounds and passed out six assists. He struggled converting his shots at the rim in the loss to Prolific Prep and finished with 16 points and six rebounds.
Luguentz Dort 6'4 220 SG – The Conrad Academy 2018
Dort played well at Mustang Madness helping Conrad to a 1-1 record. He's strong and a tough player all around who can defend bigger players. He's a fearless driver and gets off the ground very quickly including an explosive second jump allowing him to rebound well especially for his position. He finished with a few dunks that caught the crowd by surprise. He can absolutely improve as an outside shooter as I don't believe he hit a three over his two games. Dort finished with 31 points and 11 rebounds in the loss to Wesleyan Christian Academy. He came up big in the two point win over The Tech Academy with 24 points and seven rebounds.
Elijah Weaver 6'5 190 PG – Oldsmar Christian 2018
Weaver and Oldsmar finished with a 1-1 record. He's very quick off the dribble and his hands match his foot speed. He showed some passing ability but doesn't overwhelm in assists and didn't always keep it simple leading to turnovers. His feet are always set and squared up for his quick jump shot which could improve consistency. Oldsmar's games were fast paced and a bit loose but Weaver had a good weekend overall. He earned MVP against Tennessee Prep with 26 points and scored 11 points in the loss to Liberty Heights.
Robert Woodard 6'5 220 SG – Columbus 2018
Columbus struggled to stay in the game against Chicago Curie losing 61-40 but Woodard was a bright spot and impressed in spurts. Only a junior but he's very strong with a man's body. He's got a high arcing shot and has a turnaround in the post along with his perimeter shooting. His handle can improve but he did show some spin moves and eurosteps in traffic weaving through multiple defenders. Woodard finished with 23 of his team's 40 points along with six rebounds and four steals.