Rising
Derrick Williams
Could you imagine the backlash if the Cavs screw this one up? Cleveland will take no chances here, and should look to select the prospect with the highest ceiling and the least amount of uncertainty. Right now, Derrick Williams is that guy. He's given scouts a much larger sample size to evaluate from, showing a gradual increase in production from the start of his freshman year to the end of his sophomore year. Williams measured and tested exceptionally well in Chicago, backing up his strong play at Arizona with ideal physical tools. His versatility and potential to play both the 3 and 4 will also allow Cleveland roster flexibility in terms of adding another star to play next to him, whether it's in the draft or free agency.
With reports over the weekend that Cleveland has interest in acquiring the second pick to go along with the first, it's likely that they are either skeptical of Enes Kanter's availability at the 4th pick, or they're skeptical of him as a player. If Cleveland takes Irving first, they'll have the option of selecting between Kanter, Brandon Knight or Kemba Walker, with everyone else considered a reach. Of those three, only Kanter seems to make sense as a compliment. But if Kanter goes 3 to Utah, Cleveland will be stuck with pairing Irving with another point guard, or reaching on someone like Kawhi Leonard, who would be better suited in a lineup consisting of more established scores and playmakers. By selecting Williams, Cleveland can pair him with either Kanter or someone like Knight or Kemba Walker at the 4th pick.
Enes Kanter
Kanter has strategically positioned himself as someone too rewarding to pass on at the number 3 spot. He's generated virtually zero question marks surrounding his physical capabilities, posting promising results in both his measurements and athletic testing. While Kanter has generally been evaluated based off one performance in 2010, he left scouts in Chicago with little to criticize at an event that makes it easy to nitpick. Though Utah has been previously linked to Brandon Knight, the Jazz will have to think about his development playing alongside Devin Harris, whose shoot-first mentality could affect the progression of a young combo guard looking to grow as a facilitator. Kanter could fit right in next to Al Jefferson, solidifying the team's front court by adding youth, strength, agility and skill.
Kawhi Leonard
After Irving, Williams, Kanter and Knight, the Raptors have few available options that can be regarded as potential fixtures at a specific position. Though Kemba Walker seems like a sensible choice, there's still some uncertainty surrounding his role at the next level. The Raptors might want to address the leak they have at the small forward position and fill it with cement, or a 6'7 forward with a 7'3 wingspan and hands that could grip a leather beach ball. Leonard has reportedly shot the ball extremely well during workouts, and has given teams little reason to doubt his effectiveness as a rebounder and defender. The Raptors need depth/talent at the 1, 3 and 4 positions. Considering the lack of point guard options after Irving and Knight, and the abundance of safer, lower-upside 4s, Leonard looks like the best fit from a needs and upside standpoint.
Tobias Harris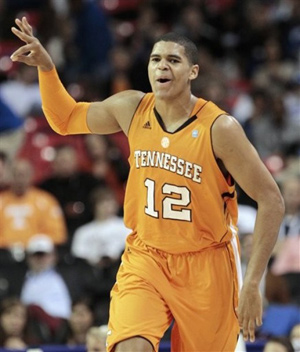 Harris showed off the athleticism and mobility that should allow him to share time both in the post and on the wing. This versatility will now attract a new group of teams that have holes in their rotations. A mature, high character student of the game, Harris displayed consistency and efficiency throughout the entire season, scoring in double figures in all but three games. After acing his interviews, Harris should remain in the top 20 mix as a low-risk, high-reward prospect.
Marshon Brooks
Brooks illustrated his quickness and leaping abilities at the combine, along with a 7'1 wingspan as a 6'5 shooting guard. Unlike many prospects in this year's draft, Brooks' identity is clear. He's a natural scorer in every sense of the word, and maintains an offensive repertoire consisting of practically every move in the book. Those who watched him in workout settings were quick to point out his ability to score from any position on the court. Though some question his strength and lack of bulk, he weighed in at 196 lbs, which in comparison is only 4 pounds lighter than Atlanta's Jamal Crawford, who sports a similar game. I've had the chance to watch Brooks all year long, and feel confident that his abilities are worthy of a top 20 pick.
Jeremy Tyler
It's hard not to be mesmerized by a man who stands 6'10.5 with a 7'5 wingspan and a 12 foot max vertical reach. It's even harder when that man is agile and athletic. Tyler looks the part of an NBA center, and has done all the right things in regards to erasing concern over his failed overseas experiment. With a number of teams in need of an athletic, defensive presence in the middle, Tyler's stock should continue to rise into the late first round.
Andrew Goudelock
So far so good for Goudelock, who has nailed his initial auditions for a specialist role at the next level. Shooting lights out in both Portsmouth and Chicago, he's left scouts with only one question to answer- can he guard NBA point guards. He measured in at 6'2.75, but tested well in almost every athletic category. Goudelock looks to be convincing in his attempt to persuade scouts that his passing, ball-handling and defensive abilities are all strong enough to overshadow his lack of a true position.
Falling
Kyrie Irving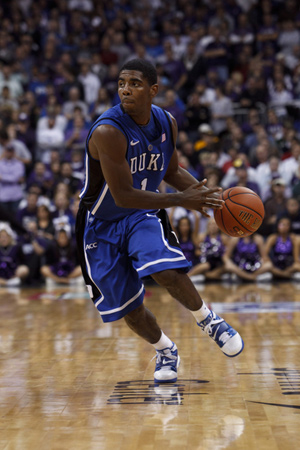 The Cavs are approaching one of the most important drafts in franchise history, and should feel pressure to make the right selection considering the rare position they are in. Does Cleveland really want to take this opportunity to choose a guard who decided to skip out on combine drills and athletic testing, after playing in only 11 college games? Maybe, but while Derrick Williams' stock continues to soar, Irving's lack of participation and small sample of production could trigger a sense of ambivalence in regards to choosing LeBron's replacement. We still love Irving, but from Cleveland's perspective, Williams might be the safer play.
Jordan Williams
Williams entered the combine with criticism surrounding his athleticism, quickness and explosiveness for an NBA big. He left with the same criticism. Right now his upside doesn't quite compel you to overlook his weaknesses. Teams might be interested in more of a "sure thing" with their one and only first round pick.
Nolan Smith
Smith's measurements and athletic results were pretty much what you'd expect, maybe slightly worse. While other bubble first rounders such as Marshon Brooks, Jeremy Tyler, Kyler Singler, Josh Selby have begun solidifying their positions in the first round, Smith maintains the same question mark status he played with his entire career. He's a low ceiling guard with backup potential, and should fall to a team with a need, not a want. His best shot at the first round would be Chicago at 28 or 30, but with other younger, more athletic prospects on the rise, Smith could be on the verge of a draft night slide.