Rising
Ben McLemore, Kansas
McLemore appears comfortable out there, and looks the part of an NBA 2-guard. He's been a little inconsistent to start the year, particularly shooting the ball, but his potential is unmistakable. He's drawn comparisons to Ray Allen due to his size, athleticism and silky shooting stroke, and smooth all around game.
He's got fluid mechanics and sweet rhythm as a catch and shooter, and that looks to be the role where he'll excel at the next level. His size and athleticism meet the requirements of an off-guard, and has contributed to some explosive finishes above the rim. He'll be highly coveted regardless of what his eventual numbers wind up being.
McLemore has moved back into the top 10 on the mock and appears to be the top shooting guard prospect for this year's draft.
Mason Plumlee, Duke
No longer just an off-ball contributor, Plumlee is getting the rock and generating his own offense. His post-game has shown some solid development. He's showing countermoves and go-to moves with both hands around the basket and even facing up and creating mid range at times. It's increased his offensive value tremendously, which is reflected by his 11 point scoring average increase.
His ability to play above the rim gives him a lot of easy baskets. He's also controlling the glass and protecting the rim as a weak side defender. Plumlee looks to have turned the corner and raised his overall ceiling to a potential top 20 pick.
Otto Porter, Georgetown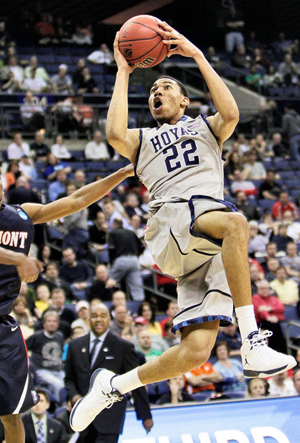 Porter nailed his first audition this year in front of numerous NBA scouts, putting up an 18-11-5-5-3 stat line in a win over UCLA. He presents the image of a jack of all trades guy, but without any risk or physical limitations. He's got a long, NBA frame that should only thicken with time.
He did two things over the week that will aid his draft stock: He was making jumpers, and he scored an isolation bucket in crunch-time against UCLA. Knowing you can give him the ball and he can get you two points raises his ceiling an extra story.
Porter's impressive summer at the LeBron James skills Academy and excellent start has moved him up to the 5th overall pick.
Jeff Withey, Kansas
Withey followed up a 25-point performance with a 12-block triple double. I'd say that qualifies for the "rising" segment of this article.
The "really good shot-blocker" thing is starting to look genuine. He averaged 3.6 blocks in 24 minutes a night last year, a hard number to wrap your mind around, until you realize he's blocking 6.2 shots in 28 minutes this year.
He's consistently finishing at the rim, and though still creatively-challenged, has a good feel around the basket. Any offense is a plus- it's the incredible shot-blocking rate that has everyone's attention.
Brandon Paul, Illinois
Paul is playing some of the best ball in the Big Ten, and his confidence has risen because of it.
He's shooting better than ever before, at 42% from downtown and 48% from the field. He's getting and converting easier shots inside the arc, which has helped make him a more complete scorer and reliable offensive contributor.
Paul looks lighter off his feet, and is doing a better job of creating for himself and his teammates. Paul's scoring, assists and percentages are all up.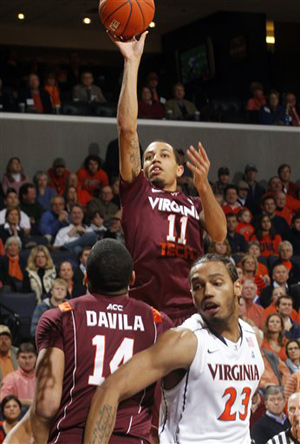 Erick Green, Virginia Tech
Erick Green leads the ACC in scoring, averaging 24 a game playing the best ball of his career. He hasn't exactly forgotten about his playmaking duties either, dishing out five assists to balance out his floor game.
The big difference in Green is he's more aggressive off the dribble, getting to the stripe 10 times a game where he's scoring 5.5 more points than he did last year. He's put himself back on the NBA draft radar with a strong start, and could continue rising if he sustains this offensive productivity.
Allen Crabbe, California
Crabbe has been a scoring machine, and he's not just doing it behind the arc. He's averaging 22 a game, getting baskets as a slasher and perimeter scorer, and doing so with incredible efficiency shooting 52% from the floor.
He looks to have expanded his game off the bounce and increased his threat with the ball. With an ideal shooting guard body, a sweet outside stroke and defensive potential, Crabbe has first round upside either this year or the next.
Isaiah Canaan, Murray State
Canaan is coming off back to back 30 point games, and is playing that "hero" style of basketball that earned him so much praise last year.
I don't see any physical limitations with Canaan, showing strength and athleticism to make up for the inch or two that would have helped put him over the top. At some points he looks like a replica of Raymond Felton, with that bulldog-like physique and ability to bounce off contact.
He's once again raised his three-point percentage to over 40%, and could be the most underrated shooter in the country. Canaan may have struggled to show scouts he could play the PG position in the summer at the (LeBron and adidas Nations) skills camps, but he has not skipped a beat back with Murray State this year.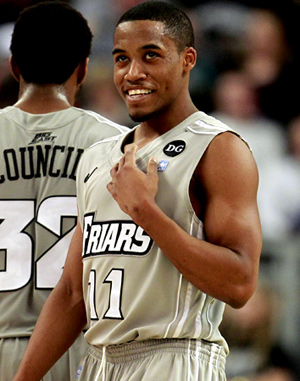 Bryce Cotton 6-1 165 PG Providence Jr.
Cotton is a speed merchant who has been tearing it up to start his junior year. He's got an excellent stroke and has shown that he's a capable ball handler and distributor. Few PGs can match his numbers through the first couple weeks of the season as he's averaging 27.4 ppg, (47 fg%, 42 3p%) 4.8 apg, 5.3 rpg, and 2.3 to.
He's got a flashy game but also delivers results, similar to a poor man's Brandon Jennings. While he's definitely on the thin side weighing just 165 lbs, the junior out of Tucson, Arizona is a prospect to keep an eye on this year.
Juvonte Reddic 6-9 240 PF VCU Jr.
Reddic makes his debut on the 2014 mock draft this week. The VCU junior combines good length with a solid motor and good touch. Through his first 7 games, Reddic is averaging 15 ppg on 60% shooting and 8.6 boards.
He incorporates a polished hook shot and also a solid mid range jumpshot. Reddic hits the boards hard shows both strength and agility.
Falling
James McAdoo, UNC
It's been a bad week for McAdoo. He had 7 turnovers and 5 field goals in a loss to Butler, and was irrelevant in a blowout loss to Indiana. The fact of the matter is, McAdoo is more comfortable fitting in than being the focal point of an offense.
He is better suited as a role player making plays off the ball. The shots he's creating for himself are low-percentage. If he's shooting high-post fade-aways, then he's not taking advantage of his physical gifts, which allow him to make plays above the rim where others aren't capable of.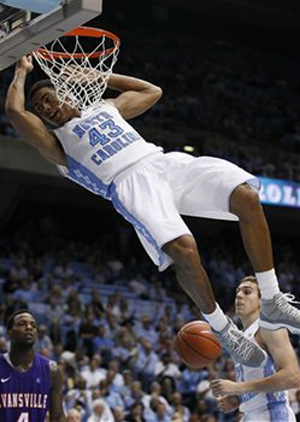 He looks the part, but we're still unsure of what his future offensive role will be and whether he will develop the necessary intensity to thrive. McAdoo took the biggest dive in the most recent mock update falling from 4th all the way to 12.
Kyle Anderson, UCLA
It hasn't been a smooth transition process for Anderson, who seems overwhelmed by the ball pressure and strength of his opponents. He hasn't done much in terms of manipulating the defense and creating off the dribble, and his offensive game has yet to show.
Anderson is no longer a primary ball-handler, so adjusting to playing off the ball is clearly a hurdle. It would be nice if coach Howland gave him more opportunities to run the point, because his passing skills are elite. But since that isn't where his future is at the next level, Howland is probably inadvertently doing Anderson a favor.
Anderson came in with a ton of hype, but he's never been projected as a one and done type of prospect on NBADraft.net. In terms of athleticism, think Jared Dudley with better handle and passing but less toughness and shooting ability. Slo-mo's game doesn't project as well to the NBA level because there is such a premium on speed with guards due to the hand checking rule changes.
Ian Miller, Florida State
Ian Miller has yet to make an impact, and has been ineffective in all but one game. He doesn't appear to have the mentality to run a team, and the stand out athleticism he flashed in high school, doesn't seem to be there. Whether injuries have hurt his progress, or lack of confidence, Miller's game has not progressed as expected.
He was a quiet 0-2 in a loss to Minnesota, and is shooting right around his career average at 37% from the floor. When he's not shooting well, Miller is a complete non-factor. His overall percentages are decent, but his assertiveness just isn't there.