Rising
Anthony Davis, 6'10 PF, Kentucky
Davis makes opposing offenses look downright foolish. He's had at least 7 blocks in three of his last four games! Most teams couldn't get that type of rim protection if their center played with a damn broom.
His defensive impact is almost unprecedented, and with a well-rounded skill-set and excellent physical tools, Davis has practically locked up the top spot. He's an ideal pick and roller, with the mobility, length and hops to throw down anything within the vicinity of the cylinder. His transition from guard to forward has run smoothly, as his previous perimeter tendencies have all worked in his favor playing against slower-footed big men.
There's minimal risk and a ton of reward, and considering his strong character and well-groomed unibrow, Davis has tremendous marketability as the cornerstone of your franchise.
Kris Joseph, 6'7 SF, Syracuse
Joseph had his best game of the year against Georgetown, posing as the perimeter threat and off-ball slasher his character was meant to play.
Despite his inconsistencies, Joseph has appeal as a prospect thanks to promising defensive tools and ideal length/athleticism for a wing. But it's been his mechanics and rhythm as a shooter that have increased his chances of earning substantial next-level minutes. Earlier in his career he was viewed as a great athlete who thrives in transition and off-ball movement. Outside of fast break buckets and 12 foot jumpers off curls, he didn't have much else to offer offensively.
As as senior he's shooting 37% from three and looks comfortable spotting up out to 23 feet. If his outside game becomes a strength, Joseph can separate himself from raw athlete to offensive asset.
Austin Rivers, 6'4 G, Duke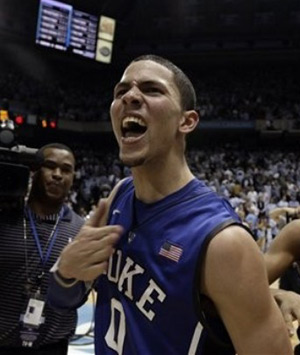 The pullup he knocked down after sizing up Tyler Zeller was sweet enough to raise goose bumps on a monkey.
Rivers is a cold-blooded assassin, with the confidence to want and demand the ball in the highest-pressure situations. You can nitpick at Rivers' flaws as a combo-guard with a scorer's mentality and minimal quarterback instincts, but the kid just has the "it' factor. Nobody questions his talent, while his competitive drive remains committed.
We compare him to OJ Mayo due to similar skill-sets, size and the floor space occupied, but Rivers quickness and intensity levels are both superior. With no rush to enter the draft due in part to a deep field of talent and a father who values development, #0 could benefit by honing his craft and staying at Duke.
Rivers moved from #7 to #5 on our 2013 mock.
Tyler Zeller, 6'11 C, North Carolina
Prior to the Miami game, Zeller averaged 23 and 9 over his previous three. He's a talented big man with a great feel and skill-level, and unlike most other centers in the draft, Zeller plays offense. He's more of a finesse player with a good sense of his surroundings. Like his brother Cody, Tyler has a good feel for when to go up, take a dribble or throw a pump-fake, and can drop it through the hole at the most awkward of angles.
With good position, it's almost expected that Zeller converts once the entry pass is delivered. He has starting center potential for a team who lacks a punch at the 5 position.
Zeller has moved up to #14 overall in our 2012 mock.
Jeff Withey. 7'0 C, Kansas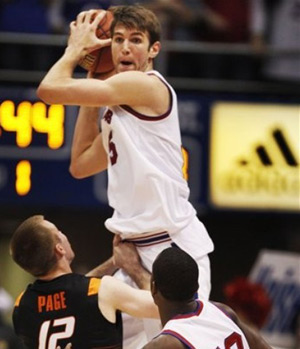 What a month for Withey, who's averaged 20 points, 12 boards and 6 blocks over his last three (all wins) against Baylor, Oklahoma State and Kansas State.
Withey is a long, 7 feet tall and moves well off the ball. Offensively he's a smart player- rarely forces the issue, times his cuts accordingly and finishes around the rim. Defensively he slides well and covers a lot of ground with good footwork and a huge wingspan.
He's a low risk/low reward player who should generate plenty of second round demand. Viable backup centers are hard to come by these days, and Withey would fit that bill.
Withey moved from #56 in 2013 to #36 in 2012.
Fab Melo, 7'0 C, Syracuse
Last year he was lost like a senior citizen driving without navigation. Now he's one of my favorite players to watch in the country.
Melo went from slow and clumsy to dancing the "Black Swan", running the floor with speed, grace and balance. His defensive prowess is well-known by now. He blocks over 3 shots a game and alters 20, forcing opponents to hesitate when attacking the rim or penetrating. But he's more than just a defensive presence. He's been on the receiving end of numerous alley-oops, and the majority of them can be attributed to his positioning, timing and deceptive athleticism. And while he hasn't shown it off that much, he was knocking down 15-20 footers with comfort against UConn and Louisville last week.
Though his offensive game is still raw, it will never be his selling point moving forward. A guy like Tyson Chandler has made a hell of a career for himself without any post moves or midrange game (I'm not comparing the two, just their roles). Catching lobs, finishing and defending are all areas he excels in that should trigger interest from NBA teams.
Jeffrey Taylor, 6'7 SF, Vanderbilt
Took me four years to start sippin' the Jeff Taylor Kool-Aid. But I'm finally on it.
At 6'7, Taylor has the athleticism and mobility to lock down opposing shooting guards and small forwards. But we knew all this. Question marks surrounded his inability to contribute offensively, as his scoring came primarily off others' creativity and loose balls.
But all the sudden his three-point ball is dropping at a 47% clip, compared to 34% as a junior and only 1 made three all year as a sophomore. His elite athleticism allows him to get to the rim and finish with hostility, although he's limited to attacking just north to south. He's played extremely well as of late, nailing 9 three-pointers over his past three games on 52% from downtown. (He's also 3-3 from three in the first 4 minutes of the Ole Miss game right now)
Taylor remains a defensive asset and a threat in transition, but looks to be expanding his overall offensive game. He's improving his half court skill-set to maximize his contributions as a rare athletic specimen with multiple positional eligibility.
Taylor went from early second round to late first round in our 2012 mock.
Slippin'
Jeremy Lamb, 6'5 SF, Connecticut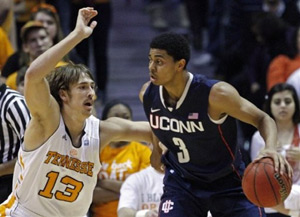 C'mon bro. That's what I find myself saying when watching Lamb over the past few weeks.
Though I'm speculating, it almost looks as if he's more focused on showing scouts his NBA repertoire than he is winning ballgames. He's taking unnecessary step-back jumpers and frequently settling on the perimeter, which is all good if they're dropping. But they're not, and he isn't adjusting. He missed 8 threes against Syracuse and 9 against Georgetown. Lamb needs to find a new point of attack when his outside game is off, and at least pretend to illustrate some positive body language.
From a talent and potential standpoint, I truly believe Lamb could be a top three pick. But he needs to make some changes- maybe peep the tape where he dropped 35 on Latvia during the summer's U19 FIBA championships.
Lamb dropped from #3 to #5 in our 2012 mock.
JaMychal Green, 6'9 PF, Alabama [Player: Tony Mitchell, 6'7 SF, Alabama
When you're considered a second round pick, rule #1 is don't get into trouble off the court. Second round picks just aren't worth the headache at the next level, and if coaches view you as a potential distraction, forget about it.
This is Green's third suspension with Alabama, a bad sign in terms of maturity and character. The fact that both these guys are essentially leaders of the team makes it even more concerning. Although Alabama's conference record should raise some red flags to begin with.
Green fell off our board and Mitchell dropped from #35 to #56 in 2013.
Yell at Jonathan Wasserman on Twitter @NBADraftnetWass