With a roster the casual fan, or pundit for that matter, likely would not have bet on, the West came out victorious, despite getting outrebounded 62-42 and only shooting 45.5% (5-11) on free throws. Here's a breakdown of the West.
Nassir Little 6'7 215 SF – North Carolina
Little capped off an impressive set of practices with an MVP performance in the game with 28 points and five rebounds coming off the bench. The future Tarheel's effort was eye opening as he gave it his all throughout his 21 minutes. He had a good balance of playing aggressive while not forcing things. His athleticism was on full display as he was seemlingly bouncing off the walls with energy and dunked nearly everything in the paint, including tip slams and a one handed alley oop that appeared out of his reach. He made a few difficult layups and shot 2-4 from outside. Little took pride in defending Zion Williamson in isolation on back to back plays, poking the ball loose on both. The North Carolina commit played well on both ends and shot an efficient 12-17 from the floor.
Jordan Brown 6'11 210 PF/C – Undecided
Brown played a simple yet effective game. He was active throughout the game, running the floor, and scoring in the half court. He has great touch in the paint to match his athleticism, using the glass when appropriate. Brown has great ambidexterity around the rim, showing no hesitation to use his left hand on floaters/jump hooks, where ten of his 26 points came from. He needs to add strength in both his upper and lower body if he's going to primarily play in the paint. The uncommitted recruit shot 13-19 and grabbed eight rebounds in the win.
Reggie Perry 6'9 235 PF – Mississippi State
Perry finished with 15 points and seven rebounds (three offensive). His developing outside shot was on display, going 2-3 from behind the arc with a quick release and no hesitation to let it fly. He played with a good level of activity without trying to dominate the game, shooting 6-11 from the floor. In addition to his size and skillset, he also showed good athleticism and mobility to be productive at the next level.
Quentin Grimes 6'5 200 SG – Kansas
Grimes found his shot which was missing in practice. He showed his hops on a few plays on the finishing end of alley oops and had some strong takes to the basket using good body control in the paint. He played off the ball but did an excellent job finding open teammates to dish out six assists. Grimes scored 14 points and was the only guard to score in double figures for the West.
Darius Bazley 6'9 210 PF – G League
Bazley showed a versatile skillset, playing everywhere in the half court while making some passes and scoring inside and out. He made 2 of his 3 three-point attempts, pulling up in rhythm. He shot 50% from the floor to finish with 11 points and seven rebounds. The future G-Leaguer intrigues on the defensive end as well with his tools and activity.
Cameron Reddish 6'8 205 SG/SF – Duke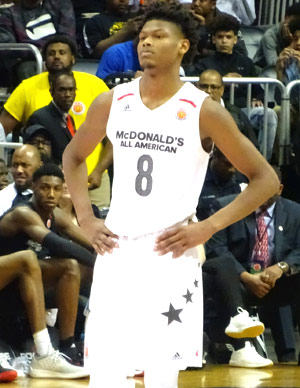 Reddish posted a decent stat line, but he didn't play to his ability. He scored 11 points with some spin moves in traffic and smooth finishes. He didn't show much of his explosive athleticism and laid up a wide open fast break. He did pass the ball very well with nine assists and only one turnover, running the pick and roll as a ballhandler, which will give him value at the college level and beyond. He jumped a few passes to lead the game in steals and can be a lock down defender when he plays with the right intensity.
Devon Dotson 6'2 175 PG – Kansas
Dotson had a solid showing with a little bit of scoring and distributing with eight points and three assists. The explosive future Jayhawk pushed the ball up the floor quickly when running the point taking what the defense gives him, sometimes going all the way for a layup or other times pulling up for a midrange jumper. Dotson also posted four rebounds and two steals.
Keldon Johnson 6'6 205 SG – Kentucky
Johnson couldn't get his shooting going, missing on his quick trigger threes but was effective taking it strong to the basket, including a big flush down the middle when no one stopped the ball. He's known as a scorer, but he spaced the floor and didn't force his shots. He did a good job passing the ball with three assists and remained engaged defensively, despite the scoring struggles, recording two blocks and showing up to the challenge when matched up against RJ Barrett and Romeo Langford.
Tre Jones 6'3 180 PG – Duke
Jones was smooth, getting into the lane to glide in for layups. I would like to see him become more of a jump shooter with his lack of length and athleticism. He, along with Jordan Brown, were the only players on the West to not attempt a three. His pass first approach led him to eight assists which, similar to his NBA brother Tyus, will be his calling card moving forward.
Jahvon Quinerly 6'1 165 PG – Villanova
Quinerly struggled on 1-7 shooting. His only basket came from freezing the defense off the dribble to knock down the three. He didn't finish well in the paint and put himself in bad situations with the ball, getting layups blocked and passes deflected on drives. Quinerly is capable of playing better but had an off-night finishing with three points and four assists.