By Ian Powers
Cliff Alexander, 6-9 240 PF/C Chicago, Currie, 2014. Alexander was the most dominant player at the event. He used his big, strong body and relentless motor to punish opponents around the basket and on the glass. He showed an improving offensive game that featured a nice jump hook over his left shoulder and solid 15-foot stroke.
He rebounded, finished in transition and had a take-no-prisoners attitude. For an elite kid, he plays the game with a chip on his shoulder that a lot of prospects just don't have.
Stanley Johnson 6-6 220 SF, Santa Ana, Calif., Mater Dei, 2014. When I saw Johnson as a freshman, he was a powerfully built undersized power forward who didn't show much skill on the perimeter. Times have definitely changed. He has established himself as the most complete wing in the country.
Johnson had everything on display in Vegas and cemented himself as a top 5-10 player in the country. He showed his improved handle and shot the ball extremely well from the perimeter. He was able to get to the basket and use his strong frame to finish through contact. He has a tendency to pound the ball and look for his own shot too much at times, but those are things that can be corrected. Right now, his stock is at an all-time high. Kentucky has gotten more involved in his recruitment and may be the leader at this point.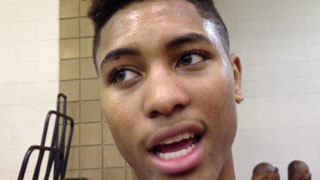 Kelly Oubre 6-6 190 SG/SF, Henderson, Nev., Findlay Prep 2014. Oubre has been on a monumental rise this summer, and should be cracking a lot of top-10 lists based on his upside.
Smooth is the best way to describe Oubre. He can actually play too smoothly at times and gives the impression to some that he may not be giving maximum effort. He can get to the basket at will and had some tremendous finishes in traffic over defenders that raised eyebrows throughout the gym. He shows the ability to shoot the ball out to the 3-point line, although it can be a little streaky. He also has has a very good feel for the game and is a willing and able passer. The next step for him will be to pick up his intensity and put it all on the line for 32-40 minutes.
Rashad Vaughn 6-5 200 SG/SF, Henderson, Nev., Findlay Prep, 2014. The newest member of Findlay Prep's loaded roster had a solid performance at the LeBron Academy. His jumpshot was lethal and he used his size and strength to get in the lane. Some of the NBA scouts in attendance were impressed with his demeanor and mature game. He is a top-10 player in the class and will greatly benefit from a a year of prep school before heading off to college.
Malik Newman 6-3 175 SG/PG, Jackson, Miss., Callaway 2015. The Mississippi native was at his usual best in Las Vegas. He is the best pure scorer in the country regardless of class and can play on the other end, as well. He can score from deep and at the rim, but he's best in the mid-range area. He can stop on a dime, gain separation from his defender and bury shots at a high rate. He has plus athleticism and can play both guard spots. He was able to make life difficult for Rashad Vaughn in the second half of their much anticipated matchup.
Reid Travis 6-7 220 PF/SF, Minneapolis, De La Salle. Travis is the ultimate team guy and will help some college coach win a lot of games. He is a lunch-pail, blue-collar type of player with some raw skills. He can bang down low and shoot the ball out to the college 3-point line, rebound in and out of his area and run the floor. His best asset is his motor that never stops running. What he lacks in elite physical tools, he makes up for in effort and determination. With such massive arms and strength, Travis was one of the more impressive players in camp from a productivity standpoint.
Terry Larrier 6-7 185 SF, Bronx, N.Y., Our Savior Lutheran School. Larrier has been one of the biggest risers over the spring and summer. He showed why in Vegas. Larrier is a long, smooth athlete who can finish above the rim and make plays in transition. Right now, he's limited to either scoring off the drive or in catch-and-shoot opportunities. Developing a middle game will take his game to the next level. He has a lot of upside and he seems to just be scratching the surface.