Maryland's 6'10 260 lb power forward Jordan Williams has quickly become one of the most productive bigmen in the Nation and has jumped on the radar of many NBA scouts as a potential first round pick for the 2011 NBA draft.
NBADraft.net: What do you make of the season so far both personally & individually?
Jordan Williams: Personally my goal was to improve on last season anyway I can to become a better all-round player. As a team, I'm looking to become more of a leader in my sophomore season and take on more of a leadership role. The team has had some close losses. A couple more loose balls or made free throws and our record could easily be a lot better.
NBADraft.net: What are your expectations heading into the heart of ACC play?
Jordan Williams: We play a lot of tough teams but I think we definitely expect to be contenders in the ACC. If we can finish the year strong, pick up wins against teams like UNC & Duke, then our goal is definitely to contend in the ACC and then also to make the NCAA tournament.
NBADraft.net: You have significantly increased your output from your freshmen year. What do you put that down to?
Jordan Williams: I'm in much better physical condition. I am playing about 25 pounds lighter than last season. Since I have lost the weight this year, I can play more minutes and be more effective during games.
NBADraft.net: Is there a team you prefer to beat more than Duke?
Jordan Williams: No. They are the team to beat. Nolan Smith is my boy so it's bittersweet whenever I beat him but Duke are a top team so its always good to get a win and have bragging rights over Nolan.
NBADraft.net: What will you bring to an NBA team?
Jordan Williams: I will bring a great work ethic. I don't jump the highest or play 2 feet above the rim but I will provide a physical presence on both ends of the floor.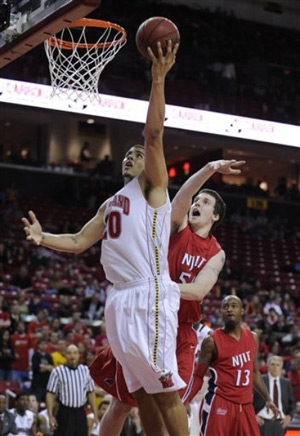 NBADraft.net: What are you working on to increase your chances?
Jordan Williams: I am trying to bring my game out a little and shoot the ball a bit more. I can play the 5 but would prefer to play the 4, where I can extend my game a little and still crash the boards.
NBADraft.net: You shattered a backboard in high school. Talk about that experience.
Jordan Williams: As a high school senior, I first broke a backboard in a pre-season pick up game in a YMCA up in Connecticut. Then about 3 months later during the season, I did it again during an away game. There was two minutes left in the game and we had to finish the game the next day in our gym. It's definitely a great experience, you never expect things like that to happen.

NBADraft.net: Who is the toughest opponent you have faced?

Jordan Williams: Gani Lawal & Derrick Favors (Georgia Tech). I didn't get a break all night when I played against them
NBADraft.net: Who are you favorite players, past and present?
Jordan Williams: Shaquille O'Neal growing up. He was such a dominant force.Tim Duncan doesn't showboat or get the highlights but he gets the job done and fills the stat sheet. I like that about him.

NBADraft.net: Who do you pattern your game after?
Jordan Williams: Players like Kevin Love and Glen Davis. They don't play above the rim either but both are physical, they get the job done and are important role players for their teams.