John Jenkins was a consensus top 10 prep guard who has quickly blossomed into one of the nation's premiere shooters. Jenkins recently updated NBADraft.net on his offseason routine and planning for the upcoming season.
Q: Give me a typical day in the off-season.
Wake up, go to weights, conditioning, get about 400 shots up. Go to class, then back to the gym. Intense workout on my moves with point guard Chris Meriwether. Go take a nap, then back to the gym where I shoot using the gunner machine. Weekends I do a lot of agility work like backboard touches, slides, and lateral work.
Q: What part of your game did you want to improve on most this summer?
Ball-handling, I wanted to handle the ball more this year and add that to my game.
Q: Describe your game to someone that's never seen you play.
Smooth, energetic, passionate.
Q: What role does diet play in your off-season routine?
I weigh 205 right now, and it's a good 205. I have to watch what I eat, eating vegetables instead of sweets, and being careful not to eat too late. Do things like grilled chicken instead of fried, stuff like that.
Q: When you aren't playing basketball, what do you like to do?
Hang out with friends, go to the movies, watch TV, be on the internet. Typical stuff a kid likes to do.
Q: If you didn't play basketball what sport would you be playing?
Probably football, and I'd play wide receiver.
Q: What are you planning on majoring in at Vandy?
Right now it's sociology, but I'm still undecided.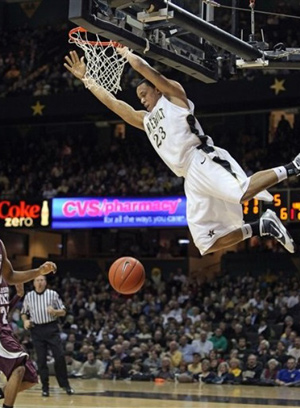 Q: Who has been the most influential person in your career thus far?
My parents and my coaches that I've had throughout high school.
Q: Growing up, what NBA players did you enjoy watching the most?
Michael Jordan of course. Kobe, LeBron, that's about it guard wise.
Q: Who's your favorite player current day?
LeBron James.
Q: What players would you compare yourself to in the NBA today?
Ray Allen because of the way he shoots, his release. His main asset is shooting and so is mine.
Q: How does watching film of guys like Ray Allen, or watching games live help you pick up on things they do that you can use in your own game?
It gives you more insight on what they do and how you can add to your game. It gives you tips on how to handle things like screens and pressure stuff like that.
Q: You didn't start right away this past season, how much does it help you in the future that you had to earn every minute you got this year?
It helped out a lot because it opened my eyes letting me know that nothing would come easy. It will help a lot it in the future and was a very good experience for me.
Q: With Jermaine Beal and AJ Ogilvy gone you will be looked to as more of a leader this year, how prepared are you for that?
I'm really prepared. I'm making sure guys are doing the right thing, talking to guys a lot more on and off the court. Working the hardest, leading by example, and taking the freshmen under my wing.
Q: What are your expectations for this season for you? For the team?
I just want to make sure I do my part on offense and defense. I want to make sure I do what I can to help the team win. I think we will be very good, we have a lot of experience, and I expect us to get better everyday.
Q: What would it take for you to leave for the NBA after this season?
If I am doing everything right, being smart, playing good basketball the NBA will work itself out at some point.