McDonald's All American, Jayson Tatum, led the East in scoring with 18 points. NBADraft.net's Evan Tomes got a chance to catch up with the Duke commit in Chicago, where he described his competitive nature and his dream of ultimately playing for the Lakers. Tatum is a major piece to Duke's talented recruiting class and is primed for a bright future, both in college and the NBA.
NBADraft.net: How has Chicago been so far?
Jayson Tatum: It's been great. I've been to Chicago quite a few times. I just love coming here. I love the fans, the basketball feel, I love the sightseeing and downtown, and I just love coming out here.
NBADraft.net: Do you feel like you have anything to prove in this game?
Jayson Tatum: Not necessarily just the game but the entire week I'm always looking to get better. Every time I step on the floor I'm want to prove that I'm if not the best one of the best players here.
NBADraft.net: To somebody who hasn't seen you play before, how would you describe your game to them?
Jayson Tatum: A very competitive kid. Very skilled, loves to score from all three areas on the floor. Just does a little bit of everything.
NBADraft.net: Is there anybody you pattern your game from?
Jayson Tatum: Just big guards. I steal a lot of things from Paul George. I love Kobe Bryant's footwork. I watch a lot of Penny Hardaway, Magic Johnson. Jabari Parker was probably my favorite player growing up in high school, I love watching his highlights.
NBADraft.net: What's the main thing you want to add or work on before you go to college?
Jayson Tatum: Being more consistent, long range jump shot. Just getting more athletic and just keep getting better in everything really.
NBADraft.net: Who's been the most difficult opponent for you to face?
Jayson Tatum: All these guys really. They're all very competitive and everybody's out here giving it their all.
NBADraft.net: At what age did you realize basketball was something you wanted to pursue?
Jayson Tatum: It's always been a dream of mine, when I was three, but I don't think I really thought I would be somebody really that good until about my freshman year.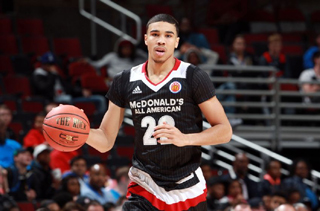 NBADraft.net: What's been your biggest basketball moment so far?
Jayson Tatum: Probably of late winning the state championship, winning my first one. It's up there with winning three gold medals with USA basketball. This is definitely one of them. I'm pretty sure the game tomorrow's going to be fantastic.
NBADraft.net: What made Duke stand out to you?
Jayson Tatum: Probably Coach K. He's probably the top reason I went there. He's a great coach, I love his passion. I'm just excited to play for him.
NBADraft.net: How familiar are you with your future Duke teammates?
Jayson Tatum: Extremely familiar especially with Harry (Giles). We're almost like best friends, we talk all the time. I'm trying to get Marques (Bolden). I'm getting to know Frank Jackson a lot better, we've been seeing each other a lot more. We are all excited.
NBADraft.net: With Duke potentially losing Brandon Ingram and Grayson Allen, do you feel any added pressure?

Jayson Tatum: We would love to have them but we understand that there's a dream to play in the NBA and if the opportunity is there, I don't think nobody would turn it down.
NBADraft.net: What separates you from your peers playing in this game?
Jayson Tatum: Just how competitive I'm going to be. It's a national stage, a lot of great players out here that are skilled and athletic, but I just want to come out here and compete on both ends.
NBADraft.net: If you could go back and give advice to a ninth grade Jayson Tatum, what would you say?
Jayson Tatum: Just to work harder. Yeah, that would be it, work harder.
NBADraft.net: Where do you see yourself five years from now?
Jayson Tatum: Hopefully playing for the Los Angeles Lakers. That would be a dream of mine. I'm a big Kobe Bryant fan and if I got a chance to play for the Lakers, get drafted, that would be a dream come true.