Long Beach State guard/forward James Ennis is no stranger to working hard to get where he wants to go. He began his career at little known Ventura College in Southern California and after two years there was offered a scholarship at Long Beach State. After helping his team to an NCAA Tournament appearance in 2012, Ennis led his team in scoring, rebounding and blocked shots on his way to Big West Player of the Year Honors in 2013. He averaged 16.5 points and 6.7 rebounds per game during his senior year and was a Honorable Mention on the 2013 AP All-American team. He isn't a household name but he knows what it takes to be successful at the next level and isn't afraid to put in the work to make that happen. His strong PIT performance has earned him an invite to the Chicago predraft camp in 10 days. We recently got a chance to catch up with James to talk a little bit about his senior year at Long Beach State and what he is doing to get ready for June's Draft.
Q: Tell us a little about what you've been doing since the season ended.
A: So far I've just been working out each and every day. I'm just trying to get stronger and quicker. I've been working on getting my ball handling sharper and just trying to improve on making shots off the dribble.
Q: You went the JUCO route before ending up at Long Beach State. What were some of the positives that came out of playing in junior college before you went to D-1?
A: Well I had to play the one in JC. I had to bring the ball up the court, find other players, lead the team and just be a good role model for the other players. Those things helped out a lot when I got to D-1. Also, learning how to be coachable was the main thing. I learned about being flexible and willing to do anything that the coach asked. Really it was just all about learning to put in the work.
Q: Your junior season you played with guys like Casper Ware and Larry Anderson. What was it like playing behind guys like that for a year and was it a big transition going from role player to go-to guy?
A: It was a huge transition. I knew coming in that I was going to be a role player at first. I played behind four seniors so basically I was the third option on the team. I just came in and did what the coach asked me to do. I just wanted to come in and play hard no matter who I was playing behind.
Q: You increased your scoring by over six points per game this season. You also shot two more free throws per game. Was that increase due to more plays being run for you or were you just being more aggressive in attacking the basket?
A: I knew coming into this season that I was going to have a much bigger role. We only had two seniors on the team this year and coach told me to be prepared to take on a bigger role and that I was going to have to lead this team. I did the best I could. After my junior year, I got right into the gym. I knew that I had to get prepared to take on that challenge. I knew I was going to have to be more aggressive and it definitely showed with my increased production.
Q: This past year, you got a chance to go up against some of the top talent in the country while playing North Carolina, Arizona, Syracuse, Ohio State and UCLA. What was it like going up against prospects like Shabazz Mohammad, PJ Hairston and CJ Fair?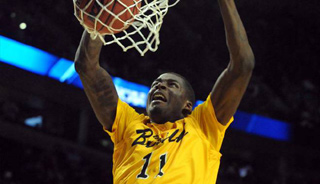 A: It was a great experience and I'm glad that my coach set the schedule up like that. It was good exposure for me and it was a measuring stick to see where my game was at. They are all good players and they all work very hard. I work really hard as well. It was just nice to know that I could play with the top players in the country. I had put in a lot of work over the summer so it was just a blessing to see it pay off.
Q: You had solid games against both Carolina and Arizona but struggled against that vaunted Syracuse 2-3 zone. Everyone seems to struggle offensively when playing the Orange as we saw in the NCAA Tournament. What is it about that defense that is so tough to score against?
A: They are very long and athletic, especially at the top of the zone. They have a lot of guys that could match my length at the top. It was hard to get inside because they are so long and athletic like I said before. They are a solid team and they play solid defense. It was really tough to score on them. We practiced against that zone a little bit before we played them. Our problem was replicating that zone because we didn't have a whole lot of guys who could match their length. We hadn't seen anything like that all year. It was just something that we had to adjust to. It was a great experience though.
Q: You got a chance to compete at the Portsmouth Invitational Tournament recently. Talk a little about your experience playing alongside other top prospects there in front of NBA scouts.
A: I was really kind of nervous at first with all of the scouts out there but I told myself that I had put in the work all year and that I just needed to go out there and perform. It was a lot of fun. It was a blessing to just be there. It was a dream come true. I just had to thank God for allowing all of it to happen.
Q: Did you get any feedback from coaches and/or scouts at the PIT?
A: I got a little feedback. After the first game I was told that I needed to put the ball on the floor more because a lot of the scouts wanted to see my handles. So, in the second game tried to put the ball on the floor a lot more and show off my versatility. I just wanted to show that I could bring the ball up the floor, shoot the three and pass. I wanted them to see my court awareness as well. I think overall it went really well.
Q: You've played a sort of hybrid forward/guard position at Long Beach State. What position do you see yourself playing at the next level?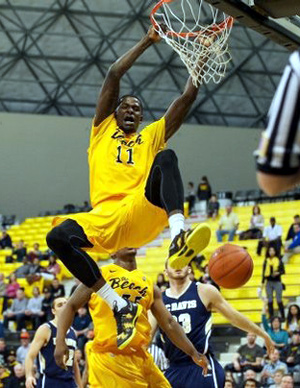 A: I see myself playing the two at the next level. But it is really about whatever the coach wants. I'll play wherever he wants me to play and do whatever he wants me to do. I feel like I can guard multiple positions but I'll just have to be flexible and do what the coach asks me to do.
Q: You are one of the more physically gifted players in the draft. Everyone has seen the monster dunk highlights, you've proven that you are an explosive finisher at the rim and can score in a number of different ways. You also rebound extremely well for your position. Those are all things that you do well but what is one aspect of your game that you feel needs the most work?
A: Trying to limit my turnovers with the ball is the biggest thing. I'm just trying to work on my decision making with the ball in my hands. Right now my main focus is working on my handles and improving my ball handling skills. At the next level I'm going to need to put the ball on the ground more so I need to be sharper in that area. I've also been working on my jump shot coming off of screens. I've also been working really hard on my defense. Me coming in as a rookie, I want to show the coaches that I can guard multiple positions.
Q: What player in the NBA, if any, do you feel most resembles your game?
A: I would say Jimmy Butler. We are about the same size and have similar skill sets. I love his game. He can guard multiple positions on the floor. I think that working on defense and being solid in that area is the way to stay on the floor at the next level. Coaches love players that can defend.
Q: If I'm an NBA GM, tell me why I should draft you.
A: Because I'm willing to put in the work. I'm a gym rat. I love being in the gym. I'm very humble. I'm always trying to get better. I'm a team player. I have a good background and I stay out of trouble. And I'm just willing to do whatever is best to help out the team. Like I said before, I'm just blessed to have this opportunity and I don't take that for granted.
Follow me on Twitter @CroweClayton